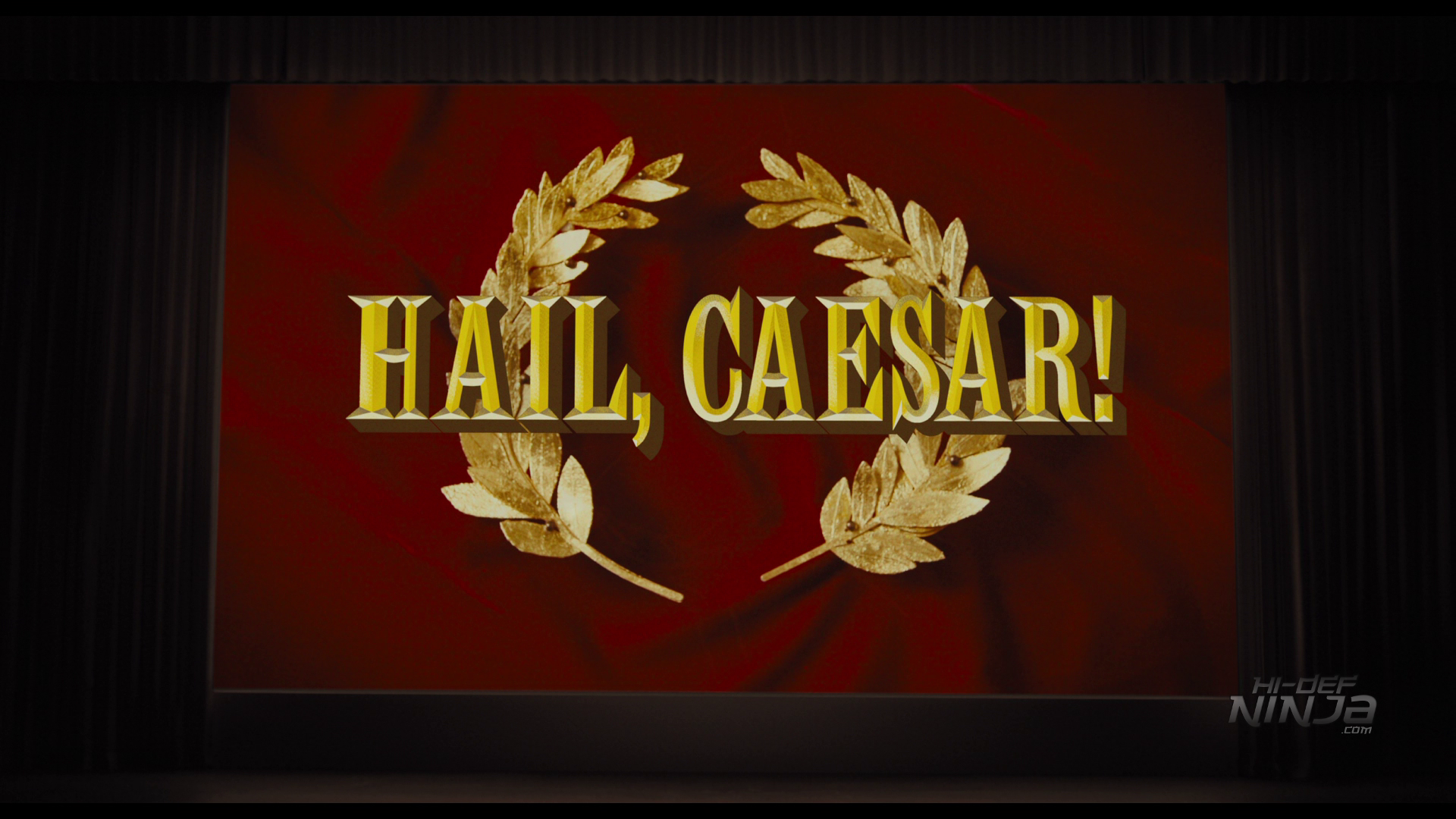 The latest Coen Brothers' comedy misses the mark but still manages to look and sound great.
Review by Matt Cummings
It goes without saying that The Coen Brothers are probably everyone's favorite independent filmmakers.  Go to any fancy dinner party where noob cinephiles have been accidentally invited, and they'll spit out this and other socially "in" phrases (whiskey and Bernie among them).  In reality, however, Joel and Ethan Coen could be viewed like many of their recent characters: washed up, existing on the credit of their past glories, and doomed to a slow, agonizing death.  Their latest HAIL, CEASAR! is just the fourth latest dud, nearly turning the mirror on to themselves while the rest of us fail to laugh at their efforts.  Thankfully, the audio and video deliver the goods, while the Supplements sadly do not.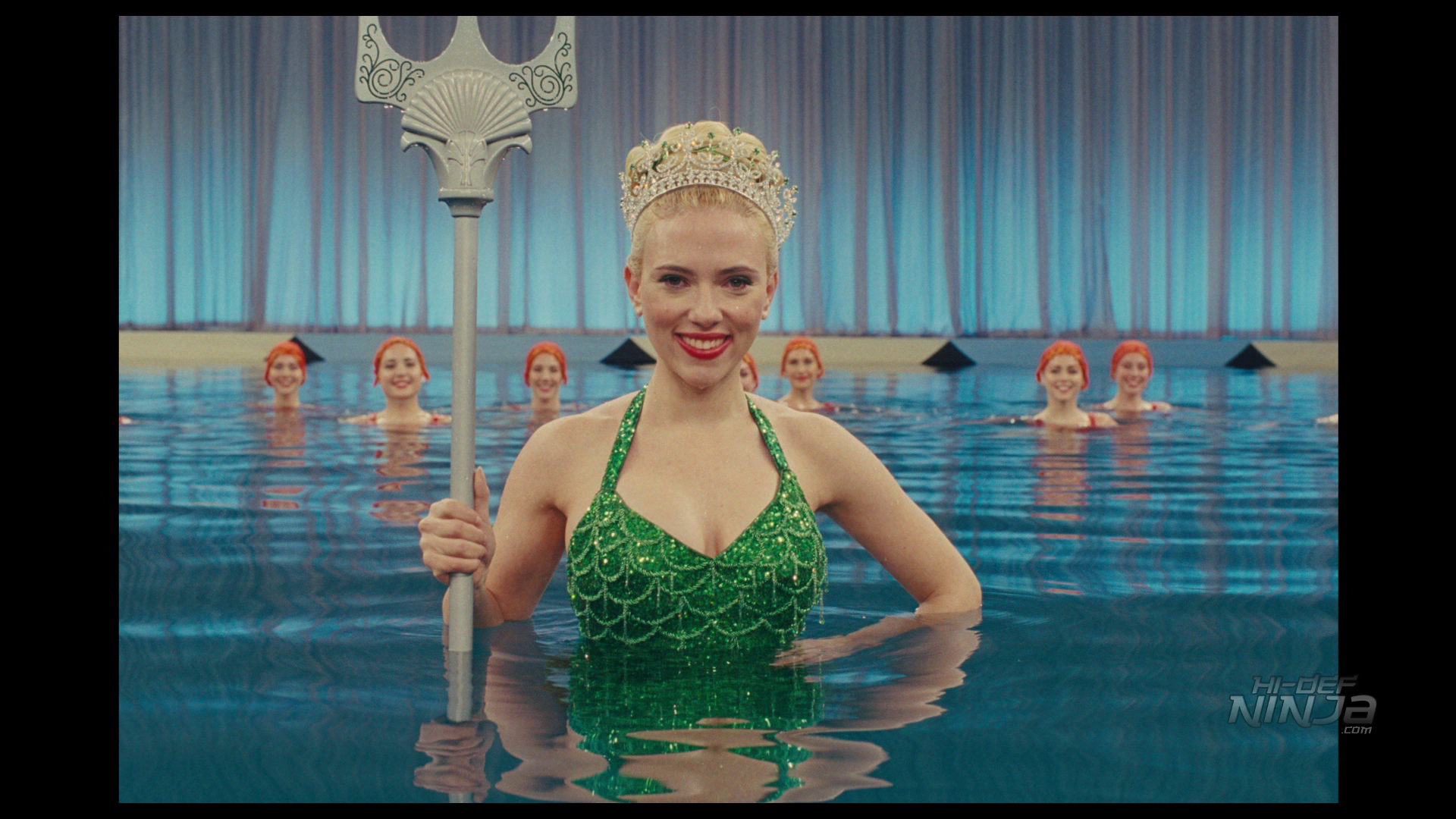 The Hollywood film system of 1951 takes us deep into the daily madness undertaken by Capitol Picture's studio head Eddie Mannix (Josh Brolin) as he struggles to keep his studio and mental state from cracking. Jumping from one crisis after another – including a western lead (Alden Ehrenreich) terribly miscast in Director Laurence Laurentz's (Ralph Fiennes) drawing room drama, an unplanned pregnancy by Scarlett Johansson's twice-divorced chain smoker, and twin gossip columnists (both played by Tilda Swinson) – Mannix is also hiding has a personal struggle. He's been courted by Lockheed with the chance to have dinner every night with his wife.
But soon all of that is overtaken by the news that Capitol's lead Baird Whitlock (George Clooney) has disappeared while shooting THE STORY OF THE CHRIST set in Roman times. We later learn that he's been kidnapped to a Santa Monica beach house filled with disgruntled Hollywood writers who've signed on with the Communist Party. They spend their days philosophizing their way through plates of tea sandwiches while their intellectual property makes the studios millions. Utilizing a top-flight secretary and displaying nerves of steel, Mannix must employ his own actors in a manhunt for the buffoon Whitlock before Communists can shuffle him away, all while deciding if this sort of chaotic life is really for him.
Ill-conceived and uncomfortable with itself from the beginning, HAIL, CAESAR! never truly locks in. Unlike many Coen Brothers films – where the journey after the credits roll is as satisfying as what you've just witnessed – CAESAR yields few satisfying results during either phase. The real problem is not its exceptional cast, but in the long passages of dialogue that grow out of the Brothers' script. Essentially, they take their immense talents for dark comedy and shrewd casting prowess and waste it on several arcs that never affect the bottom line. Sure, that's perhaps the point of their picture – that life is a series of disconnected moments with people who have little bearing on what you do – but few of the sequences evoke laughter or even well-played condemnation about the Hollywood film system. In CAESAR, we have a 30-minute film, propped up by several (albeit great) 50's style performances but with very little else to hang the rest of the movie's hat on.
HAIL, CAESAR!'s story is all about Mannix's journey: the daily crisis that's his work and the hilarious guilt over sneaking a few cigarettes to calm his nerves infuriates his priest who tells he confesses too often over too little. Brolin is the center of Capitol's wheel, and it's great to see him move from one disaster to another. He's particularly good when paired with Clooney near the end, who's really acting with only one half of his immeasurable talent. In O BROTHER, WHERE ART THOU, Clooney was allowed to run wild, uttering now famous lines that still find their way into my weekly conversations; here, he's just another plot device on Brolin's To-Do list. The rest of the cast too is hilarious one minute and then horribly bored/boring the next. There's even an unintentional cameo by Jonah Hill which isn't needed at all, and neither he nor Johansson are around enough to be of any worth. I also wanted more of Fiennes, who returns to his now-classic BUDAPEST HOTEL shtick; he and Ehrenreich would have been a hilarious duo in their own movie, as one attempts to coach the other on Laurence's heavy dialogue. Channing Tatum's musical/tap-dancing sailor stint is a sheer delight, almost besting the drawing room scenes as my favorite. Instead, every element is sandwiched in for too few moments together.
HAIL, CAESAR! manages to entertain, even though I found myself imagining funnier versions of every joke and even a few cameos. That's never a good sign when you're paying money to see professionals doing less than your imagination. But don't blame Cinematographer Roger Deakins for any failures: his camerawork is as always impeccable, capturing the old school movie lots along with a hilarious half-naked statue who's missing his torso. Deakins also bathes every scene in sumptuous colors, while the stellar era costumes and set designs capture the splendor of the period. Like those old films, everything's great until you peel back the real motivations of the characters, few of which either hold water or our attention.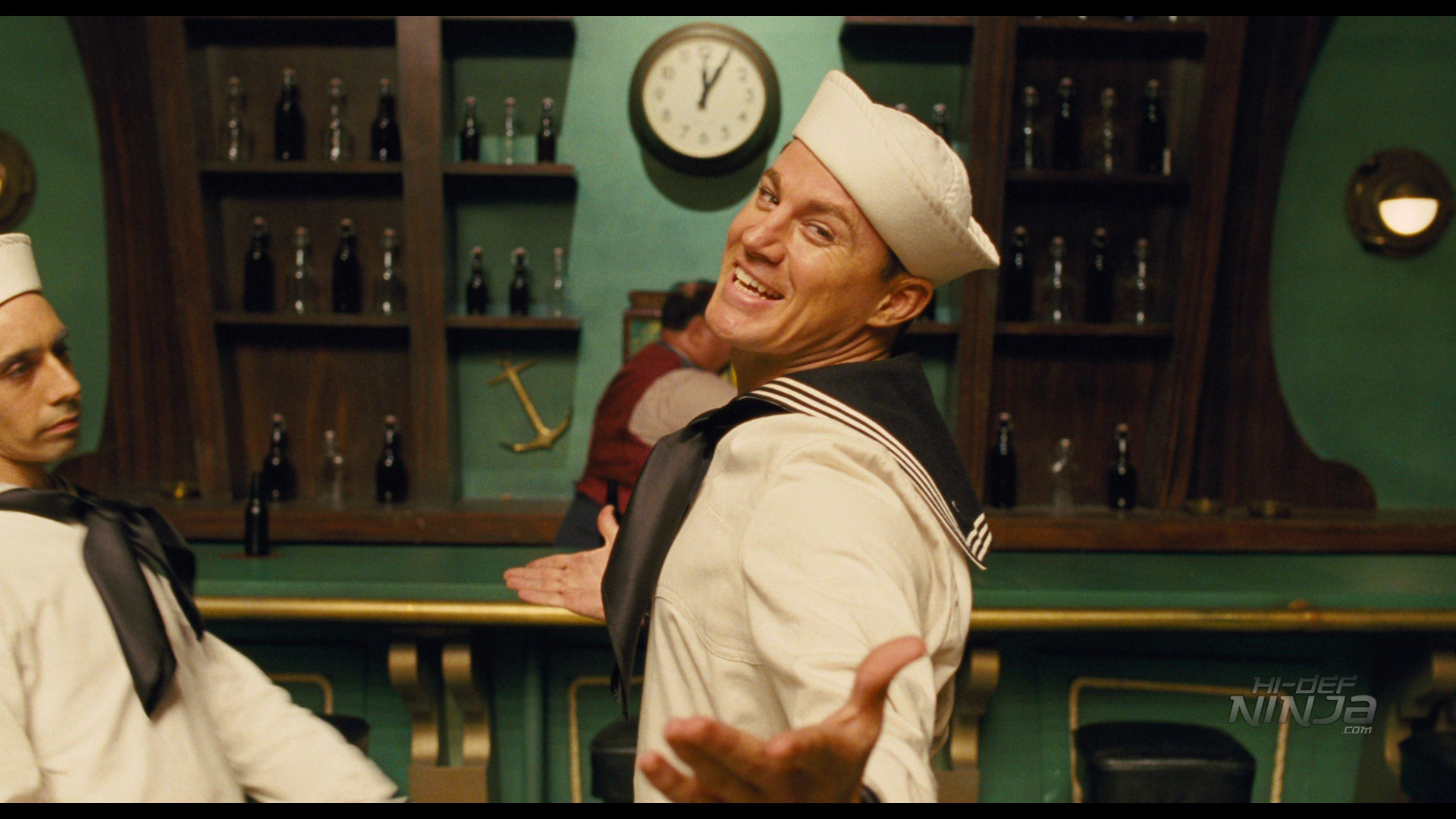 Although Universal only made $30m from HAIL, CAESAR! their commitment to bringing it to home video is noteworthy. From the opening scenes, actors are bathed in warm colors and fabulous clarity. Brolin's Mannix is perfectly shot via Deakins' camera and Universal takes full advantage of the print. Browns dominate the landscape, from Eddie's office to the 'French postcard' shoot and the gorgeous Roman mosaic. You can see individual strands of hair in Clooney's wig, in tree bark, details in threading, and even bits of water drops in the mermaid escapade. But it's the absolute mastery of shadows here which proves why Deakins (and Universal) are tops in their respective positions. Watch the postcard scene to see every aspect of Mannix's facial features WITHOUT using a forward light. His shadows disappear into a fine black without ever getting lost. Go just 5:00 into the picture and you see more fine detail on display, both in the Roman arch and the accompanying hillside. I've extolled previously the virtues of Universal's acumen, beginning with The Bourne Trilogy; here, the studio gets it right again, proving that every film matters to them, regardless of how much money it made.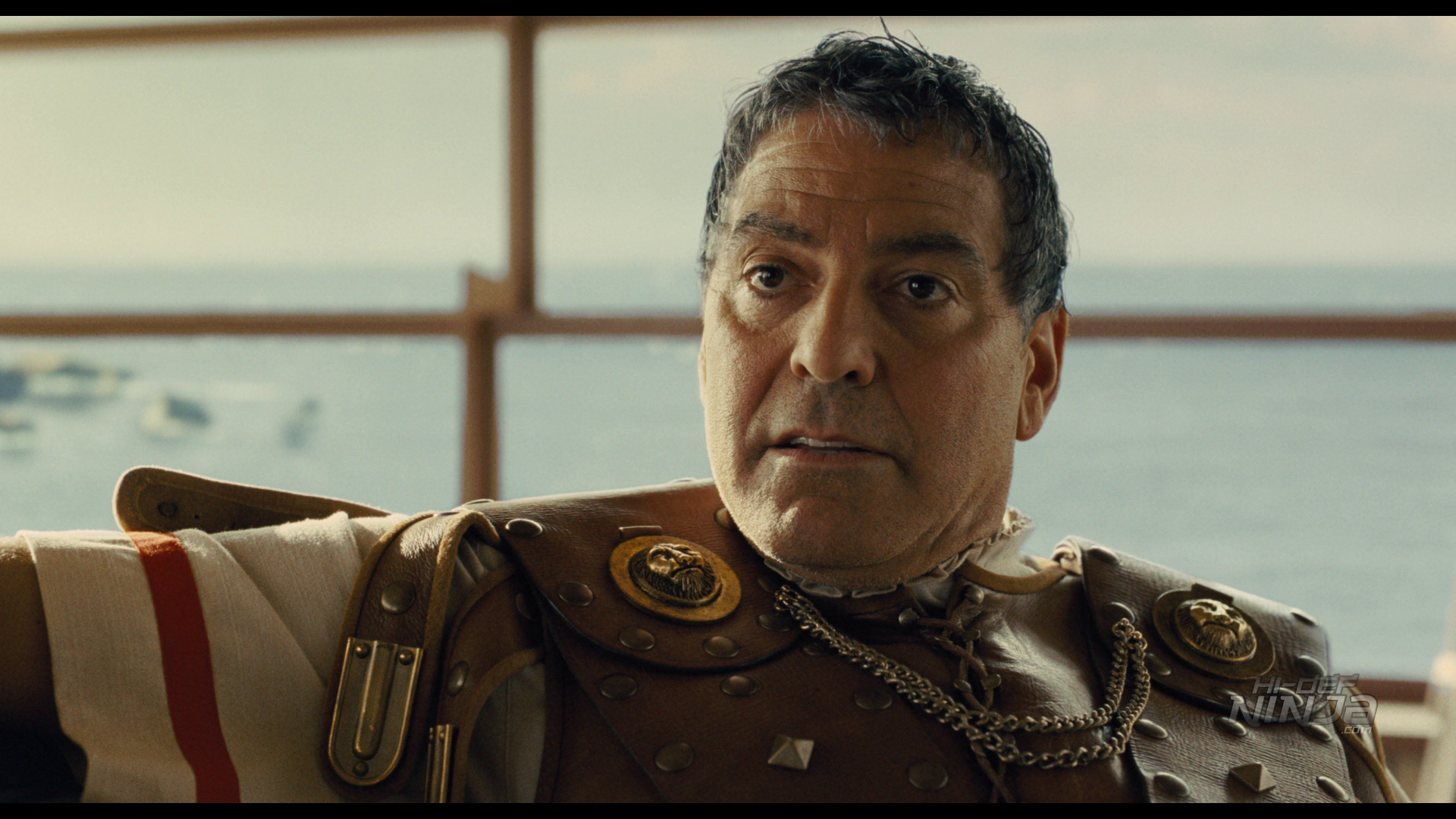 Universal's HAIL, CAESAR! arrives with the standard DTS-HD Master Audio 5.1 that does the job without breaking a sweat. That doesn't say much, because CAESAR is a dialogue-driven film, so the forward channel gets the brunt of the workload. On those rare occasions that something else needs to happen – sound effects or music from Composer Carter Burwell – the track stands up to break the monotony of he moment. Simply put, there's little else here, but there's nothing wrong with what we get. I just wish The Coen Brothers had added more background effects so that Universal could wrap us in more of the environment of the period. Otherwise, the LFE thumps a bit to Burwell's throwback music, especially during No Dames.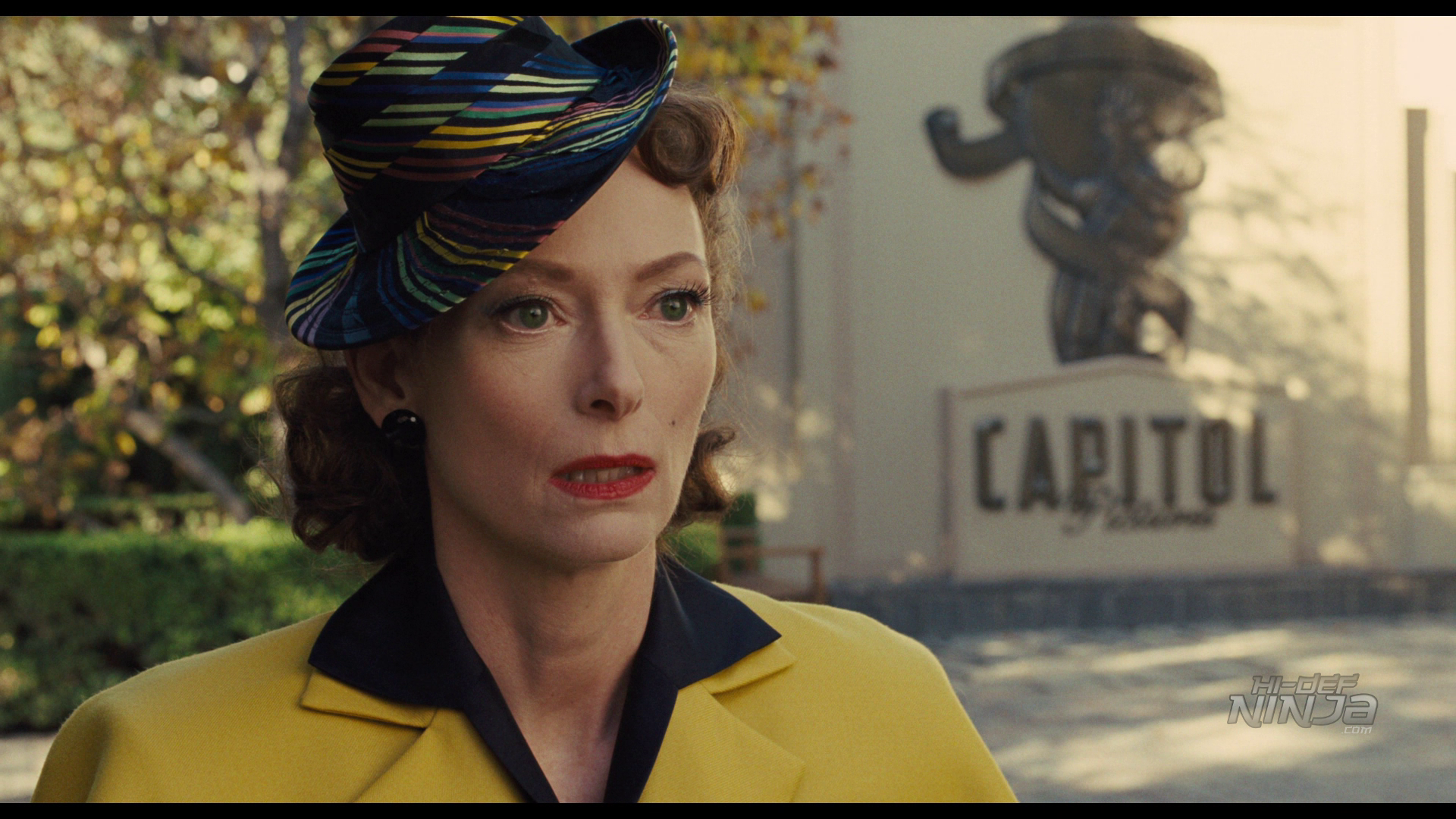 HAIL, CAESAR! arrives with the bare minimum of features, including a suite of standard EPX marketing materials. There's no director's commentary (would have loved to learn more about the construction of the musical numbers), but what we do get is provided in HD:
Directing Hollywood (4:11): The cast share their thoughts on being invited to star in a Coen Brothers movie.
The Stars Align (11:34): The cast and crew discuss the plot of the film and their characters, as well as their characters and the time in which the film is set.
An Era of Glamour (6:22): The big sets and costumes in HAIL, CAESAR are on display, as the cast and crew reflect on donning 1950's era clothing and acting on huge sets reminiscent of BEN HUR or THE GREATEST STORY EVER TOLD.
Magic of a Bygone Era – Hail, Caesar! (6:01): The two big set pieces – the aquatic spectacle featuring Scarlett Johansson and the sailor tap dance from Channing Tatum – are broken down. It's the two best scenes of the film.
Trailers: MY BIG FAT GREEK WEDDING 2, THE BOSS, RACE, ROCK THE KASBAH
Our evaluation copy arrived as a Blu-ray/DVD Combo Pack, complete with a Digital HD copy of the film.  While the slipcase is colorful and debossed, I thought the 'Certified Fresh' label from Rotten Tomatoes was the equivalent of "This movie isn't as bad as you thought!  Give it a try!"  You won't see that on JOHN WICK.  At the time of this posting, we were unaware of any special editions or packaging.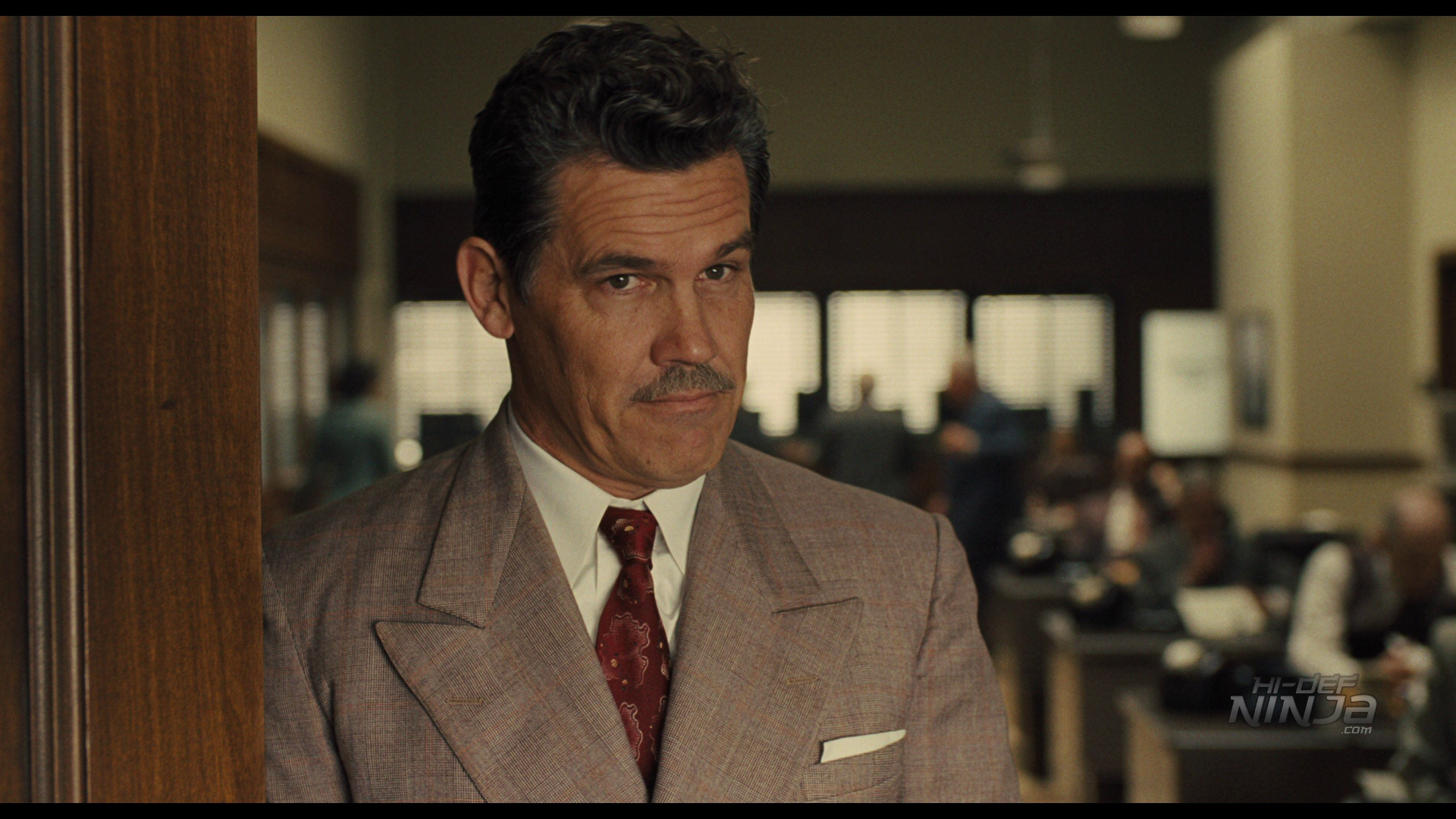 Entertaining in many parts but thoroughly boring in others, HAIL, CAESAR! is a decidedly swing and a miss, although a semi-glorious one that reminds us of the 'golden age of film' that few true modern cinephiles have yet to uncover. It's hampered by its own fetish to break down the old Hollywood system, content to divert us on great occasion by storylines that aren't necessary and moments of mirth that I found myself re-writing. The video and audio are good, but the supplements needed much more attention.  A decade from now, we'll either lament that HAIL, CAESAR! was just one of many doomed to the discount bin, or an ignored road bump on the way to a revitalization of their craft.  Either way, don't expect these creative geniuses to disappear, but don't plan on this one occupying a space on your video rack.
HAIL, CAESAR! is rated PG-13 for some suggestive content and smoking and has a runtime of 106 minutes.
Discuss this review with fellow HDN fans on Facebook. On Twitter, follow us at @HidefNinja, and follow author Matt Cummings at @mfc90125.