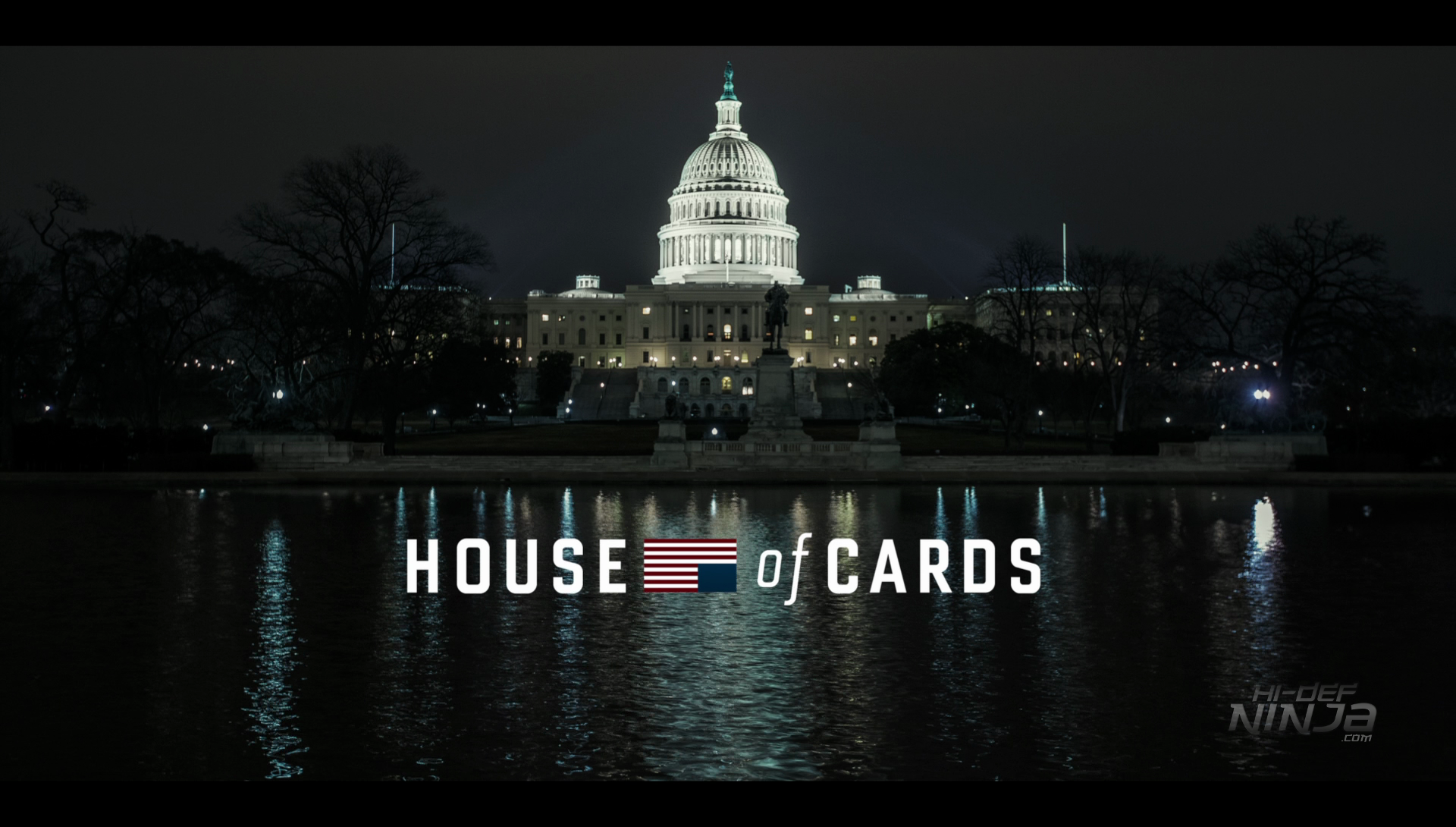 Netflix's award-winning political drama looks and sounds great, but can we recommend it for purchase?
Review by Matt Cummings
If NBC's THE WEST WING painted a somewhat rosier picture of Washington politics, Netflix's HOUSE OF CARDS paints something certainly darker.  Filled with intrigue, backdoor dealings, and even murder, the series has made its intentions clear from the start: life ain't pretty, and Washington is no exception.  Thankfully, the home release gives us reason to smile: it looks and sounds amazing, but its Supplements appear to have gotten lost in the infamous DC traffic triangle.
Rather than take you through the plot – because to do would give too much away – let's move right into some thoughts about the season, because if you're reading this you're probably just wondering how you can justify buying something that's always available on Netflix.  More on that later.  Fans would probably tell you that Season 3 was the weakest, but 4 roars back to life, returning to what it does best: political scheming, threats, and promises.  Creator Beau Willimon gloriously paints a picture of political officers who don't practice what they preach, content to utter media soundbites while pursuing their own agendas.  He paints a picture of a government in internal crisis, one attack or even day from destroying itself and taking the nation with it.
But HOUSE OF CARDS is also about those same people and crises they endure.  This show has always been about individuals, and Season 4 gives us more of that Darwin-esque philosophy: eat or be eaten.  That kind of feeding can bring one down if you attempt to extrapolate it into current events.  But that could be the case with ABC's excellent (but hopefully untrue) HOW TO GET AWAY WITH MURDER, or a dozen other excellent shows.  But Wilimon does his best to make everything SEEM real, which merely adds to people's worries that he might be telling someone's story(ies) but using Netflix's capital for his own gain.  Sneaky if it's true.
Performances in Season 4 are again top-notch.  One never tires of Kevin Spacey or Robin Wright as the power broker couple whose marriage begins to unwind while Frank is out on the campaign trail. The series is also damn good at mirroring what's become a tense and very nervous political situation as we gear up for the presidential election this November.  It's almost too on the nose, but Spacey, Wright, and the entire cast seem ready for such a challenge.  Anyone who didn't appreciate Season 3 of HOUSE OF CARDS shouldn't give up hope: Season 4 returns to the depravity which made this series impressive from Day One, and seems ready to dive even deeper for Season 5.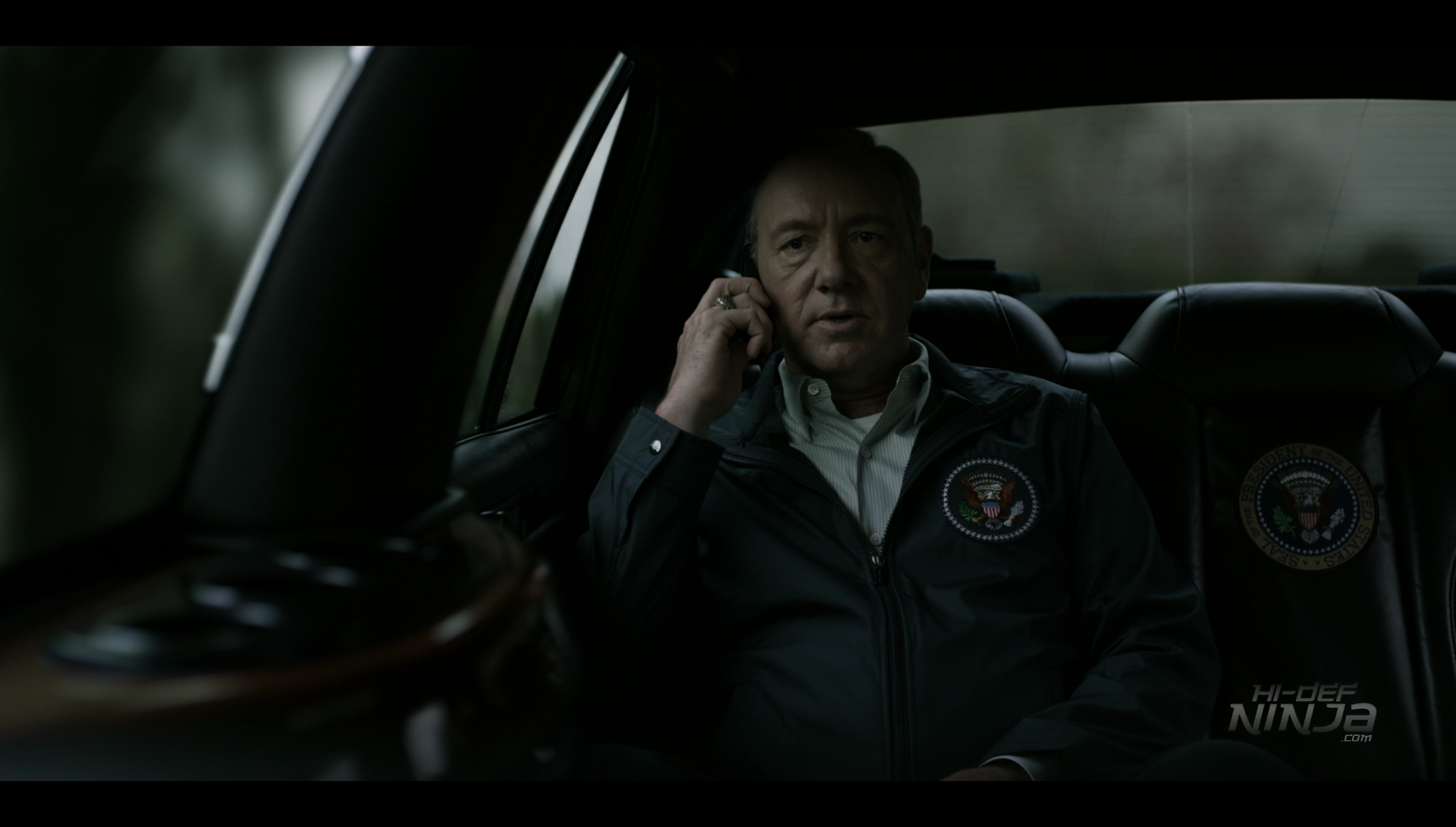 HOUSE OF CARDS: THE COMPLETE THE COMPLETE FOURTH SEASON is presented on an impressive MPEG-4/AVC transfer.   This four-disc set reminds us of previous season, basking in the darkness of filmic glory.  It's got a shade of brown that's actually more powerful than if it had been something stark instead.  So when a brightly colored shirt, tie, or set piece is featured, it really pops.  The series is shot digitally, but you'd never know it from the added grain.  Clothing is exceptionally detailed, as are human features.  Black levels and shadows play well together, adding to the already dreary world conjured up by the series' creator.  It really does the series right, making you a little less cheerful after watching it, simply because of its tone.
Sony's audio acumen is on display here, as HOUSE OF CARDS: THE COMPLETE FOURTH SEASON prances into the room with an impressive DTS-HD Master Audio 5.1 transfer.  For a series that's so dialogue heavy, we get a rich experience nevertheless.  Dialogue is centered where it should, with other elements – such as the music by Composer Jeff Beal – broadly dominating the other channels.  It's a nice contrast, especially when the LFE gets involved. But remember, this isn't THE AVENGERS, so don't expect explosions as Frank dispenses.  But it's the surrounds which perform the best: background noises frequently assault the rears, including crowd noises, office chatter, etc.  Sony's efforts are impressive, especially considering their stated desire to include their TrueHD in other releases.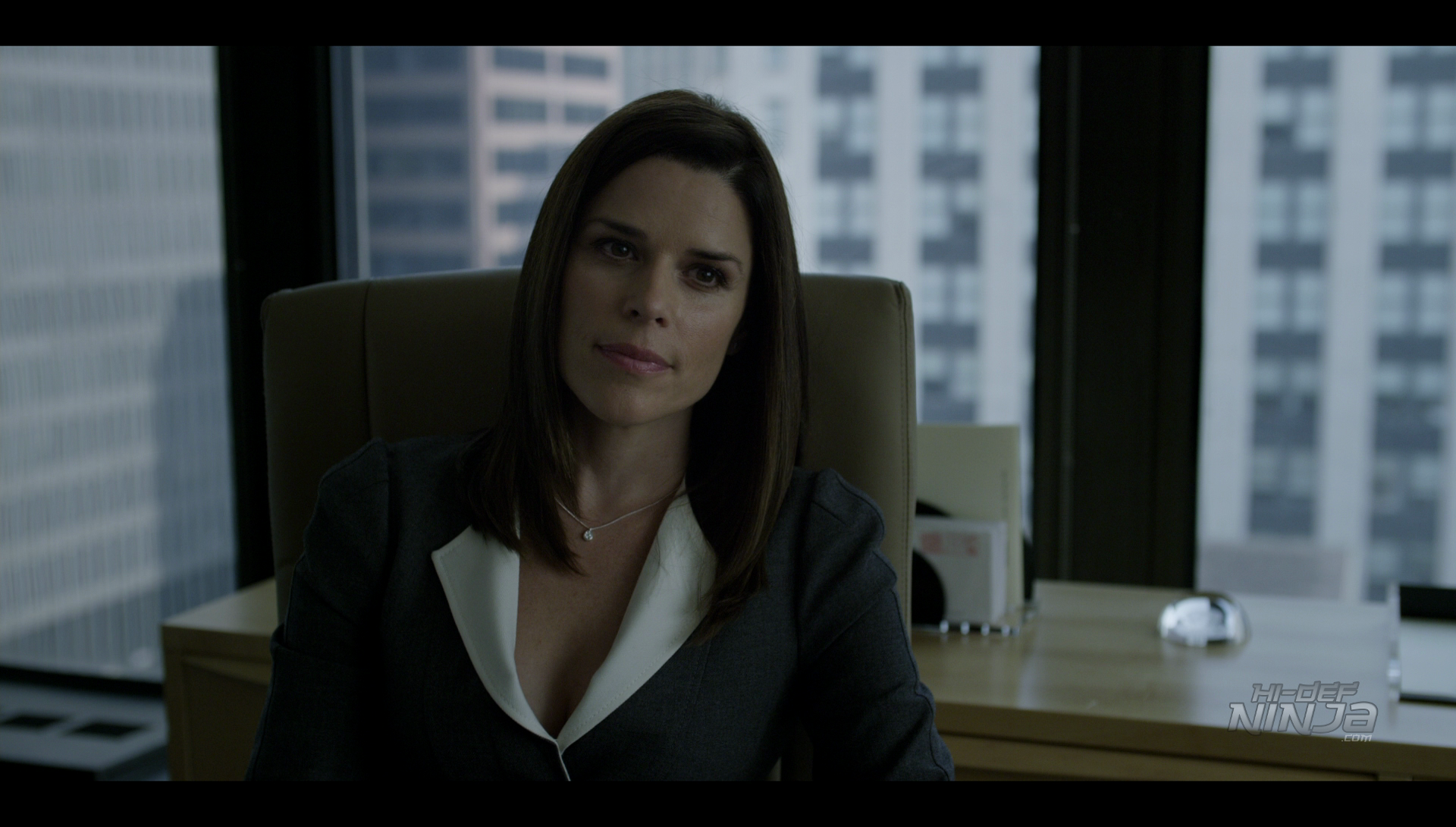 HOUSE OF CARDS: THE COMPLETE FOURTH SEASON contains no supplements.  At all.  This is a major disappointment, considering all the insights we could have gained with a commentary track or a well-produced EPK.
Our evaluation copy contains only four Blu-ray discs, as well as UV digital copy voucher. The Digipak is pretty, with interior artwork throughout.  But herein lies the problem: why would anyone desire to purchase this season, when all episodes are still available for streaming?  Even if you're not a Netflix-er, purchasing a month to intake this season would be far cheaper than buying the discs.  And with no Supplements available, the decision to pay Netflix and not Sony becomes even easier.
HOUSE OF CARDS: THE COMPLETE FOURTH SEASON is a vast improvement over Season 3, perhaps making the best ever.  The political intrigue has never been greater, nor have the stakes, and our creative team digs deep into the current political environment to portray a deeply broken system of government.  The audio and video go a long way to painting this sort of bleak picture, but the lack of any Supplements make it difficult to recommend.  We purchase these discs for additional content, to learn more about how the showrunner's ideas affect the final product.  Without any of that insight, making a straight purchase here makes absolutely no sense.  If you have yet to see Season 4 – or perhaps any of this excellent series – simply pay the lower price on Netflix and save yourself all that cash.  By current estimations, that would allow you at least three months of service.
Discuss this review with fellow HDN fans on Facebook. On Twitter, follow us at @HiDefNinja, and follow author Matt Cummings at @mfc90125.