We have one brand-new copy of CRIMINAL starring Kevin Costner to give-away. This film looks to have one all-star studded cast! Tommy Lee Jones, Gary Oldman, Gal Gadot, and Alive Eve.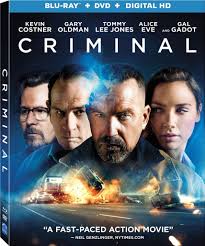 All you have to do is sound off below on you think has had a better acting career and why! Kevin Costner or Tommy Lee Jones?
CRIMINAL hits stores everywhere on July 26th, and is available now for pre-order.