After mixing it up with bigger stars and budgets with Begin Again starring Kiera Knightley and Mark Ruffalo, writer/director John Carney has taken things back down a notch with the incredibly winning Sing Street. This film takes the sweetness found in Carney's breakout film, Once, and enlivens the material with an attitude akin to Son of Rambow. As a result, Sing Street is a very charming coming-of-age story, with a number of successful ideas put into action and a killer soundtrack. Sadly the film wasn't a bigger hit in theaters, but now there's a Blu-ray available for anyone to enjoy.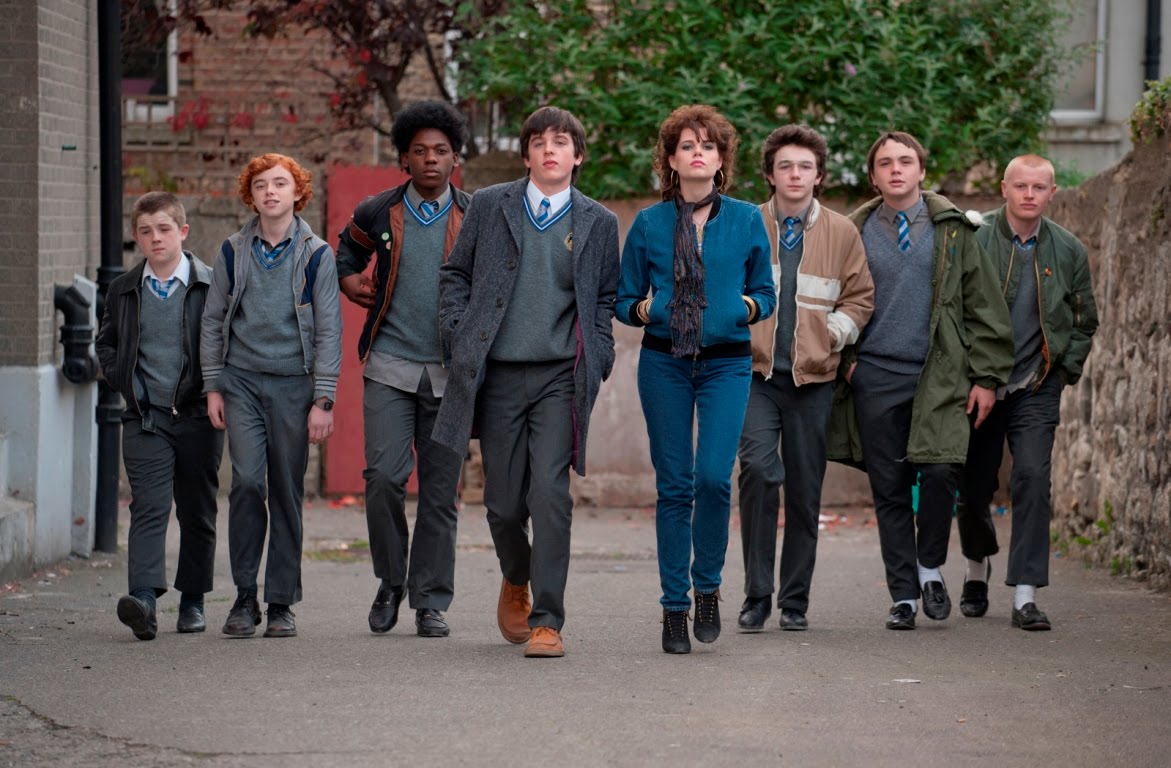 Set in 1980s inner-city Dublin, the story revolves around Conor (Ferdia Walsh-Peelo), the young son of two struggling parents (Aiden Gillen and Maria Doyle Kennedy). To save money, Conor is moved to a new school, Synge Street, which is troublesome for various reasons that range from bullies to regulation shoes. It matters little compared to the biggest wrinkle for Conor – how to impress a girl.
It was not surprising to learn Sing Street was a semi-autobiographical film. There is also no reason not to expect Carney to keep going back to incorporating music in his films. The film provides Conor with an ingenious solution. In order to impress Raphina (Lucy Boynton), he forms a band named Sing Street.
With help from his vinyl-collecting loser brother Brendan (Jack Reynor) and multi-talented Eamon (Mark McKenna), Conor assembles a crew and develops a motley identity of sorts. It leads to the creation of numerous catchy tracks and a humorous understanding of how confidence in an image can make you feel better about yourself. This is especially important when the film focuses on conflict seen between Conor and school Principal Brother Baxter (Don Wycherley).
That is not all the film is trying to say, but there is a lot of fun to be had in seeing Conor and his band dive into making music and their clumsy attempts at making music videos. 80s pop veteran Gary Clark helped write the songs with Carney and the greatest part about the new music is how it has the feel of a bunch of high school kids that made these songs. The tunes are catchy and the lyrics put all the themes and issues right on the surface, which is what you'd expect.
Much of the film is focused exclusively on Conor and young Walsh-Peelo is quite good in his debut role. As he adopts new looks that take him from a shy kid in a school uniform to Robert Smith of The Cure, we get to see how confidence pays off in his attitude towards those picking on him. We also get a good amount of focus on his friends and family.
Not all of the band members are fully fleshed out, but the gifted, Rabbit-loving Eamon and lil' red-headed Darren (Ben Carolan) allow for some fun interactions. Raphina is more or less depicted as an object of desire for Conor, but the two do have good chemistry. The family life does not exactly approach the detailed levels of films like The Squid and the Whale or Submarine, but Reynor does take his familiar role a long way thanks to an emphasis on emotion.
Really, Sing Street is most effective when watching these kids try to make things work on the fly. Some inspired musical sequences lead to a lot of fun moments, as we watch them attempt to make their music and image cinematic in the form of these music videos. There is even an imaginative sequence that calls upon one 80s movie classic to fuel the fun, bouncy nature of the film and what these kids are going for.
Sing Street works really well as a crowd pleaser. It calls to mind some other solid coming-of-age stories and pays tribute to one of its obvious inspirations, The Commitments, but certainly marches to its own beat. The film has plenty of fun during its journey to an ending that will maybe feel emotional to some. I found it affecting enough, but was plenty engaged by seeing a mixed crew put together some fresh tunes.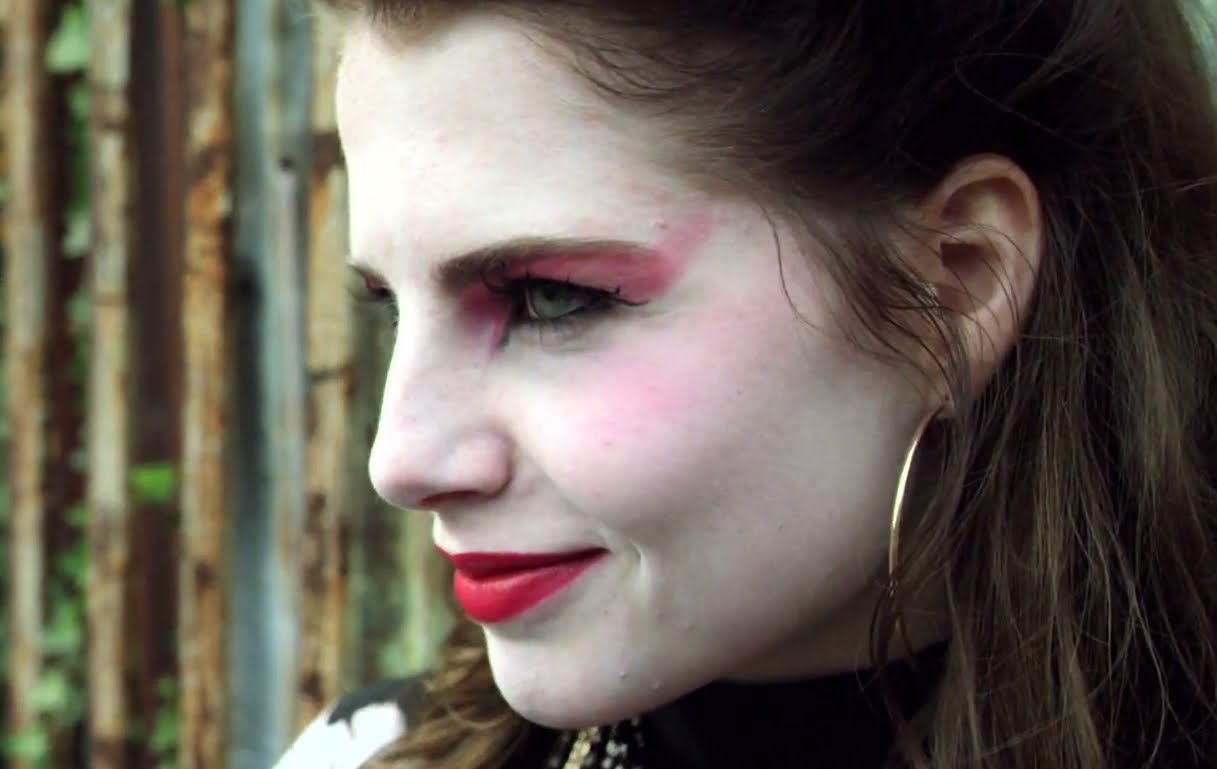 a
Sing Street's Blu-ray presentation preserves the low-key nature of the setting, while making good enough use of a 1080p presentation. Given the film's budget, the results are just fine when considering the look overall, it's just a shame more doesn't seem to have been done to really make this a truly sharp transfer. Make no mistake, the disc provides a solid look at the movie, complete with some nice emphasis on color, solid facial detail and nice work on the interiors as well. Black levels stand up as well, there are just some moments of visual noise and outdoor moments that could be clearer.
 s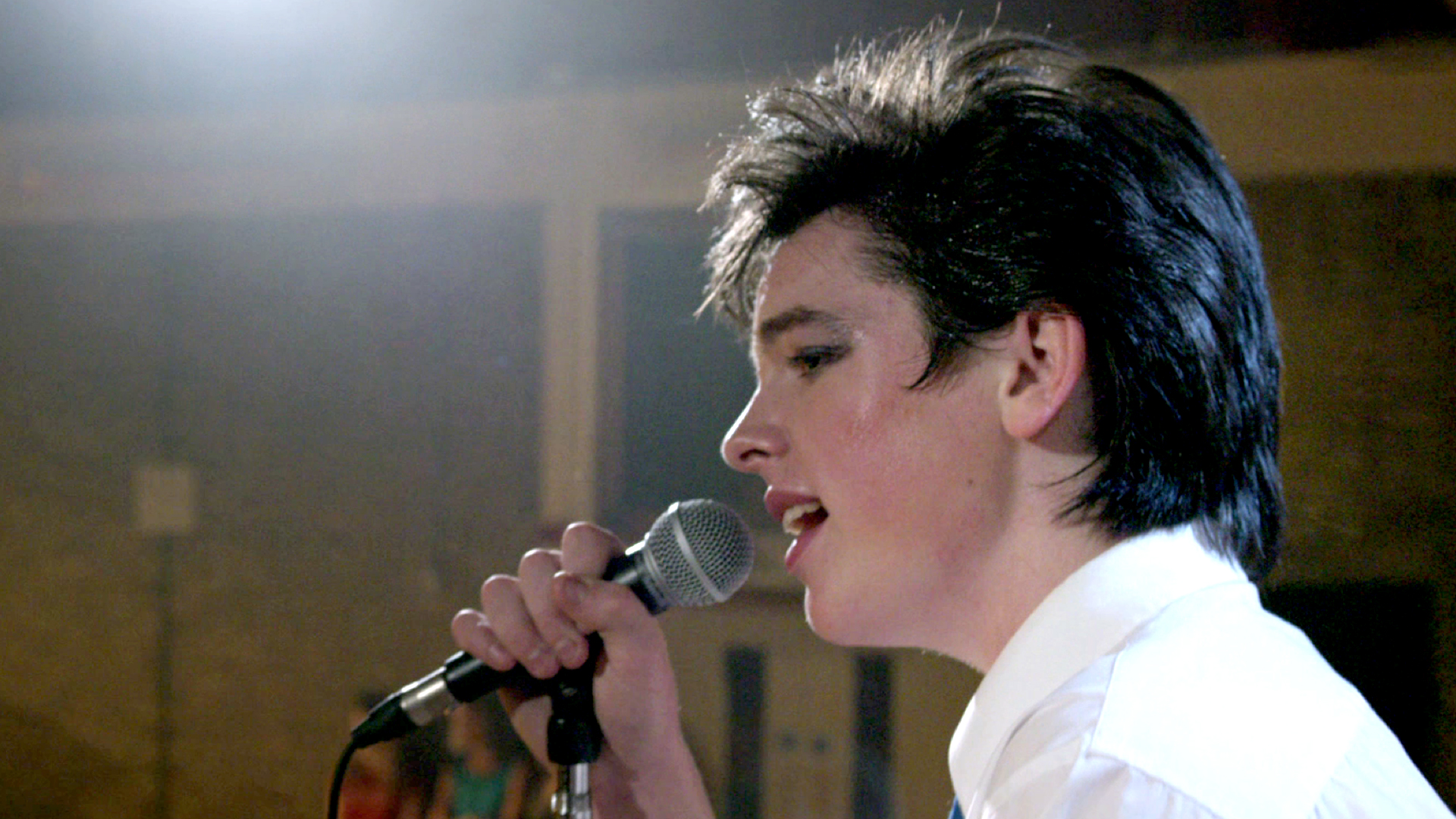 This is the area I would hope does the film justice on Blu-ray. The 5.1 DTS-HD lossless audio track does a fantastic job of presenting the film as it should exist. You hear the hardcore sounds of the band laying down their wonderful tracks, with good definition found in both the vocal and instrumental areas. The LFE channel gets the workout as well. Sing Street plays well to the surround aspect, as the various channels are all used properly. Dialogue is clear throughout as well. It's a find soundtrack that benefits a film that should sound great.

 c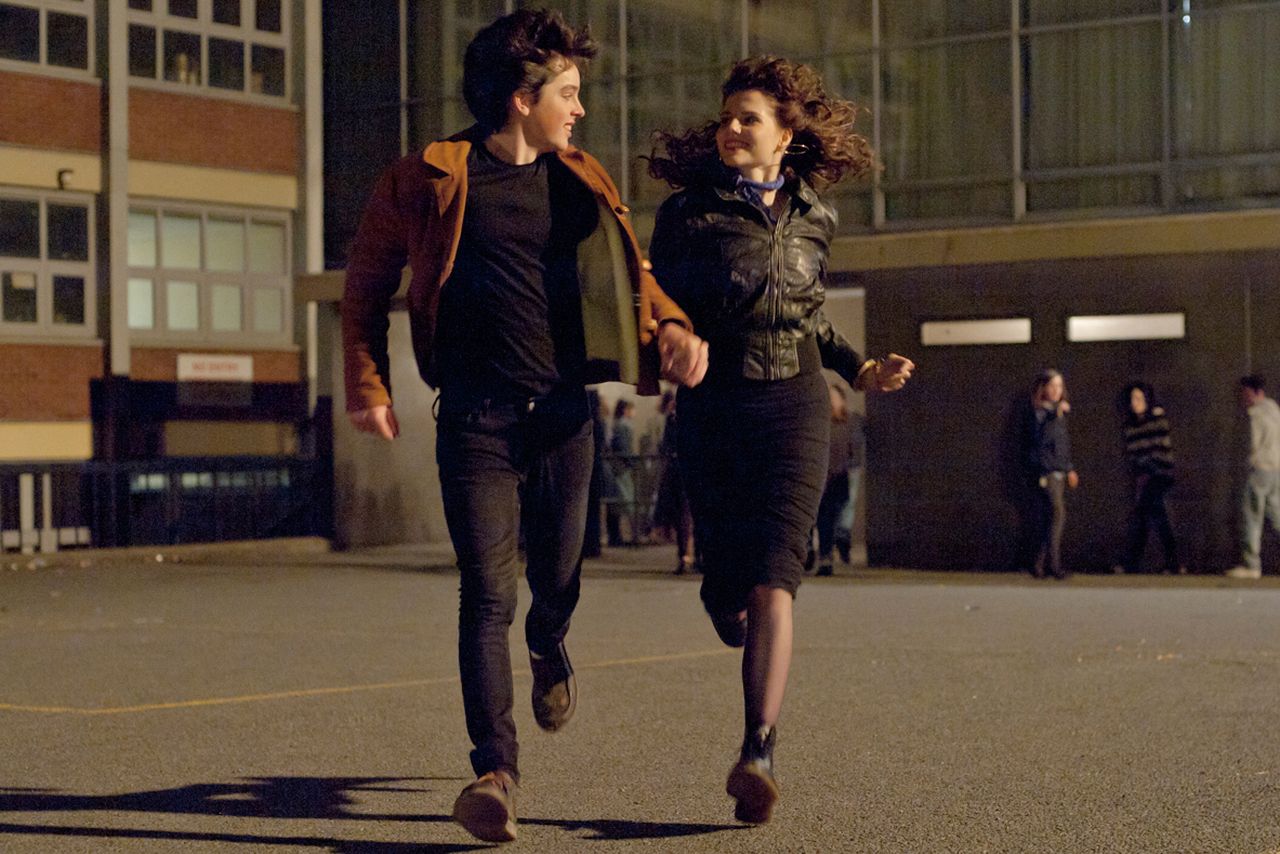 There is not much here when it comes to extra features, which is a real shame, as this film could have benefited from a commentary and music videos especially.
Features Include:
Making Sing Street – A brief look behind the scenes with some interviews featuring writer/director John Carney and the cast.
Writer/Director John Carney & Adam Levine Talk Sing Street – A brief discussion that brings in Adam Levine to help sing the film's praises, as he produced a song for the film.
Cast Auditions – Divided into several parts, Carney has a brief part to get into his process, which is followed by several videos featuring all the kids in the cast.
UltraViolet Copy of the Film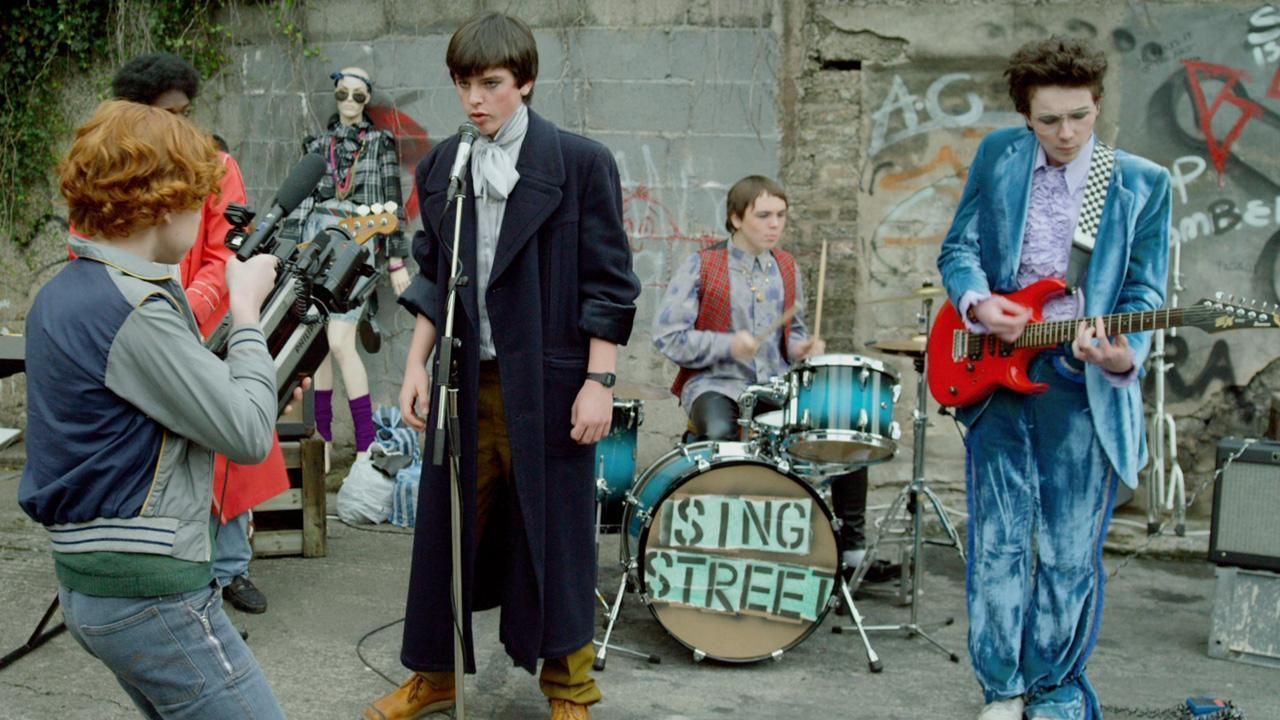 d
Sing Street is one of the year's most enjoyable films that will hopefully build a much bigger audience now that it is on Blu-ray. If you enjoy underdog stories, coming-of-age stories, music about movies or movie about friends and family, this is a movie that will win you over. A great soundtrack and fun interplay between the young cast makes this a movie easily worthwhile. Check it out when you can and be sure to grab the soundtrack, as you'll want to keep listening to the tunes this little band comes up with.