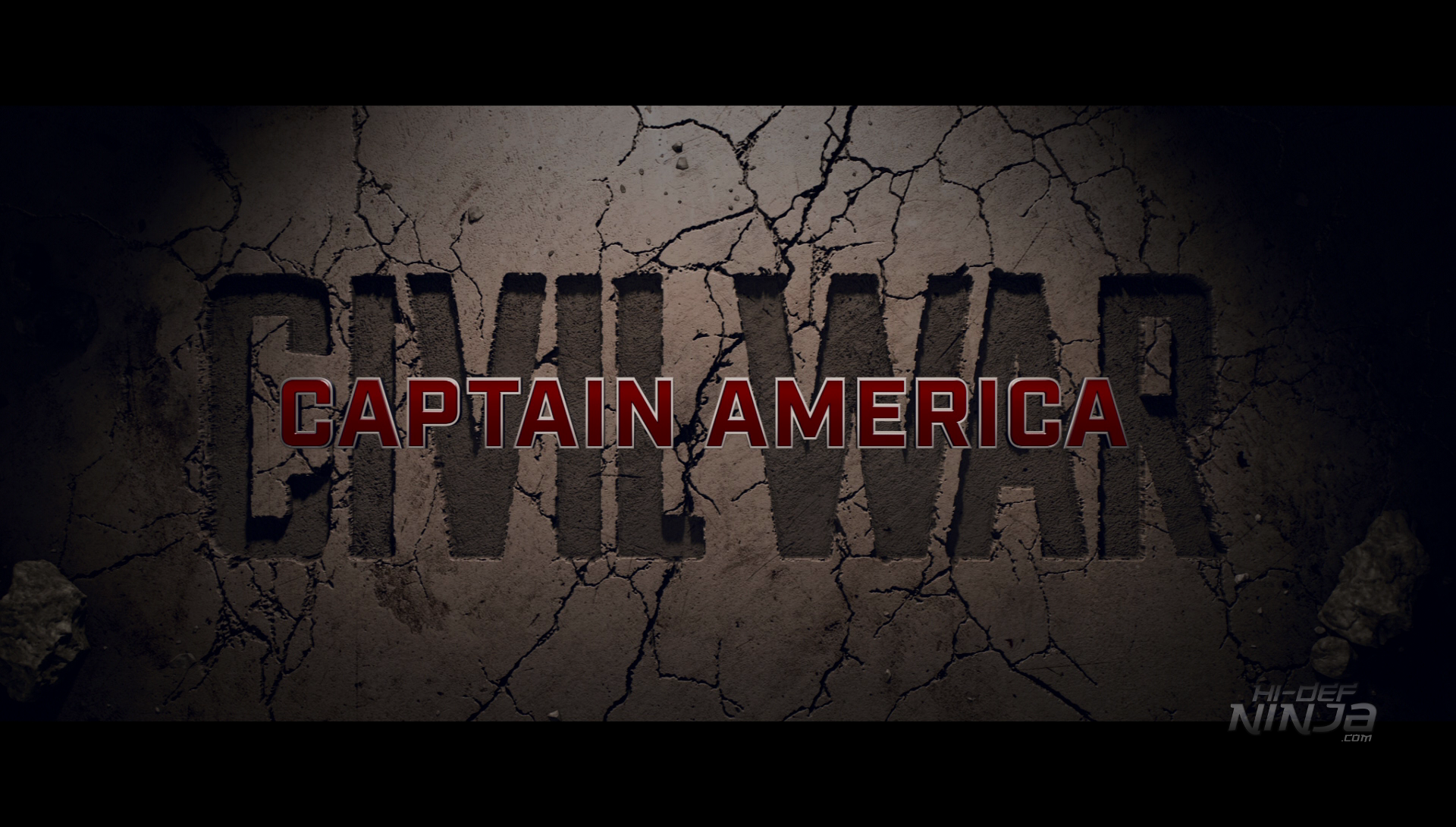 CAPTAIN AMERICA: CIVIL WAR delivers top-shelf video and great audio in the best movie of Summer 2016.
NOTE: Images in this review are from the 2D copy of the film.
Review by Matt Cummings
Say what you want about Hollywood's love affair with superhero films, but one thing is clear: without them, theaters across the country might be shuttering for a lack of business.  Every since IRON MAN exploded into theaters in 2008, critics legitimately wondered if massive explosions, tight costumes, and oddly-powered heroes could gel with stellar character development. Luckily, CAPTAIN AMERICA: CIVIL WAR emphatically answers that in the affirmative. It's the best blockbuster of the year so far, a top tier Marvel film, one of the best superhero movies of all time, and deserves to be placed among the most enjoyable films I've seen in a long time. Its arrival this week on Blu-ray reminds us that Summer 2016 wasn't quite the unmitigated disaster in terms of quality, sporting incredible audio and video, as well as an appealing set of extras.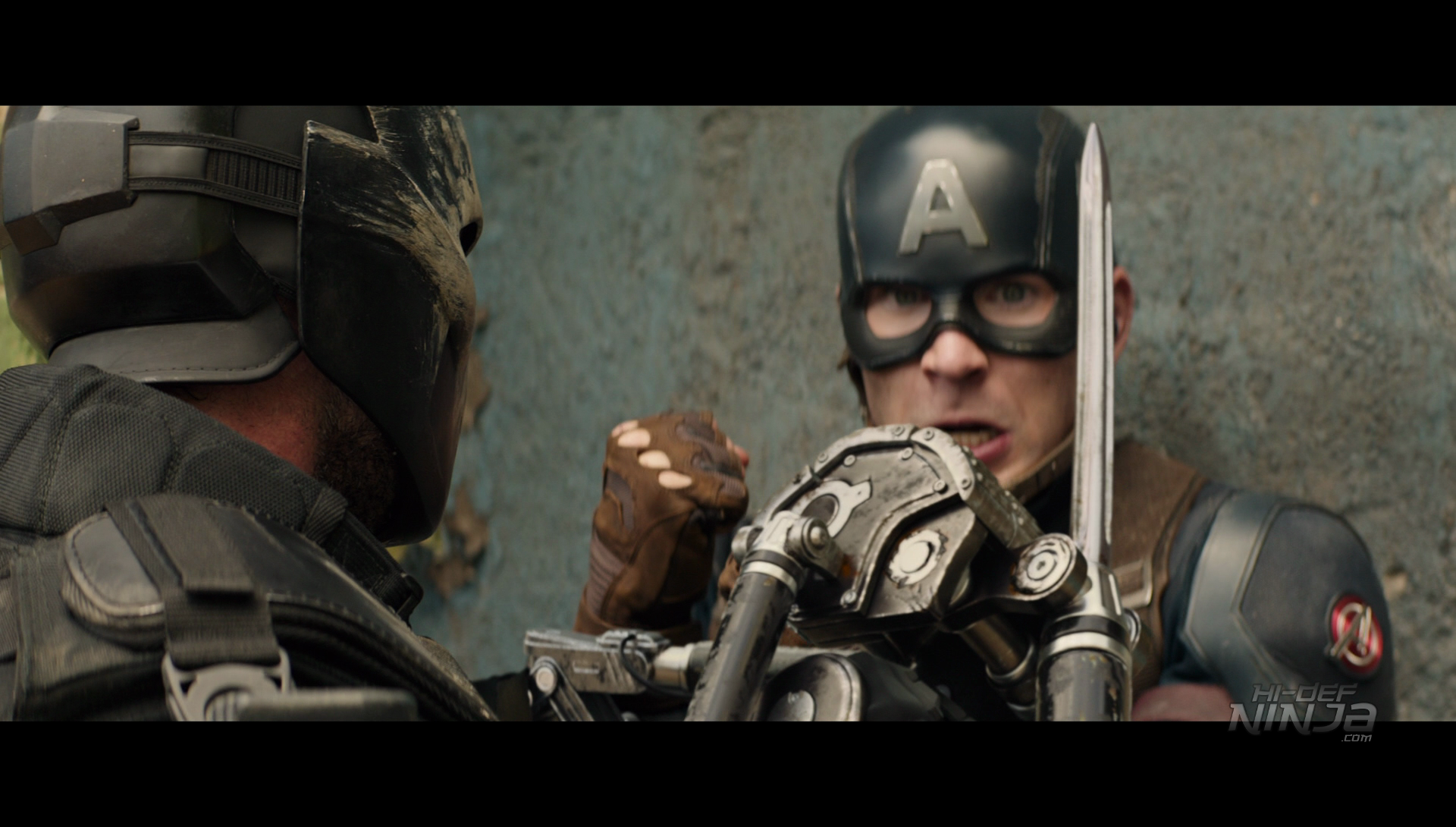 As the Captain America-led Avengers continue to save people around the world, those accomplishments have come at a terrible price: along the way to "Kicking ass" as Iron Man/Tony Stark (Robert Downey, Jr) puts it, innocent lives have been lost. A battle with the suicidal Crossbones results in another huge body count, and Falcon (Anthony Mackie), Black Widow (Scarlett Johansson), Vision (Paul Bettany), and Scarlet Witch (Elizabeth Olsen) are made to answer by The United Nations. Under the impending Sekovia Accords, The Avengers and all costumed heroes would serve the UN, and only on missions they deem appropriate. For Stark, it's a way of atoning for several deep personal problems that have left him damaged and sensitive to any personal attack. But Captain America/Steve Rogers (Chris Evans) sees their work as important, even his pal Bucky Barnes/Winter Soldier (Sebastian Stan) apparently launches an assault at the UN vote for the Accords.  Among the rising death toll is the father of The Black Panther (Chadwick Boseman), whose death spurs his son into vengeance mode against Winter Soldier in the name of his kingdom Wakanda.  Determined to protect his friend, Cap and several members of The Avengers ignore The Accords and thus become hunted themselves by none other than Stark and his team, which includes War Machine (Don Cheadle), Panther, a reluctant Widow, Vision, and none other than Spider-man (Tom Holland). But what neither team realizes is that a shadowy figure (Daniel Bruhl) is pulling long strings of deceit, manipulating them into a stunning reveal and a dark cover up. Faced with this news, tensions between Iron Man and Captain America explode once again as both place their friendship on the line while their colleagues peer into an uncertain future for their disassembled team.
Directors Joe and Anthony Russo have crafted yet another Captain America movie that takes bold chances in its storytelling but never makes you feel like those changes are happening just to raise interest. As Secretary of State "Thunderbolt" Ross (William Hurt, reprising his role) takes the team through one perceived failure after another, it's clear this new world order isn't making friends in the way it had hoped. Our directors further seed distrust into the team by deftly forcing each hero to analyze why they're serving in the first place. For Stark it's to atone for Ultron; for Steve, his reluctance is based on his sense of duty to right wrongs when he sees them, especially where Bucky is involved. Everyone else exists somewhere along that line, and their struggles to maintain some sense of order with their world crumbling around them is highly satisfying.
A film this big and with so many characters in play could result in one feeling cheated, especially considering that the title suggests a much smaller tale. And yet CAPTAIN AMERICA: CIVIL WAR gives each just enough time to either showcase their incredible skills or simply bask in the joy of being selected to attend Superhero Throwdown 2016. The battle at Berlin's Leipzig Airport is one of the best action sequences ever to grace a superhero film, while a chase for Bucky in a crowded stairwell and through a highway tunnel are fantastically choreographed. There's also moments of levity, especially when Stark recruits Spider-man (a very good Holland) to his side. Scarlet Witch on the other hand makes her decision known with fiery ferocity.
Perhaps the best human story of 2016 so far, CAPTAIN AMERICA: CIVIL WAR feels like a house where all the children have been kicked out. We are past the wide-eyed bushy-tailed storytelling of THE AVENGERS and into a much darker world, as if those same children fought each other out in the street and never came back home. The rifts that emerge couldn't have happened from a single movie, and the various memorable throw-downs occur, we find ourselves wide-mouthed at the stunning action but also worrying at the site of our heroes destroying one another. Make no mistake, there is no team that remains. There's a sense that these Avengers are permanently disassembled (to borrow a comic book title), perhaps never to unite again. CIVIL WAR elegantly sets up those bowling pins of loyalty – built over 12 films, which DC and WB should have considered before making BvS – so fate can knock them all down.
It goes without saying that so many of these Marvel heroes have become like our second family, which includes Downey as Tony Stark. It's clear that AGE OF ULTRON has affected him to his core, but his desire to keep fighting for people has destroyed his relationship with Pepper and left him psychologically vulnerable. So it particularly hurts when a parent – played so skillfully by Alfre Woodard – pushes Stark over the line, which then forces him to consider The Sekovia Accords. Evans too has matured into the perfect Cap: he's a hero who's become more disillusioned while trying to cut the cancer out of a complex world with an axe instead of a scalpel. I wasn't sold early on Evans, but he's come to represent my "Cap voice" when I read the comics.
But CAPTAIN AMERICA: CIVIL WAR succeeds for far more reasons than just these two doing what they do best. All of the great humor and action sequences contained within this script could only have happened after Marvel's set up of the previous 12 films. The studio has probably made the best Spider-man movie to date, proving to Sony that they alone should produce them going forward.  Directors Joe and Anthony Russo do more to return Spidey to #1 status in 20 minutes than a studio did in 5 movies. Holland steps nicely into role as a kid who's just there because Dad (Stark) told him to; he doesn't truly understand the team's dynamics, but dutifully serves Stark as the incredible airport sequence unfolds. On the other end of the spectrum is Black Panther, a true rebel whose loyalty to Wakanda makes him perhaps the most dangerous figure next to Vision. His struggle to keep his sanity is as appealing as Spider-man's naivety, and the two actors are staggeringly good in their respective roles.
And then there's the ending. Unless you've lived under a rock and somehow missed the film when it played in theater on its way to making $408m, the third act is perhaps the best-written of the Marvel films. It's a powerful t-bone collision that elevates the whole terrible conflict onto a new level. The long-time writing duo of Steven McFeely and Christopher Markus bring back a hidden gem from WINTER SOLIDER and form an entire ending around that brilliant revelation. Together with The Russos, McFeely and Markus craft as much of a character movie as they do a rip-roaring action film that's made to be engulfed with buckets of popcorn. CAPTAIN AMERICA: CIVIL WAR ultimately succeeds for what it leaves on the table: the fractures feel fairly permanent – until of course THE AVENGERS INFINITY WAR arrives in 2018 & 2019 – with no happy ending and no reuniting the team to take down another meh-baddie. That makes for a powerful experience, and one that audiences should continue to enjoy long after they secure their Blu-ray copy.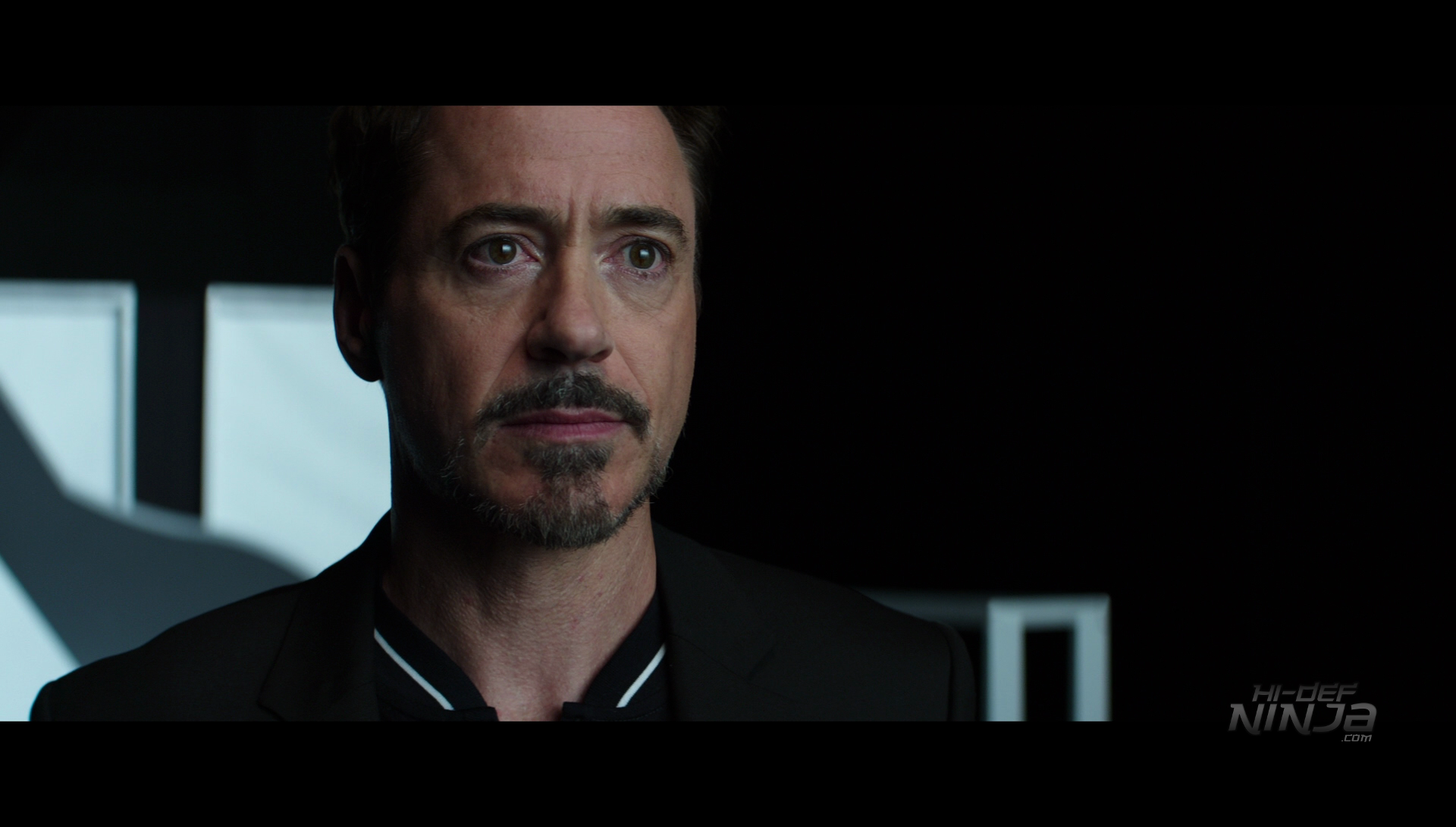 CAPTAIN AMERICA: CIVIL WAR reveals a 2D print that's among the best of 2016. We're treated to a wonderfully detailed and colorful transfer that shows off Disney's acumen in delivering top quality experiences for the home. The Russo Brothers and Cinematographer Trent Opaloch make sure that every image looks as glossy and fine as possible without losing anything in depth. Every human feature – from skin tones to blood and sweat – look authentic and beautifully crafted. Uniforms – which can sometime look cheap or flat from CGI – reveal intricate detail from piping in Ant-Man's suit to Iron Man's dented and chipped armor. Black Panther's outfit looks outstanding, showing off black-on-black details while at the same time revealing a series of weaving much like Superman's 'armored' suit.  Black Widow's red hair is just sexy, while Spider-man's retro color scheme pops off the screen.  Outdoor sequences are perfectly balanced, and blacks and shadows play nice, revealing layers of environment that accentuate the film's dark tone. Disney has made it a priority of bringing the best visual experience to the home, and CIVIL WAR represents another superior effort by the studio.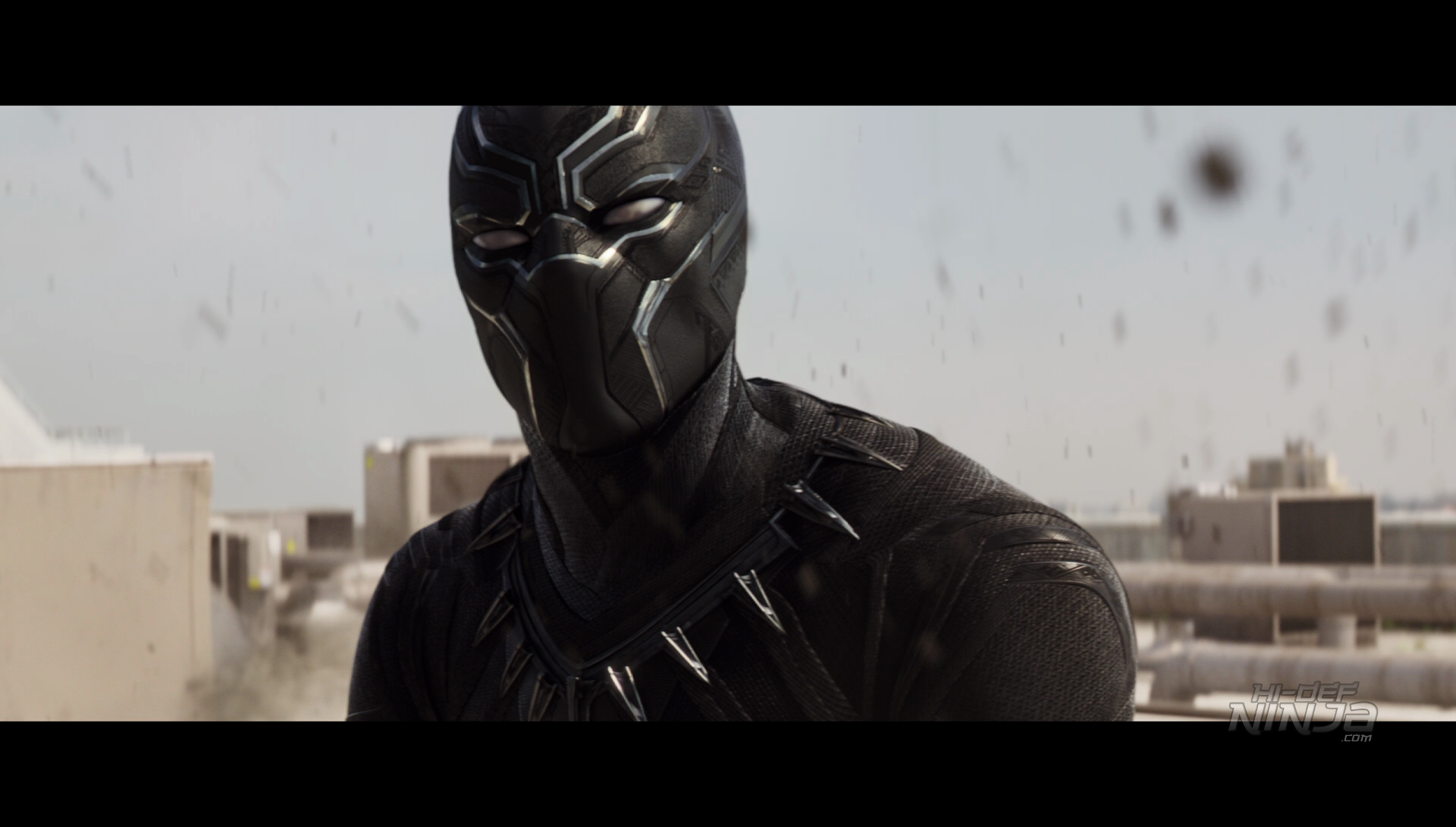 CIVIL WAR's 3D Blu-ray presentation doesn't hold up as well as the 2D, getting the job done but not with a lot of style. That's not to say that the result is bad, but it's more an issue of color than depth. In general terms, you'll feel like you're close to the action, especially when Cap throws that mighty shield or when Falcon uses his guns during the attack at the disease center. Unfortunately, color and a bit of detail are lost in the process, which tends to dull things instead of sharpen them. I also noticed several scenes in which banding was present, even when characters are sitting relatively still. Depending on whether you have an active or passive set up, you might get a different experience. But being a bit of videophile, I'd suggest you skip it in favor of the much better 2D version. It won't drive you so crazy as it did me.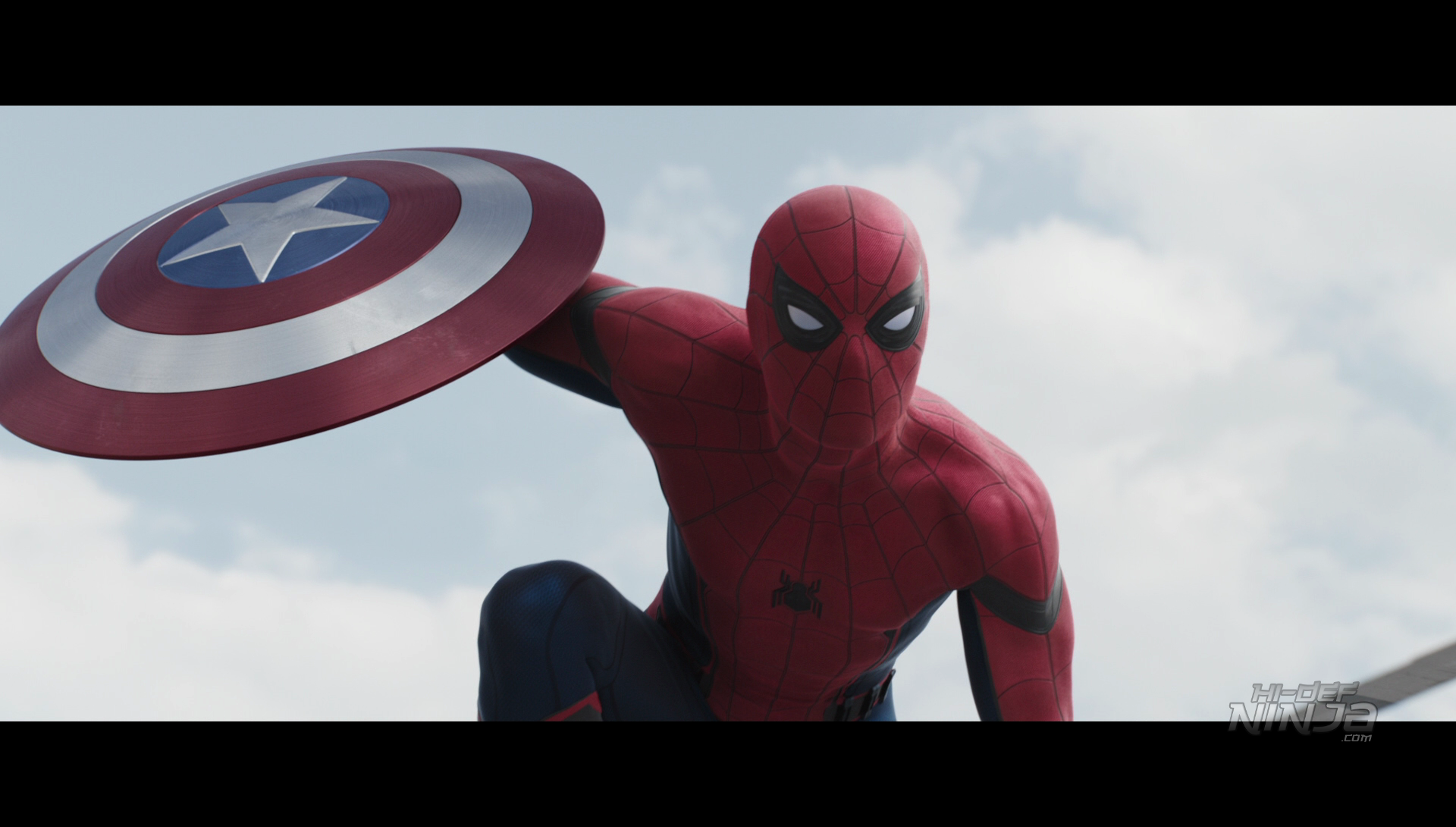 Marvel's CAPTAIN AMERICA: CIVIL WAR thunders onto the scene with a very good DTS-HD Master Audio 7.1 soundtrack. As you know, when 7.1 gets squeezed into a 5.1 set up (like the one I use for my reviews), the result is usually a significantly louder experience.  But here, the sound struggles to take hold during Cap's battle in South Africa with Crossbones.  Much of the impact seems limited to the center channel, a spot usually reserved for dialogue.  To the track's credit, once the shooting stops we get crystal-clear reproduction in both loud and quiet scenes.  Left and right front channels fare the best here, delivering separation in sound as Redwing moves from left to right.  Surrounds give us crowd noise and the occasional door shutting along with Composer Henry Jackman's score, but it's not as detailed as I would have liked.  By the time we get to the airport scene, everything seems ready to impress; the LFE pounds and punches, and we finally get the track we should have gotten from the beginning.  And while the track is outstanding, it's just not as satisfying as I had hoped.  If Disney would like to send me a 7.1 system to give this a proper test, I would not complain; but I did raise this score a bit to compensate for my smaller set up.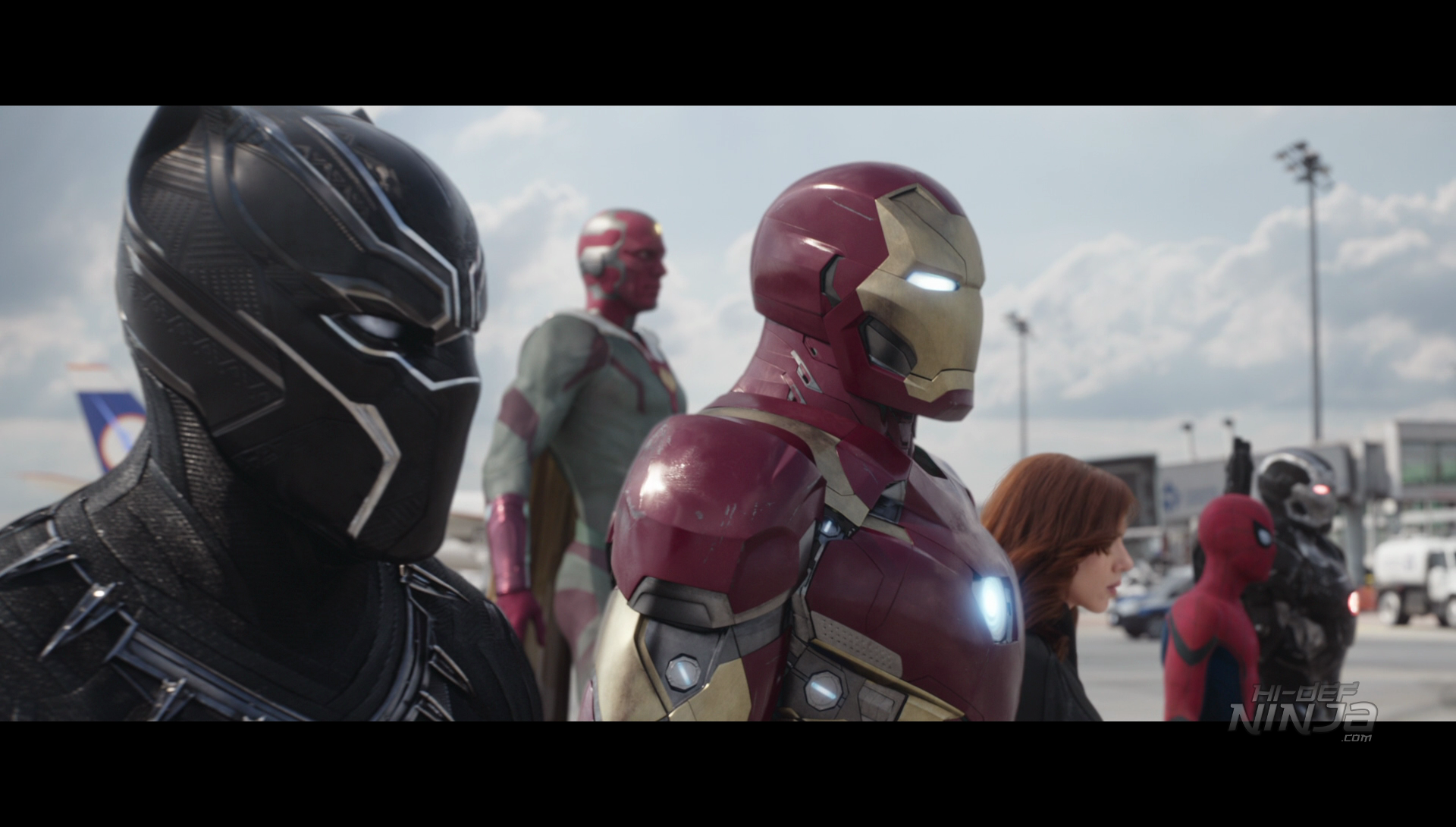 CAPTAIN AMERICA: CIVIL WAR contains an agreeable set of extras, all of which are presented in HD :
Audio Commentary by Directors Anthony & Joe Russo and Writers Christopher Markus & Stephen McFeely: The brain trust behind this film gather to deliver a very informative and entertaining track that covers every element from origins and alternate plots, shooting in Atlanta, the various story arcs, and much more.  There's some neat tidbits – particularly during the airport scene – that are definitely worth your time.  Audiences who prefer more of a film school discussion will probably appreciated this even more, while Marvelheads might complain of some missed opportunities.  For me, it represents an excellent opportunity to get inside the heads of what's become Marvel Studios' real-life Avengers squad.
United We Stand, Divided We Fall – The Making of Captain America: Civil War: This is a great two-part feature.  Shying away from the standard EPK's, it takes a deeper look at various aspects of the film.

Part 1 (22:25) features a discussion of how the movie relates to the comic, the direction which the Russo Brothers took, and how the story's themes are merged with the large cast of heroes.  We learn how various action sequences were shot, how The Winter Soldier represents the crucible that undoes The Avengers, as well as how each uses the other's powers.  The feature ends with what drew which character to choose their side.
Part 2 (23:18) continues the discussion by focusing on Vision and his quest to understand humanity while balancing the dynamics of the team.  We then move to Black Panther and how Chadwick Boseman and Marvel Studios brought this long-beloved character to life.  Tom Holland's arrival as Spider-Man and the airport battle then take center stage.  The feature finishes with a discussion of Zemo and how Bruhl leads audiences to the major revelation that tops off the film.

Captain America: The Road to Civil War (4:11): Chris Evans' take on Cap and The First Avenger's break with Tony is discussed.
Iron Man: The Road to Civil War (4:27): Not to be outdone, Tony Stark/Iron Man's story arc, the choices he's made throughout the franchise, and his fracturing from Captain America are expertly handled.
Open Your Mind: Marvel's Doctor Strange — Exclusive Sneak Peek (4:02): If you weren't already excited about the upcoming Marvel film, take a moment to check this featurette out, which arrives with concept art, sizzle clips, and interviews from the cast, crew, and Marvel President (and apparently the world's biggest Strange fan) Kevin Feige.
Deleted & Extended Scenes: While interesting, there's nothing really game-changing here, but check them out as you'll recognize certain lines re-purposed in other scenes.  Extended Peggy's Funeral (5:57), Zemo Meets Doctor Broussard (0:33), "You Are Not Used to the Truth" (0:52), and "Gotta Get Me One of Those" (0:29).
Gag Reel (2:53): This is a fun but ultimately unneeded sequence.  I would have preferred a Spider-man featurette that discussed the various development of his suit.
Our evaluation copy arrived as a 2D Blu-ray/3D BD Combo.  The slipcase is embossed and gorgeous, but remember that no DVD is included. Even the digital code access is cool, as it's more than just a flimsy piece of paper but a thicker document which requires you to rub off the shield inside to reveal your access. At the time of this posting, Best Buy is releasing a steelbook, while Target is offering digital content and a free month to (the very good) Marvel Unlimited library of comics.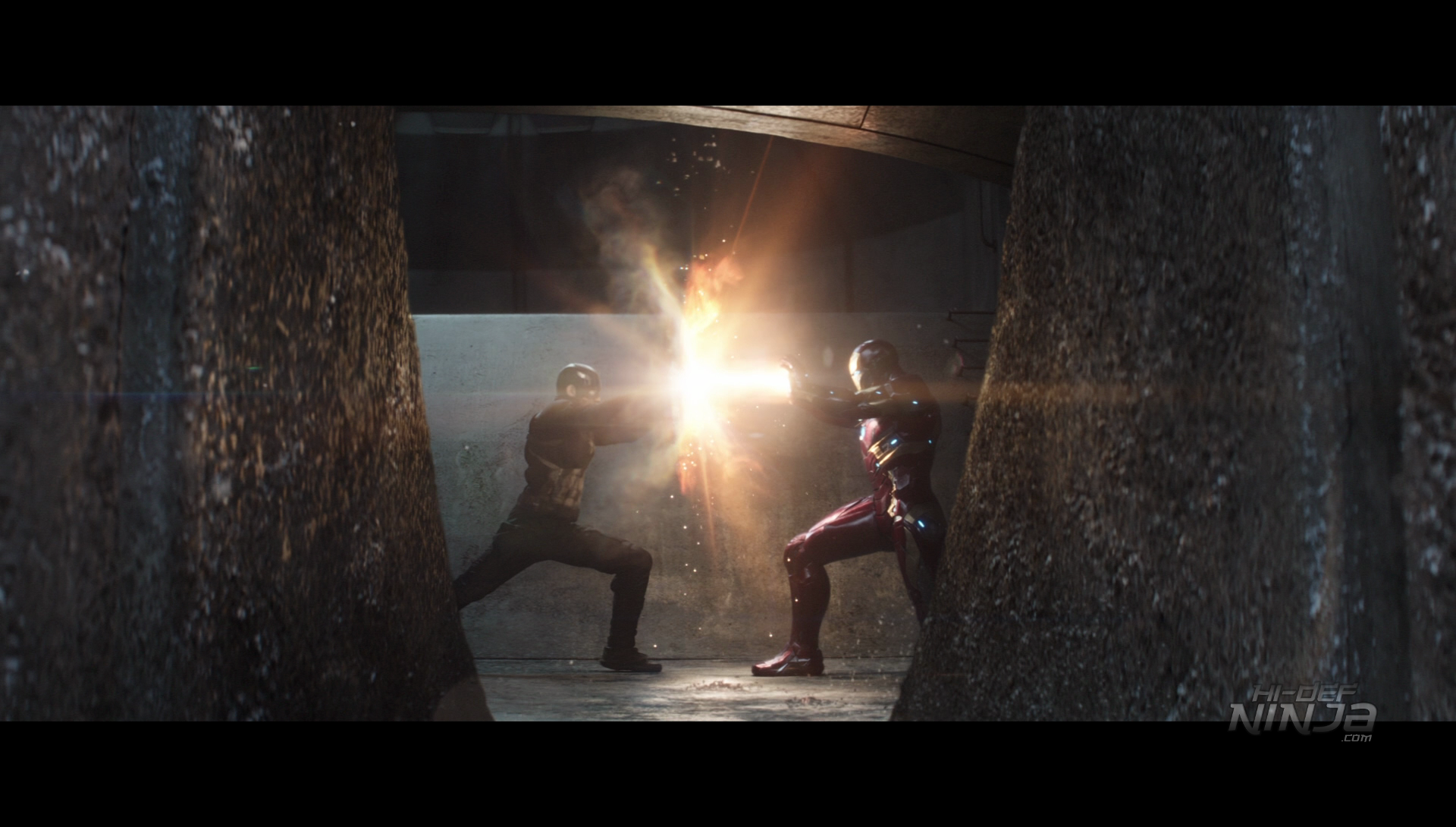 In the end, CAPTAIN AMERICA: CIVIL WAR is the best film of the year so far, not because of its DNA as a developing superhero epic, but because it has the strength to shatter its own world by asking tough questions about its heroes and the job they've taken on. The results aren't pretty and the fallout is sure to dominate the next series of films, but this more-mature Avengers seems absolutely primed for a bigger stage, if that's even possible. Like it or not, big changes are coming, and CIVIL WAR feels like the anvil that will forge an impressive Phase 3.  All aspects of the home release are outstanding.
CAPTAIN AMERICA: CIVIL WAR is rated PG-13 for extended sequences of violence, action and mayhem and has a runtime of 146 minutes.