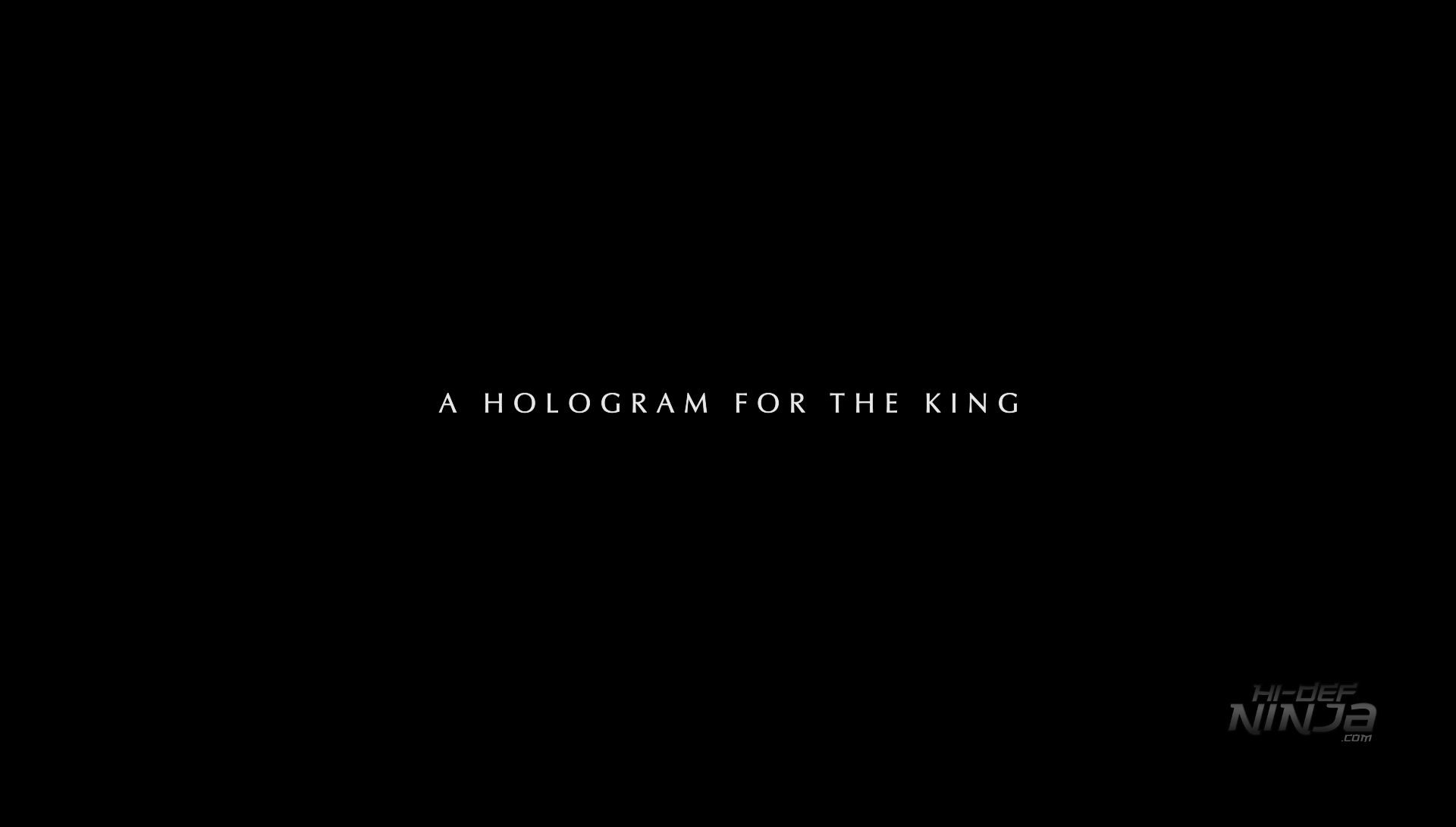 The oddly-crafted A HOLOGRAM FOR THE KING gets lost along its personal journey for our wallets.
Review by Matt Cummings
If anyone in Hollywood is best known by moviegoers either by role or movie, it's probably Actor Tom Hanks.  His guy-next-door persona has been careful crafted through two decades of stellar work, of which there are too many to mention.  But some might claim that Hanks is also engaged in a rut, essentially playing the same character over and over through films like SULLY, CAPTAIN PHILLIPS, BRIDGE OF SPIES, and more.  A HOLOGRAM FOR THE KING falls neatly into this list, adding more fuel to the fire that the venerable actor may be playing it too safe.  Its arrival onto Blu-ray gives us a chance to consider whether a great actor can keep a messy and inarticulate film afloat, merely by being what we've all come to expect him to be.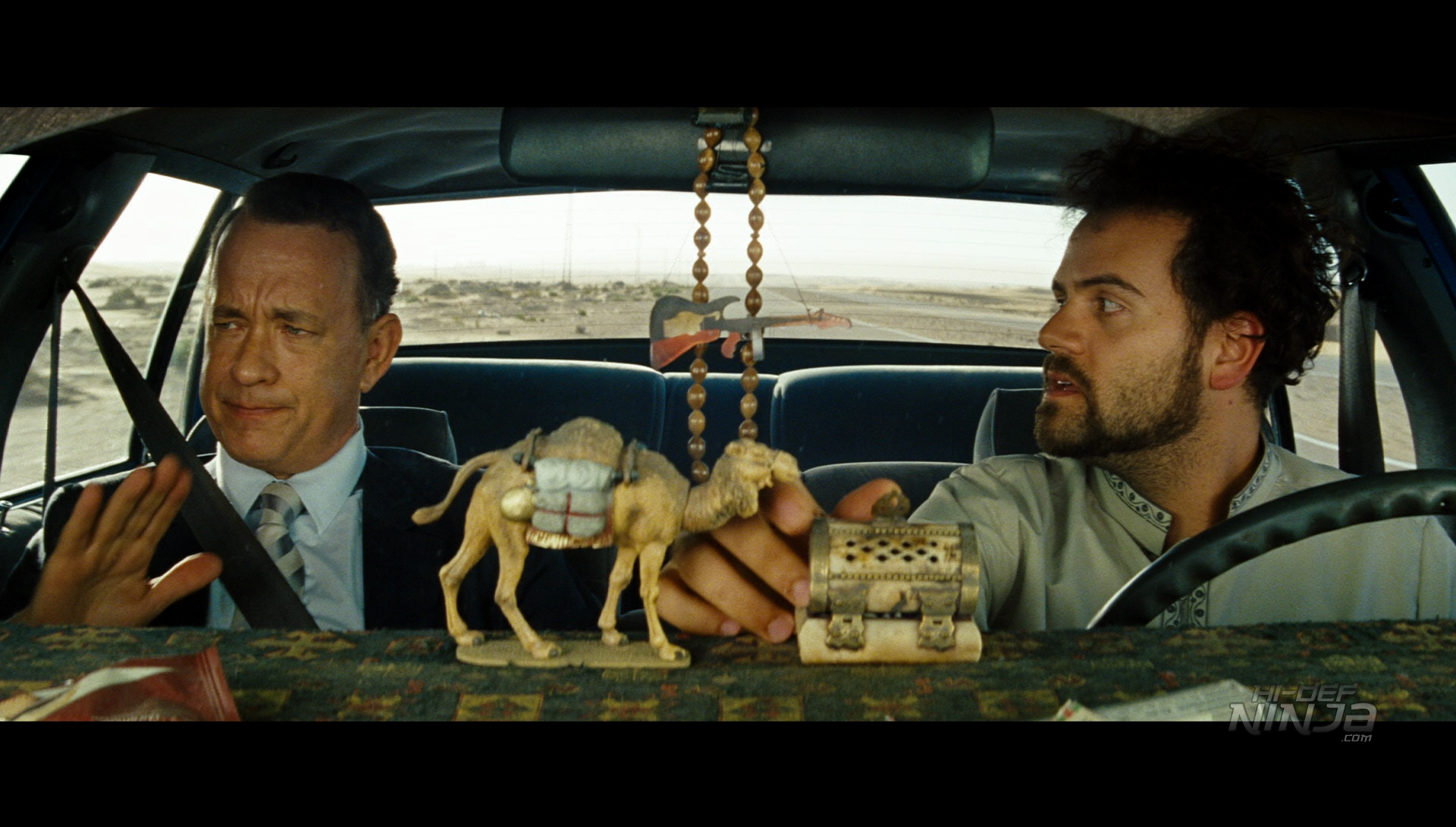 For salesman Alan Clay (Hanks), life has been better. Feeling emotionally drained after a messy divorce, the always cheery Alan is convinced that better days (a "sale" of his company's hologram technology) are just around the corner. Through a series of flashbacks, we learn that Alan was once a driving force at Schwinn Bicycles, but that his decision to make the bikes in China led to the painful end of a respected American company. Now working for a high tech firm, he arrives in Saudi Arabia hoping the king will purchase the hologram hardware for a new city being built on a deserted stretch of coastline. In fact, he needs the sale to keep his daughter in college, but just can't seem to make meetings or find the king's spokespeople in this new desert city. As Alan struggles to make movement on the deal, he faces a personal medical challenge that brings him into contact with an older Saudi female doctor (Sarita Choudhury), breathing new life into his prospects. Faced with the possibility that the deal won't go through, Alan must take charge of both his declining career and the possibility that his newfound love might become a very illegal affair.
From the oddly quirky opening sequence, HOLOGRAM never truly finds itself, pitting Hanks against The Talking Heads' song "Once in a Lifetime" as the world around him 'poofs!' away while he leads us through a truly weird music video. These vignettes are visually interesting, but never truly serve as anchors for Writer/Director Tom Tykwer's project. There are several moments where Alan appears to be having two nightmares in one, and later experiences hallucinogenic moments while drinking liquor in an attempt to reset his body clock to Saudi time. None of these mean anything and only serve as the thinnest of story bridges before Alan is brought to yet another frustrating meeting that never goes anywhere. He attends a wild party with a Danish spokeswoman (Sidse Babett Knudsen) but nothing happens. He witnesses a brawl in an eerily-empty part of the new city and then walks into a fabulously-appointed apartment but nothing happens. He hunts wolves with his driver's family but never kills anything. These are meant as moments of levity, paired up with Alan's declining health and prospects that the king will ever arrive. But they sit there like a nerdy kid at a party who's more content to hang out with the potted plant than be social.
Hanks, for all his resume, brings Alan to life mostly because he's played this role so many times already. He's clearly the best actor in every scene, but the lack of connection to the story keeps Hanks from engaging the audience on a personal level. Most of his relationships feel like story bridges, rather than meaningful forks in the road. HOLOGRAM feels a lot like Ben Stiller's THE SECRET LIFE OF WALTER MITTY, both in terms of story and optics, with neither truly working for the same reason. While the movie fashions itself as a love story, we never buy the odd chemistry between our leads; there's no reason why this ill-matched duo should work, which leads to an extended wrap-up conclusion montage that feels like a reaction to bad test audience experiences.
In one scene, Alan tells his boss, "You make estimates and you make plans; but then get there and everything changes. But you make the sale." A HOLOGRAM FOR THE KING wants to be a hilarious but important film about persevering through strife. The problem is that the film never follows Alan's mantra, struggling to keep our interest with pretty imagery before ultimately failing to close the deal. This won't in any way hurt Hanks' career, but it's time he find better passion projects to work on, as his every-day-guy routine is no longer delivering anything profound.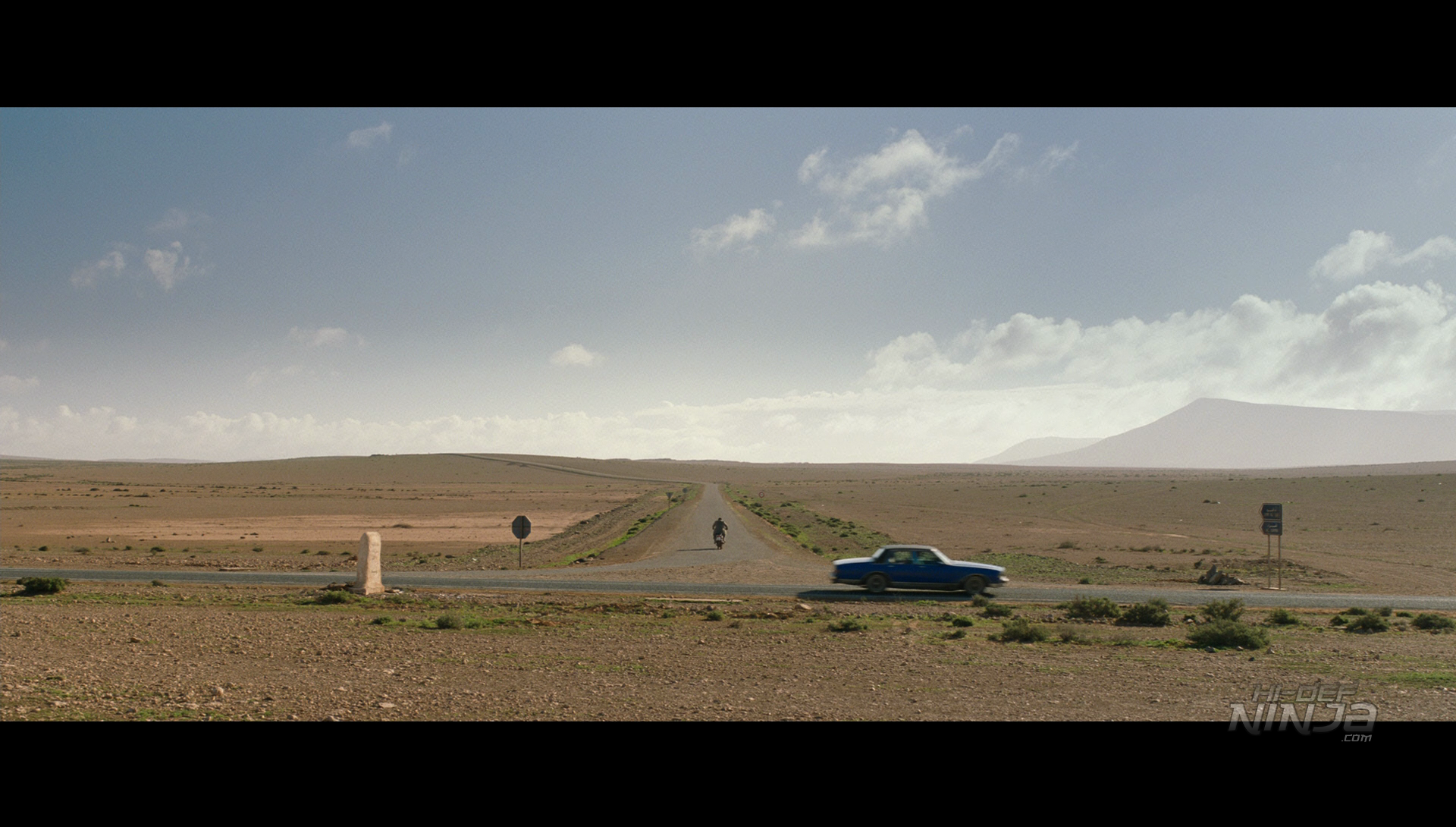 Lionsgate's A HOLOGRAM FOR THE KING is presented as a MPEG-4/AVC transfer that gives Cinematographer Frank Griebe's a digital and print image a beautiful and detailed shine. It's one of the prettiest films I've seen all year, as apparently it went through quite a process to dress it up for the home environment. The print is both gritty and perfectly saturated, showing off the blue of the Saudi coastline, the tans of Alan's suit, and the reddish-browns in steps and other surfaces. Even the desert scenes aren't so blanched that details like sand and camels become lost, nor does the print ever reveal the aliasing or banding that can come with outdoors shooting. Blacks aren't really an issue here, as most scenes are shot during the day and outside. But Lionsgate also comes through when that moment is needed, showing off detail in lingerie at the ambassador's party while strobe lights illumiate other body parts with equal precision. Sweat on Hanks' face and stains in his clothing are easily seen, while an underwater sequence shows off the beauty of Saudi's underwater world. It's a fine transfer, and gives us much.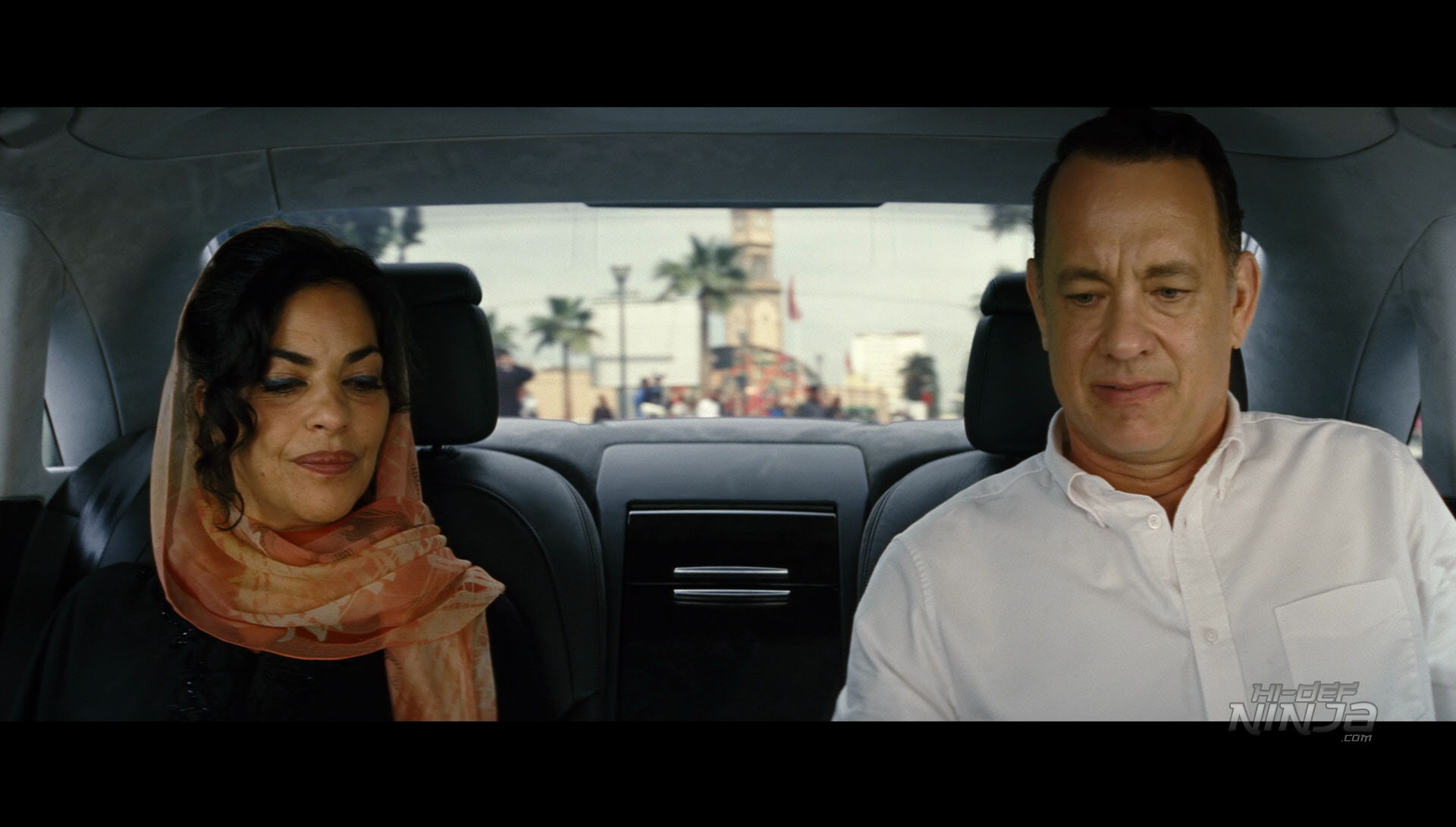 A HOLOGRAM FOR THE KING sports a good but unimpressive DTS-HD Master Audio 5.1 mix never really strives to deliver the world which Tykwer imagines. It's not a horrible track, but any moments to share in Alan's world is generally lost. One place that gets it right is the center channel, delivering crystal-clear dialogue that's only hard to hear because of the language barrier. We do get some decent phasing in the forward speakers, but it's the 70's/80's music which dominates. The same goes for the surrounds, which only come out to play in very limited ways, either as background for beach or traffic noise, and even that isn't done too often. The LFE doesn't get much of a workout, but this isn't exactly the kind of film one would expect explosions or gunfire. Again, the only real failure here is the lack of a deep surround experience, but the rest of the track gets it done without generating any sweat to do it.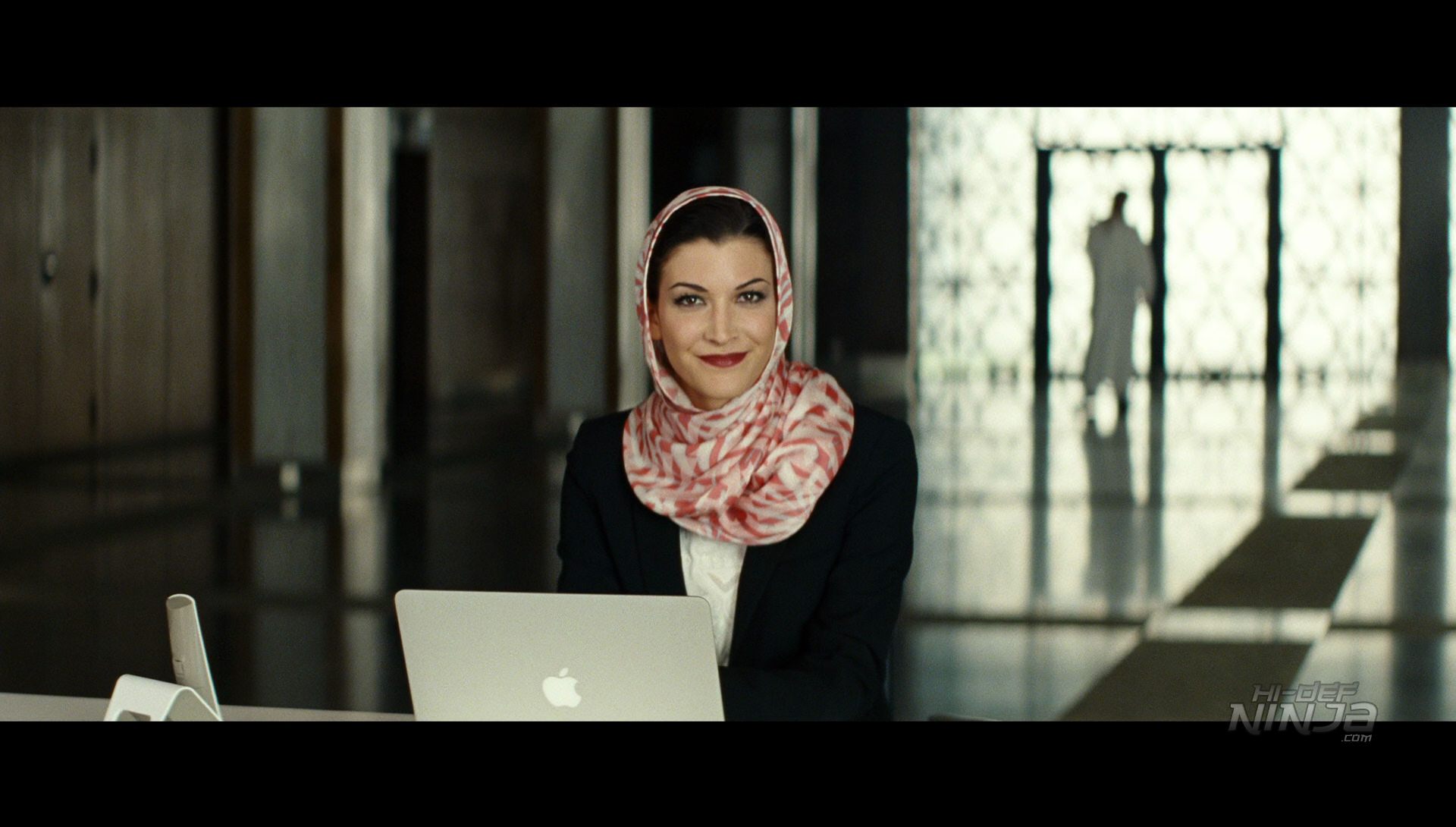 A HOLOGRAM FOR THE KING provides us with only the minimum of supplements, all of which appear to be presented in 1080i, as there is ghosting in every scene:
The Making of A HOLOGRAM FOR THE KING (19:56) is a mostly insightful journey through the making of the film. However, all the issues surrounding its failure are strangely set up here as well. Check out the location where Hanks does his sit-down. It's an oddly-imagined space, with typewriters and chalkboards serving as background.
From Novel to Screen: The Adaptation of A HOLOGRAM FOR THE KING (11:53): This is a more standard EPK, supported with good (but familiar) interviews with novelist Dave Eggers and Director Tykwer writer.
Perfecting the Culture (10:14): This featurette centers on trying to accurately reproduce Saudi Arabia without actually shooting there.
Trailers: GENIUS, MISS YOU ALREADY, CAFE SOCIETY, LOVE & MERCY, MR. HOLMES
Our evaluation copy arrived as a Blu-ray/Digital HD. The slipcase is simple but colorful, with Hanks' mug dominating the cover. There is no interior artwork.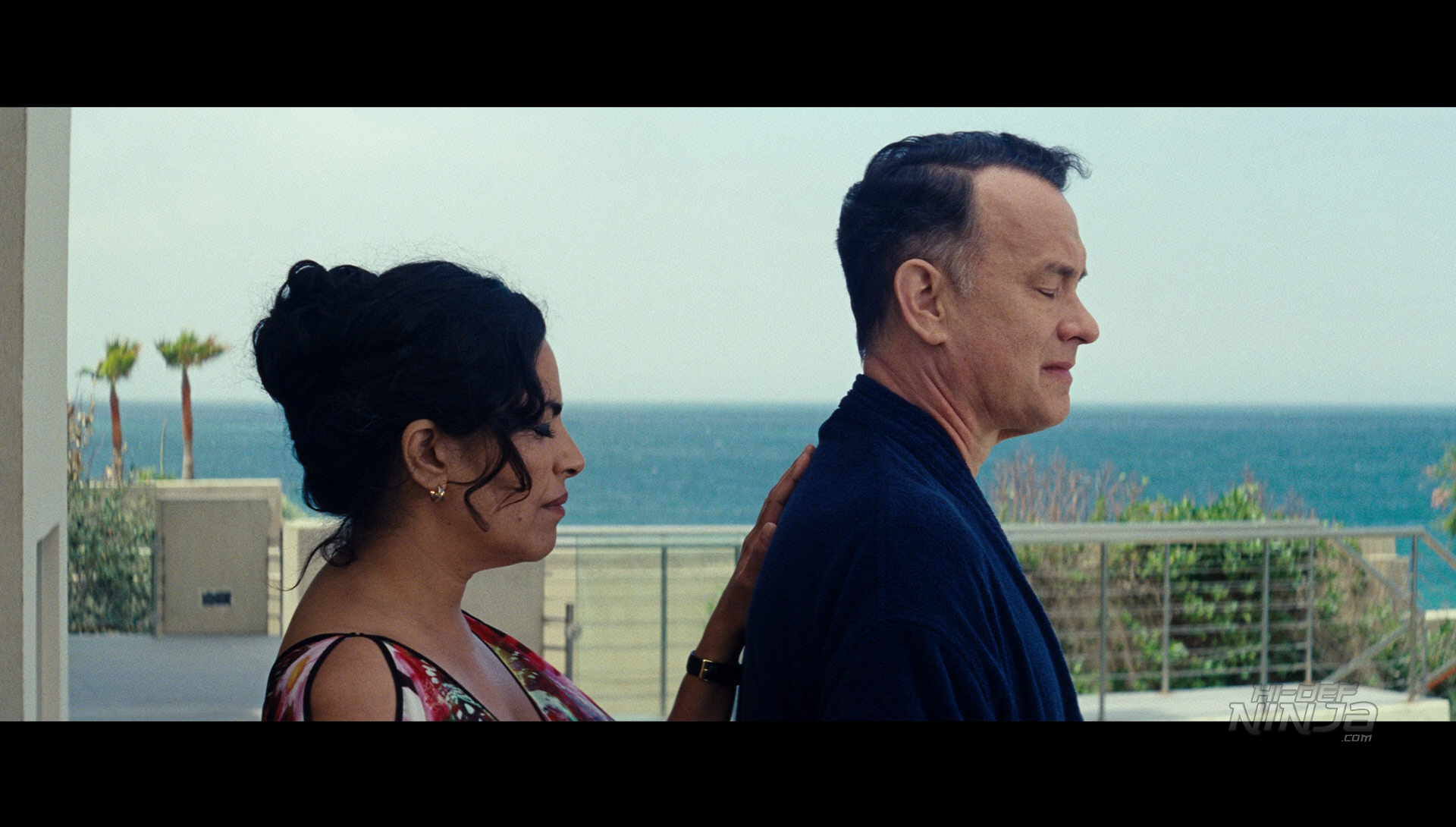 A HOLOGRAM FOR THE KING is really only worthy as a rental, even though the home release offers a gorgeous-looking palette. It suffers from a wayward script that never really locks in, forcing our mostly decent cast not much room to grow their characters. But there is a sort of familiar geniality here that tries its best to sell you its wares. It might be the only thing that will keep you from watching an older Hanks film, which could result in a sort of cinematic deja vu.
A HOLOGRAM FOR THE KING is Rated R for some sexuality/nudity, language and brief drug use and has a runtime of 98 minutes.