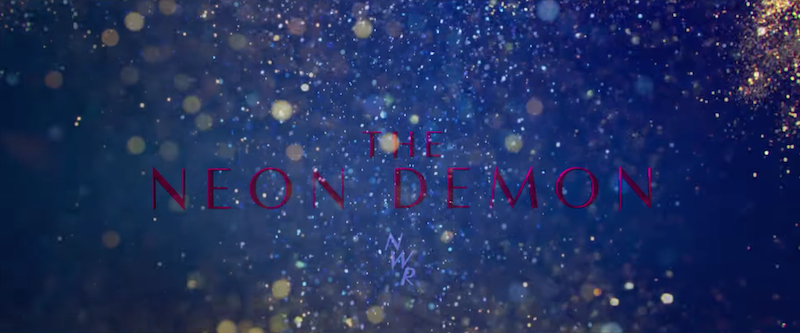 Nicolas Winding Refn is back on the scene with his latest film, THE NEON DEMON. 2011's DRIVE is one of my favorite films of all-time, so that made me excited for Refn's future films. Unfortunately, he followed DRIVE with the incredibly disappointing ONLY GOD FORGIVES (read the HDN review for that film here). Considering my final thoughts on OGF, I figured that things could only go upwards from there. I was quite wrong.
THE NEON DEMON is a 2-hour venture into the remorseless world of beauty and modelling in Los Angeles. Following 16-year-old Jesse (Elle Fanning), the audience witnesses how barbaric and competitive models are — especially when new blood comes into the fold. At least I think that's what Refn was going for. Sure, we get to see some catty behaviour, but that comes sparsely in-between long shots that progress to absolutely nowhere.
Jesse arrives in L.A. and immediately falls into luck. A budding make-up artist named Ruby (Jena Malone) quickly befriends Jesse and helps her to get her start as a model by introducing her to the owner of a talent agency (Christina Hendricks in a quick one-and-done scene). Once Jesse has been instructed that she's to tell everyone that she's 19, she's off to the big league. Here she meets two veteran models (Abbey Lee as Sarah and Bella Heathcote as Gigi, respectively) who, as they're older, become rather intrigued and jealous of Jesse.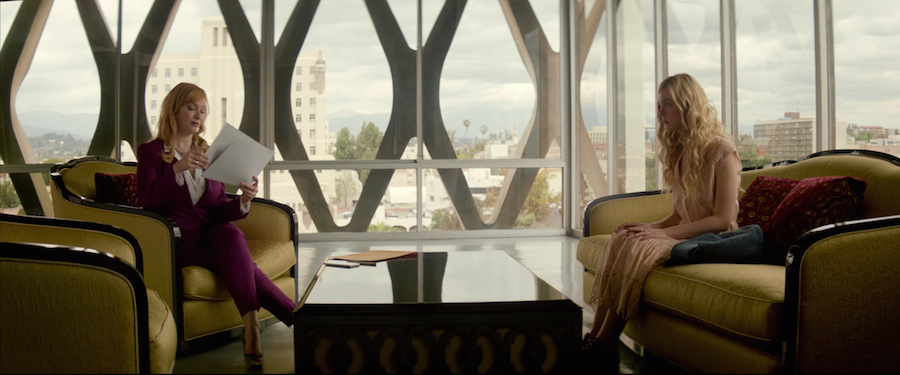 Jesse's natural beauty makes her a hot commodity amongst fashion designers and photographers and over time, she becomes conceited by all of the praise. She proceeds to treat those once close to her as being underneath her and unfortunately for Jesse, that doesn't fly with everyone. After one-and-a-half hours of, honestly, sheer boredom, the film finally becomes the horror film that was promised — even though continuing to be as strange and obscure as possible.
I'm beginning to think that DRIVE's success has somewhat gone to Refn's head. The visuals in his films are so beautiful, but they're all bone and no meat. Even the trailers and opening credits of THE NEON DEMON oozed egotistical behaviour with his initials (NWR) appearing behind the titles. Its possible that the secret to DRIVE's success comes from that film not actually being written by Refn (where ONLY GOD FORGIVES and THE NEON DEMON were both scripted by him).
The main highlights for me were Cliff Martinez's wonderful score and Keanu Reeves' small role as a disturbingly weird hotel manager. I personally thought Fanning was a strange choice for the role of Jesse even though, acting-wise, she did a fine job with what she was given. All-in-all, I'm sure fans of vague, go-nowhere "horror" films will enjoy THE NEON DEMON. I, however, don't fall into that category.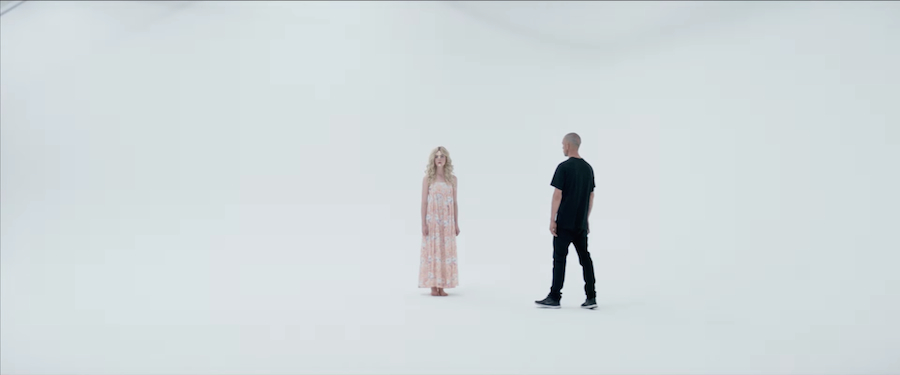 As said, Nicolas Winding Refn creates beautiful imagery and THE NEON DEMON is just further proof of that statement. As a creator of art, he excels effortlessly. His love and care for creating such imagery comes through on this Blu-ray disc flawlessly. It's bright and vibrant with solid blacks and dazzling glitter. It's definitely pretty to look at.
VIDEO RESOLUTION
Widescreen 2.40:1

Without Cliff Martinez's great score, THE NEON DEMON would be a relatively quiet film. What's here sounds really good, though — there's no denying that. While the visuals are the Blu-ray's highlight, the audio does its job just fine. Strangely enough, there are no French audio mixes or subtitles (this being strange since it's a Canadian release).
AUDIO MIXES
English DTS-HD Master Audio 5.1
Español DTS Digital Surround 5.1
SUBTITLES
English SDH
Español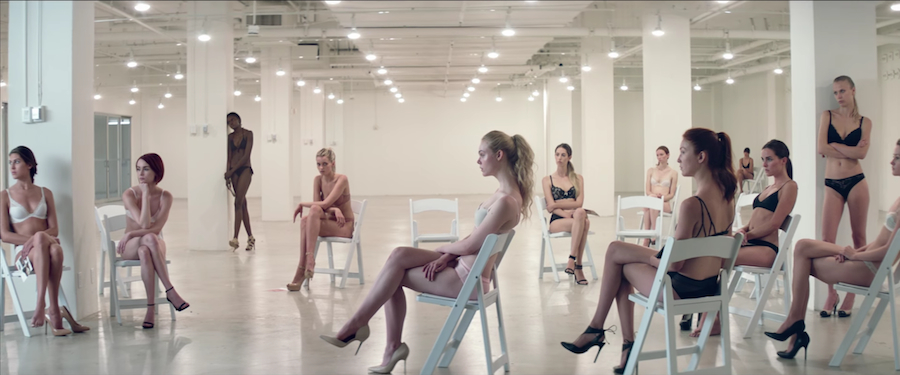 Bonus features on the disc include…
Audio Commentary with Director Nicolas Winding Refn and Elle Fanning
Refn and Fanning provide commentary throughout the film. Apparently this was Fanning's first time providing commentary and while I didn't re-watch the entire film with this feature on, I did watch the first ten minutes or so and she does a great job — laughing and genuinely sounding happy to be there. She also mentions the egotistical 'NWR' that pops up during the opening credits in which Refn responds that it was a way to brand the film the way a beauty company brands their own products.
Behind the Soundtrack of THE NEON DEMON (05:08)
Nicolas Winding Refn discusses the inception of the film's sound as we watch scenes from the film and how Cliff Martinez's score impacts each one. Martinez talks about the science fiction overtones in the score and how the two created the film's sound. This was a good feature as I loved the soundtrack.
About THE NEON DEMON (01:12)
An incredibly useless bonus feature that's so short, it barely exists. It's basically a promo video used for THE NEON DEMON with short snippets of interviews from the premiere of film. Elle Fanning talks about how she had to be a part of the project and then also refers to Nicolas Winding Refn as "the king of violence and blood". Keanu Reeves says the film is not generic while Refn calls himself an entertainer. Skip this altogether.
Trailers
This Blu-ray includes a skippable trailer for D Films' SWISS ARMY MAN.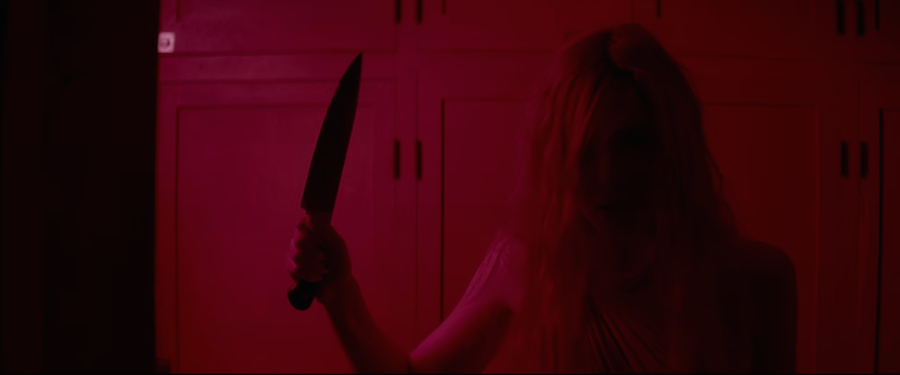 THE NEON DEMON is like an old car with a beat-up engine and a gorgeous paint job — it runs like crap, but damn does it look fine. The film is awful, but the video, audio, and (to some degree) supplements save this Blu-ray from being a dud. Truthfully, other than the score by Martinez, my favourite part of this release belongs to the stylish Blu-ray menu. If you enjoyed ONLY GOD FORGIVES, you may enjoy this. I know there's a lot of NWR fans out there who'll enjoy anything that he creates. Personally, I'm not one of those people, so I'm only going to recommend this if you need a pretty tech demo.
Order your copy from Amazon.ca