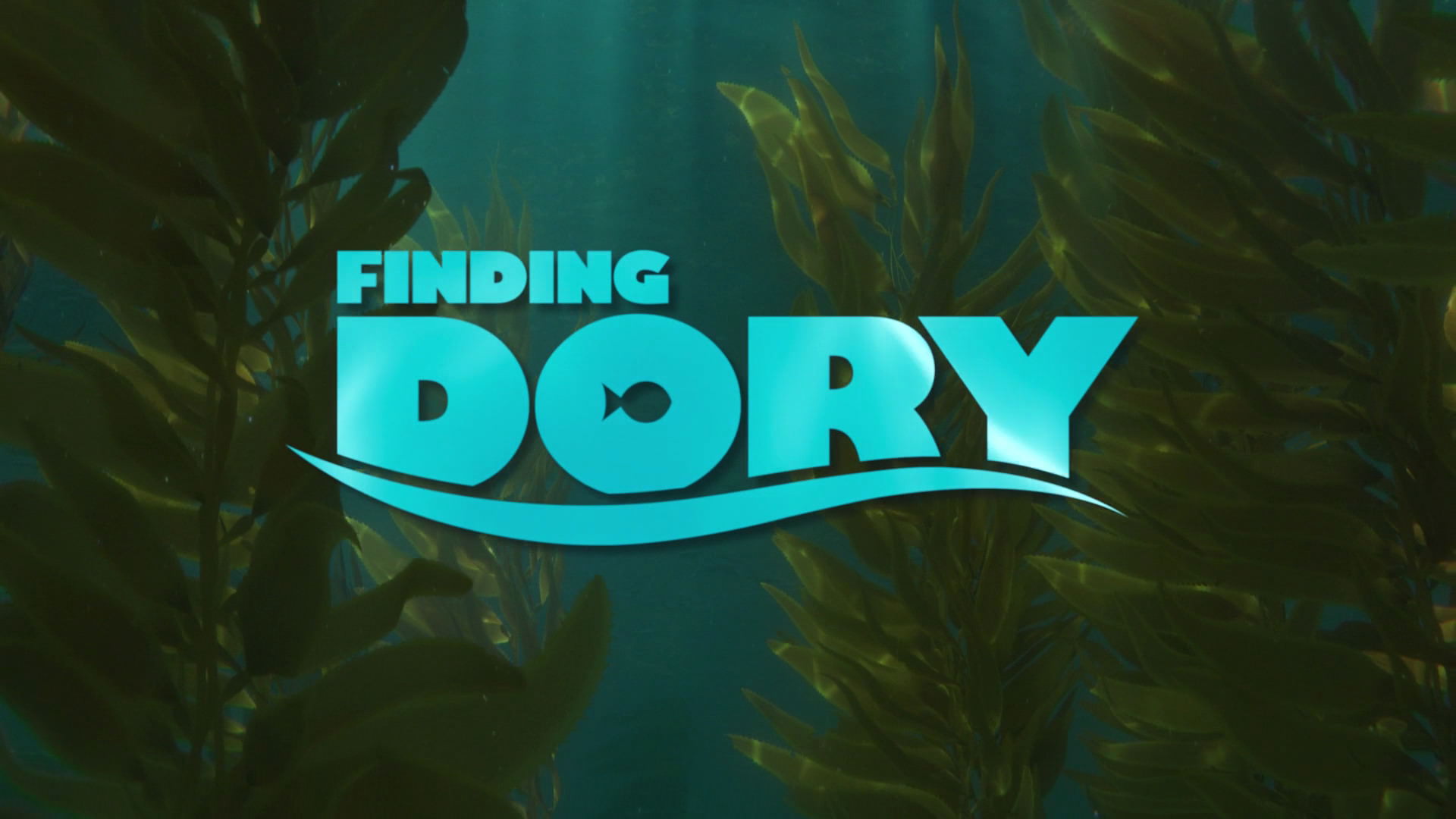 FINDING DORY sports great video and supplements in this rather predictable follow-up.
Review by Matt Cummings
FINDING DORY Blu-ray
The Movie
Video Quality
Audio Quality
Supplements
When it was revealed that Disney would be producing a FINDING DORY movie, I joined many others in a chorus of "Why?" Granted, FINDING NEMO blew open the door on animated ocean floor mayhem by creating a series of relatable, fun characters.  But what was DORY going to do that would grow the franchise in an original way? NEMO had a magical quality to it, and it still resonates with audiences for the reasons I mentioned above.  I can't say the same for FINDING DORY, a competent but ultimately predictable follow-up that does more to expose the franchise's faults than probe the murky depths for exciting new stories to tell. Its arrival onto Blu-ray offers great video, solid (but unimpressive audio), and one of the best set of supplements we've seen all year.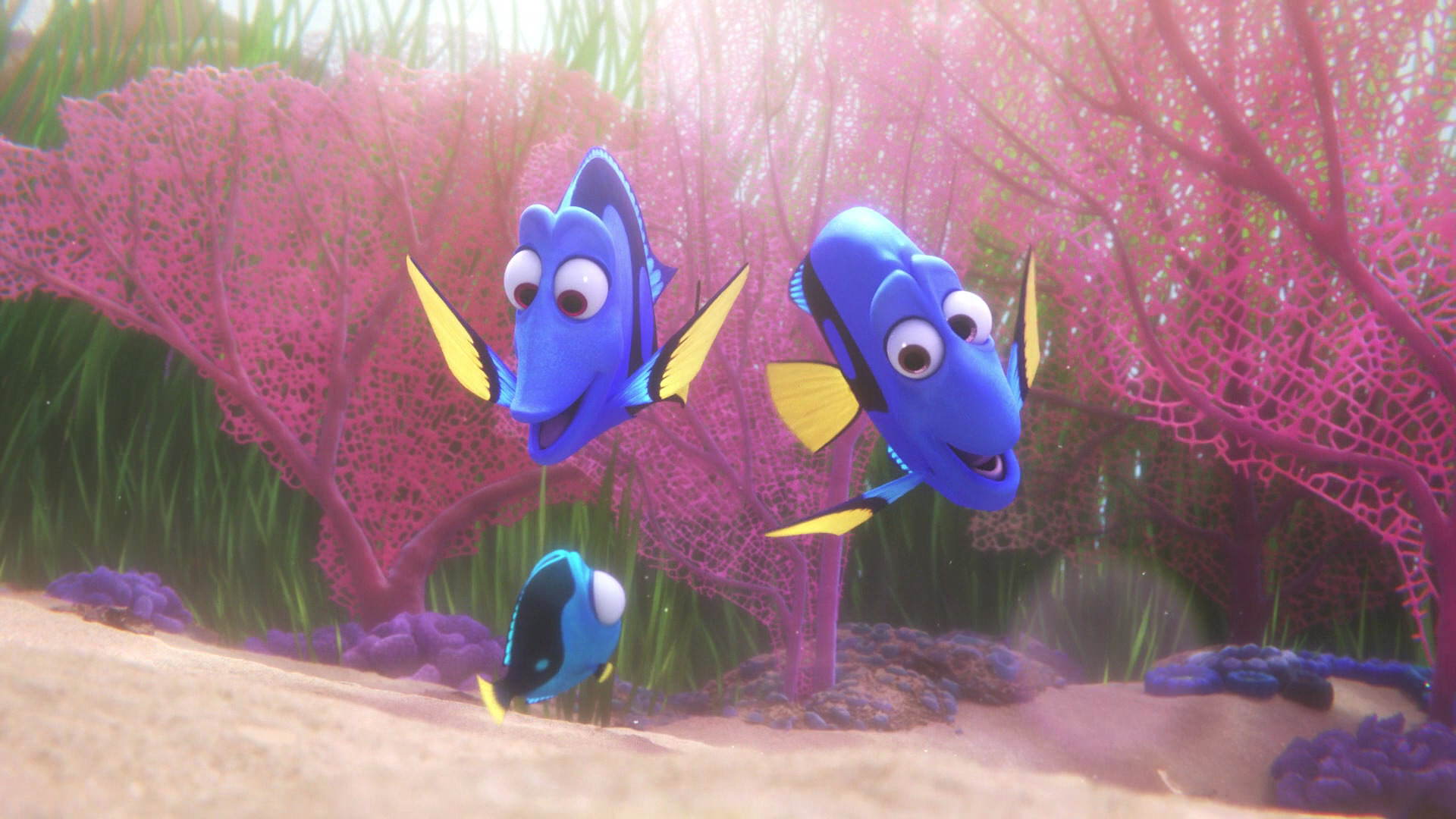 THE MOVIE
It's been one year since the adventures of NEMO, with life along the coral reef having returned to normal. But for the Blue Tang fish Dory (voiced by Ellen Degeneres), life is a struggle to remember her missing family, all potentially brought about by her short-term memory loss. One day, she remembers a powerful memory of her lost mother (Diane Keaton) and father (Eugene Levy) shortly before she was swept away. It makes her realize that she must find them, no matter the cost. Accompanied by the young Nemo (Hayden Rolence) and his father Marlin (Albert Brooks), Dory sets off a world-wide campaign that will see her visiting old friends and making new ones, including a crabby octopus (Ed O'Neill) who would rather be alone in a tank in Cleveland than deal with the other fish and marine mammals. Arriving back at The Marine Institute in California, Dory learns that her parents have long-since gone, but that her childhood friend Destiny (Kaitlin Olson) still suffers from an ailment that brought her to the Institute in the first place. As the Cleveland truck plans its imminent departure, Dory gathers Destiny and her cell mate (Ty Burrell) on an adventure that will see the team face struggle, discovery, and the power of friendship.
Sadly, DORY never makes a case for franchise lock, settling on the familiar plot points of NEMO without ever pushing the boundaries in any meaningful way. We know how this story will end, and thus it's all a bit anticlimactic when it arrives. There's few moments of real human heart here, such as in flashbacks when Dory is a child, her big eyes and blind naivety serving as a refreshing element at a time when our country certainly needs a dose of that. Otherwise, it's a paint-by-numbers adventure: go here, find the clue, and it's off to the next location. When the audience does get a breather, as with the sea lions at the Institute, the lack of chemistry and story conspire to deny any momentum that might have been built up. Hank's desire to be alone is never fully explored, and even when Dory finds her family, it's back to the caper as they take a decidedly back door to all the proceedings. They're not even in the final shot, a fact which might surprise many considering that their reunion took up 99% of the film.  It might have been more interesting if we had finally learned what if anything caused Dory's continuing memory loss, but it's unlikely I would have liked it any more. Destiny and Bailey aren't exactly Nemo and Marlin, and their lack of screentime almost makes them distractions.
Disney's commitment to high-quality voice actors is something that the DC Animated Universe frankly needs to remember when it sends out casting calls. Degeneres remains a pleasure, even if her mumbling sometimes makes it difficult to enjoy her. But a cast can only go so far, and within 30 minutes we've seen multiples instances when Dory's memory problems have been used as a plot mechanism, fading in and out right when the story needs it. Directors Andrew Stanton and Angus MacLane don't exactly push the story, forcing Dory and others to rely on old and tested skits, rather than seeking bold new frontiers for their characters. This is especially apparent when DORY gets started, drawing entire sections of the first act from FINDING NEMO as a way to re-introduce us to this universe. Having viewed these one right after the other, it made me feel like Stanton and the writing team were struggling to find a voice for this film.
FINDING DORY took home a very good $485m domestic haul, posting a nearly $100m improvement over NEMO. But I'd make the case that the original is far superior, both in character development and story. When things got dull, Stanton sprinkled in a little "MINE! MINE!" of the pigeons or the gnarly surfer turtle Crush. Unfortunately, none of that is here, as FINDING DORY does little to separate itself from other (and better) animated films from 2016. It satisfies as a competent production, but don't expect it to capture your heart like others have this year.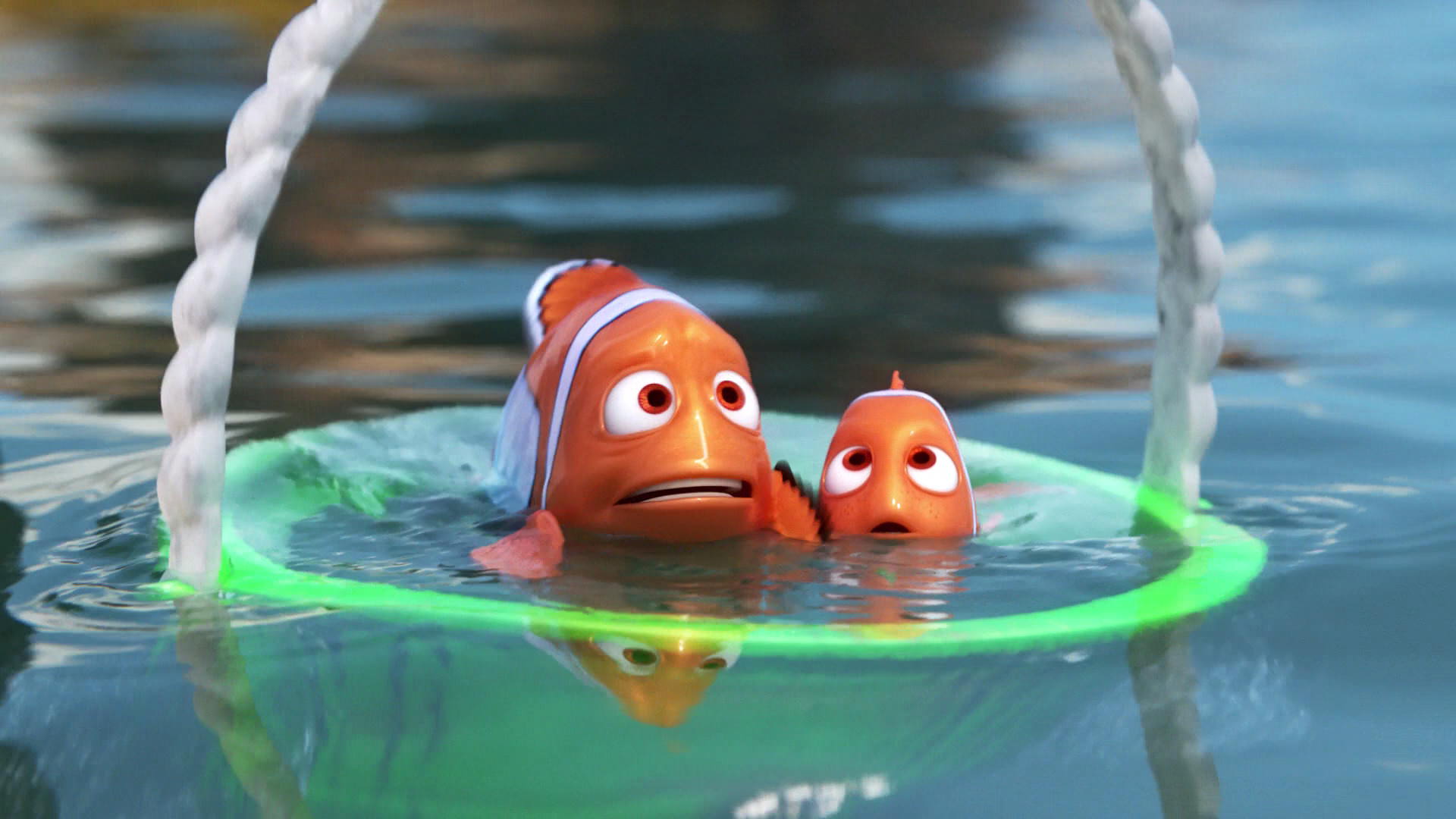 VIDEO QUALITY
Disney's FINDING DORY offers an exceptional visual experience. Always known for its transfers, the Mouse House presents an MPEG-4/AVC print that is deeply colorful and detailed. Everything is saturated and lush, with bright blues, vibrant reds, and oranges that pop off the screen. All varieties of fish are represented quite well in the all-digital print, which also respects and depicts the land environment quite well. But it's the ocean floor that loves the screen, showing off details in coral, kelp, as well as the larger fish and marine mammals. Each is represented in sharp, inky lines, with features like fish scales and eyes looking near photo-realistic.  The interior shots of The Marine Life Institute give off a worn and realistic look, revealing reflections in wall titles as well as in standing water. Speaking of, small waves that crash against the Institute's rocks are highly detailed, as do trees, cracked pavement, and the dingy nature of the transport vehicle. Shadows fade into blacks levels with expected complexity, reminding us of the depth of the ocean and the enormous challenge that Dory faces in the struggle to reunite with her family. This animation loves the digital print, producing a clean and even dreamy image punctuated by the realization that humans are rather nosy and noisy in this universe, which I think was the point. It's become almost an anachronism with them, but Disney once again proves their absolute command of the genre, as this print thrives as much as our ocean friends.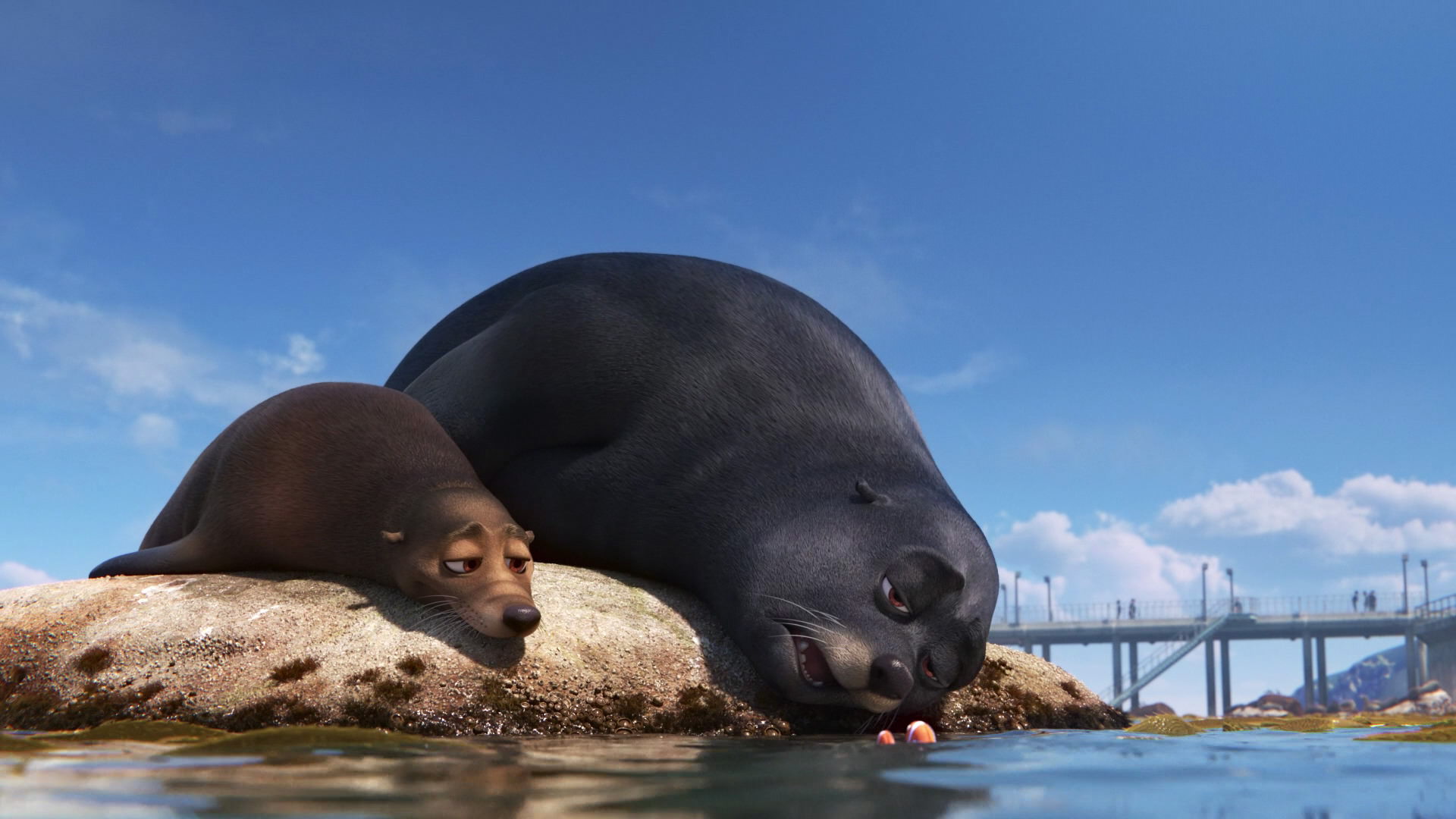 AUDIO QUALITY
FINDING DORY arrives with a solid but largely unimpressive DTS-HD Master Audio 7.1 lossless track. For a something that should swim in with a variety of atmospheres, this one largely keeps from being a boisterous experience and relies on consistently delivering the goods. That means there's no large noises, like the transport truck crashing into the water, or Dory being swept away by the ocean current. Music seems to be the dominant player here, dominating in the four channels of our 5.1. Dialogue pours through the center channel, with some of it sounding a bit muffled. I had a hard time with DeGeneres' stream of consciousness shtick, which required me to rewind a few times to catch everything. What truly fails here is the near-lack of a surround experience. I would have expected to hear ocean currents, fish chatter, and perhaps even noises from the Institute's warehouse, but I got none of that. Too bad, because some of the action really needed it. The LFE gets just enough push to keep it moving, but like Dory it doesn't find its place early on. I know that cinephiles love animation, because you can truly create any environment you wish. FINDING DORY uses little of that canvas, instead delivering a nice experience for kids and families.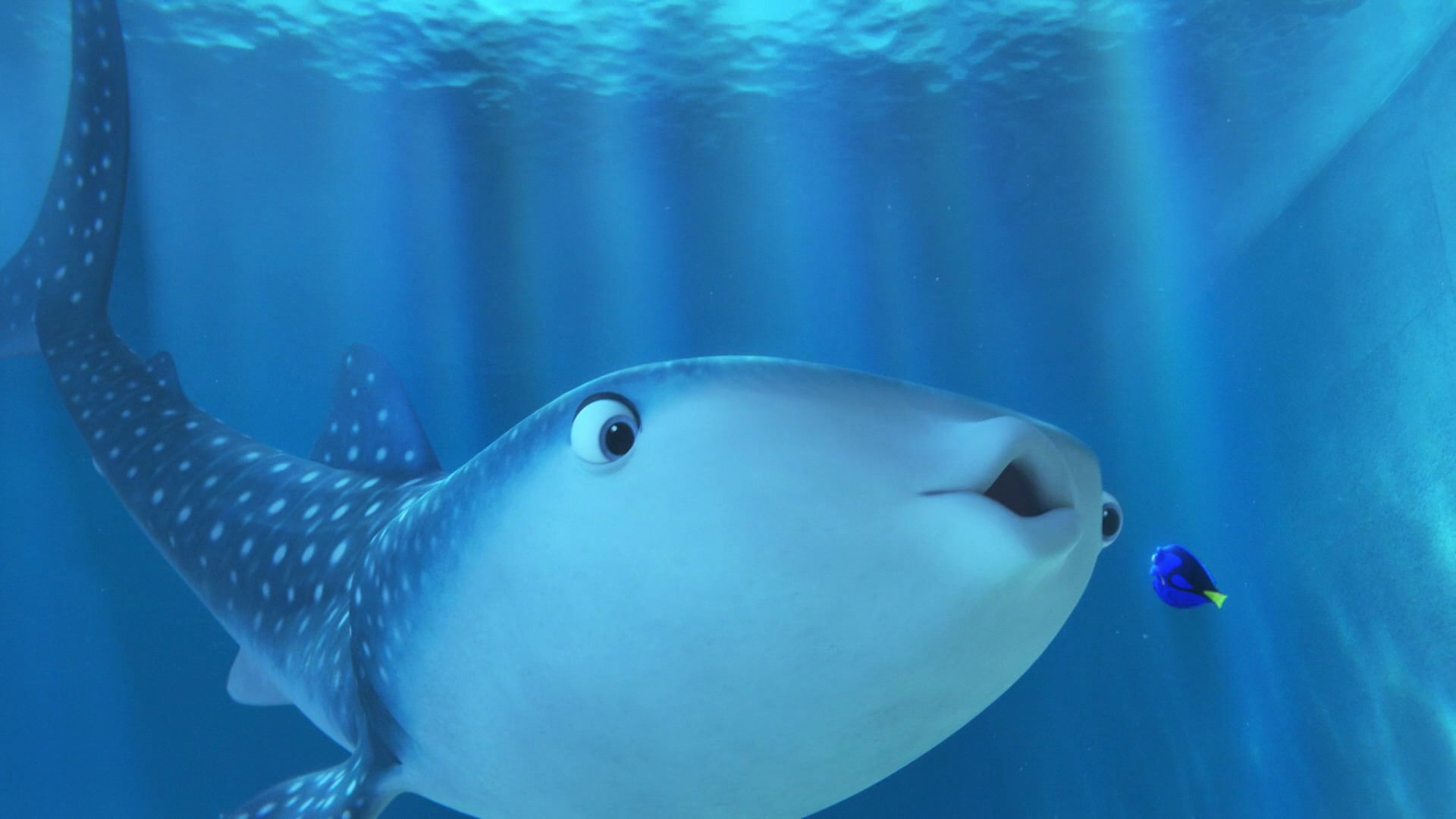 SUPPLEMENTS
Featuring the deepest collection of supplements in 2016, FINDING DORY sports an entire disc of extra content, all of it in HD and almost all of it better than the film itself.
Disc One contains the feature film as well as these supplements:
Audio Commentary by Director Andrew Stanton, Co-Director Angus MacLane, and Producer Lindsey Collins: The team provides us a worthwhile discussion on several aspects of the film, including the difficulty of making a sequel, changes made to the final product, creating new characters, and hiring the right kind of voices for a production of this scope.  Again, I'd listen to this again before r-watching the film.
Piper (6:05): Perhaps the best short animated film of the year.
Marine Life Interviews (2:04): A great old-school-looking series of interviews with characters from the film talking about Dory.
The Octopus That Nearly Broke Pixar (9:05): Believe it or not, Hank the Octopus represented Pixar's greatest challenge ever.  Learn how they overcame that barrier.
What Were We Talking About? (4:31): A fairly detailed discussion of how Pixar created an entire movie aroudn someone who can't remember anything.
Casual Carpool (3:47): Fancying itself as Jery Seinfeld's COMEDIANS IN CARS GETTING COFFEE, we ride around with Director Stanton and several of the voice cast.
Animation & Acting (6:57): As previously mentioned, we learn just how difficult it is to hire the right voice talent for an animated movie.
Deep in the Kelp (3:20): Disney's STUCK IN THE MIDDLE Jenna Ortega hosts a look into how Pixar actually research their creatures before animated them.
Creature Features (3:02): We briefly visit with the voice cast as they discuss their individual characters.
Sneak Peaks: Several Disney commercials and trailers
Disc Two offers an entire additional set of supplements, including:
Behind the Scenes: This five-part feature takes us through the construction of a scene.
Skating & Sketching with Jason Deamer (4:14): We learn much from this longtime Character Art Director as he discusses his time with the company and how their characters are brought to life.
Dory's Theme (4:57): Composer Tom Newman reminds us that music plays an equal part in a film's success.  His discussion with Music Editor Bill Bernstein should be proof to every Hollywood exec of the importance of good music in leading a film.
Rough Day on the Reef (1:11): If you like seeing computer glitches in an animated film – and frankly who doesn't – this featurette is for you.
Finding Nemo As Told by Emoji (2:47): Can't say much about this one that the title doesn't already give away.
Fish Schticks (3:35): A nice collection of ocean-based antics.
Living Aquariums: One of the most unique featurettes I've ever seen, we're presented with a collection of four themed "fish tanks" which are meant to be played and enjoyed as part of an ambient experience.  Featurettes include Sea Grass (3:03:52), Open Ocean (2:48:30), Stingrays (2:48:42), and Swim to the Surface (1:02:20).  And that's HOURS, not minutes or seconds.  Impressive and almost worth the price of admission.
Deleted Scenes (50:15): Nearly an entire film's worth of scenes – along with an Introduction by Director Andrew Stanton – we're presented with Losing Nemo, Sleep Swimming, Little Tension in Clown Town, Meeting Hank, The Pig, Dory Dumped, and Starting Over. NOTE: these are unfinished scenes and couldn't have been added into the film in their current state.
Trailers: Included are Sleep Swimming: United States Trailer (1:43), Theatrical Payoff: Japan Trailer (2:09), Can't Remember: Spain Trailer (1:22), and Journey: Russia Trailer (2:31).
Our evaluation copy arrived as a 2 Blu-ray/1 DVD Combo Pack with a Digital HD copy included inside. While there's no interior artwork, the slipcover is very colorful and embossed. Disney offered several compelling versions, including a Target steelbook, a Best Buy 69-page activity book, and an Ultimate Collector's Edition with a 3D version of the film. At the time of this posting, we were not aware of a 4K edition of this film.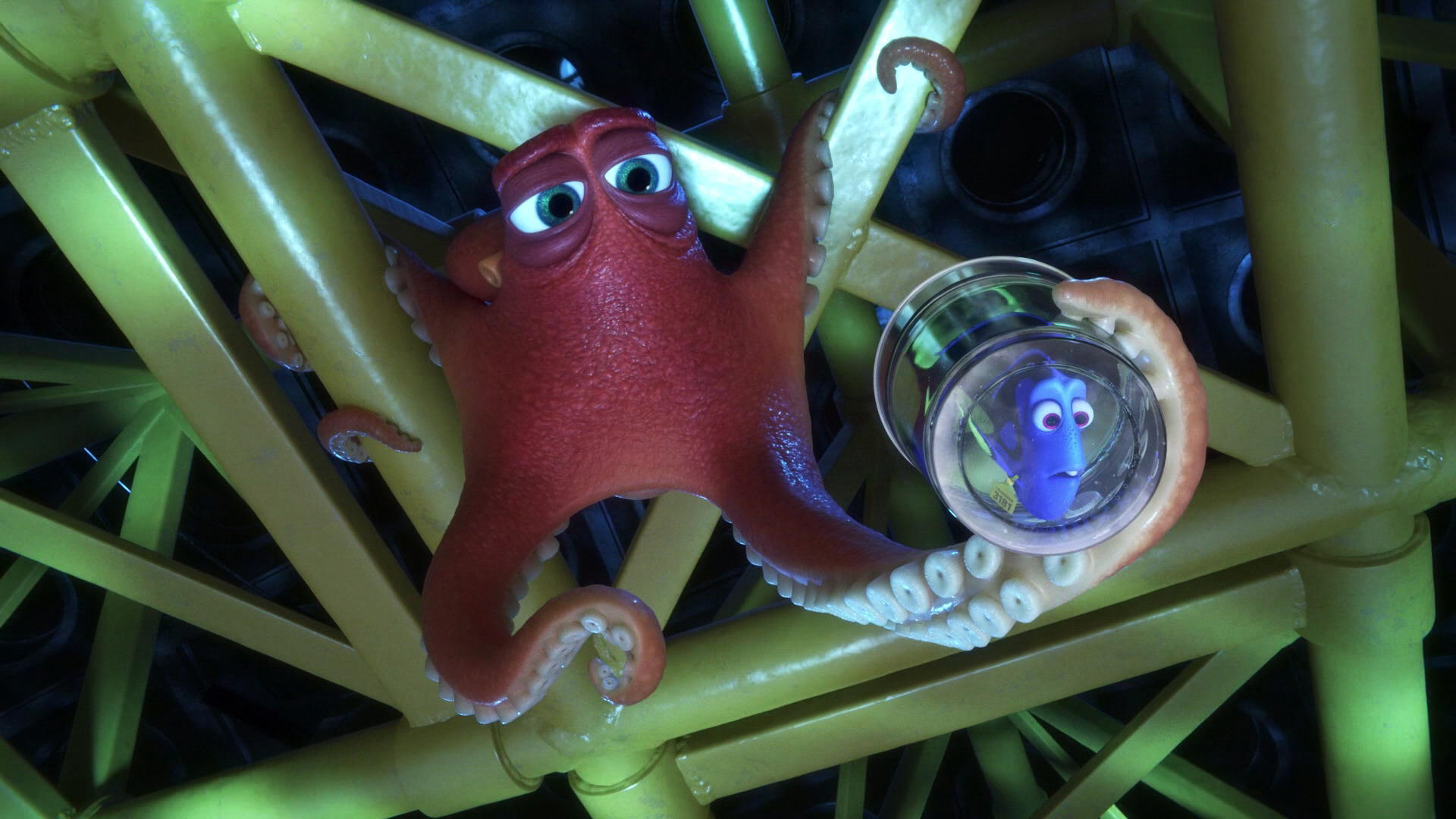 THE BOTTOM LINE
While a competent production, FINDING NEMO as a movie doesn't exactly win us over. The home release is a bit inconsistent, featuring great video and exceptional supplements, but failing to impressive us with a rather pedestrian DTS track. Moreover it's a predictable affair, one that I'm sure young children won't care about as they're enjoying Hank blend into walls like a chameleon. I'm guessing that Disney is gearing up for a full-blown FINDING franchise, but I can't say that I'm excited about its prospects. Call me old-fashioned, but I have to like my characters before I can fall in love with them. That didn't happen here, so color me unimpressed with its long-term play.
FINDING DORY is Rated PG for mild thematic elements and has a runtime of 97 minutes.