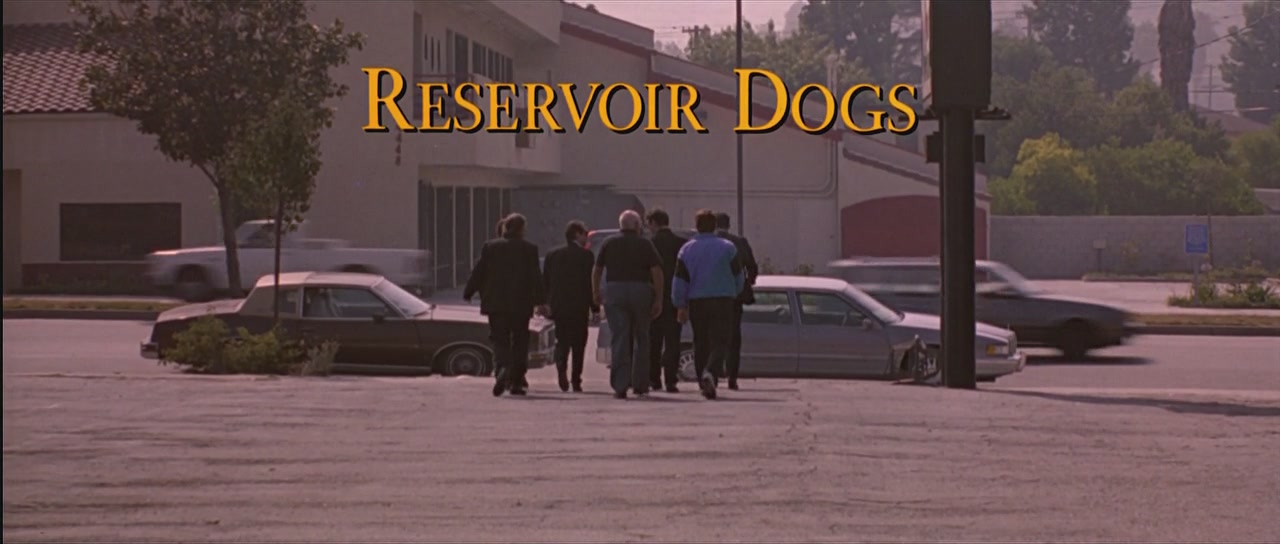 Quentin Tarantino's first completed film beats with a violent and dramatic pulse.
Review by Matt Cummings
RESERVOIR DOGS Blu-ray
The Movie
The Video
The Audio
Supplements
Director Quentin Tarantino is perhaps the one person that Hollywood can both idolize for his brilliance and blame for the current state of the gritty and violent modern movie. Fiercely independent, unwilling to break or even bend to keep financiers happy, Tarantino might also be viewed an anachronism, a person out of time who was destined make films in the less-forgiving era of the 1970's. Whatever you think of him, Tarantino's films resonate with a deep and dark sensibility, infused with violence and refined with some of the best collection of actors in modern film. His first (completed) flick RESERVOIR DOGS did nothing less than give birth to an entire genre, elevating several acting careers, resurrecting another, and setting the stage for a horde of 21st Century rip-offs and inspirations that even stretch into episodic television. Lionsgate's Blu-ray is a mixed bag, filled with good video, less-than-stellar audio, and a supplement series that desperately needs a refresh.
THE MOVIE
For five seasoned criminals, the theft of a jewelry store should be easy pickings: two minutes and they're clear with a horde of Israeli diamonds. But soon it's a bloodbath, as employees, civilians, cops, and even some of the team fall victim to a rain of gunfire and a police force hot on their tails. Those that remain – the leader Mr. White (Harvey Keitel), the professional Mr. Pink (Steve Buscemi), an injured Mr. Orange (Tim Roth), and the psychotic Mr. Blonde (Michael Madsen) gather back at their safehouse to consider whether they have a mole in their operation. With Mr. Orange bleeding out on the floor, the team begins to self-destruct, as news of the police's eminent arrival drive each to take extreme measures to protect their allegiances. The reality that one of them is an uncover cop will shatter this team of professionals, driving one into madness and the others to a shocking confrontation.
RESERVOIR DOGS was released in 1992 and was exactly what the doctor ordered. With the incredible success of the old school GOODFELLAS just one year before, DOGS arrived determined to tell a more modern tale, that GOODFELLAS was not in fact a fitting end to this dying genre. Strong performances punctuate the film, lead by the excellent Keitel and Buschemi. It's conceivable that both have enjoyed long careers due entirely to this one film. For Keitel, it's the de facto leader who will kill anyone to protect his team, even when he knows he's wrong. For Buscemi, it's the constant quips of maintaining a professional appearance even as the young buck is the first to figure out the deception. Madsen and Roth are both equally as good, one as the psychotic who's responsible for the bloody escalation in the first place and the other whose double-dealing might just get him killed. Chris Penn isn't in the film nearly enough, as his acerbic personality has become textbook for actors hoping to score the role of Gangster's Son with Attitude. Just watching the breakfast scene is enough for you to wish Tarantino would have made another film of just the team talking crap to each other at the table. Even today, DOGS is visually striking and engrossing theater, made as much for the stage as it was the big screen. I've seen that analogy used many times, and its value increases each time I watch it.
But none of RESERVOIR DOGS would have been possible without Tarantino. Of course, it's his masterful hand (and script) that gives us some of the most memorable scenes in all of cinema, particularly Madsen's homicidal ear cutting to the tune of Stealer's Wheel Stuck in the Middle With You. With DOGS he keeps most of the action to one room (a standard which he's used to lesser degrees of success in later films), as if he's a chef forcing ingredients into a super-hot pan to create a fantastic meal. And yet some might blame him for introducing a grittier tone into film, one that Noir handled so effectively without showing the blood or using the profanity. Love or hate him, you can't deny that Tarantino's first completed project is one of the best cop/heist films of the 20th Century. Even with the fingerprints of a true independent film all over this one (mic placement is all over the place, scenes go on longer than they should), RESERVOIR DOGS is the gold standard for the genre, proving that GOODFELLAS wasn't a fluke and succeeding in its own way as a pulsing character drama set to the tunes of 70's rock classics.
VIDEO QUALITY
Lionsgate's RESERVOIR DOGS offers a merely good visual experience. For a film of this importance, I'm frankly shocked that the best transfer we ever got is this MPEG-2. Sitting on a BD25 platform, it delivers a solid but largely unimpressive picture, even though every reference on the packaging and on screen announce that it's a "1080p High Definition" print. That's especially the case when you compare it to my nearly-medieval-looking DVD copy. Colors have been tuned up a bit, none of which affects skin tone or detail. Some will laugh at the bright red of Roth's stage blood, which is an obvious disadvantage of bringing some library films into the modern era, but clarity is very good, with hair, sweat, and even details in their safehouse looking very real. The team's Sinatra dress code still looks great, showing off individual wrinkles in shirts and a spiderweb of cracked dash glass. Blacks and shadows don't have a lot to do here either, as most of the action takes place during the day. So you'll be happy with the zero crush, no aliasing, and minimal edge enhancement. Still, it's important to note that there has to be a better version of this print sitting on a drive somewhere, a true MPEG-4/AVC transfer that will stun cinephiles. That isn't this one, but it works nonetheless.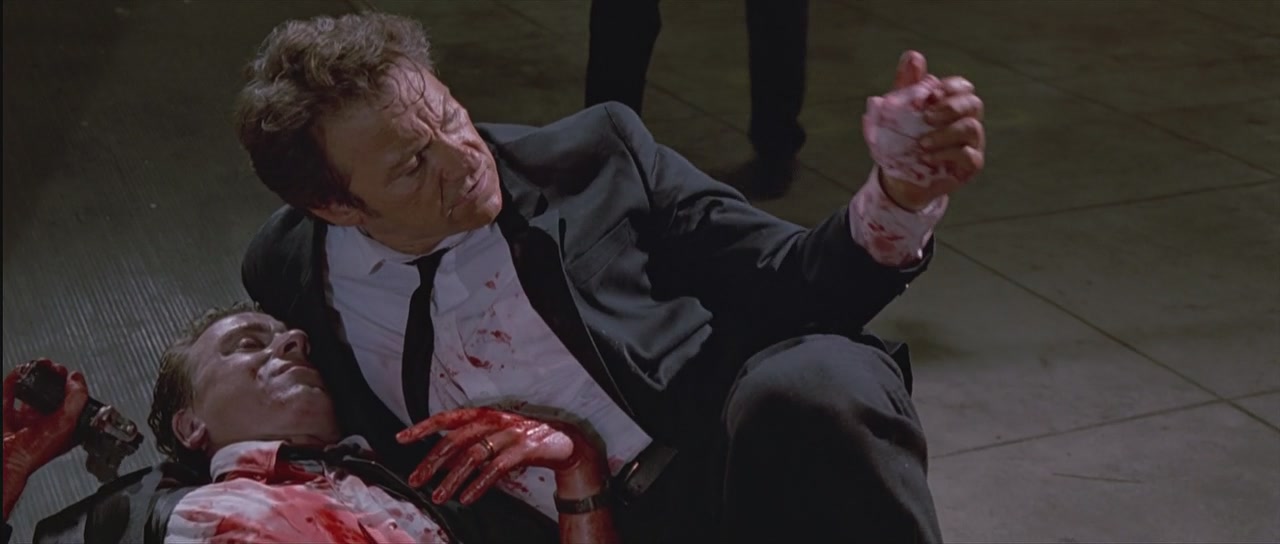 AUDIO QUALITY
RESERVOIR DOGS is supported by both DTS-HD 5.1 and Dolby Digital 5.1 EX tracks. Again, both are workmanlike in their presentation but neither is quite ready to handle the high praise which the film itself has so richly deserved. Music is very strong here, playing quite well on a soundbar, encouraging the LFE to thump to several tap-worthy tunes. But it's clear that Lionsgate needs to improve the dialogue track, which failed to separate enough in my soundbar to make it clear and distinctive. There isn't much to this track to begin with, so left and right phasing issues shouldn't be experienced until you put it on a quality audio set up. Even with these inconsistencies, you will still enjoy all the gunfire, the German Shepherd barking, and background crowd noises that pop up constantly to punch you in the face. And yet, a proper DTS-HD Master Audio transfer is the least this film deserves, one that I hope Lionsgate will present for its 25th Anniversary.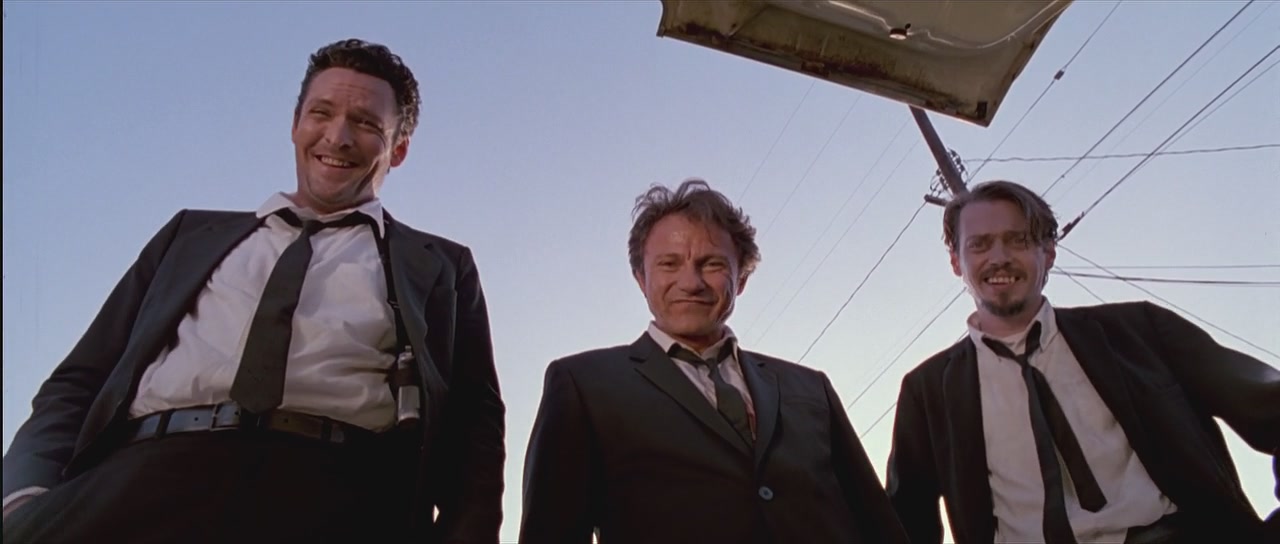 THE SUPPLEMENTS
Our 15th Anniversary edition is pretty threadbare in terms of supplements, with no director's commentary and not even a trailer. We've opted for the included descriptions taken word for word from the packaging:
Pulp Factoids Viewer: Insider information about RESERVOIR DOGS and its sources of inspiration.
Playing it Fast and Loose- Documentary: From the moment of its release in 1992, RESERVOIR DOGS has helped refine modern cinema. An insightful study of about the impact and ripple effect of this remarkable film.
Profiling the Reservoir Dogs: A unique perspective into the criminal minds of the film's colorful characters.
At the time of this posting, the most recent version of RESERVOIR DOGS was the 15th Anniversary edition. In 2015, Target offered a now-famous Mondo steelbook, complete with a great cover of the major characters. But the single disc inside is the same, and was also re-printed for both TARANTINO XX and the MIRAMAX TRIPLE FEATURE sets. Again, our 15th Anniversary edition isn't much until you consider the frankly incredible $5 pricetag; that alone should be enough to find its way into your cart. It's still the best film you're going to find on Target's discount shelves. So try not to worry about the lack of interior art and no Digital HD copy.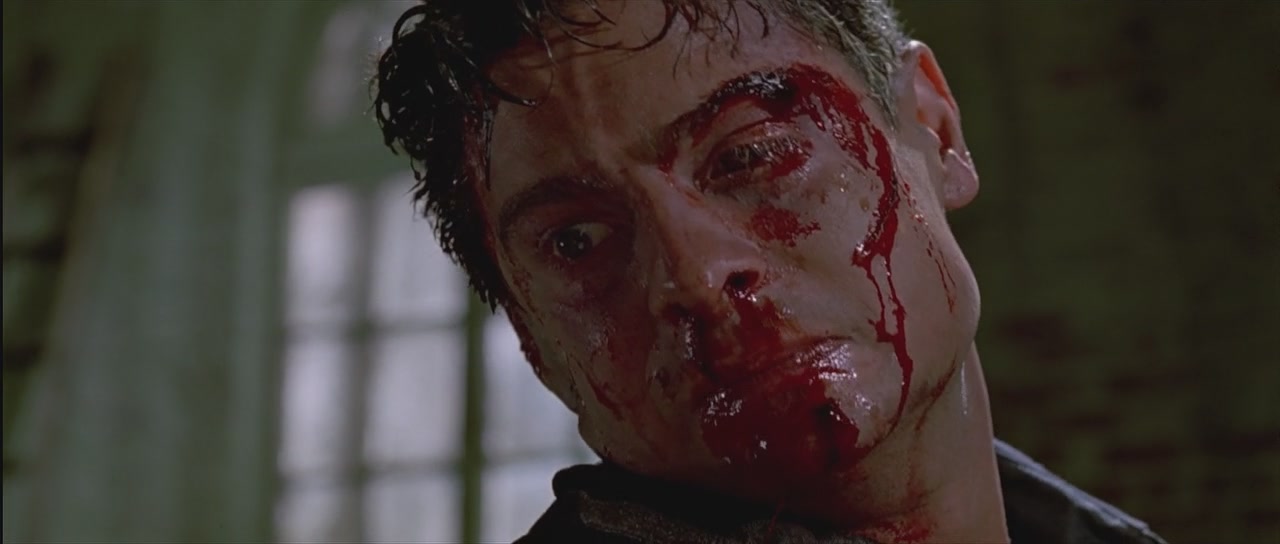 THE BOTTOM LINE
RESERVOIR DOGS is a masterful opening pitch for a director whose future innings sport some of the most important films of the 20th Century. But don't let this little gem pass you by, even if it's not quite ready for the true HD experience, sporting solid but unimpressive audio and video. It's my hope that an even more cleaned-up 25th Anniversary edition is on its way, complete with deep retrospectives and commentaries by critics who can help us place this one in its proper historical place. It's personally one of my favorites by Tarantino, and the 15th Anniversary is a good entry point for those of you who desire to know what all the fuss is about with spending a lot of money to do so.
RESERVOIR DOGS is Rated R for strong violence and language and has a runtime of 99 minutes.