QUEEN OF KATWE
The Movie

The Video

The Audio

The Supplements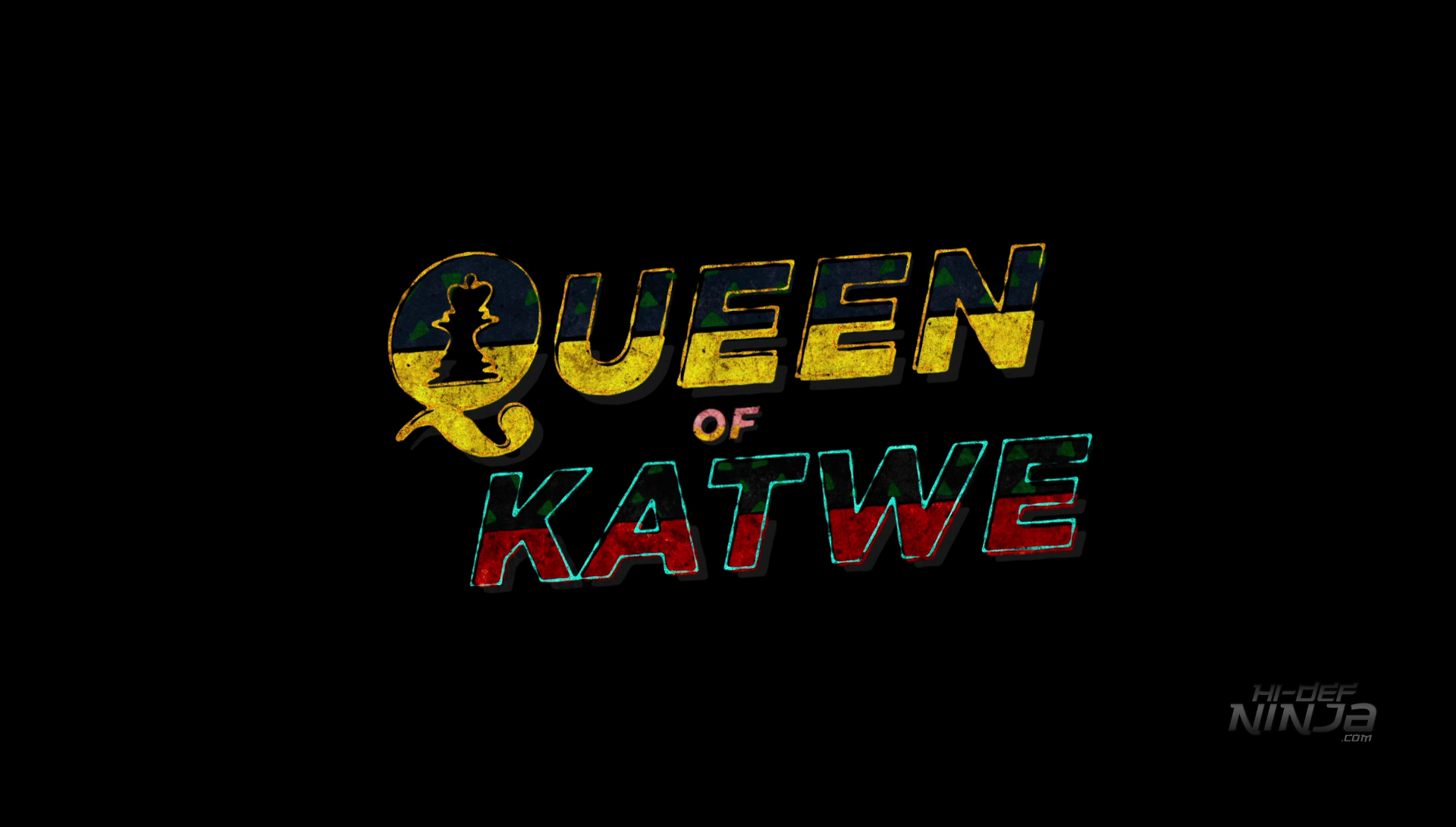 QUEEN OF KATWE resonates with a message of hope as it arrives with an impressive Blu-ray release.

Review by Matt Cummings
Situated behind Disney's mammoth tentpoles and animated fare lies what I like to call their "can do" genre of films.  Focused on telling underdog stories, these feature individuals overcoming great odds while trying to figure out their place in the universe.  Think Kevin Costner in MACFARLAND USA or Jon Hamm in MILLION DOLLAR ARM.  Last year saw another of these, produced once again by ESPN (a subsidiary of Disney): QUEEN OF KATWE, a story of true underdogs if there ever was one.  Its arrival on home video gives us a chance to check out this underappreciated gem, which sports stellar video and supplements.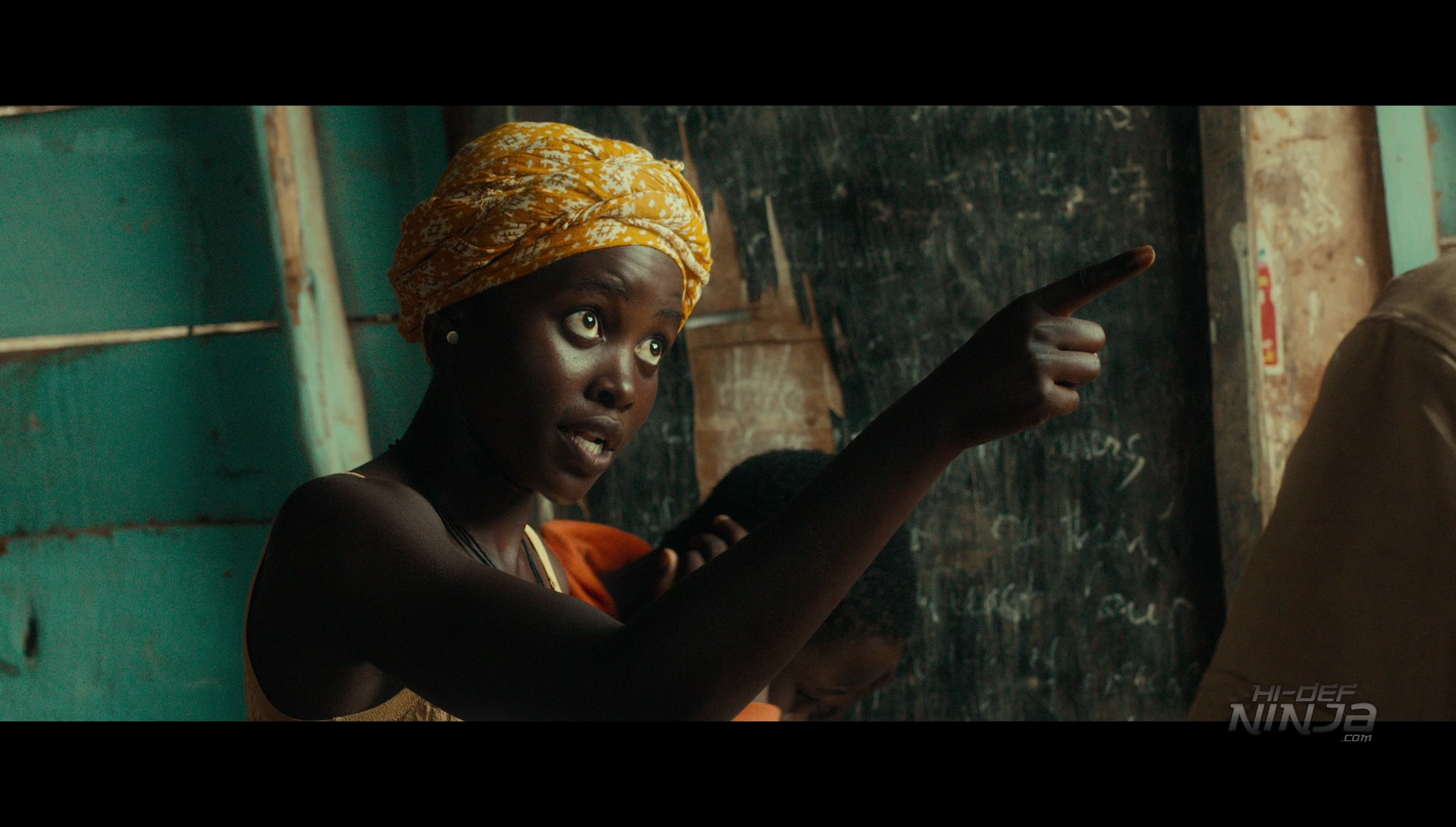 THE MOVIE
Set in the depravity of 2000's Uganda, QUEEN focuses on the young girl Phiona Mutesi (Madina Nalwanga), who emerges as a master chess champion and whose story of perseverance made worldwide headlines.  But her mother Nakku Harriet (Lupita Nyong'o) wasn't initially sold on the idea, stuck in a world of selling vegetables on the street and providing for her children after the death of their father.  While following her apparently erstwhile brother, Phiona learns that he's actually stealing away to learn how to play chess, courtesy of fellow Ugandan Robert Katende (David Oyelowo).  Immediately interested in a game focused on choice and strategy (two things that many Ugandans appear to have little of), Phiona learns how the game mirrors life's struggles.  She's an instant success, beating even her brother and vaulting her into a spotlight mostly dominated by males.  As her star begins to rise, Phiona learns of an entire world outside Katwe, one that beckons her with both the chance to become a chessmaster and to rescue her family from impossible poverty.
KATWE celebrates the human spirit of perseverance, but also recognizes the element of blind luck that sometimes passes us by while rewarding others.  Without that chance meeting, Phiona might still be selling vegetables and hustling on the street like her older sister.  It reminds us that opportunity must be seized upon, and that we must be prepared for what that moment generates.  Nalwanga is excellent as the child prodigy, unaware that milkshakes exist until she has one after winning a competition in Sudan.  She embraces the role with a mix of childish wonder but of adult worry as well, recognizing the sacrifices that her mother makes throughout KATWE while realizing that her daughter's star is rising.  Forced down a different path than Nakku imagined for her, Phiona will never be the same, and again Nalwanga provides a terrific lesson in being prepared for life's many changes.
The rest of KATWE's cast is similarly good.  Oyelowo lends an intelligent and passionate voice to Robert, while Nyong'o keeps the stink eye on Robert, whom she initially thinks is forcing Phiona to play for his financial benefit.  They enjoy excellent chemistry, providing the monologue for this young girl's incredible rise in a place that seems destined to keep good people down.   Moreover, the child actors aren't as frustrating as they are in most movies, kept in check by Director Mira Nair.  She never loses sight that this story is an ensemble telling, with each part being affected by the others, leading everyone to see their world in a new llight.  But Nair keeps the camera focused tightly on Nalwanga while giving even those young ones a moment in the sun.
One thing that hampers KATWE is its 124-minute runtime.  A 10-minute shave and we might be talking Oscar nom.  But it's still a great time, with its wholesome message about struggle forwarded by genuinely likable characters.  You want these people to somehow succeed so that they might one day escape their broken world to become masters of their own domain.  As the well-made and unique title card sequence shows, that's exactly what's happened with many of the characters from QUEEN OF KATWE.  It celebrates the best that humans have to offer, while recognizing the world around them needs all the help it can get.
VIDEO QUALITY
Disney's QUEEN OF KATWE arrives with a splendid MPEG-4/AVC transfer.  It's richly colorful, revealing both the beauty and ugliness of Uganda and its people.  Yellows jump out, as do reds and even blues, boldly spanning the colors of the rainbow with perfect results.  Clarity is reference quality, showing off details in man-made landscapes, flowing water, fabrics, and various human features. Skin color is exquisite, with pores, scars, and sweat easily seen.  The frayed world of Uganda is on stunning display here, including broken bricks, nicked woods, and beautifully-painted office interiors.  The weathered chess pieces of the Katwe school stand in stark contrast to the polished sets of the rich as the tournament begins.  Shadows and blacks blend together quite well, such as the bed scene at the 38 minute mark.  In every way, Disney's effort is top-notch.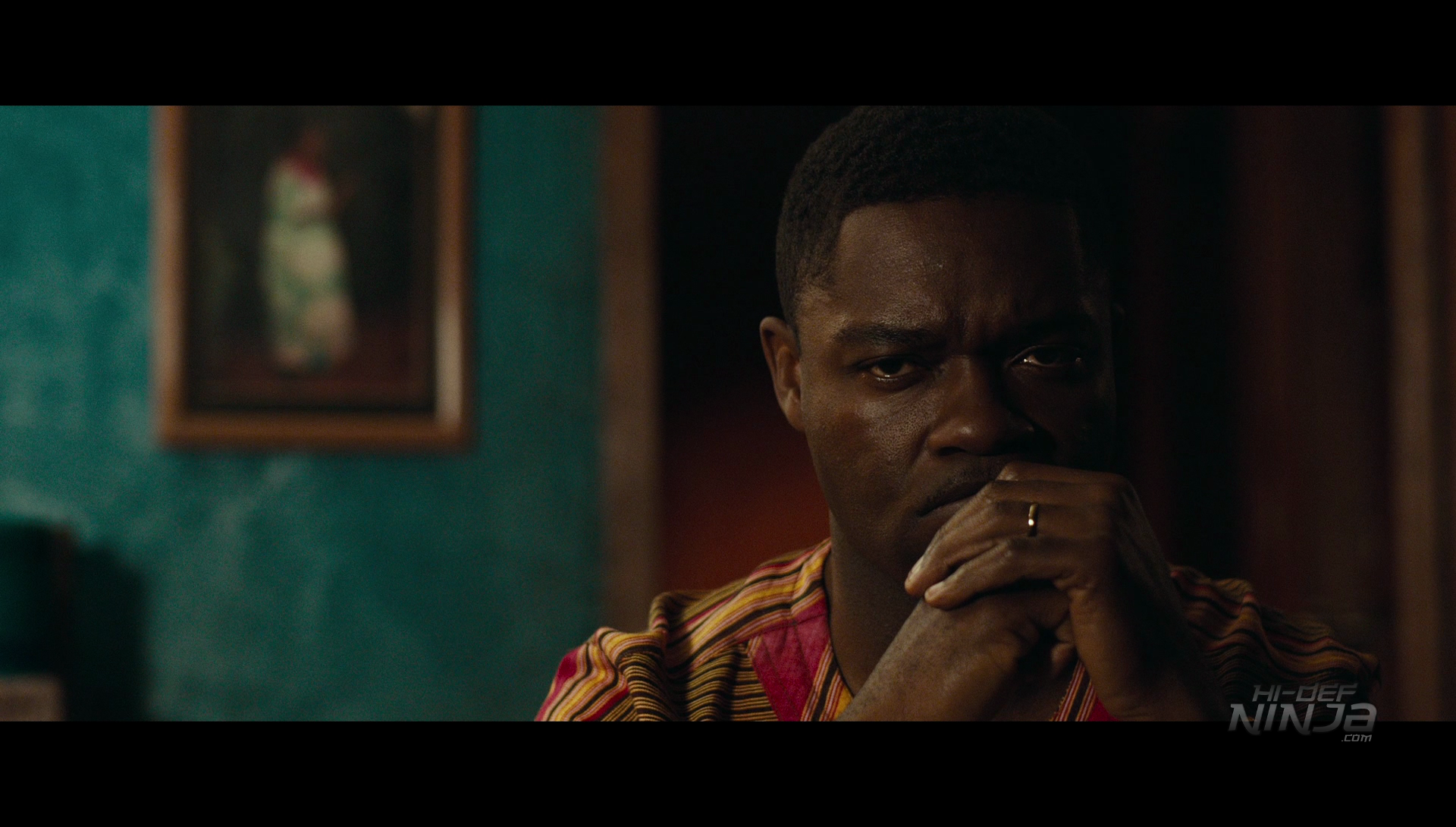 AUDIO QUALITY
QUEEN OF KATWE's DTS-HD Master Audio 5.1 lossless soundtrack doesn't hold up quite as well.  While it is generally well managed, the story is a mostly character-driven one and is therefore limited to the forward channels.  As a result, the experience comes off too flat, with the rears and LFE suffering the most.  The problem is that one of these – the surrounds – should be more active.  In a world as complex as Uganda, there's a variety of city noises that should emerge which sadly do not.  Instead, things stay forward with the exception of Composer Alex Heffe's pretty and uplifting score.  Once in awhile, a motorcycle or crowd noise appears to surprise us, as does the LFE, but that's about it.   The streets of Katwe should come alive with this track, but listeners expecting such an immersive environment might be disappointed.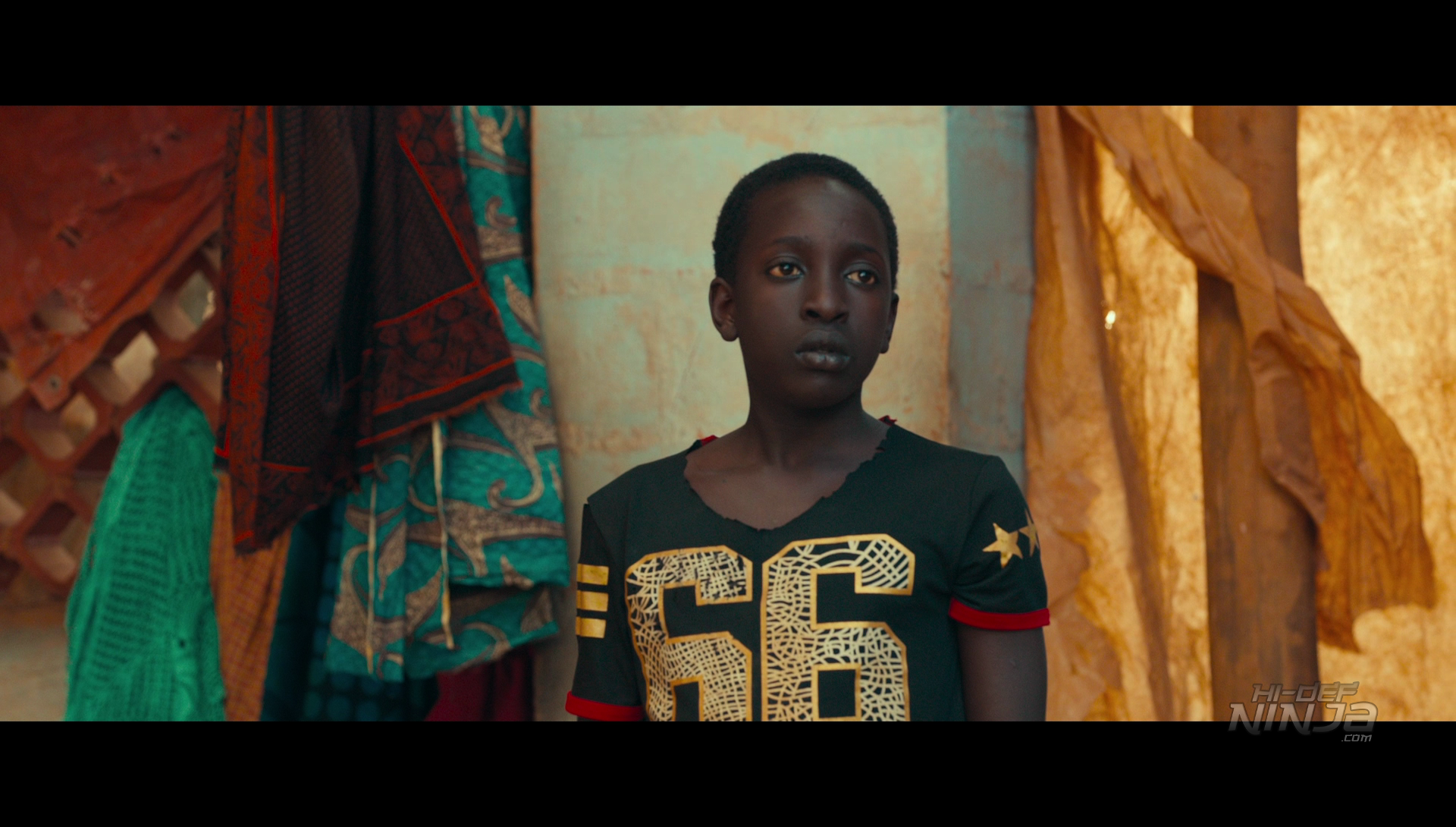 THE SUPPLEMENTS
QUEEN OF KATWE arrives chock full of supplements that provide us with many insights into the film.  All of these are offered in HD:
Audio Commentary by Director Mira Nair:  Nair delivers a solidly insightful commentary that traces every angle of the movie's production.  We learn about the locations, how music played a role, as well as how she approached shooting the chess-playing scenes.  Based on her delivery, one can tell that the process changed her, and it's evidenced throughout the film.
Queen of Katwe – Their Story: This is a three-part segment that includes A Spark of Inspiration (9:18), Those Who Guide (8:37), and The Future Is Bright (11:45).  Along with the commentary, these featurettes bring the entire film into sharper focus and represent exactly where you should start once the film is concluded.
A Fork, A Spoon, & A Knight (13:14): A documentary short from Director Mira Nair about Robert Katende.
Music: Another three-part feature, this one includes In the Studio with Alicia Keys (6:26), Lyric Video (5:01), and Music Video (3:55).
Deleted Scenes (20:25): Nair introduces each, which includes Graduation, Job Application, Dancing and Rent, Entering the Hospital, Escape from the Hospital, They Can't Go to Budo, Flood (Extended Scene), and Phiona's Chess Club.
Trailers: BEAUTY AND THE BEAST, MOANA
Our evaluation copy arrived as a Blu-ray with a DIGITAL HD digital copy. The slipcase is nice and there is no interior artwork.  At the time of this posting, we were not aware of any special packaging or alternate versions for purchase.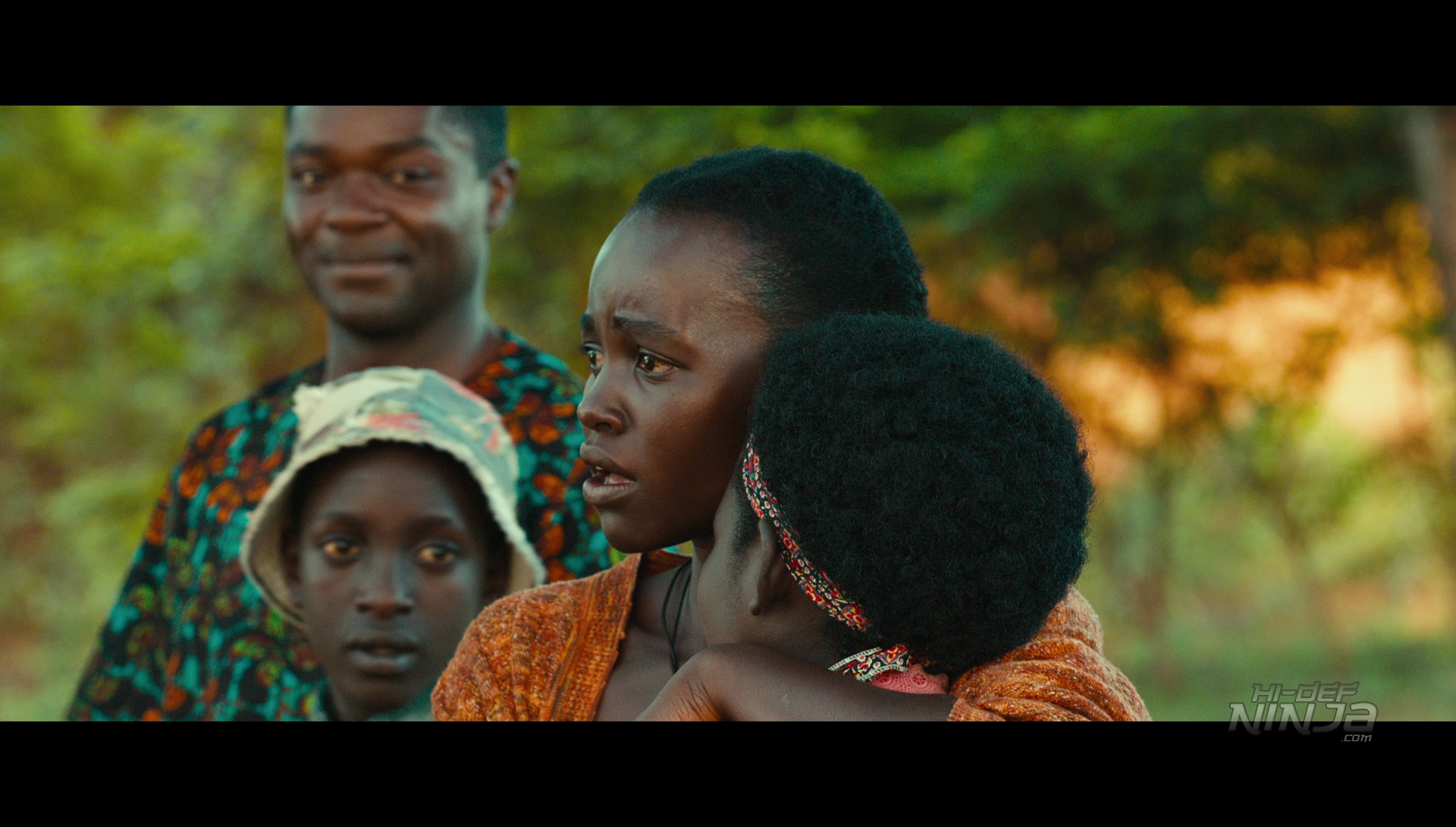 THE BOTTOM LINE
QUEEN OF KATWE is another winner from Disney's "Can Do" line of films.  It reminds us that chess mirrors life, even if some of the moments engage the awful cliché moments.  Still, its characters are so likable and the performances so engaging that it overcomes most of these obstacles to provide us with a heartwarming ending that no one can deny.  It never ignores its own predictability, setting instead on delivering one of the best underdog stories and another feather in Disney's cap.  The Blu-ray release is terrific, featuring reference quality video, solid (but slightly disappointing) audio, and a very deep set of supplements.  Pick this one up, as both an inspirational message to children and a reminder that our First World problems feel very minor as compared to other parts of it.  If chess could only solve all our problems.  It comes Highly Recommended.
QUEEN OF KATWE is rated PG for thematic elements, an accident scene and some suggestive material and has a runtime of 124 minutes.