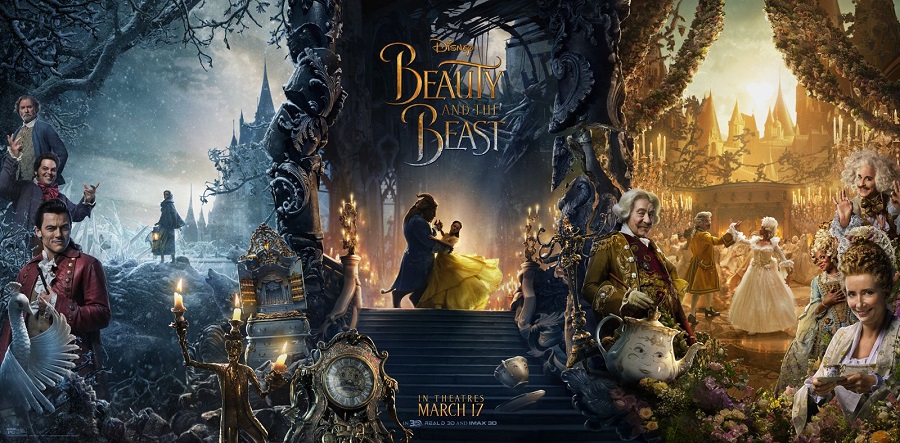 Walt Disney Studios has officially released the final trailer for BEAUTY AND THE BEAST, a live-action adaptation of their 1991 animated classic.
The new film stays close to the loveable characters and music of the original animated film while also updating them for a new generation of filmgoer. We still follow Belle (Emma Watson; the HARRY POTTER series), a kind and strong-hearted young woman, as she becomes the prisoner in a castle to a prince who became a beast (Dan Stevens; DOWNTON ABBEY). Their distaste for each other eventually becomes affection after they get to know each other; a problem for Belle's admirer Gaston (Luke Evans; DRACULA UNTOLD) and her village people.
Joining Watson, Stevens, and Evans on this tale as old as time are Kevin Kline as Maurice, Josh Gad as Lefou, Ewan McGregor as Lumière, Ian McKellen as Cogsworth, Gugu Mbathu-Raw as Plumette, Stanley Tucci as Cadenza, Audra McDonald as Garderobe, and Emma Thompson as Mrs. Potts.
Directed by Oscar winner Bill Condon (DREAMGIRLS) from a screenplay by Stephen Chbosky (THE PERKS OF BEING A WALLFLOWER) and Evan Spiliotopoulos (THE HUNTSMAN: WINTER'S WAR), BEAUTY AND THE BEAST is produced by David Hoberman and Todd Lieberman while eight-time Oscar-winning composer Alan Menken (1991's original BEAUTY AND THE BEAST) provides the score. John Legend and Ariana Grande will duet on film's titular song (initially sung by Angela Lansbury in the animated film and Celine Dion/Peabo Bryson on the soundtrack).
BEAUTY AND THE BEAST enchants theaters March 17th, 2017.