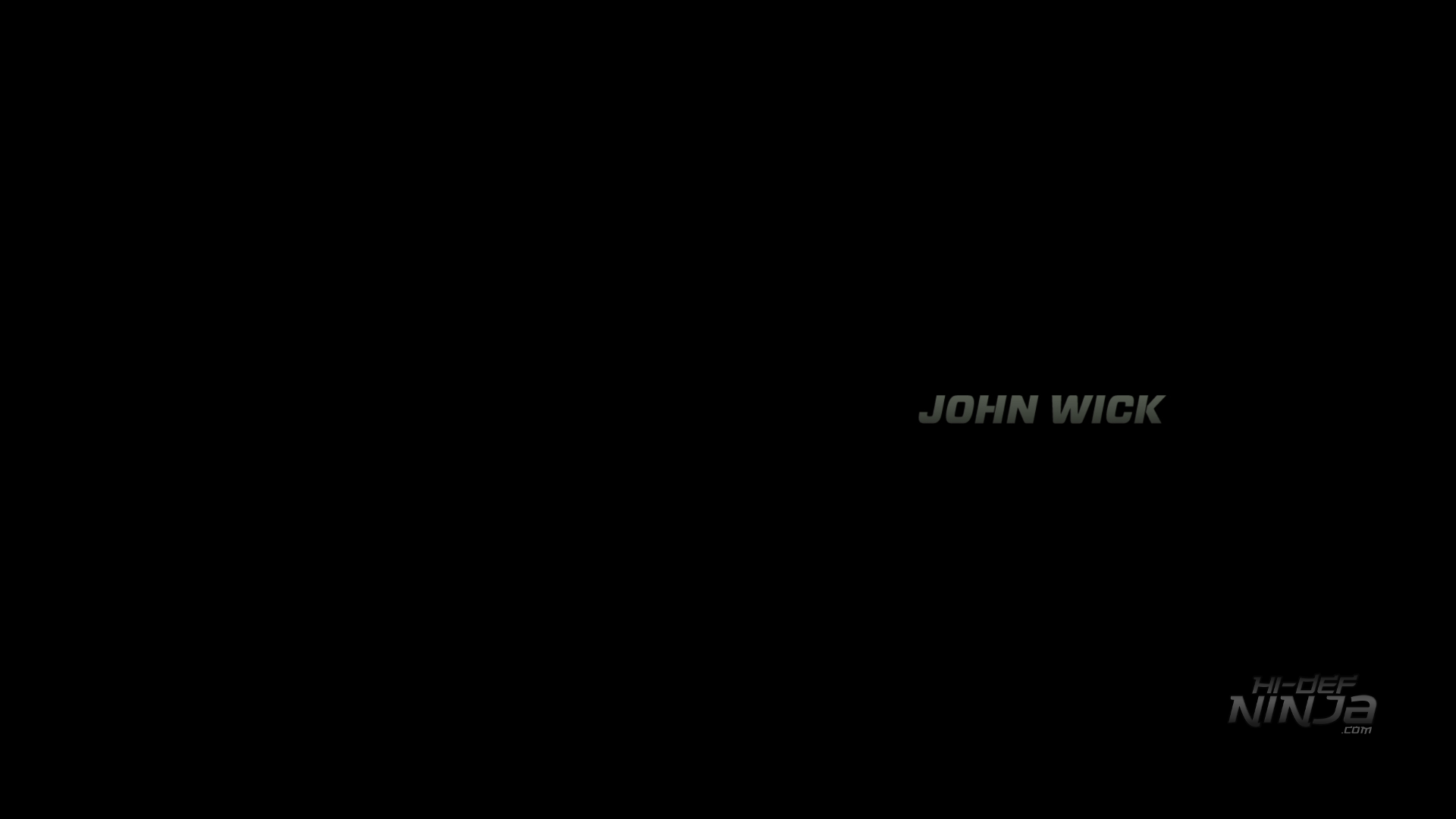 JOHN WICK features top-notch video, reference-quality audio, but not enough bullets. Go figure.
If you were to come up with a list of the most surprising films of 2014, Keanu Reeves' JOHN WICK would have to be at or near the top.  Re-establishing an actor while at the same time crafting an entirely new and cool universe of hit-men, hit-women, and the currency of their payoffs was a refreshing and fun romp through pure action genius.  It's arrival on Blu-ray allowed its already street cred to grow to perhaps DREDD-like status. And now it's arrival in 4k on Ultra HD Blu-ray will please the upper echelon of home media enthusiasts.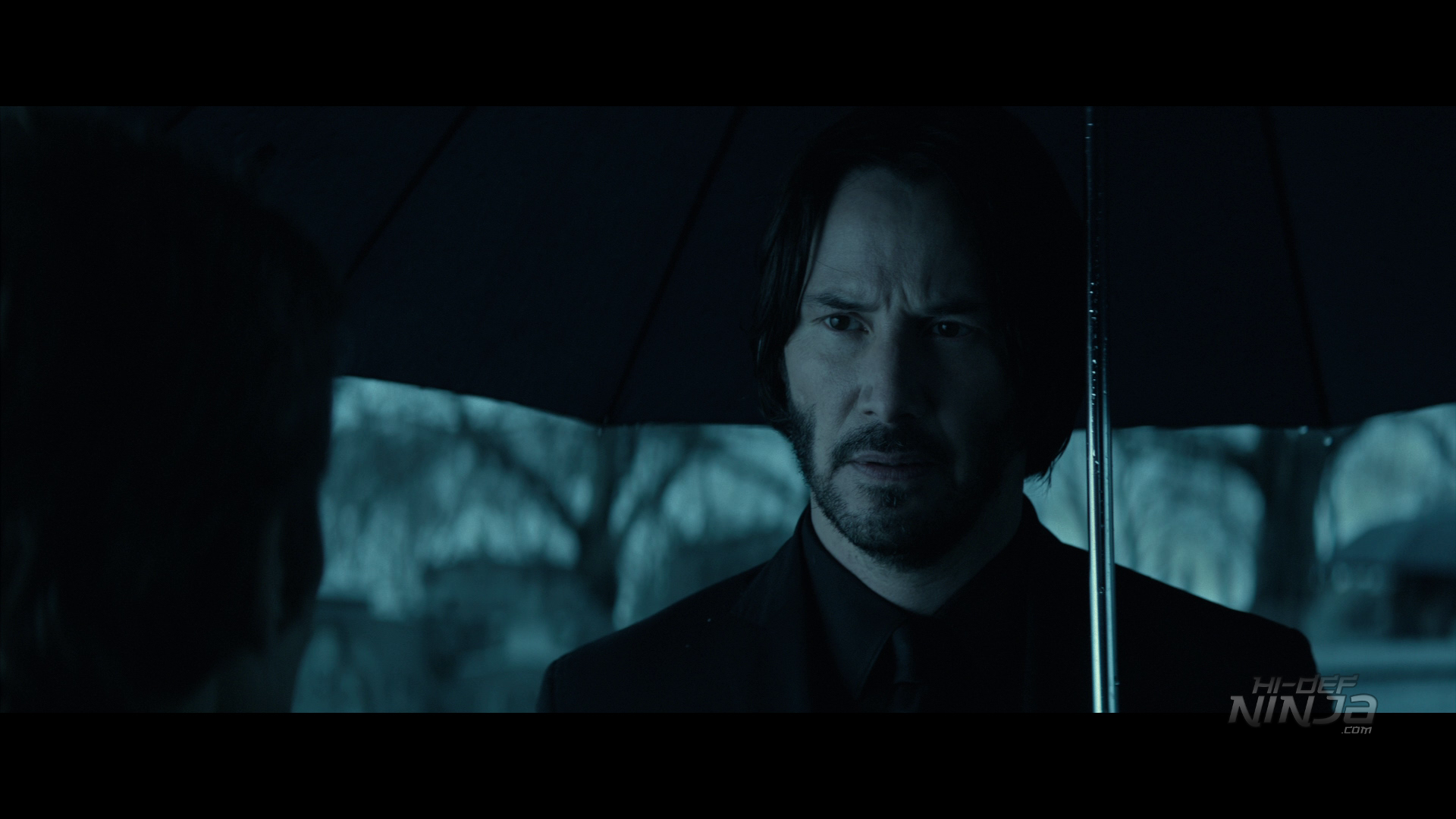 After his wife dies due to a sudden illness, the cold-blooded hitman John Wick (Keanu Reeves) is left with one last dose of humanity: a puppy which his wife had planned on giving him to cope with her impending death.  Soon, John and puppy are best friends; that is until a trio of Russian mobsters attack him for his car and kill the dog on John's own turf.  What follows is a trail of revenge that only Wick can deliver to his former boss Viggo Tarasov (Michael Nyqvist), whose impetuous son manufactured the attack, but who now refuses to turn him over for destruction.  As Wick makes his way through response team after response team, he must also return to the shadowy world of his former life, making contact with his former partner Marcus (Willem Dafoe) while keeping fellow assassin Ms. Perkins (Adrianne Palicki) from collecting on a growing bounty of his head.
I had seen JOHN WICK in theaters and having zero expectations at that time, I left completely satisfied.  Directed by stuntmen Chad Stahelski and David Leitch, WICK does much more than deliver us Costco-sized amounts of bloodbath.  There's an actual story here, about redemption, rediscovering yourself, and the world we sometimes must be a part of to get the larger job done.  Here, Writer Derek Kolstad fashions a clever, funny, and confident script that never takes itself too seriously, yet is happy to ride the line between sympathetic emotion and decadent violence. Humor abounds, as does one of the best efforts at universe building I've seen in years. This appreciation arrives not only in the form of a fabricated coinage system that fellow assassins and their minions employ, but an entire hotel existing specifically for these killers to stay and luxuriate between jobs. But it's also a kick-ass action fest, with enough car stunts, face-shootings, and hand-to-hand that gives 300, THE BOURNE TRILOGY, and THE RAID a run for their money.  The team outfit Wick with such viciously-efficient tools that it needed a substantial story for us to take him seriously.  And that again is delivered by immersing us in a world filled with pseduo-cameos, from Ian McShane as the leader/president of the assassin's guild to Lance Reddick as the hotel manager.  Again, dry humor runs as a ribbon throughout JOHN WICK, providing perfect moments of levity into which Reeves' dry style perfectly compliments the moment.
I would be lying if I said JOHN WICK was a perfect cinematic experience.  There's some serious plot holes – including an ending that's a total letdown, as if Leitch and Staheski bent to test audience pressure that the original ending was too dark.  While I won't spoil it here, it does undo a gripping beginning that had me dialed in immediately.  The action doesn't hit RAID-like heights, but with a plot that focused on the action, WICK offers a better balance  There's also some lapses in logic that permeate things, so don't spend too long thinking about them, lest your time be spent enjoying more face shootings (never a problem in my book) and well-coordinated but ultimately lacking stunts. There are a few sequences though – one between Reeves and Palicki – that are memorable, which should keep audiences interested.
There's also a definite '70s feel to things, from Wick's cool Mustang Fastback to the speakeasy at the bottom of hotel. Reeves plays Wick as the absolute master of his domain, literally placing fear in everyone who knows of him. When that sleeping giant is released, no one is safe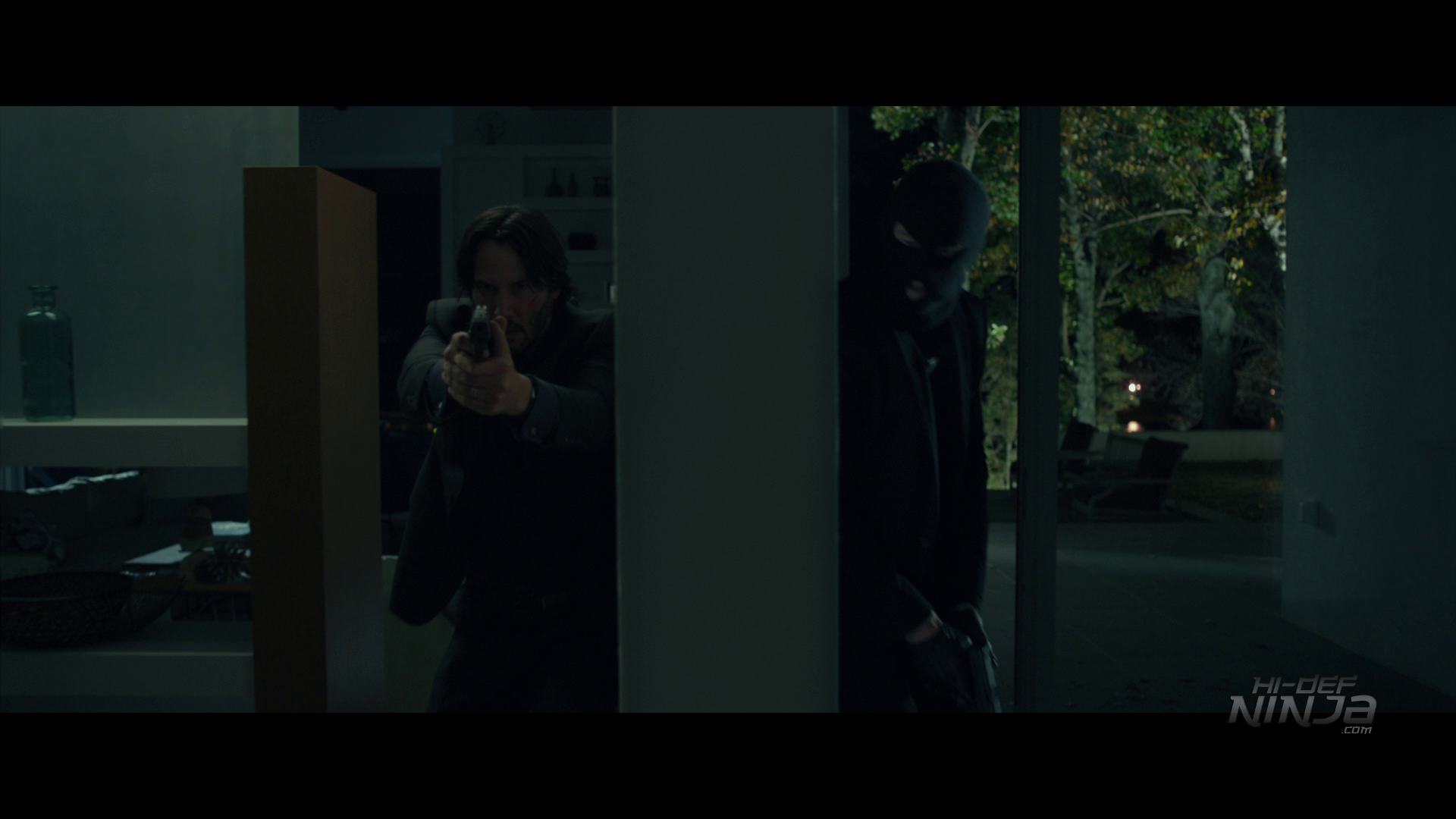 The JOHN WICK blu-ray is presented by Lionsgate Films in a gorgeous MPEG-4/AVC transfer with a 2.40:1 ratio. Colors are deep and radiant without looking over-saturated or unrealistic. Purples, reds, and grays all work together, creating a cool ambiance to the film, especially as Wick returns to his old life and enters various nightclubs to do his business. Detail is fine throughout, such as in Wick's clothes or the lines in Ian McShane's face. A lot of this shot was Noir-style, but all of it retains the blacks while allowing shadows to darken at whatever pace the camera allows. Cuts, blood, and sweat all get royal treatment here, showing off a realism that's helped the film attain an immediate cult status among its fans.
ULTRA HD BLU-RAY:
On the ULTRA HD Blu-ray 4k disc all the above transfers over well and gets a small boost from the HDR. However the film isn't a bright film and granted the blacks are an ever bit darker but dark is dark. Where I felt it shined a bit more is during the explosions, but even those are a matter of seconds. The crispness in the cinematic like scenes of the low level tones of film making and the bar at the bottom of the hotel help encompass the 4k best. If you are a John Wick fan and have a 4k set up then for the lowly price of around $15 at release it does help cushion the blow to make the upgrade worth it even if the upgrade isn't the largest in nature. Anyone who doesn't already own the film also makes this a no-brainer at that price for all the versions available.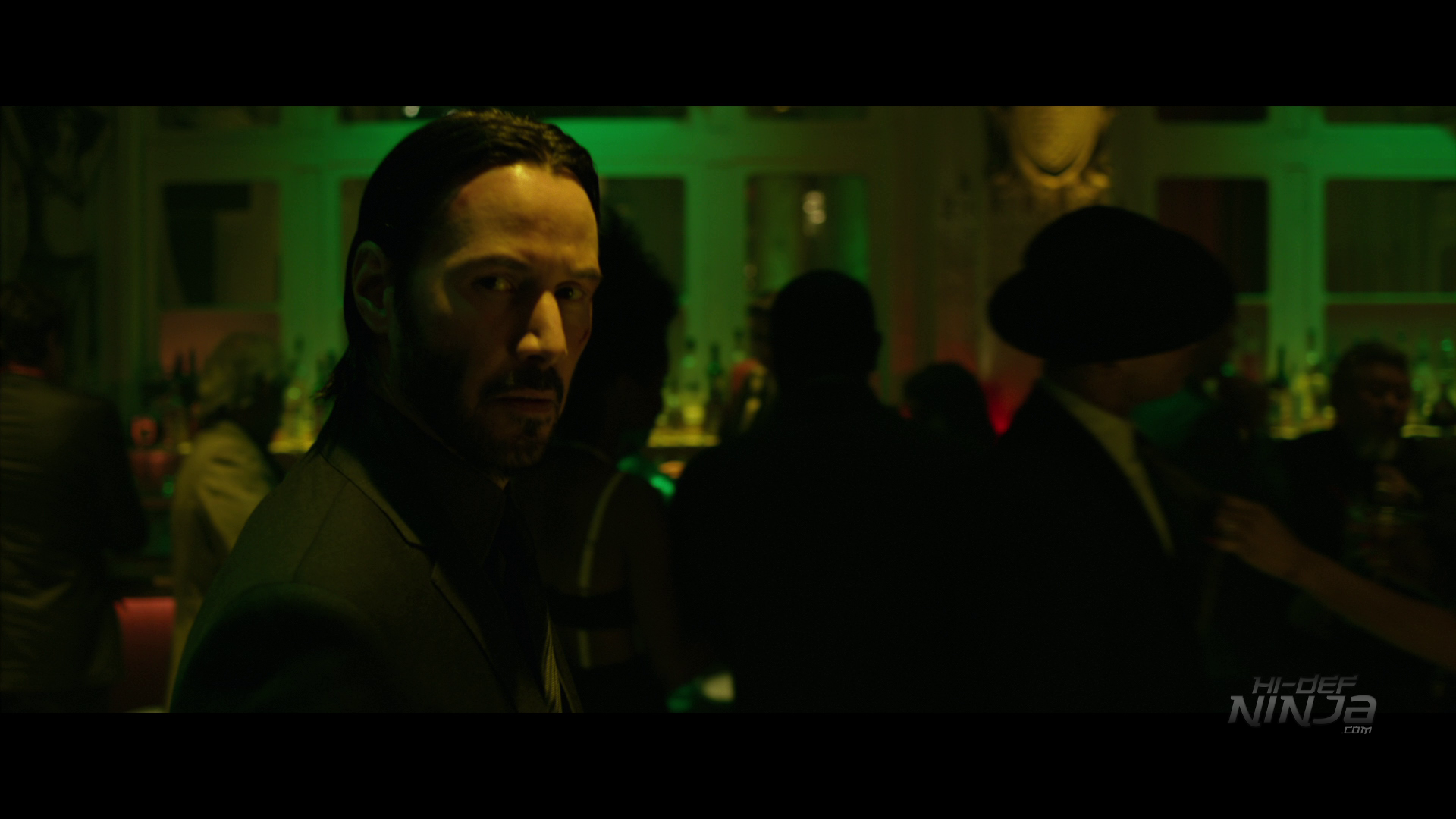 Lionsgate's audio presentation of JOHN WICK is a thunderous experience, beating you into submission from the beginning and only letting up long enough before forcing you back down under. The Dolby Atmos 7.1 transfer is both rich in the amount of sound we get, but also in where it's placed. The center channel features easy-to-hear dialogue, while the forwards mix music from Composer Tyler Bates and sound effects that move well between the speakers. Here the gunfire is loud and the car crashes pulverizing, with sound moving effortlessly and arriving with pinpoint accuracy. The rears feature several nice atmospherics from crowd noise at the clubs to additional rain droplets near film's ending. But it's the LFE – a vital component to a film like this – that makes the strongest statement. We feel every explosion, bone-crushing hit, and gun blast while enjoying the electronic beats behind the soundtrack, instantly setting the emotional tone. The results will have you grooving out on its violent goodness.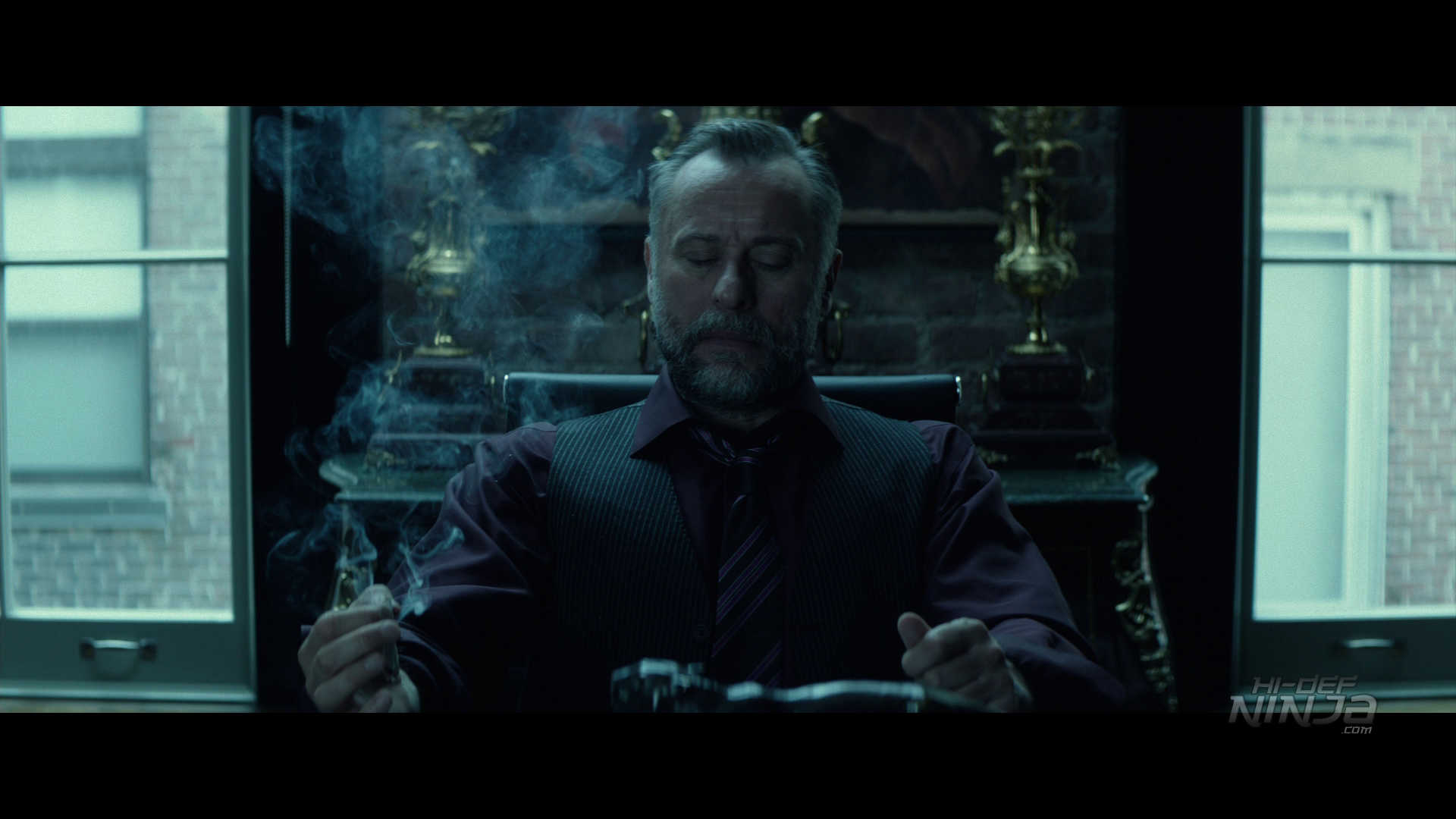 The supplement package for JOHN WICK is fairly substantial, although some of what's presented is repeated through several features. Quite literally, we hear some of the same stories, something that I'm not sure how got through the creation process. At least everything is presented in HD:
Audio Commentary by Filmmakers Chad Stahelski and David Leitch. It's always good to have directors share their thoughts, and these newbies do a good jo taking us through every aspect of production, from their involvement by Keanu to the marketing of the final product.  While you'll laugh as they joke back and forth, you'll stay to hear them break down more of the technical elements of the film, including much of the fight choreography and the film's unique look.
Don't F*#% With John Wick (15:17): We learn from the directors and the fight team how many of these great action scenes came into being.
Calling in the Cavalry (11:58): Discusses how the project was conceived and how these kings of the 2nd Unit action sequences were called in by Keanu to lead the project.
Destiny of a Collective (6:19): This featurette focuses on the working relationship between Stahelski and Keitch and the cast's appreciation of their chemistry.
The Assassin's Code (5:18): Although it's the shortest it's my favorite – this one discusses the underworld of the hitman as featured in the film.
Red Circle (6:26): This centers on the film's exceptional throw down in the nightclub.
N.Y.C. Noir (6:00): New York City is profiled here.
Theatrical Trailer (2:32)
Trailers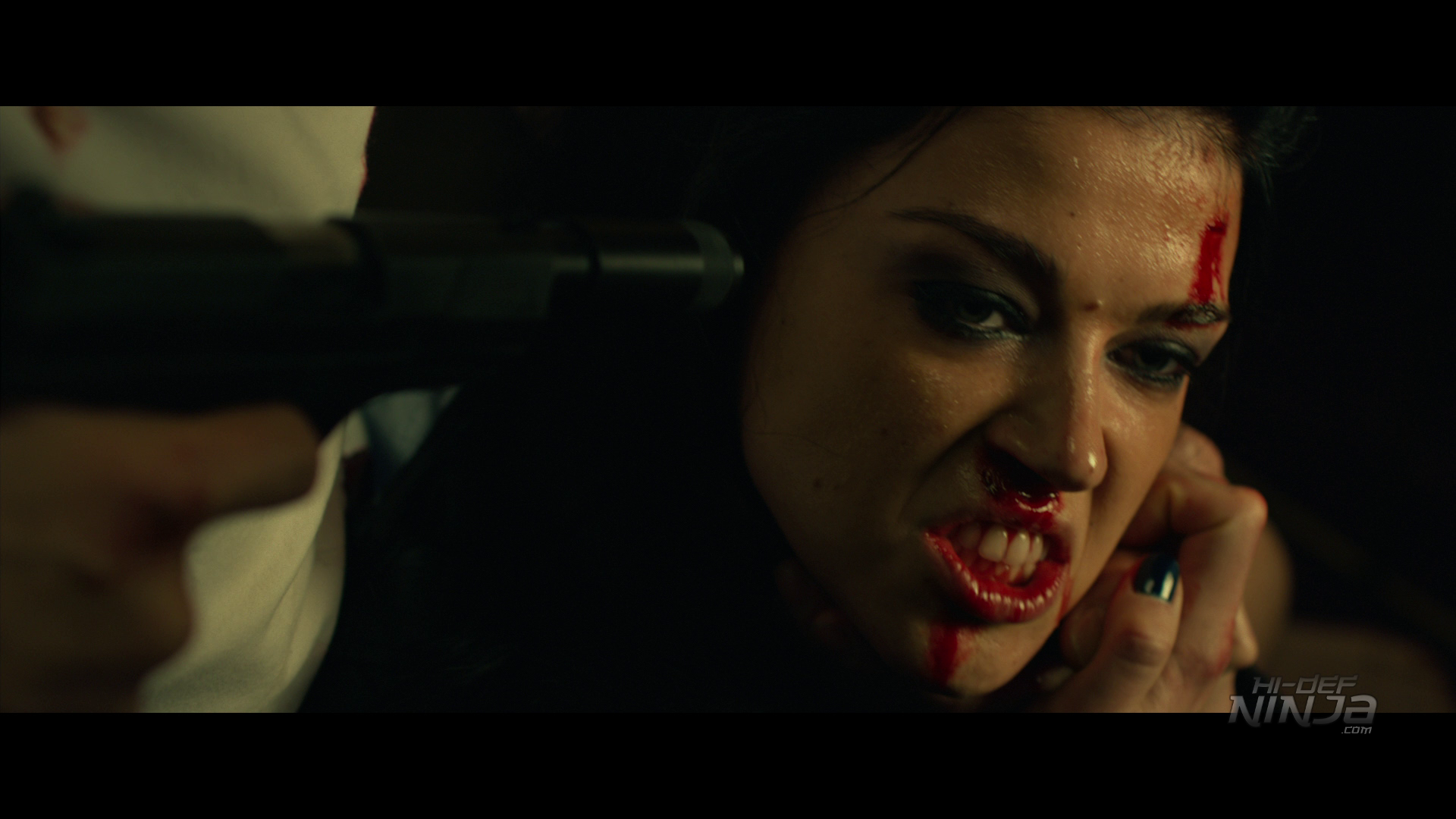 Although it does nothing new, JOHN WICK is thoroughly entertaining, even if its ending is downright disappointing. Stahelski and Leitch hit a solid triple in their first at-bat, and Keanu is solid, while his supporting cast will give audiences plenty to talk about as the credits roll.  The home release is a hit, too, complete with a great video on both the BD and the Ultra HD Blu-ray with HDR and audio, as well as a solid selection of supplements.  It's thoroughly recommended for purchase, and get ready to get wicked in time for John Wick 2.
JOHN WICK is rated R for strong and bloody violence throughout, language and brief drug use and has a runtime of 101 minutes.
Discuss this review with fellow HDN fans on Facebook. On Twitter, follow us at @HidefNinja