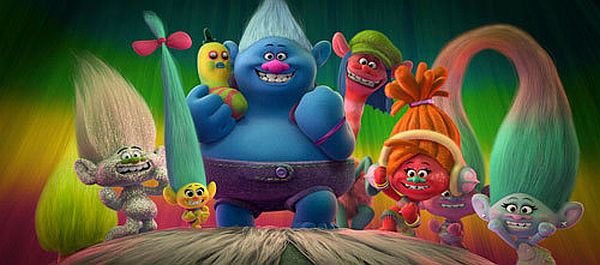 Trolls! What is there not to love about trolls? I mean seriously they've been inspiring conversation since the internet has existed, even if it's been a bit heated! Oh wait, how could I forget … not those trolls!
TROLLS on the other hand is the new creative famous rendition of those super popular troll dolls from the 90's. And legend has it they date as far back to the 1950's when created by Danish woodcutter Thomas Dam. That being said definitely a very cool mashup in today's time to be able to to rehash something with such history. And while it may be said that these trolls are not those trolls, but who we kidding right? Inspiration comes from everywhere!
So how did the TROLLS of the new millennium turn out?
Well kids 7 and under are easy to please and they'll love it! The about to be "4 year old" loved it, and the teenager found the musical numbers to be good. What does the adult think? TROLLS is a fun film that can be charming at times. The music is catchy and recognizable, but you won't leave saying this film is special and/or "something else!" like you would with Zootopia. Even tho, I hope this becomes a franchise as their is still potential.
The film's voice casting is incredible as with Justin Timberlake, Anna Kendrick and Baranski, the cast also includes the hilarious James Corden, Zooey Deschanel and Icona Pop. Another draw is that Justin Timberlake gave five exclusive tracks to this film. Perhaps so much so that is what had him as an Executive producer.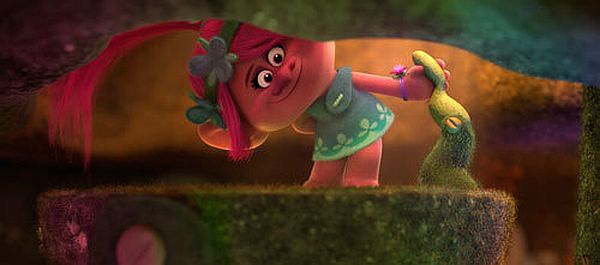 VIDEO QUALITY:
The video on the blu-ray disc is great as is most all animation in 1080p. I think if you are going straight for the blu-ray disc then you can't go wrong and you won't be disappointed. Now on the other hand if you are purchasing this for the 4k disc and/or the the thought of upgrading to 4k at some point then you might be left a small bit underwhelmed. The Ultra HD Blu-ray version is great, it really is. So that's for the normal joe. For you techno-nerds I must say that with all this eye-candy of colors that you are probably expecting for color overload insanity. This isn't the early format release like Speedracer was to blu-ray that became your go-to demo disc.
Yes the darks are darker and the uptick in pixels does allow for greater resolution and it really shines through in regards to the shading etc being more vibrant. However comparing to the blu-ray disc it's not as huge of a difference as I had expected. At the time of this writing though the price of the 4k version including the blu-ray disc can be had for $24.99 so regardless it pretty much is a no-brainer of just buying that version as it has it all.
AUDIO QUALITY:
The audio is where TROLLS succeeds in that the Ultra HD Blu-ray has a Dolby Atmos track and the Blu-ray has a DTS HD 7.1 track. No matter which way you need to go (even if you are 5.1) then you are in for a treat with great audio. I had great sound with my towers and center doing the bulk of the work while my rears and bookshelf monitors gave a great immersion when need be and the songs really had things jamming.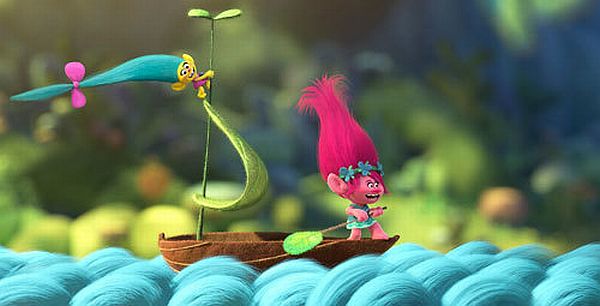 SUPPLEMENTS & PACKAGING
The Special Features are all found on the regular Blu-ray Disc and in addition to the Sing-Along and Party Mode you'll find the following.
Travel Through Troll Village
Potion for stop Motion
Creating Troll Magic
Inside the Bunker
Deleted Scenes
Promotional Clips
Musical Clips: DreamWork's Shrek, The Croods, Home, and How to Train Your Dragon
Not the wealthiest of extra features, but I do feel like it's definitely a great amount for this flick. Extra points for including the Sing-along version now and not being a cash in at a later point in time on a 2nd release.
For an amaray release the packaging is also very nice in that it includes a slipcover with sparkle like holofoil and embossing. Pretty nice for a regular edition if not a metal case.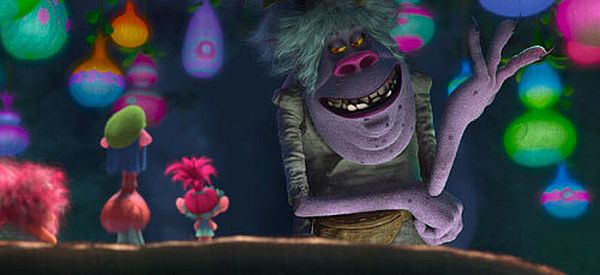 THE BOTTOM LINE:
An absolutely stunning release in the technical aspect for both Video Quality and Audio Quality. The Ultra HD Blu-ray is just amazing in color depth and richness. A great disc to show off the eye candy of 4k to friends and family, but perhaps not yet a demo disc for the non-believers or techno-nerds. Economically also a great release featuring the 4k disc, the blu-ray disc, and digital HD. For your kids it's also even got a code for the mobile app game for in game points to spend for $3 value. For those who are interested in TROLLS then you probably can't go wrong. It's definitely a flick your kids will love as mine do and after a few viewings even you to will be swingin' and singin' along. Lest we not forget about the exclusive Atmos audio track and thus if TROLLS is on your radar then it comes recommended.
Order your copy of the Ultra HD Blu-ray of TROLLS or the normal Blu-ray from Amazon