HACKSAW RIDGE
The Movie

The Video

The Audio

The Supplements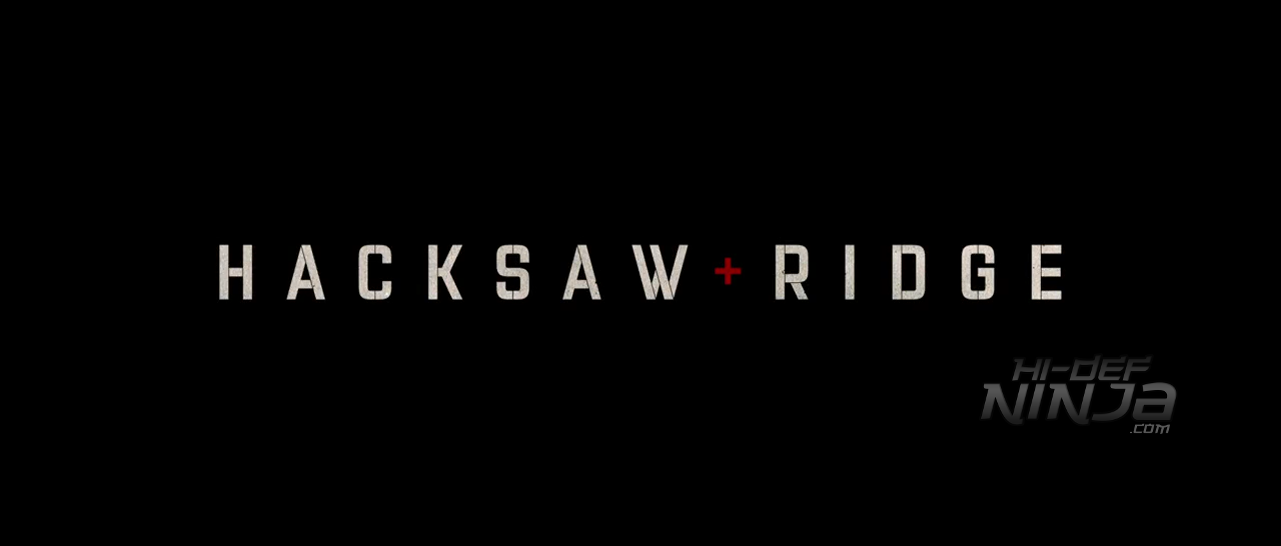 HACKSAW RIDGE looks and sounds amazing, but that might not be enough of a reason to buy it.

Review by Matt Cummings
Among the many (many) surprises offered at this month's Oscars, I was stunned to see that HACKSAW RIDGE not only represented but snagged several prestigious nominations.  To be completely honest, I was unimpressed when I saw the trailers this summer; and today, I still feel there are too many other worthy candidates for Best Picture, Actor, Director.  And while its arrival on Blu-ray is perfectly timed for a hopeful Oscar run – featuring excellent audio and video – the film itself is too flawed to withstand the assault from more deserving candidates..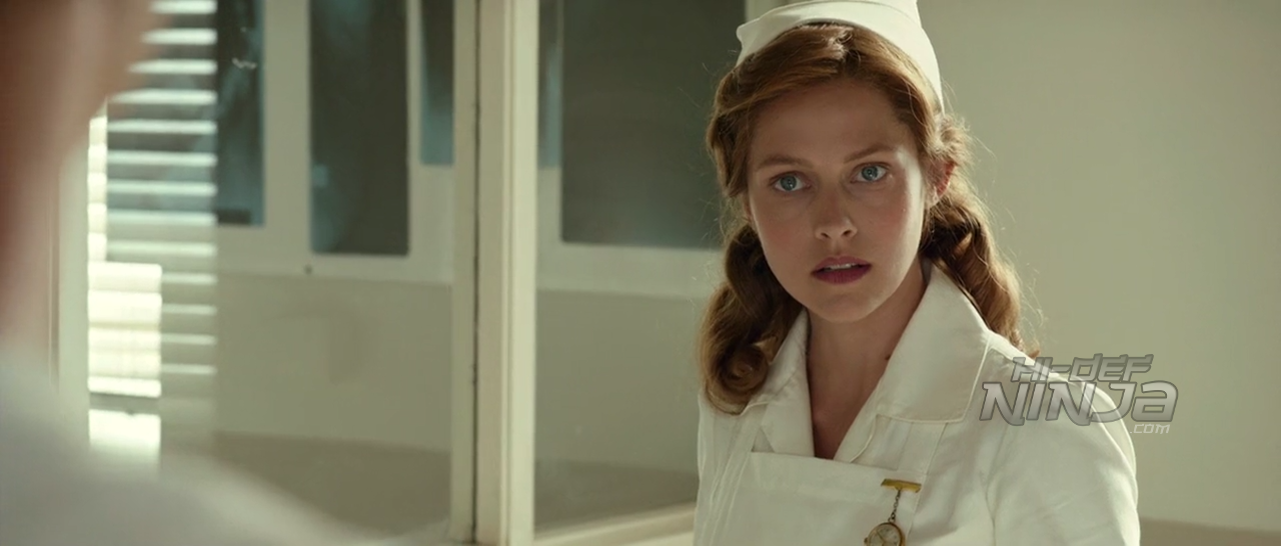 THE MOVIE
For the Seventh Day Adventist Desmond Doss (Andrew Garfield), the peaceful life of Virginia hides deep problems within his family.  His alcoholic father Joe (Hugo Weaving) has made a mess of his mother (Rachel Griffiths) who must endure his violent tendencies as he struggles to make sense of his experiences after serving in WWI.  When the drum of battle beats again, Desmond and his brother enlist, hoping to avenge Pearl Harbor while Joe looks on in dismay.  But unlike his brother, Desmond has made a difficult decision: he will not raise a weapon during his tour in WWII, based entirely on the experiences of battling his suicidal, gun-toting father.  His training officer (Vince Vaughn) and CO (Sam Worthington) attempt to run Desmond out of the Army after he claims that he is Conscientious Objector, which leads to a nasty court martial that eventually finds him not guilty.  Ready to re-join his company, Desmond heads off to Okinawa to face the Japanese, who control the island with a devastating grip.  There, he witnesses carnage on a scale no one could have imagined, as he rushes to treat the wounded while putting himself at tremendous risk.  When the company abandons the field after a fierce reply from the Japanese, Desmond stays to rescue 75 of his fellow wounded colleagues, all of whom would have died without his care.  He will provide the emotional glue as the survivors battle one last time to take the island and inch closer to victory.
One cannot help but admire the story of Doss, and Garfield makes us like him even more.  Garfield shines on the screen, even when he's covered in dirt.  It's the boyish charm that landed him Spider-man, and here one cannot help but smile with him.  He and Theresa Palmer – playing Doss' girlfriend – enjoy good chemistry, and she's gorgeously dressed by Costume Designer Lizzy Gardiner.  Weaving, for all his comments about starring in too many Hollywood tentpoles, takes his character deep into darkness, and his narrow face and peering eyes make him an effective (if underused) antagonist. Composer Rupert Gregson-Williams' beautiful score is perhaps an element of HACKSAW RIDGE, that did deserve some Oscar love, but is noticeably absent from this year's list (but then again, who isn't shafted by the Academy on a yearly basis).  But for all of its strengths, the film doesn't deserve all the Oscar accolades it's suddenly receiving.
HACKSAW RIDGE suffers from several avoidable but devastating errors.  First, Director Mel Gibson shoots an overly long first and second act, draining the ending to unnecessarily stuff the opening.  Desmond's family dynamics take entirely too long to develop, and even his rising relationship Palmer is subjugated, completely disappearing after he heads to Okinawa.  There's no interest in returning her (or Joe) to the narrative, which early on serve as powerful stories that are never wrapped up.  Second, Vince Vaughn is miscast here, unable to deliver the power behind a true drill sergeant (his voice literally cracks), although he's good enough when the fighting starts; Worthington escapes the constant scrutiny that has followed his career with a solid performance, while the judgmental Smitty Ryker (Luke Bracey) is featured way too often as the hero of the company.  He's a one-man wrecking crew, so much so that I found myself asking whether HACKSAW would ultimately be about him or Desmond.  This a 139-minute ordeal that could have been edited into a far more effective 120-minute powerhouse.  Again, those first two acts move like molasses and bleed out the sheer power of the third act.
In that third act, Gibson puts on a fine display of wartime mayhem.  Long, slow-mo shots of half-buried soldiers, others who are on fire, and still more who emerge with parts of their bodies blown off are incredibly visceral.  So too is the moment upon which this movie is framed: the slow removal of 75 soldiers by none other than Desmond himself over the evening.  That part is inspiring, until we see so many of them that we're not sure if we're watching the same person being rescued.  It's not awful, but the inspiration does get a bit lost.  And then there's the scene where Desmond gets his Bible back, a moment that's supposed to join his devotion with the physical embodiment of it, but it comes across as a bit silly.  But in all, HACKSAW RIDGE is enjoyable and Desmond's sacrifice cannot be ignored.  Whether it all works as an Oscar winner is debatable, but Doss' efforts certainly are an inspiration.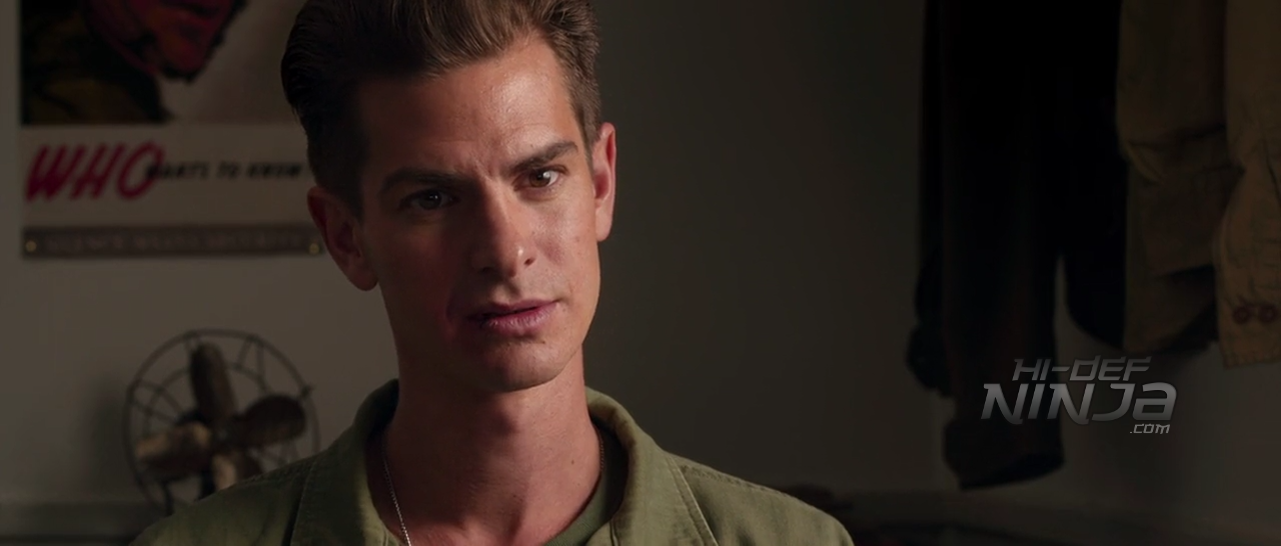 VIDEO QUALITY
Lionsgate's HACKSAW RIDGE is presented with a beautifully-rendered MPEG-4/AVC transfer.  The print excels in many ways, from clarity to color and everything in between. Bathed in the warmth of the 1930s & 40s, Gibson's print gives off a mostly brown and red hues during the first act, but it's also elegant in greens and yellows.  The print also sports crystal-clear detail in clothing and human features throughout.  Suspenders, uniforms, and suits reveal stitch-work and wrinkles, while skin color, pores, hair, and tears look lifelike.  Gibson's tone changes drastically as the theater shifts to war.  There, the horrors are on full display, and this print is ready for it.  Explosions, sweat, and dirt permeate a gruesome third act, but it's the intensity behind the eyes which is one of its strongest points.  There are only a few night scenes in the film, but they never lead to crush, while shadows during day scenes give us good depth.  With the one exception of banding during a short scene of a sunrise, Lionsgate's transfer is stunningly steady throughout and provides us with a near-reference quality product.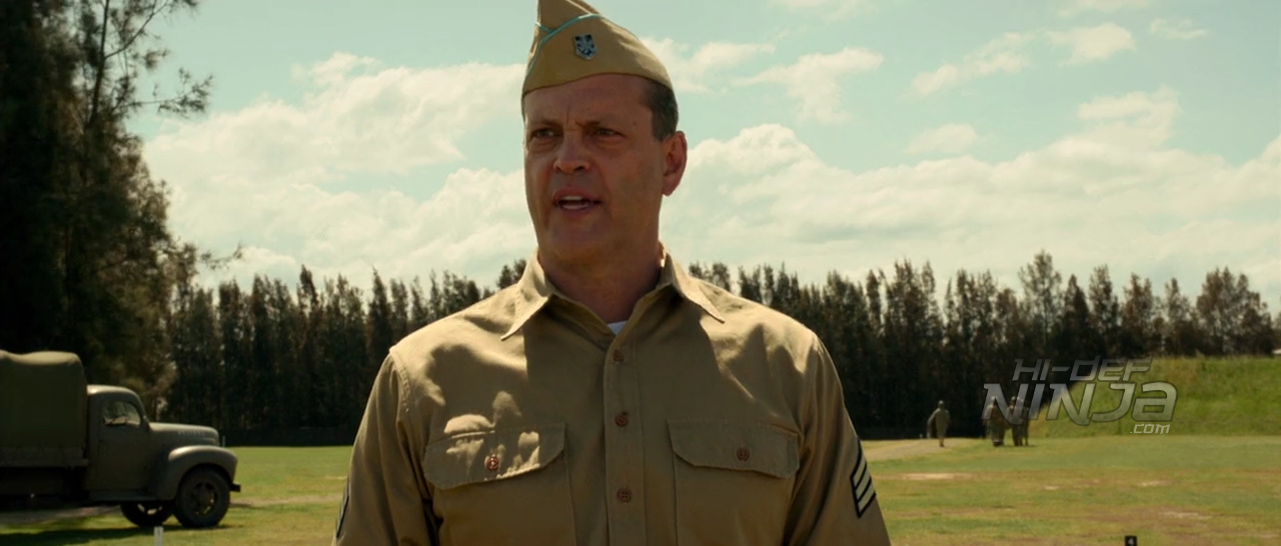 AUDIO QUALITY
HACKSAW RIDGE's audio tracks are even stronger.  I have not yet upgraded into Atmos territory, but what I got from my 5.1 setup was a powerful experience.  The disc is encoded with four settings: Atmos (which my system read as Dolby TrueHD), a Spanish 5.1, a Dolby 2.0 for late-night listening, and an English Descriptive track.  For the first two acts, Howard's pretty score dominates the soundscape, while the final act takes us deep into the battle at Okinawa.  There, we're treated to a cacophony of explosions, whizzing bullets, and battleship canon fire that shook my viewing chamber.  But throughout that, dialogue remained consistently excellent, staying put in the center channel but not truly separated, as it's merely turned up.  That's a minor point, as the forwards deliver most of the carnage, with some bullets whizzing forward to back.  The surrounds take care of wrapping us in the devastation of the campaign, filling moments with screaming, yelling, fire, and other effects.  And then there's the LFE, which pulses, pounds, and thumps its way to total glory.  But you don't have to wait for Okinawa to hear all of these elements: Lionsgate surrounds us in the period with a stellar audio track.  This period comes alive throughout, from local crowd noise in the barracks to background effects like cars passing through.  I have yet to hear Atmos in a home set up, but I got what I believe was as close to that experience as possible considering my limitations.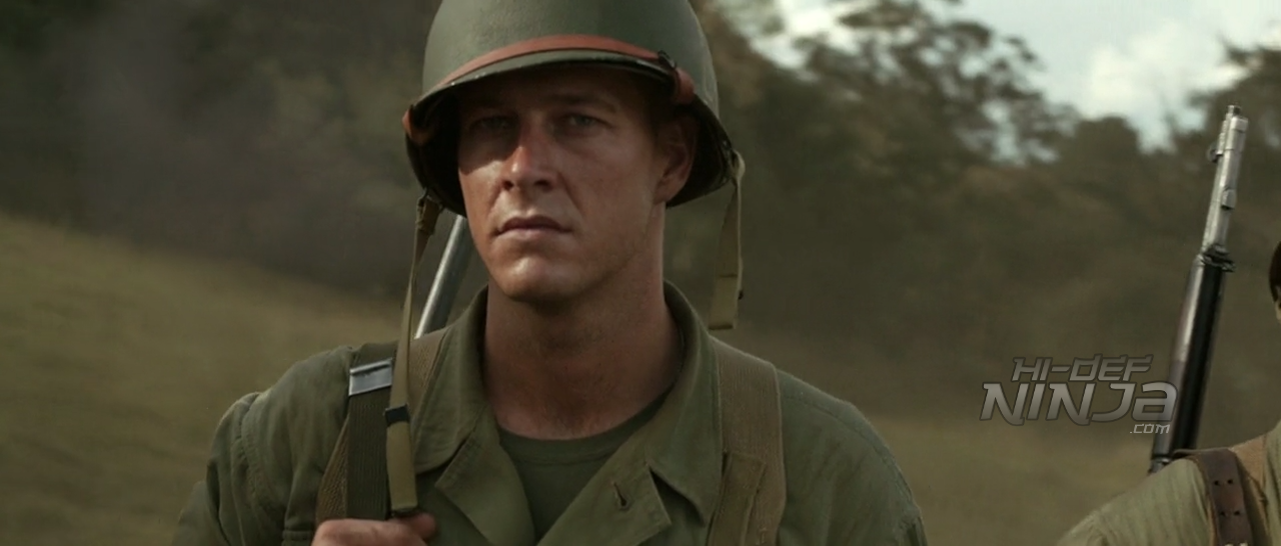 THE SUPPLEMENTS
Although no commentary track appears, HACKSAW RIDGE is filled with enough content to keep us happy.  Everything here is presented in HD:
The Soul of War: Making Hacksaw Ridge (1:09:45):  In lieu of that commentary, we get an excellent breakdown of the film from every angle.  But that Gibson guy is strange, especially when he's being interviewed looking like he's lived in the forest 8 months.
Veterans Day Greeting with Mel Gibson (1:02): A shaggy-bearded Gibson validates the work of veterans in what looks like a PSA.
Deleted Scenes (4:32): Nothing here changes the narrative or provides any more insights that what we already have.
Theatrical Trailer (2:33)
Trailers: PATRIOTS DAY, DEEPWATER HORIZON, HELL OR HIGH WATER
Our evaluation copy arrived as a Blu-ray/DVD Combo pack with a DIGITAL HD copy inside. The slipcase is nice, with the lettering of the title raised.  There is no interior artwork, but at the time of this posting we were aware of a steelbook offered through Target and a 4K transfer offered through most retailers.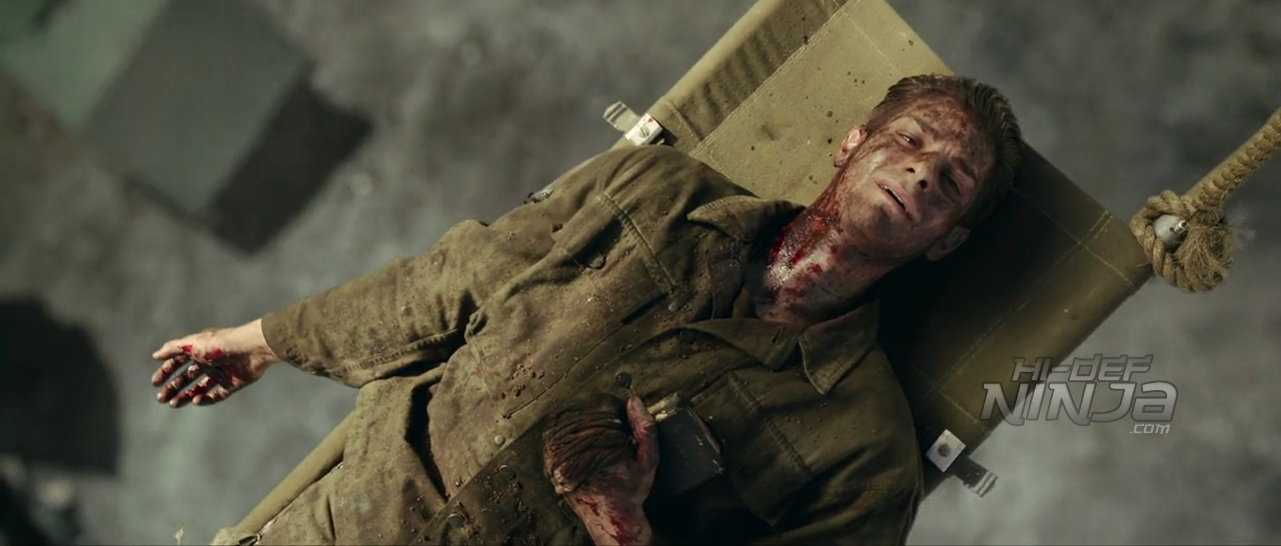 THE BOTTOM LINE
HACKSAW RIDGE uncovers a WWII hero that I never knew existed, and it's appreciated to finally learn his story.  But the film has no place being in the Oscar race, as it's unnecessarily long and ditches some of its most appealing characters for reasons that only Gibson can tell us.  In addition, there are several creative decisions made by Gibson that bother me as well (too much slo-mo, too much focus on he hyper-violence instead of the story), but I'm glad to have seen it so that I can cross it off my Oscar gift-giving party.  The movie's technical merits are superb, sporting incredible video and audio transfers.  However, I do think you might wish to rent it first before committing to a purchase.  I feel like there's a better version of this film out there, one that actually could have competed for the golden statuette.  For now, it's just another head-scratcher that almost makes it.
HACKSAW RIDGE is rated intense prolonged realistically graphic sequences of war violence including grisly bloody images and has a runtime of 139 minutes.