ALLIED Blu-ray Review
The Movie

The Video

The Audio

The Supplements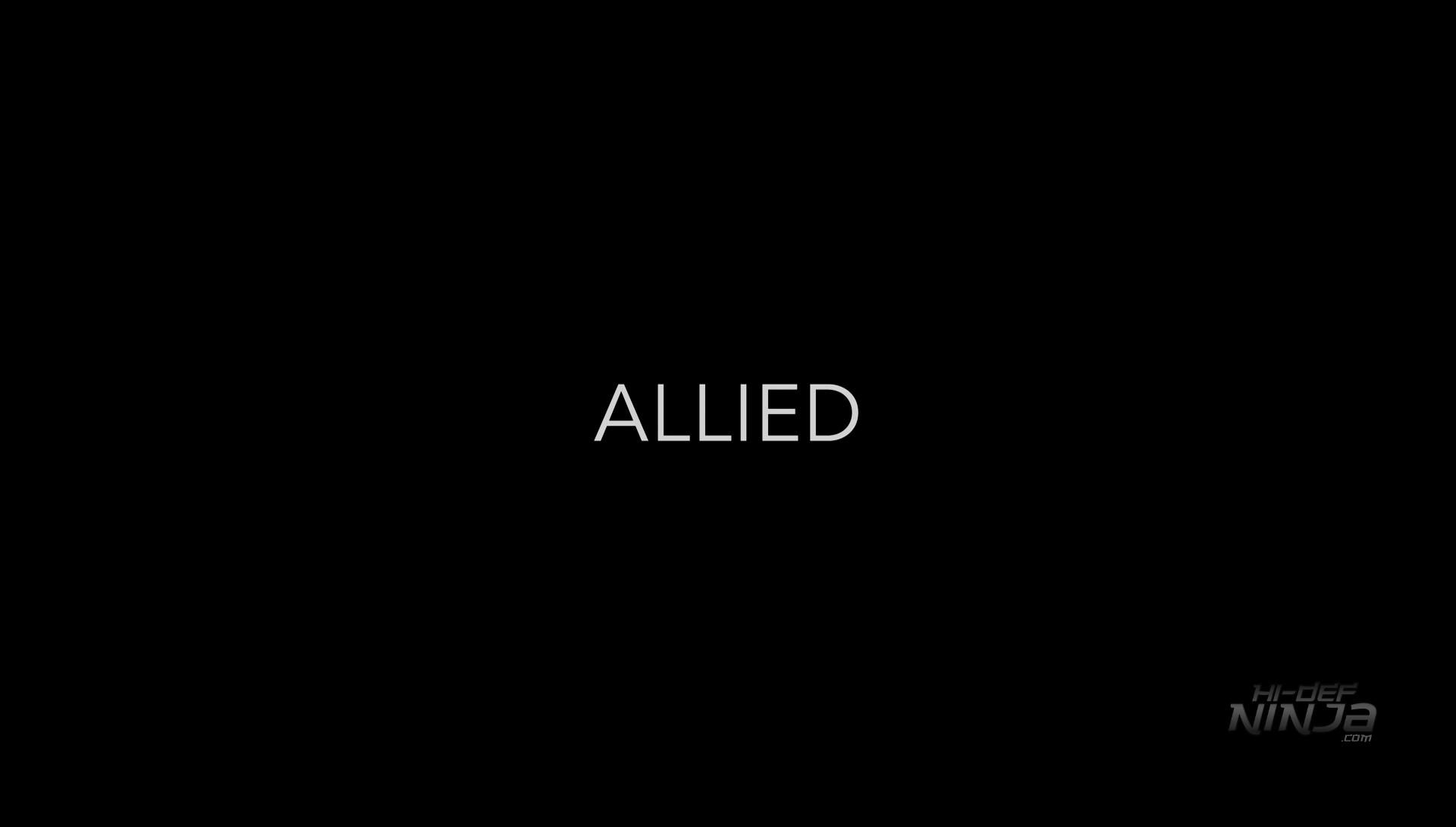 The WWII spy drama ALLIED looks great on Blu-ray, but that's not enough to continue this mission.

Review by Matt Cummings
Among the (rather large) pile of Oscar wanna-be's in 2016, ALLIED might be the biggest disappointment of them. Plagued by a lack of intensity or thrills, it also generates exactly zero heat between two of Hollywood's best. And while Paramount's home release boasts beautiful video, good audio, and solid supplements, the movie's flaws are still evident and fail to elevate it into 'Oscar Snub' territory (see Amy Adams in ARRIVAL).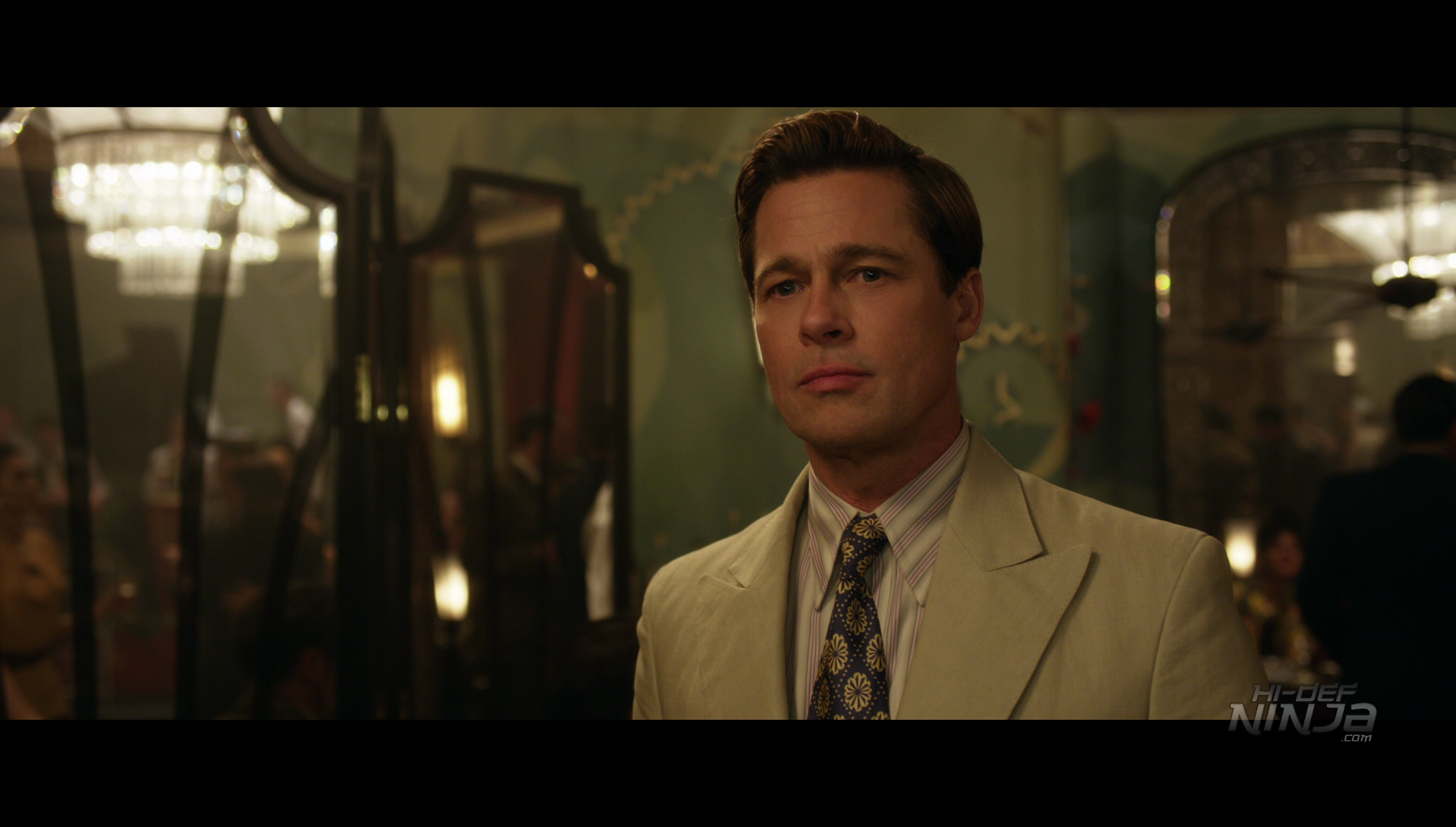 THE MOVIE
When WWII operative Max (Brad Pitt) is paired with the sultry Brit Marianne (Marion Cotillard) in an assassination operation in Morocco, they soon fall in love, making the mission all that more difficult. With the mission completed, Marianne moves to London to become a mom, while Max's spy star is rising. But when Max later learns that Marianne might be a German spy, he struggles to come to grips with this new reality. As Max slowly unravels the truth, he must walk a fine line between protecting his family and following the ice cold orders of his superiors: If she's a spy, kill her.
For all the 40's glamour behind ALLIED, Director Robert Zemeckis doesn't exactly push this story in the way that it needs, settling on a meandering script by Steven Knight. It should have set new standards for the genre by going back to its roots; but Zemeckis is so focused on honoring the time period (of which he talks about in the supplements) that he misses the subtleness that could have made this one special. As the beauty of Act 1 leads to desolate Act 2, I kept waiting for that one moment of tension to elevate the story into Oscar territory, but that never materialized. Considering all the A-List talent assembled, that's quite a shock. Pitt is noticeably older and bloated here but still more refined than ever, perhaps leaning on his buddy George Clooney for guidance in the Cool category. I've loved Cotillard since INCEPTION, and her looks resonate with a magnetism that's made her so desirable for today's prestige pictures. But there are other good performers here, including Jared Harris and a pseudo cameo from Simon McBurney as an S.O.E. official. But none of this equates into an old-school spy gem.
ALLIED suffers from a painfully slow beginning that's supposed to be akin to CASABLANCA, but it takes too long to establish the relationship between Marianne and Max. We're given too many rooftop visits and too many moments of slow character development that are supposed to engage us in how much we're supposed to love these two actors together. There's a hollow feeling behind ALLIED, as if we're watching Zemeckis himself paint by the numbers as he tries to figure out what a modern audience wants. That was the same problem with THE WALK, which would have been extraordinary 15 years ago. Part of the problem is the he – like Spielberg and many others – continue to rely on the same people they've always worked with, partly out of familiarity. But with ALLIED, that never translates. It's great to see him back, even if this one isn't all his blame. ALLIED seems to have everything it needs to become an instant winner, and yet it just sits there expecting us to like it simply because we should.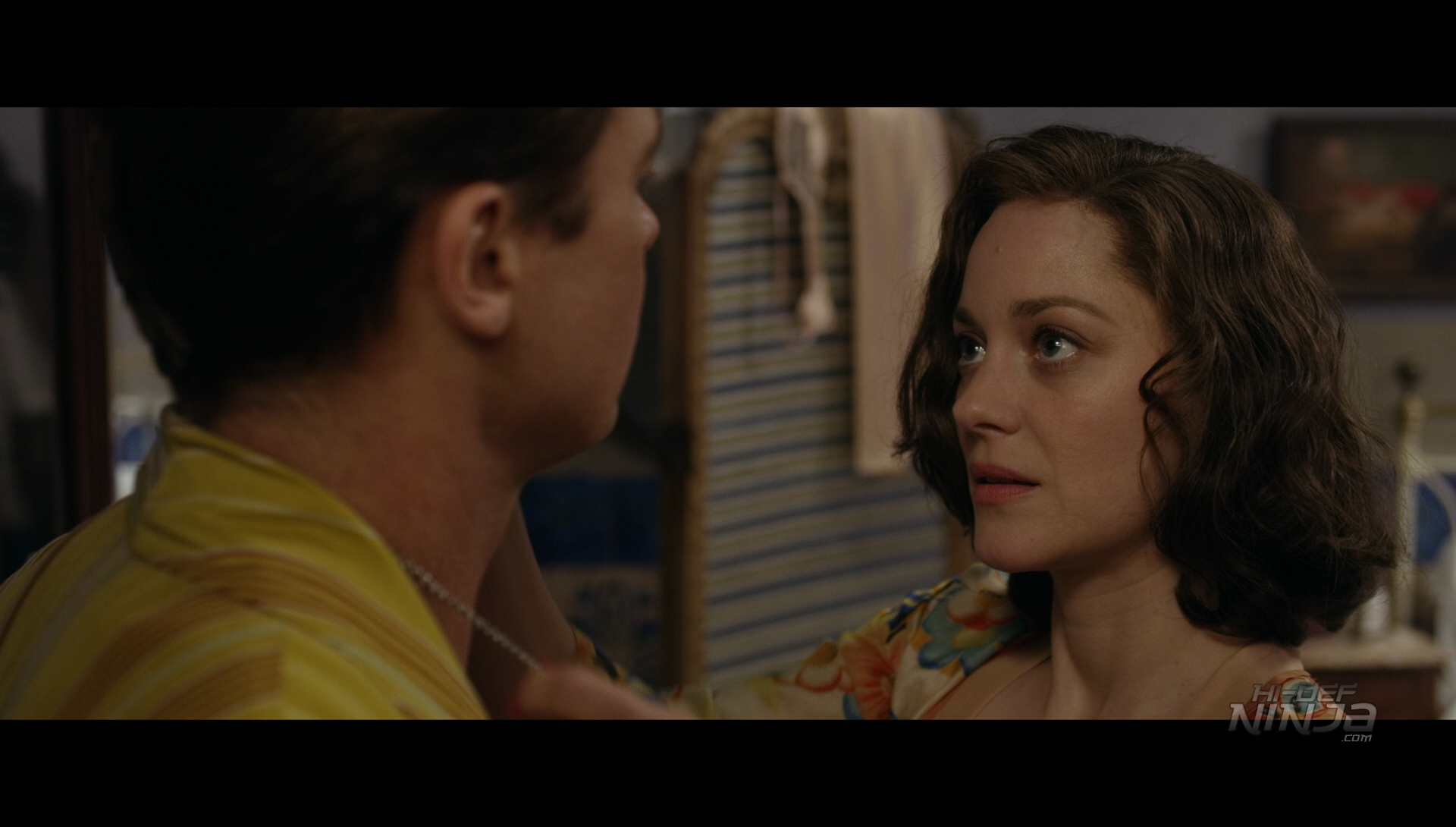 VIDEO QUALITY
Paramount has experienced several disappointments with its studio releases in recent years, but the same cannot be said for their home video releases. ALLIED on Blu-ray is a gorgeous production, supported by an MPEG-4/AVC transfer that's flawless in almost every way. There's depth throughout the image, especially when the film shifts to London. But the image boasts rich and supple colors throughout, especially in the First Act. Casablanca hasn't looked this beautiful since CASABLANCA. Hair, skin pores, and blood look lifelike, and clothing and locations give off sharp detail. Pitt's suits are impeccable, and we can see nicks in car paint and interior rooms in the London flat. As the film turns a bit blue in the Third Act, we can see individual drops of rain, smoke from the RAF plane, all which help to draw the tension out. There's a tinge of 1940's softness to some scenes, but that appears to be more a choice of Director Zemeckis than poor work by the studio. Much can be said for why ALLIED the film doesn't work, but I can't say the same for Paramount's transfer. It's reference quality throughout.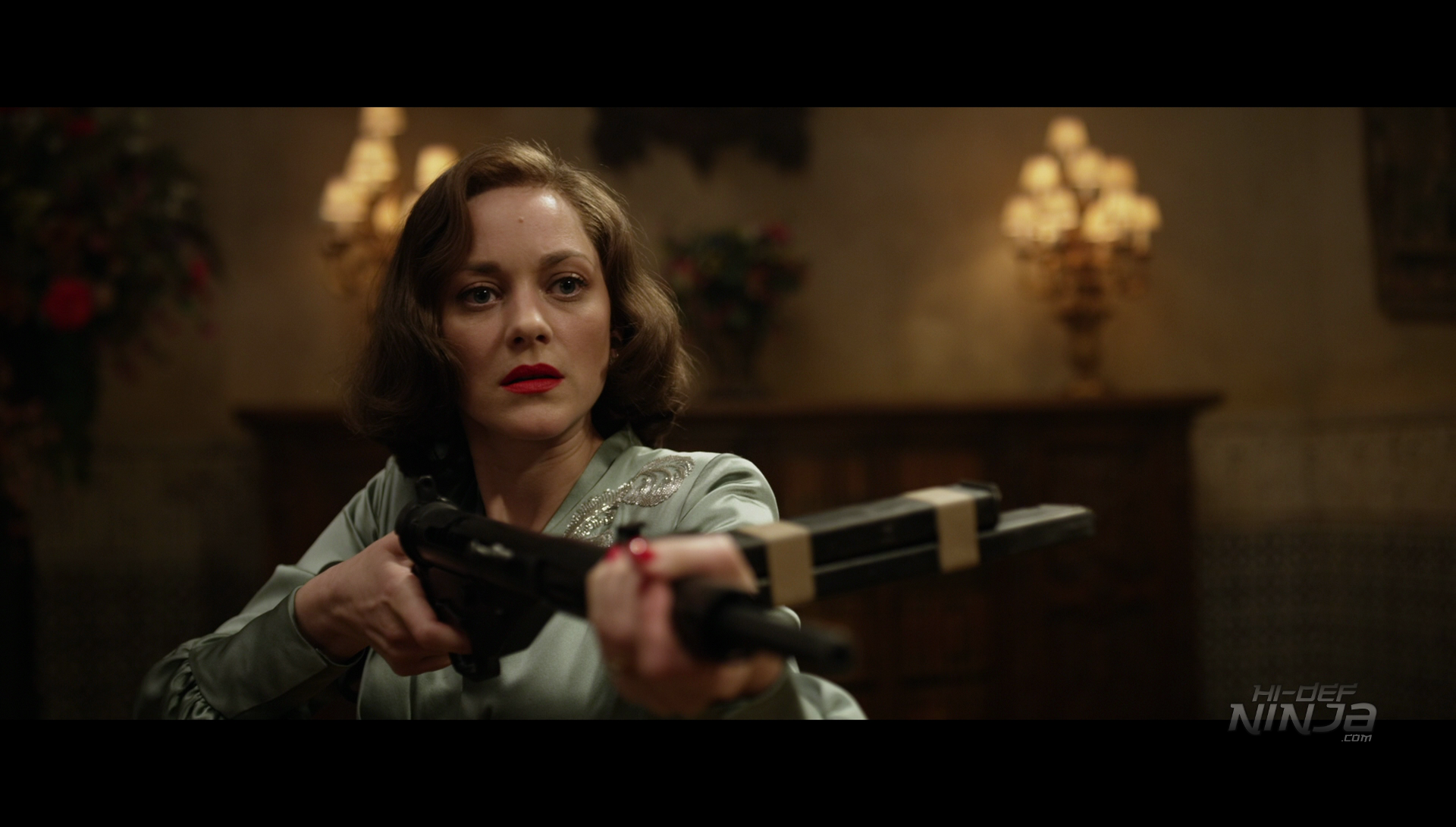 AUDIO QUALITY
Paramount Studios' ALLIED sounds almost as good as it looks, but it does have some flaws. The DTS-HD Master Audio 5.1 track exists very well in both the wartime scenes and in the more quiet dramatic moments. Bombing runs, explosions, and gunfire resonate throughout the forwards, making us feel as if we're really there. Dialogue is never hard to discern, even though some moments might be hard to understand due to microphone placement or by mumbling. Where ALLIED seems to falter is in its surround environment, which doesn't feel at all as immersive as I would have hoped. The war scenes are stellar, but it's during the more dramatic scenes where I would have expected to hear crowd noise and office chatter, but those elements didn't quite make it out. I'm sure that producing a life-like environment in its rears wasn't a priority for Paramount, but the lack of it does reflect in my score. Overall, it's a good track.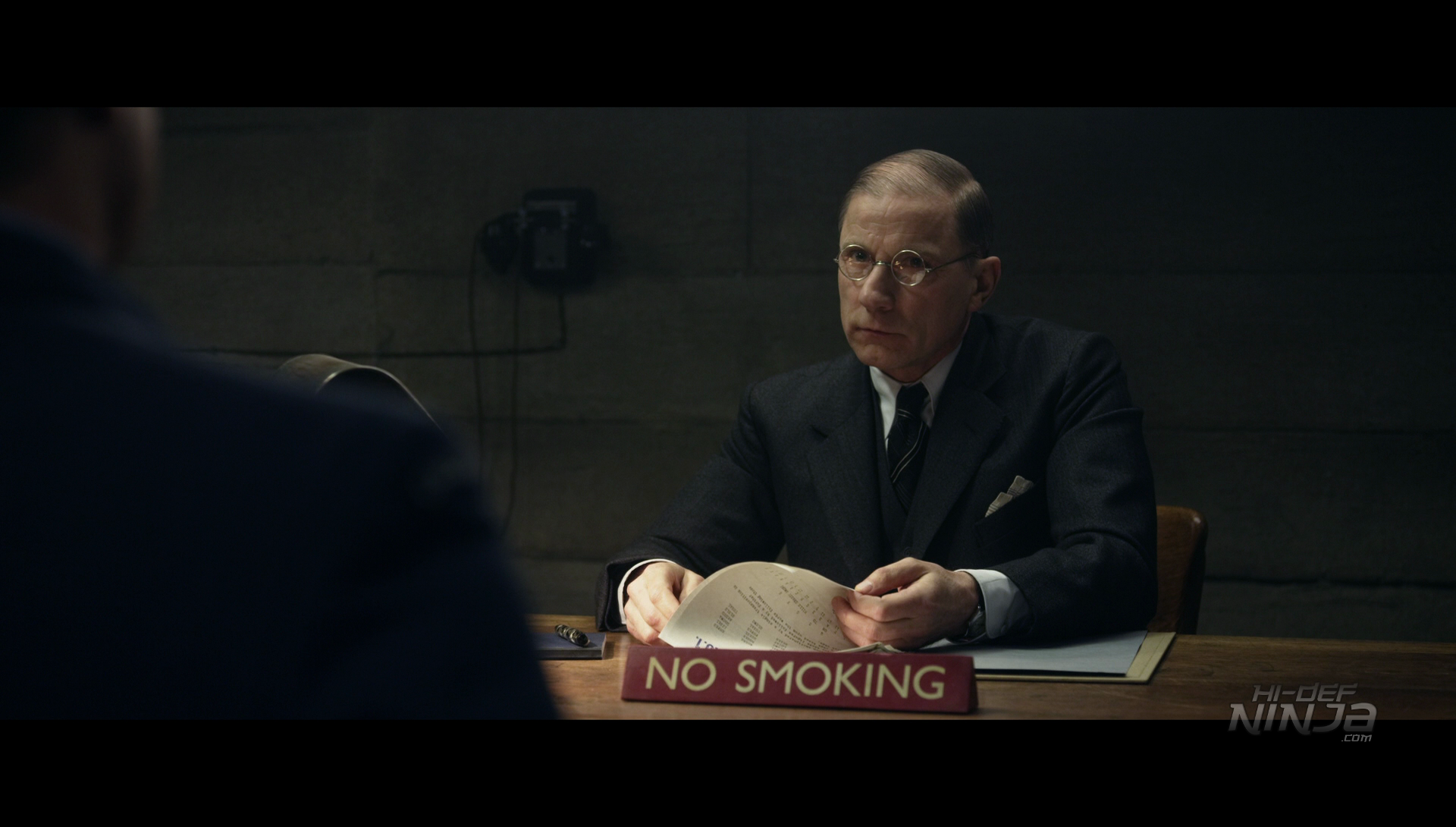 THE SUPPLEMENTS
ALLIED does offer us a collection of insightful featurettes, but it's lacking a commentary track, which I believe helps us to better appreciate the director's motives and challenges during shooting. For something like ALLIED, it feels very essential. Luckily, what we do get is expansive, with everything offered in HD:
Story of ALLIED (5:13): This is a general breakdown of the movie's origin, which is supported by interviews by the cast and crew.
From the Stages to the Sahara – The Production Design of ALLIED (10:10): One of the strongest elements of ALLIED is its production design, which takes us back to the days of CASABLANCA. Designer Guy Freeman's environs are dazzling, and this featurette pulls the curtain back to reveal both the practical sets and CG effects which were used to transport us to this time. It's one of my favorites of the set.
Through the Lens – Directing with Robert Zemeckis (8:49): Everyone steps up to share with us something we already know: Zemeckis is awesome.
A Stitch I Time – The Costumes of ALLIED (8:40): Longtime collaborator Costume Designer Joanna Johnston is center to another of my favorite featurettes. We get a thorough breakdown of her vision of old Hollywood style and the way that it appears throughout the film. I was surprised to see that she didn't win the Oscar, and this supplement convinces me even more that she got snubbed.
'Til Death Do Us Part: Max and Marianne (5:52): You really can't get a more gorgeous couple than Brad Pitt and Marion Cotillard, and the cast and crew extoll on their virtues. But Pit's absence here is noticeable, which is a bit odd.
Guys and Gals: The Ensemble Cast (5:22): Zemeckis takes a moment to breakdown each of his leads and supports.
Lights, Pixels, ACTION! The Visual Effects of ALLIED (9:33): There's a certain feeling of regret at watching this one, as you truly learn about how this world was created through both practical and stunning visual effects. You realize that studios can do anything now, which makes you wonder what is real in movies anymore. Mission accomplished.
Behind the Wheel – The Vehicles of ALLED (3:30): This one is all too short, focusing on the various cars and planes that were used during the movie's production.
Locked and Loaded – The Weapons of ALLIED (3:35): Another all-too-short presentation, we learn about the various weapons used by Pitt and others.
That Swingin' Sound – The Music of ALLIED (7:06): I'm so glad this section was added into the supplements, as I believe the modern studio score is added in today's movies almost as an afterthought. Luckily, longtime collaborator and Composer Alan Silvestri comes out of retirement to gift ALLIED with another strong element. We learn about Silvestri's process of scoring as being a rather personal one, using romantic and mournful elements to create a gorgeous expanse. He's one of my favorites in the industry, and this featurette shows off why.
Our evaluation copy arrived as a Blu-ray with a DIGITAL HD digital copy. The slipcase is nice and there is no interior artwork. At the time of this posting, we were not aware of any special packaging or alternate versions for purchase.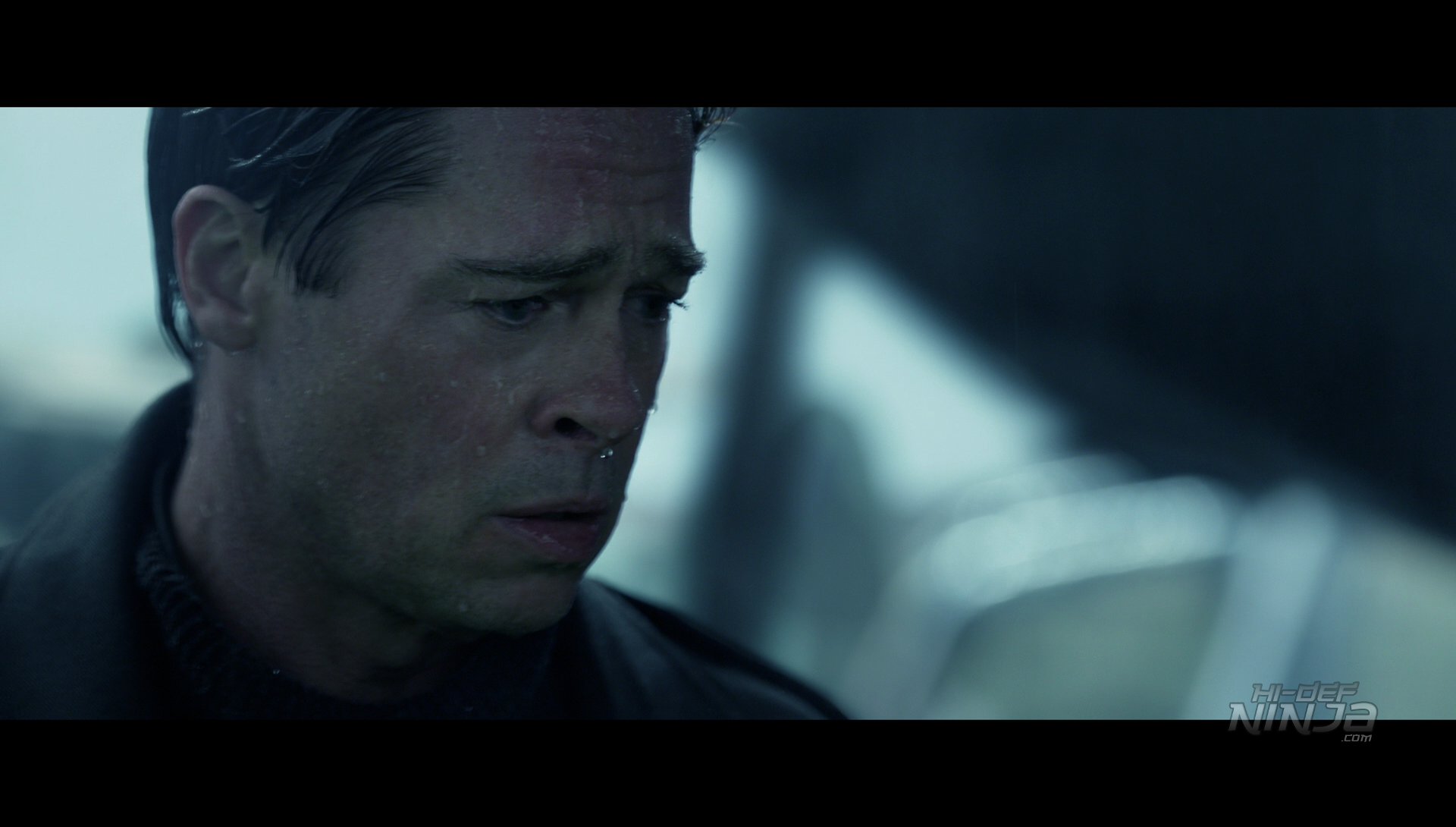 THE BOTTOM LINE
Run to ground by a listless script and a lack of real burn between or gorgeous leads, ALLIED wants us to think it's a throwback to 1950's Noir, but it never separates itself to become a true Oscar contender, although set design and its score tries to force our hand. Video, audio, and supplements range from outstanding to pedestrian, which how I feel about Zemeckis' drama. Much like Marty McFly, Zemeckis seems like he's stuck in another time, content to make movies that would have resonated back in the 90's/early 2000's. That's not enough for us to recommend a purchase, but interested parties might wish to catch it as a rental first.
ALLIED is rated R and has a runtime of 124 minutes.