Grey Matter Art, in partnership with Acme Archives and Dark Ink, is releasing a new screen print from the sci-fi film PROMETHEUS. It is under license from 20th Century FOX and the artist is Gabz (Grzegorz Domaradzki). Here's what he had to say about the release:
'I've been a fan of Alien franchise since the very beginning and always enjoyed terrifying yet mesmerising worlds created by Sir Ridley Scott, so I couldn't be happier for having a chance to work on an officially licensed print for Prometheus. The idea for this poster struck me after re-watching it for the third time and I almost instantly started drawing… For me it was a sort of back to basics, because the image was entirely made with pencils on paper, later scanned and digitally enhanced in Adobe Photoshop, and later color separated for screen printing. I'm pleased to say it's practically a personal work and really wanted to thank Grey Matter Art guys, Acme Archives Limited and Dark Ink Art for letting me do this piece my way. The idea was to depict Architect's pale and godly profile with a human fetus inside his skull. Attentive viewer should be able to spot at least few references to xenomprph and H.R. Giger's work that inspired "worlds scariest alien". The title is "Creator of Men" or simply "Architect" and my intention was to yet again pay homage to Polish Poster School which is very close to my heart not just because of my origin. With this print I also wanted to somehow recollect my earlier years, back when I was an art student and was absolutely obsessed with anatomy and human body in general. Hope fans of the franchise will appreciate my take on the film.
This poster goes on sale on Wednesday, March 22nd around 1PM EST on their Website.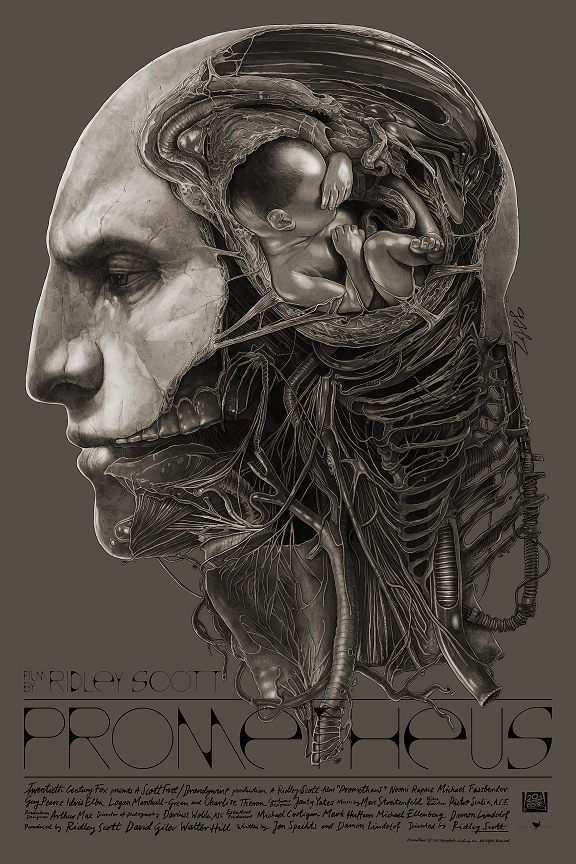 PROMETHEUS
Artist: Gabz
Size: 24×36
Regular Edition: 225/$45.00
Printed By: Lady Lazurus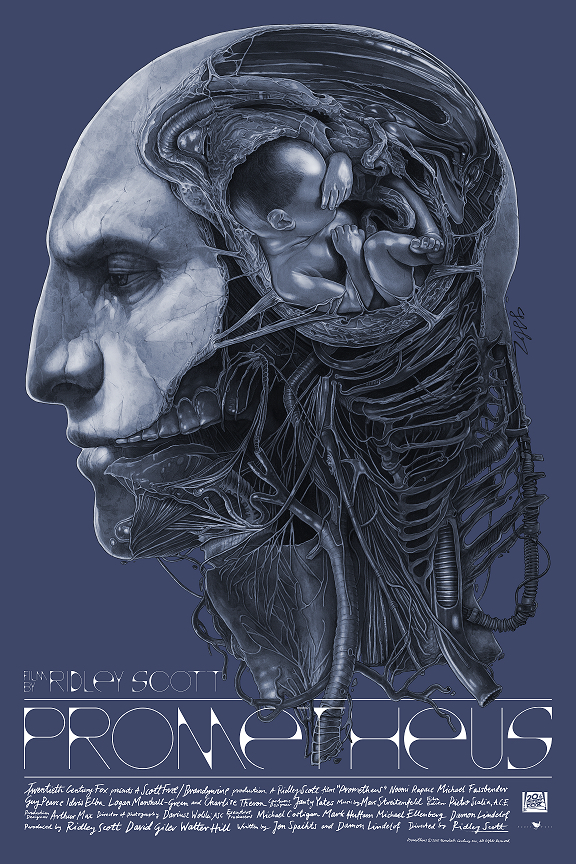 PROMETHEUS
Artist: Gabz
Size: 24×36
Foil Variant Edition: 150/$60.00
Printed By: Lady Lazurus
Also, follow Grey Matter Art on Facebook and Instagram, and sign up for their website newsletter for all future news and information.