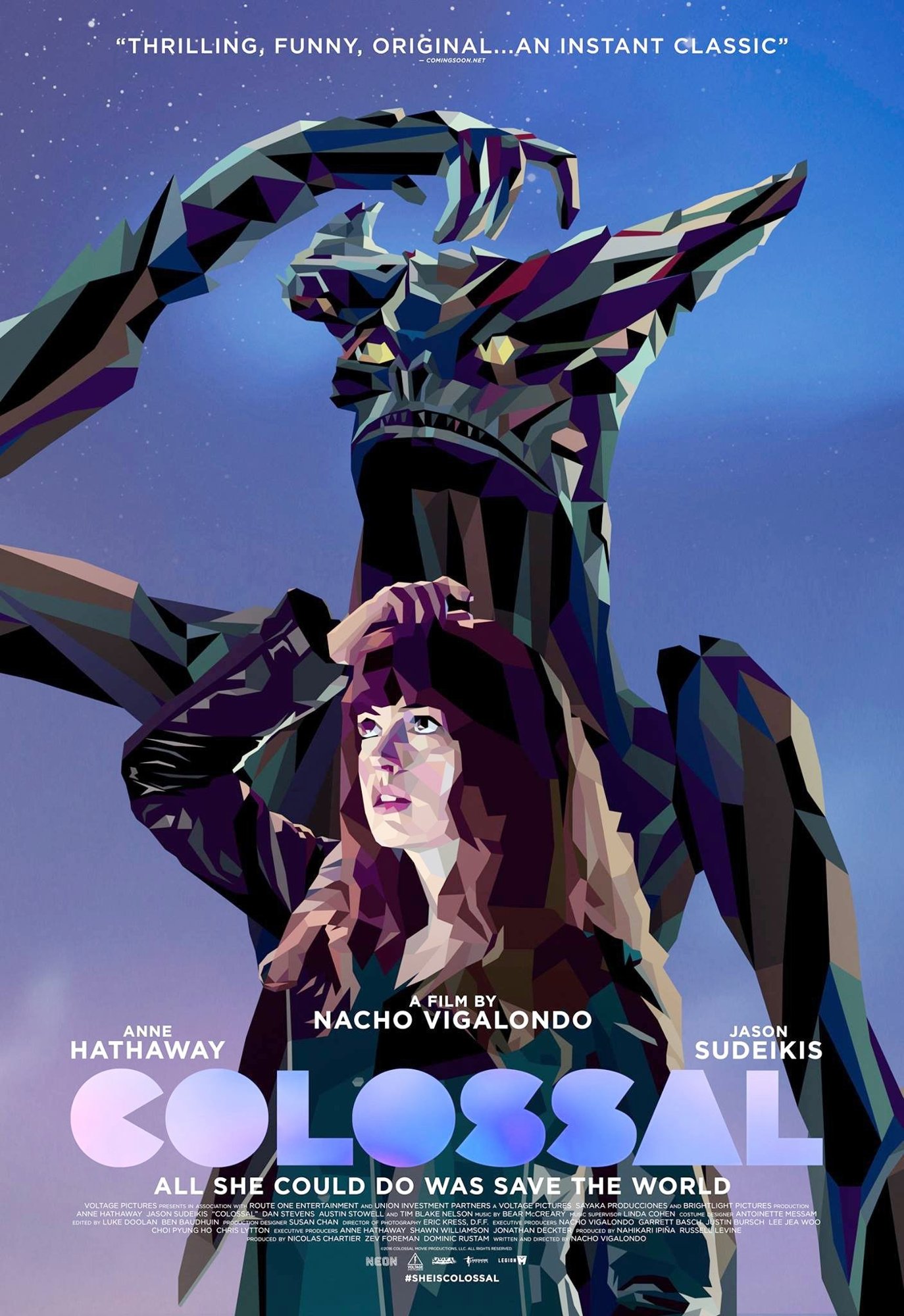 After a strong opening, the kaiju comedy COLOSSAL isn't so funny after all.
Review by Matt Cummings
In a week of frankly poor theatrical releases, one small film seemed poised to grasp our attention: the kaiju comedy COLOSSAL. Unfortunately, a pretty funny first act is replaced by a much darker tone and several monster-sized plot holes that make it more of a slog than a underground disaster gem.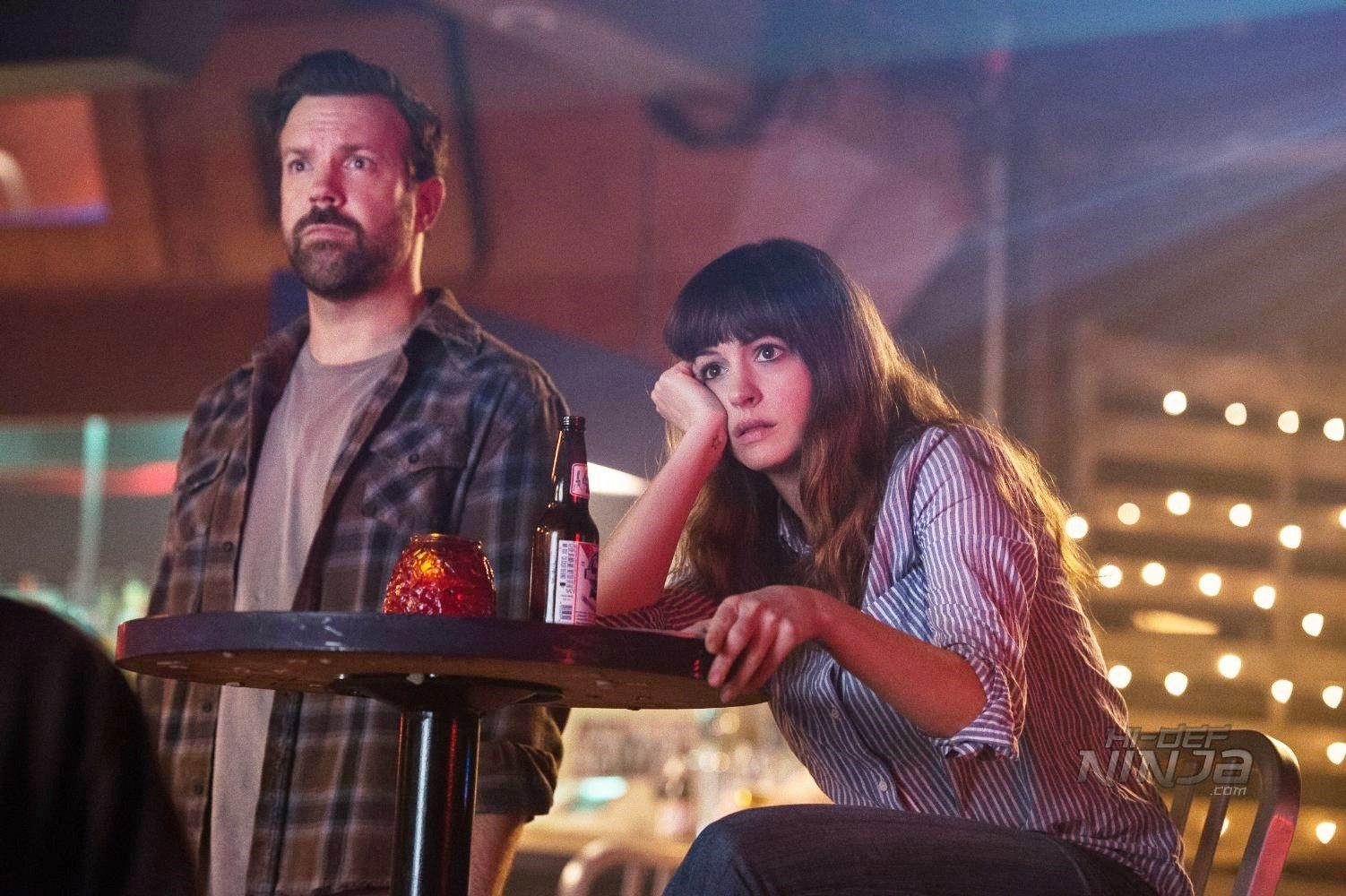 THE MOVIE
After the alcoholic Gloria (Anne Hathaway) is dumped by her New York boyfriend Tim (Dan Stevens), she finds herself moving back to her parent's empty home. There, she meets a group of guys led by the bar owner Oscar (Jason Sudeikis) and barflys Joel (Austin Stowell) and Garth (Tim Blake Nelson). They instantly hit it off, even while Gloria continues to find herself blacked out at home and suffering from unknown soreness. Meanwhile a world away, all eyes are suddenly focused on the return of a giant kaiju to Seoul, South Korea, having visited once 25 years before. But as the creature randomly destroys whole city blocks, it also begins to act strangely, as if someone is controlling it. Gloria begins to realize that her blackouts and the monster's arrivals are related, and decides to entrust the news to her friends; but she soon learns that she's not the only one with this power. Faced with a life in Manhattan that she really doesn't want and a growing threat to her personal safety, Gloria must make an impossible decision, one that sees her connection to the kaiju as all-the-more necessary when one of her new friends betrays her.
What starts off as a peculiar comedy that has the potential to become a breakout hit a la SAFETY NOT GUARANTEED, COLOSSAL soon descends into a very dark place about abusive relationships, obsession, and hoarders. Yes, it's revealed that one of the characters has a house full of stuff, but Writer/Director Nacho Vigalondo never spends time with these small details. For the indie director best known for EXTRATERRESTRIAL, it's all about atmosphere and reaction rather than telling a compelling story. Sure, the premise of a woman who somehow psychically controls a monster could be pretty fun, but COLOSSAL maintains a strict hands-off approach to making those moments memorable or even enjoyable. By the time Vigalondo gets us to the third act, any shred of fun he started is replaced with a plot more applicable to FATAL ATTRACTION.
There are some things to like about COLOSSAL. Hathaway plays the user fairly well in Act 1, until it's time to become more responsible in the third, which she also handles like an Oscar winner. She's the one consistent thing here, exposing Gloria's faults as a woman both trapped in her own history but aware that something must change. The special effects are surprisingly good for such a small film, and Composer Bear McCreary's score reminds us a bit of his impressive 10 CLOVERFIELD LANE. I also appreciated how close Vigalondo gets to his actors with his cameras: you can see how Hathaway communicates so well in her closeups, along with Sudeikis whose eventual psychosis is captured so beautifully. And while there's a fun reveal in the second act that adds a distinctive layer to the story, other elements suffer along the way. Nelson isn't given enough time to resolve his character, resembling the oddly-chosen horse wallpaper in the former cowboy bar. He's just there as window trimmings for Oscar to tear down, just as is Stowell's inept Joe. There is an interesting dynamic between these four, and it's clear that as soon as Gloria rediscovers herself, she's forced to watch her newfound friends destroy one another. If only the story had focused on these relationship and ditched the kaiju entirely, COLOSSAL could have been so much more.
Sudeikis has come such a long way from his days on SNL, and the depth of his rage in COLOSSAL is interesting but emotionally empty. There's a moment when Oscar relates a story about a failed relationship to Gloria, which is designed to garner our empathy. Instead, Vigalondo offers only the slightest suggestion that perhaps it was he who caused its collapse. It's a moment I was waiting for tie up certain loose ends that are exposed, but it never materializes. His character's resolution isn't rewarding at all nor is Hathaway's, as I expected a "Two Years Later…" title card and Gloria signing books about her experiences. It was moments like these where I found myself more than a few times, and that's never a good place to be.
THE BOTTOM LINE
What could have been an immensely entertaining comedy, COLOSSAL descends into a deep, dark place that its actors seem unable to carry through. The ending goes a long way towards rescuing this misfire, but it's still a long slog that ultimately fails to satisfy.
COLOSSAL is rated a surprising R for language and has a runtime of 110 minutes.