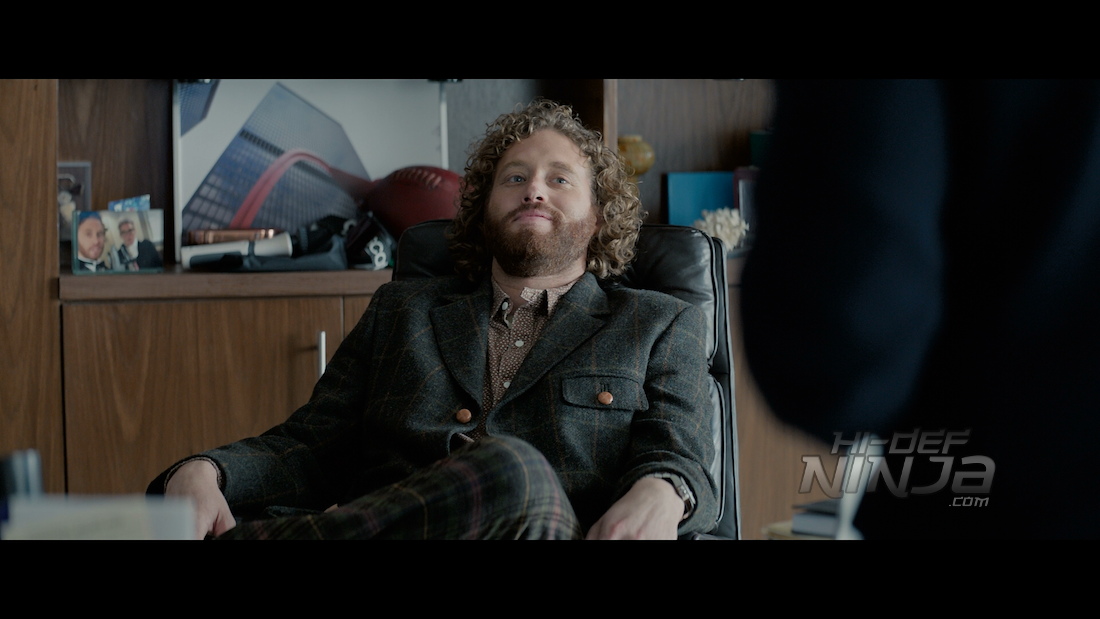 OFFICE CHRISTMAS PARTY Unrated Blu-ray Review
The Movie

The Video

The Audio

The Supplements
Zenotech, a technology company that has a branch in Chicago, is in financial trouble. This is due to stale ideas and misallocation of resources company wide. Head of the Chicago branch, Clay Vanstone is going through a power struggle with his sister Carol for the CEO spot. Carol wants to fire 40% of the branch and she wants an unrealistic percentage of growth that she knows could never be reached. She has also cancelled the company Christmas party and year-end bonuses due to the costs.
Tracy and Josh are in R&D and have some things to help the company evolve into a computing powerhouse. Clay, Tracy, and Josh need to pitch the representative for the client, Walter Davis, but he doesn't seem very interested in what they have to say. Clay's brightest idea is to invite him to their cancelled office Christmas party and they have to go all out.
OFFICE CHRiSTMAS PARTY is directed by Josh Gordon and Will Speck who are best known for BLADES OF GLORY and THE SWITCH. Together, they have co-directed every filming project in their career so their resumés are identical.
For a comedy, there is a lot of story thrown at you due to it seeming like every actor is a lead. I'm not exactly opposed to this style because then the talent in the movie doesn't seem to be wasted on throwaway characters and cameos. This does give you a reason to remember them but at the same time, things move away from the party a bit and it focuses on the real 5 main characters.
Cast
Jason Bateman – Josh Parker
Olivia Munn – Tracey Hughes
T. J. Miller – Clay Vanstone
Jennifer Aniston – Carol Vanstone
Kate McKinnon – Mary Winetoss
Jillian Bell – Trina
Vanessa Bayer – Allison
Courtney B. Vance – Walter Davis
Rob Corddry – Jeremy
Sam Richardson – Joel
Randall Park – Fred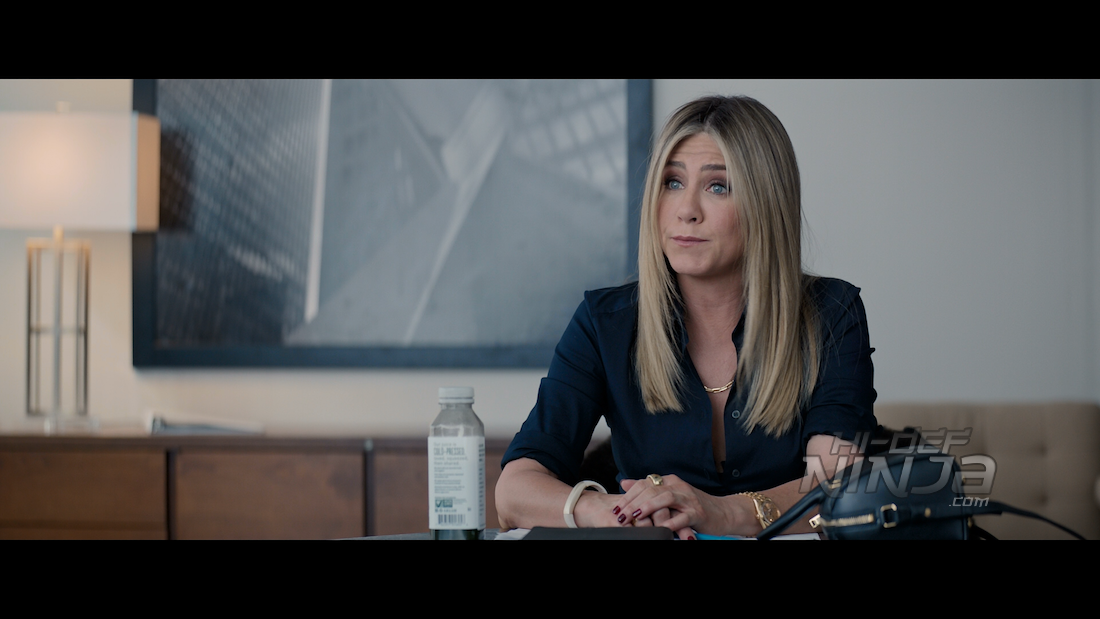 VIDEO QUALITY:
The video transfer is a 1080p AVC presentation and it's definitely a step above average. The coloring is a touch on the muted side and it does affect the skin tones. They look natural but that all depends on the lighting and time of day. However, to be fair, there are a lot of different light sources during the party and some of that plays into the colors. The images are sharp and there are plenty of moments where the details are clean.
AUDIO QUALITY:
The audio is a lossless DTS-HD Master Audio 7.1 mix. It is a very diverse mix with crowded party scenes, dialogue, a lot of music, and driving effects. Firstly, the dialogue is clean and replicated nicely. It is just about all you hear until the party gets going so the mix stays very front oriented during the first quarter of the movie.
The party scenes fill the speakers with plenty of music and random crowd conversation. The music in the scenes fluctuates from being strong to lowering into the background if someone is speaking. This is the way to mix scenes like these because you never lose the illusion that the side conversations/situations are happening at the party. The bass is solid and hits hard when appropriate. This is a strong mix and is suitable for the movie.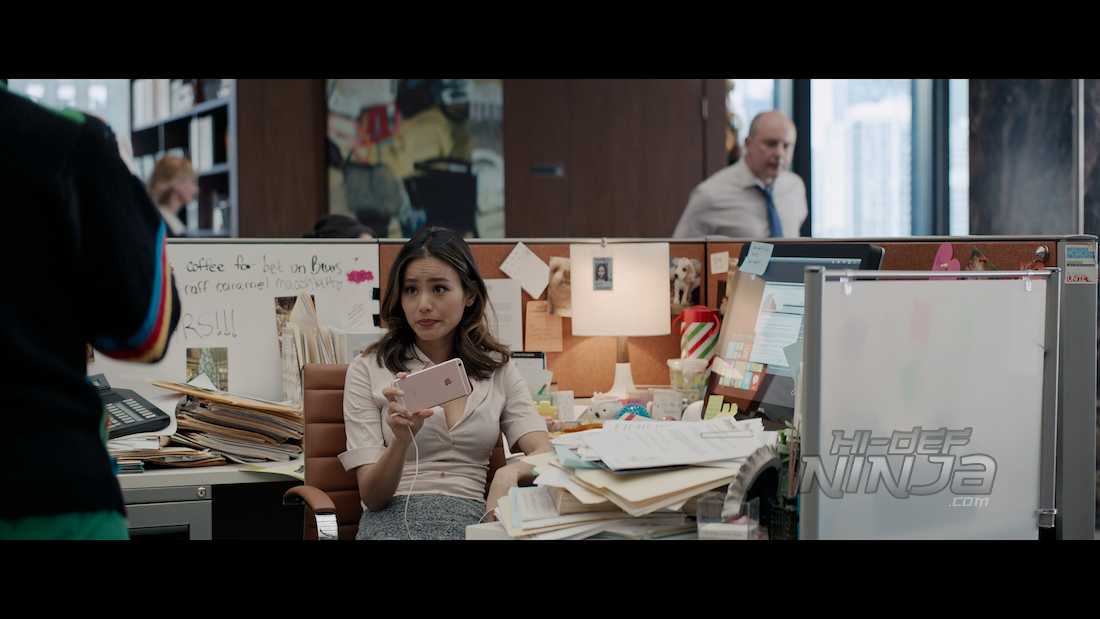 SUPPLEMENTS & PACKAGING
-Audio Commentary: Directors Josh Gordon and Will Speck – Only available on the theatrical version.
-Throwing an OFFICE CHRISTMAS PARTY Featurette: This is a rundown of the cast, crew, characters, and Chicago. The filmmakers shot in the city and also in Atlanta. It's definitely worth giving it a look.
-Outtakes: These are more like alternate takes of jokes and the running gags in the film.
-Deleted Scenes
Disc Details
2-disc set w/1 Blu-ray and 1 DVD
Digital copy
A slipcover is included in the first pressing
Running Time
Rated R: 105 mins
Unrated: 110 mins
Edition Ratings
Rated R
Unrated
Region Coding
Region Free
Video Resolution
1080p AVC MPEG-4
Aspect ratio: 2.39:1
Audio Mixes
English DTS-HD Master Audio 7.1
French Dolby Digital 5.1
Spanish Dolby Digital 5.1
Portuguese Dolby Digital 5.1
Subtitles
English
English SDH
French
Portuguese
Spanish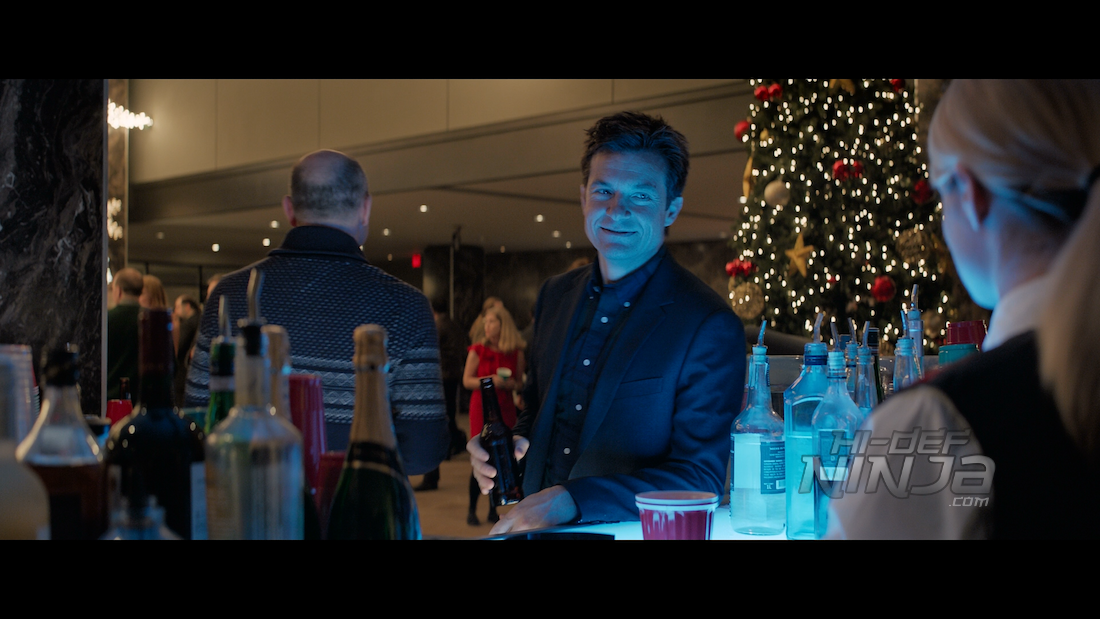 THE BOTTOM LINE:
Big parties, things that push the limit, and ad-lib comedy are exactly what you get with OFFICE CHRISTMAS PARTY. There are some definite funny moments but my only issue is that there is too much of the filmmakers just letting the actors rant on as long as they can. I'm a fan of comedy but too much of this almost becomes forced. The Blu-ray both looks & sounds excellent and the extras are decent. I would at least rent it first but if you're a fan, pick this one up.
Order your copy of OFFICE CHRISTMAS PARTY Unrated Blu-ray from Amazon