The Movie

The Video

The Audio

The Suppliments
In a small town in North Dakota, Terravex Oil is drilling a new well in what can be an ocean of crude. When they drill down, they hit water with definite signs of life swimming around but the pressurized pocket erupts back up the drilling hole, sending debris and creatures to come out of the hole. A fire starts and several creatures are seen in the area.
Tripp is a regular high school kid that gets a bad wrap from being a loner. He works in a junkyard scrapping vehicles and building his truck from salvaged parts. One night, he hears something around the yard and after trapping it, calls the police to take care of it. When they come out, no one believes him at all and tell him to stop wasting their time. The next night, he finds the monster lounging in a car crusher, drinking a barrel of oil. When he sees that he is harmless, Tripp names him Creech and hides him inside of his truck until he can figure out his next move.
MONSTER TRUCKS is directed by Chris Wedge and he has a decent list of family films on his resumé including ICE AGE, ROBOTS, and EPIC. With this movie, he made something that has the feeling of E.T. Of course, there are differences but the relationship that Tripp has with Creech is where I'm drawing the similarities. He may seem leery about befriending a creature but they bond almost instantly.
Also, and I'm not giving anything away that hasn't been seen in the previews, the way that the trucks can jump reminds me of when Elliot has E.T. in the basket on the bike. They way that they take flight is like the impossible jumps that Creech performs with ease. Aside from when he played Havok in the X-MEN films, I don't have a whole lot of experience with Lucas Till's acting but I think he has done well in this role. I'm also a fan of Jane Levy from her SUBURGATORY days and the film DON'T BREATHE. In MONSTER TRUCKS, she pulls off the nerdy, socially awkward girl very well with some fast-talking and not knowing if she is reading a situation properly. My only gripe with the two would be that they're both a little old to play kids in high school by a few years. They both still look young but college would've been much more believable.
Cast
Lucas Till – Tripp Coley
Jane Levy – Meredith
Amy Ryan – Cindy Coley
Rob Lowe – Reece Tenneson
Danny Glover – Mr. Weathers
Barry Pepper – Rick
Holt McCallany – Burke
Frank Whaley – Wade Coley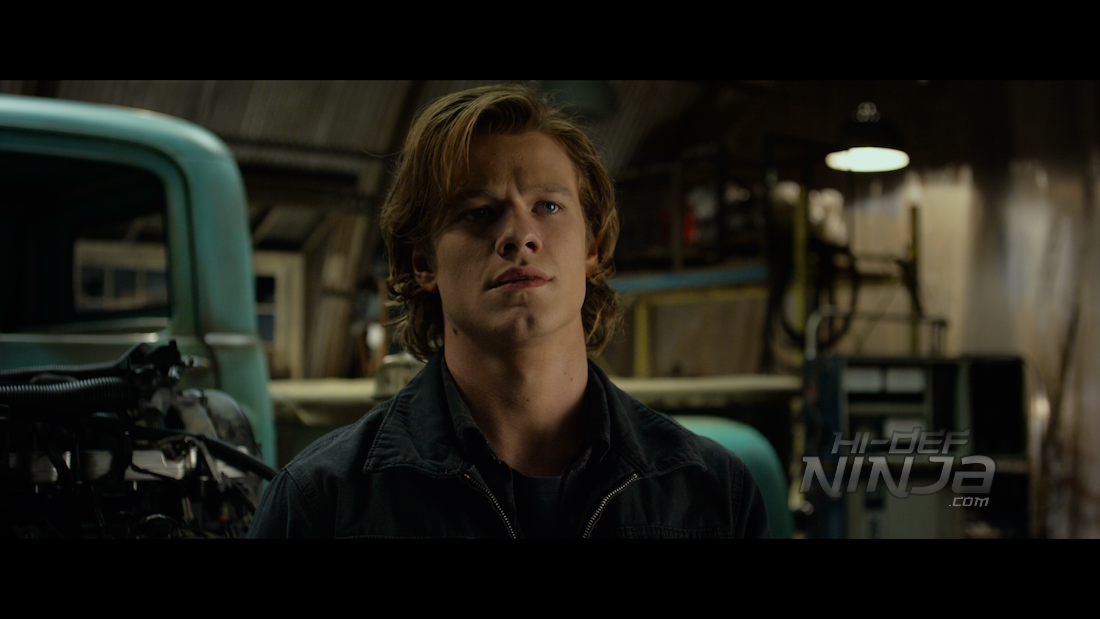 VIDEO QUALITY:
The transfer is a 1080p AVC presentation that has some very crisp images. The details are on point with skin textures of the people and the creatures. There are also plenty of small details on the vehicles such as the dirt and debris but on Tripp's truck, you can see where he has "frankenstiened" it together. The CG work on them is excellent and the textures I mentioned make the monsters look more real. The coloring is also great with all primaries looking brilliant and bold. This is highly apparent on the two trucks at the end that Tripp builds. Their with the high-gloss paint looks beautiful on them. All in all, this is a high-qualify transfer.
AUDIO QUALITY:
The audio is a Dolby Atmos mix that will default to a Dolby TrueHD 7.1 mix depending on your set up. A lot of the overhead is heard when the movements of the objects on the screen are larger moments. When Tripp is both chasing and being chased by Creech in the junkyard, you feel the sound sweeping in pretty much every direction. The dialogue is clearly reproduced as well as the effects. The LFEs are on the lighter side and they never push how you might think in some the action or effects-heavy scenes.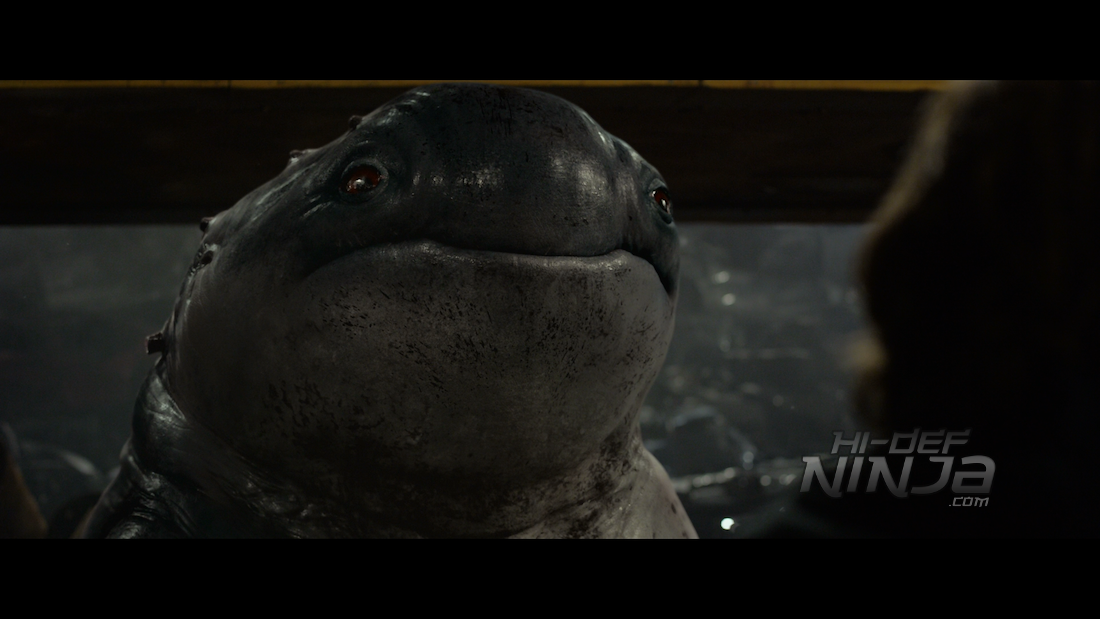 SUPPLEMENTS & PACKAGING
-Who's Driving the MONSTER TRUCKS: This featurette has interviews with the cast and crew interviews about the people involved as well as the production of the movie.
-The Monster in the Trucks: This is the behind the scenes about creating Creech both practically and with CGI.
-Creating the Monster Truck: This is conceptualizing the main truck for the movie and how the creature interacts with the vehicle.
-Gag Reel
-Delete Scenes
-Production Notes
Disc Details
2-disc set w/ 1 Blu-ray and 1 DVD
Digital copy
slipcover is included with the first pressing
Running Time
105 mins
Edition Ratings
PG
Region Coding
Region Free
Video Resolution
1080p AVC MPEG-4
Aspect ratio: 2.40:1
Audio Mixes
English Dolby Atmos
English Dolby TrueHD 7.1
French (Canada) Dolby Digital 5.1
Spanish Dolby Digital 5.1
Portuguese Dolby Digital 5.1
Subtitles
English
English SDH
French
Portuguese
Spanish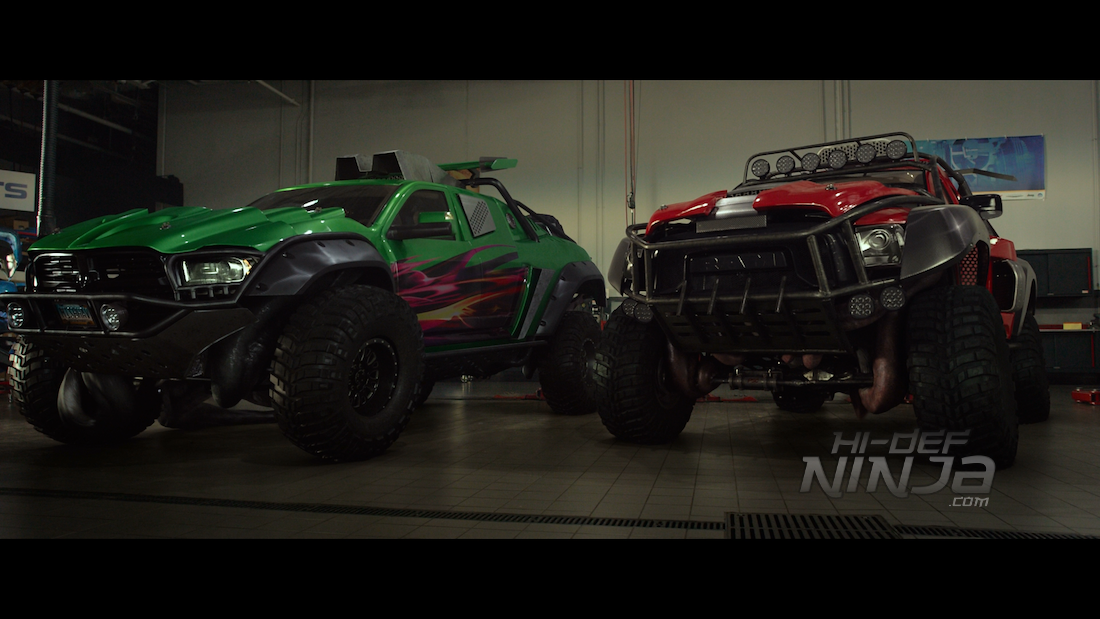 THE BOTTOM LINE:
MONSTER TRUCKS is a fun movie that does an excellent job at keeping the viewer entertained. I was expecting it to be very selective and keep it focused on a much younger audience but I'm glad I was wrong. As I mentioned, it plays on some similarities to E.T. without ripping it off completely. The release has a bold video transfer with a fairly strong audio mix. Overall, I say give this a rent if you're unsure but it is a solid release for fans to pick up.