STAR WARS: REBELS The Complete Season 3 is coming to Blu-ray with all 22 episodes included. This season continues the rise of the rebellion against the empire and the crew of the Ghost. This is the series that has elements that thread the story of all of the films in the franchise. It releases on August 29th, 2017 with all of the bonus features listed below.
Order your copy of STAR WARS: REBELS The Complete Season 3 on Blu-ray from Amazon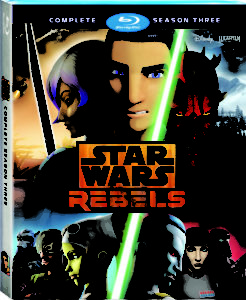 Bonus Features:
-Return To Mandalore: Explore where Mandalore fits within the Empire's regime – and whether Sabine can unite her people against the Imperial forces.
-Thrawn: A Legend Reborn: Learn Thrawn's significance in Star Wars lore, and what the future may hold for this memorable villain.
-Apprentices to Outcasts: Kenobi And Maul: Track two adversaries who've clashed throughout Star Wars history, and find out why the time was right to conclude their story.
-The Original Rebel: Saw Gerrera Returns – Extended: Meet the Original Rebel. This exclusive extended version features Forest Whitaker discussing the character he brings to life in both Rebels and Rogue One.
-Five Audio Commentaries: Featuring Dave Filoni (Executive Producer), Justin Ridge (Supervising Director), Kilian Plunkett (Art Director), Keith Kellogg (Animation Supervisor) and Joel Aron (CG Supervisor: Lighting & FX)
-A Rebel Alliance: Discover how the formation of the Rebel Alliance in Rebels ties into the Rogue One timeline – and the exciting story possibilities that lie ahead for season 4.
-Rebels Recon: Go behind the scenes with the cast and crew in 19 entertaining and information-packed episode recaps!
Disc Specifications:
Release Date: August 29, 2017
Format: Blu-ray (3-Disc) & DVD (4-Disc)
Rating: TVY7 FV; CE: PG; CF: G (Bonus Material Not Rated)
Run Time: Approximately 485 minutes (not including bonus)
Closed Captioned: Yes
Aspect Ratio: 1:78 (Widescreen)
Audio: 5.1 Dolby Digital
Languages/ Subtitles: English, French, German & Spanish