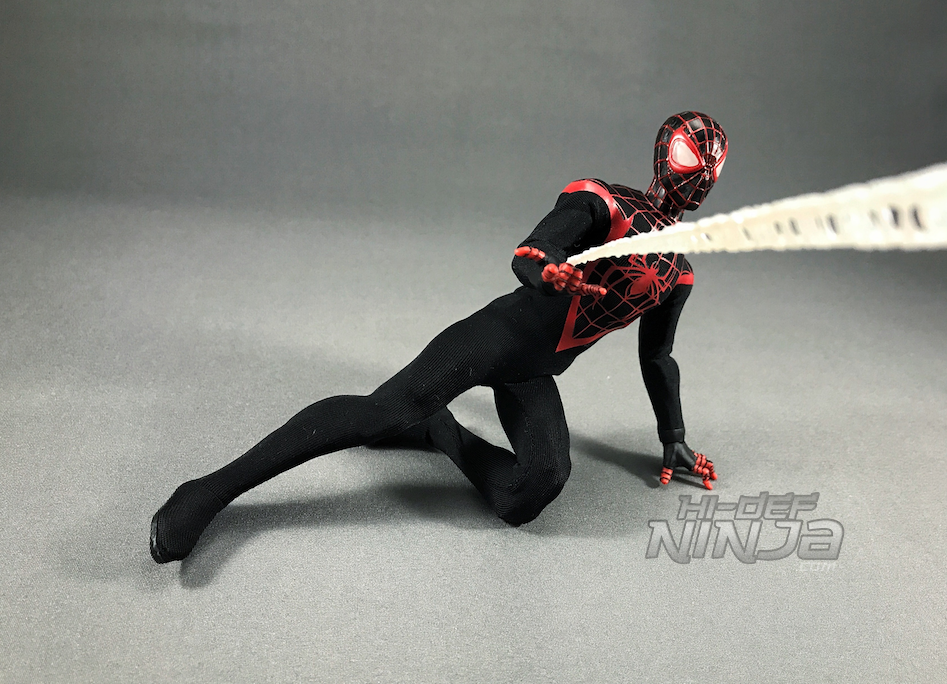 With SDCC 2017 over and everyone getting back to their normal lives, I picked up a figure that was exclusive to the show.  Its Mezco's One:12 Collective Spider-Man and this one is the Miles Morales version.  He was $80 USD with a $20 non-refundable deposit.  He's roughly 6 1/2" tall and has a perfect center of gravity to manipulate poses.  So let's dive right into this figure!
A review of Mezco's One:12 Collective Spider-Man from SDCC 2017!
Packaging

Likeness

Accessories

Articulation
PACKAGING:
The packaging on this figure is a little different than the other One:12 Collective boxes that I have previously seen.  Typically, there is a gatefold cover and when you open it, you see the figure in his plastic holder. This box is just that: a box.  It has a normal lid and the inside has the clear plastic to protect/separate the items he comes with.  The artwork on the outside consists of Spidey on the front with some comic book-esque artwork and the back has his Spidey Symbol.  There is a gold seal that lets you know that this is a summer exclusive.  One thing that I noticed that is on the box is that there might be a typo.  It is labeled "Ultimates Spider-Man" and he was never a part of the team named The Ultimates.  He was a part of The Young Ultimates and on Earth 1610, which is called "The Ultimate Universe." Now, he is a part of the 616 and n regular cannon.  So yes, I just nerded out but I don't understand the title.
 

LIKENESS:
 
Again, Mezco likes to make comic book characters to have a "real world" look and that also applies to Spider-man here.  The design has the bold red emblem and "web" look on a fabric that is meant to look like mesh.  The costume is stitched together to make it look like a one piece of material but if you look at his lower back, the material is bunched up a little bit.  Does it look bad? No, but I figured I would mention it.
 
The head sculpt has a similar design to the costume and runs down into it to make the mask look like it blends into the neck.  It isn't covered in material and it's a sculpted headpiece.  The paint might've matched a little better with a matte finish but it does really look excellent.  The eyes are the best detail on the piece.  They're slightly recessed and have a clear plastic the give them a shimmer.  Also, they look as if they change shape depending on the angle of the lighting.  
 

ACCESSORIES:
The accessories included are very cool.  He comes with one pair of fists, one pair of web-shooting hands, one posing hand, and one wall-crawling hand.  He also comes 5 web accessories for the various poses to put him in.  Lastly, he comes with a clear, dynamic stand, a magnetic clamp, and the Mezco signature base plate with the removable peg.  
 
The "thwipping" hands, as I like to call them, are really good in combination with the web accessories.  There is a little groove where the hand meets the wrist peg and the webbing sits in there to create an effect like it is coming out of the web shooter.  Honestly, I had a few issues getting it to be just right at first but once I got the hang of it, it was simple to do. The other hands blend in well when attached to the costume and it helps that the design has rubber-like cuffs.  The coloring of the reds match the rest of the costume well.  
 
The webbing accessories have a shimmery finish to make them look like a different substance than what say a rope would look like in the scale.  There are two projectile webs, a thin web with a grabbing end, a wide shot, and a flexible web-line.  As I said, they all go over the wrist with the shooting hands but the only one that baffles me is the long, flexible line.  There isn't a gripping hand or an open hand to hold the line and no instructions included so there is no obvious way to use it.  
 
The stand has the standard foot peg that can be slapped out to insert the clear dynamic arm.  The arm can be shortened to change poses or raised to make him look mid-jump.  There is also a short magnetic claw to attach to various metallic objects.  I posed him against a solid, rectangular piece of steel and iron sconces in my home theater that worked well.  
 
Mezco also likes to include small plastic bags to store the accessories that you aren't using.  They can also be labeled to keep them organized like if you own multiple Spider-Man figures.  I would just be careful how you store the webbing pieces because they could be more fragile than they appear.
ARTICULATION:
Spidey is listed to have more than 30 points of articulation, which is key for a figure that is based on an incredibly flexible character.  His knees are double-jointed and his arms have some good range.  The feet at the ankles are very flexible but tight so they aren't aren't just hanging from his body uncontrollably.  
 
The shoulders can roll back and forward or opposite from each other.  Also, the torso swivels to a point like a real body would.  The head has some good movement at the neck joint and where it meets his torso.  It allows the head to be posed in a number of ways to make the poses look more natural. 
 
THE BOTTOM LINE:
This is technically my third figure from Mezco and I'm so glad I picked this up.  I just love the idea of having a Miles Morales Spider-Man that isn't just an unposable statue.  The accessories, the costume and the articulation are all pretty much perfect.  I only have two gripes and these are minor: I'm not a fan of the bunched up fabric on his back and I feel like the figure is missing is a Miles headsculpt.  Mezco sometimes does at least two headsculpts for a release, especially if it's a character with a mask. I will be comparing him with the regular version of Spider-Man when that figure releases.  If you get the chance, pick up this version of Spider-Man because he's definitely a cool figure and awesome character in the Marvel Universe.