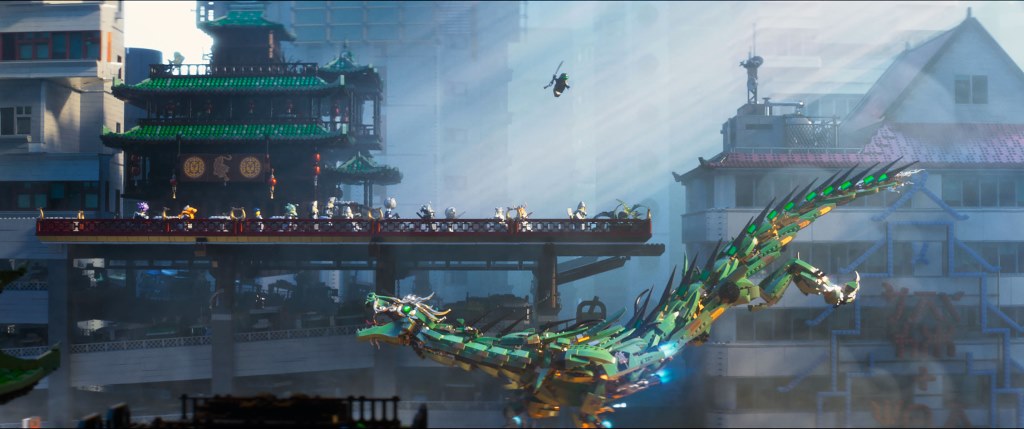 Today I have some really cool reveals for you. Lego has sent Hi-Def Ninjaimages for a few of the upcoming sets from their LEGO NINJAGO Movie product line. As Ninjas ourselves we totally endorse anything Ninja related. So let's take a look at these sets before the entire product line is revealed.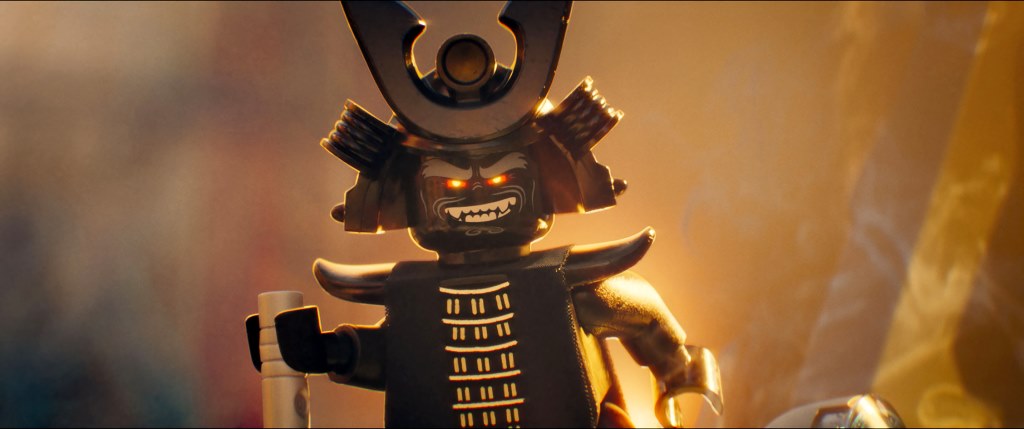 [Update August 11]
Last month we showed off The LEGO Group's largest NINJAGO set ever – NINJAGO® City from The LEGO® NINJAGO Movie – with over 4,800 pieces and three levels. You can see the photos below!
Today, LEGO revealed a behind the model clip where the set creators personally walk through many of the details of the set.
Here is the video and Below are some of the awesome details found in the set!
Features a 3-level model (each level lifts off for easy play) connected by a sliding elevator, plus a traditional fishing boat.
Level 1 features a bridge, sewer outlet, stream with translucent-blue and translucent-green water elements, sliding elevator with room for a minifigure, traditional fish market with fish and crab elements, house with dining room and bedroom with sliding screen doors and foldout 'solar panels', Sweep the maintenance robot's service station with assorted tool elements, and a taxi stand with telephone element.
Level 2 features a modern fashion store with 2 mannequins and assorted NINJAGO® product elements, a construction site with a bonsai tree, a comic book store with brick-built sign, cashier desk, comic book stand with assorted elements including collectible NINJAGO training cards, a crab restaurant with brick-built crab entrance sign and oven with 'crab-grilling' function, a cash-dispensing ATM, 15 bank note elements (ATM can dispense up to 13), and a movie poster display stand with 4 interchangeable movie poster elements.
Level 3 features a radio tower, modern rooftop sushi bar with sushi conveyor belt function and brick-built food, bathroom with sliding door, and brick-built puffer fish and squid sculptures, Lloyd Garmadon and Misako's apartment with an opening window, bunk bed, kitchen unit and attic space for the Green Ninja Suit minifigure.
Includes 16 minifigures: Jay, Kai and Lloyd Garmadon (each with new-for-August-2017 high school outfit decoration), Green Ninja Suit, Misako, Jamanakai Villager, Sally, Ivy Walker, Konrad, Severin Black, Tommy, Guy, Juno, Mother Doomsday, Shark Army Gunner and Officer Noonan, plus Sweep the maintenance robot.

[Update July 27]
Now updated with the full product line!
Spinjitzu Training Dojo – join ninja heroes at the dojo with this action-packed Spinjitzu training set, complete with Garmadon combat dummy. ($9.99)

NINJAGO City Chase – help Lloyd, Nya and Officer Toque build and race a police tuc-tuc vehicle past a street food stall and through lantern-draped lampposts to prevent a robbery. ($19.99)

Master Falls – team up with Master Wu and Kai to build and cross the jungle bridge with opening cage and explore a hidden cave in search of a secret map. ($29.99)

Manta Ray Bomber – help Cole save Shen-Li using the Manta Ray Bomber, complete with two spring-loaded shooters and a detachable boat. ($29.99)
Water Strider – battle the shark army and pretend to walk on water and climb walls with this poseable mech using the 360-degree rotating cockpit and rapid shooter. ($29.99)
Lightning Jet – grab the handle of Jay's jet to swoop down and unleash the spring-loaded shooter and trigger-activated rotating electro-disc to save Ed and Edna from the shark army's crab, but beware of the crab's snapping pincer and stud shooter! ($59.99)

Fire Mech – get set for a sizzling battle with this huge mech with shoulder disc shooters and non-shooting fire blasters. ($69.99)
Temple of Ultimate Trials – join a ninja mission to infiltrate the Temple of the Ultimate Weapon, but beware of all that stands between the ninja and the treasure chest, including a secret entrance, a trapdoor function, rock-dropping and dynamite-dropping functions, blade-shooting and chopping-sword traps, a dungeon, and a hanging cage. ($99.99)
NINJAGO City – build the ultimate NINJAGO City with this impressively detailed three-level model featuring a traditional fish market, sewer outlet, house with dining room and bedroom, robot service station, taxi stand, sliding elevator, modern fashion store, construction site with bonsai tree, comic book stand, crab restaurant, ATM, radio tower, modern rooftop sushi bar with conveyor belt and Lloyd Garmadon and Koko's apartment, plus 16 minifigures. Available September 1 exclusively at shop.LEGO.com and LEGO Stores nationwide ($299.99)
Additionally, the company's highly popular LEGO Minifigures series of blind bag packed collectible figures will introduce a Hollywood-inspired collection of 20 characters, featuring exclusive minifigure versions of characters from the film not found in any other LEGO sets, available for $3.99 each.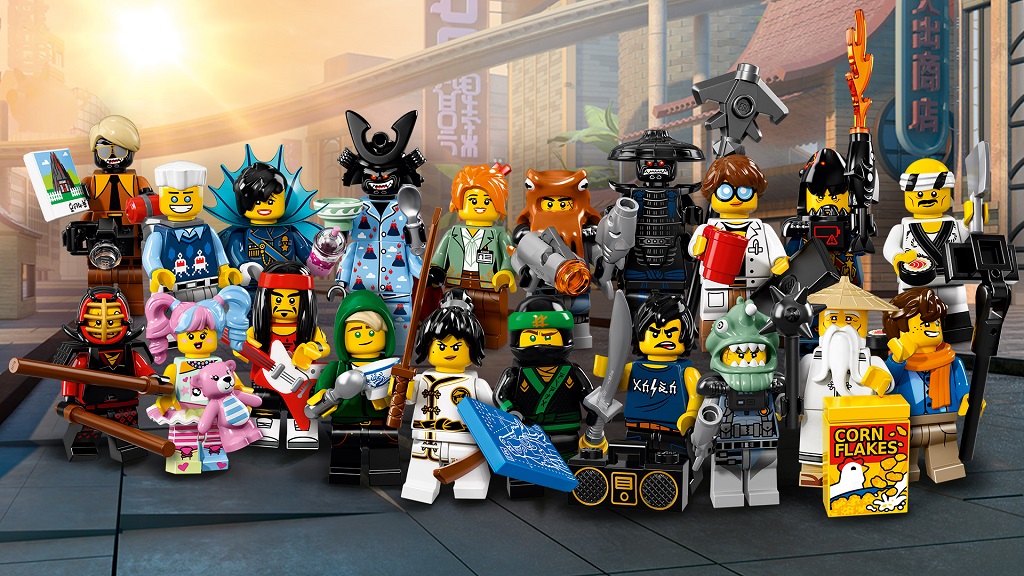 [June 22]
Flying Jelly Sub (70610) – Join Jay in battle against the shark army and protect Takuma's boat from flying Jelly Sub attacks. Sub features minifigure cockpit, boat, rotating legs, flick-fire missiles, swinging tentacles and 4 minifigures with assorted tools to add to the battle role-play options.
$29.99
341 pieces
Available at Walmart stores nationwide
Green Ninja Mech Dragon (70612) 
– Outwit the Green Ninja's evil father Garmadon with this mighty mech featuring articulated snapping jaws, poseable body, wheel-activated swooshing tail, 2 leg-mounted stud shooters, hidden pop-out thrusters, 4 minifigures with assorted tools- including The Green Ninja's sword and Garmadon's laser-style pointer.
$49.99
544 pieces
Available at specialty and mass retail stores, LEGO brand retail stores and shop.LEGO.com
Garma Mecha Man (70613)
 – Help Lloyd protect civilian Pat from attack by Garma Mecha Man, featuring spring-loaded shark blaster, opening cockpit for Garmadon, ammo belt and fish tank.
$59.99
747 pieces
 Available at Target stores nationwide
Ice Tank (70616) – Help Zane save Patty Keys and Torben from the shark soldiers using this cool vehicle featuring an opening minifigure cockpit, big tracks, ice cannon with 6-stud rapid shooter, and a rotating ice container.
$79.99
914 pieces
Available at Toys"R"Us stores nationwide
Destiny's Bounty (70618) – construct Wu's huge training base in this highly detailed set featuring 3 modular levels and a double-headed dragon, wind-up-and-release anchors, training dojo, bathroom and Wu's bedroom in the hull – not to mention many hidden secrets.
159.99
2,295 pieces
Available at specialty and mass retail stores, LEGO brand retail stores and shop.LEGO.com
Michael's Favorite set:
It is a bit of a toss up between the Green Ninja Mech Dragon and the Garma Mecha Man but since I like dragons a bit more I'm going with the former considering the snapping jaws, poseable body, and wheel-activated swooshing tail. While Destiny's bounty is a beautiful 2,300 piece set I think I favor the Silent Mary a drop more, though it would be cool to own both and pit them against each other!
For those unfamiliar, The LEGO NINJAGO Movie is the next feature film in the Warner Bros. Pictures' LEGO franchise and expands on the TV series.
The movie follows Master Builder Lloyd, the Green Ninja, and his friends Jay, Kai, Cole, Zane and Nya all secret Ninjas as they defend their home NINJAGO city against the evil warlord Garmadon, The Worst Guy Ever, and Lloyd's dad. With Master Wu as their leader they will pit mech against mech in this epic showdown.
Directed by Charlie Bean, Paul Fisher and Bob Logan the movie features the voicing talents of Dave Franco, Justin Theroux, Michael Peña, Fred Armisen, Kumail Nanjiani, Abbi Jacobson, Zach Woods, Olivia Munn, and the legendary Jackie Chan as Master Wu.
To learn more check out the official Lego Ninjago website and feel free to discuss in the HDN Ninjago thread. See the first trailer below and the movie when it comes out September 22nd and be sure to pick up all the LEGO sets when they release on August 1st.