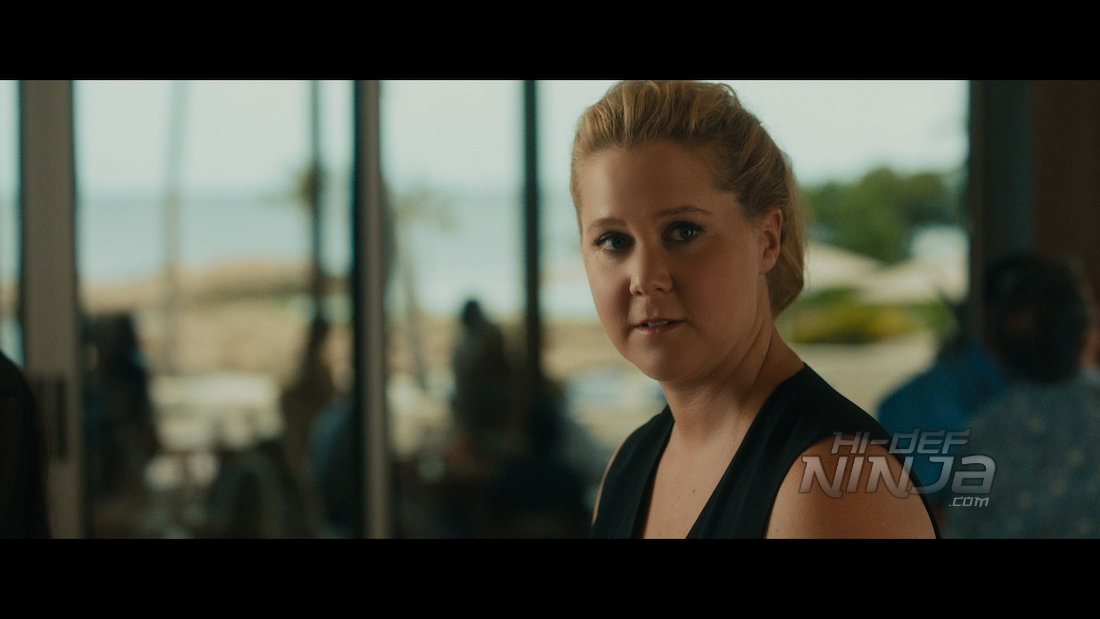 SNATCHED 4k UHD and Blu-ray Review
The Movie

The Video - 4k UHD

The Audio . -4k UHD

The Video - Blu-ray

The Audio - Blu-ray

The Supplements
Emily is a narcissistic woman who is sort of coasting in life without any sort of anchor or direction.  She has plans to go on a vacation with her boyfriend, Michael, but he breaks up with her because his band is becoming more popular and she is holding him back.  She goes to see her mother, Linda, at the home that she grew up in to cheer her up.  Her brother, Jeffrey, still lives at home and suffers from a bad case of agoraphobia.  With the extra ticket, she brings her mother along to Ecuador.  
 
When arriving in Ecuador, Emily meets a guy named Joe.  He takes Emily and Linda sightseeing only to get them in a whole lot of trouble with the wrong kind of people.  
 
 
SNATCHED is directed by Jonathan Levine and he has a good set of film under his belt such as WARM BODIESand 50/50.  Those movies aren't your normal brand of comedies so for him to try his hand at this kind is out of his comfort zone.  It has all the makings of a successful movie with the cast and premise but it falls a little short.  
Cast
Amy Schumer – Emily Louise Middleton
Goldie Hawn – Linda Middleton
Ike Barinholtz – Jeffrey Middleton
Wanda Sykes – Ruth
Joan Cusack – Barb, Ruth's friend
Bashir Salahuddin – Morgan Russell
Christopher Meloni – Roger Simmons
Óscar Jaenada – Morgado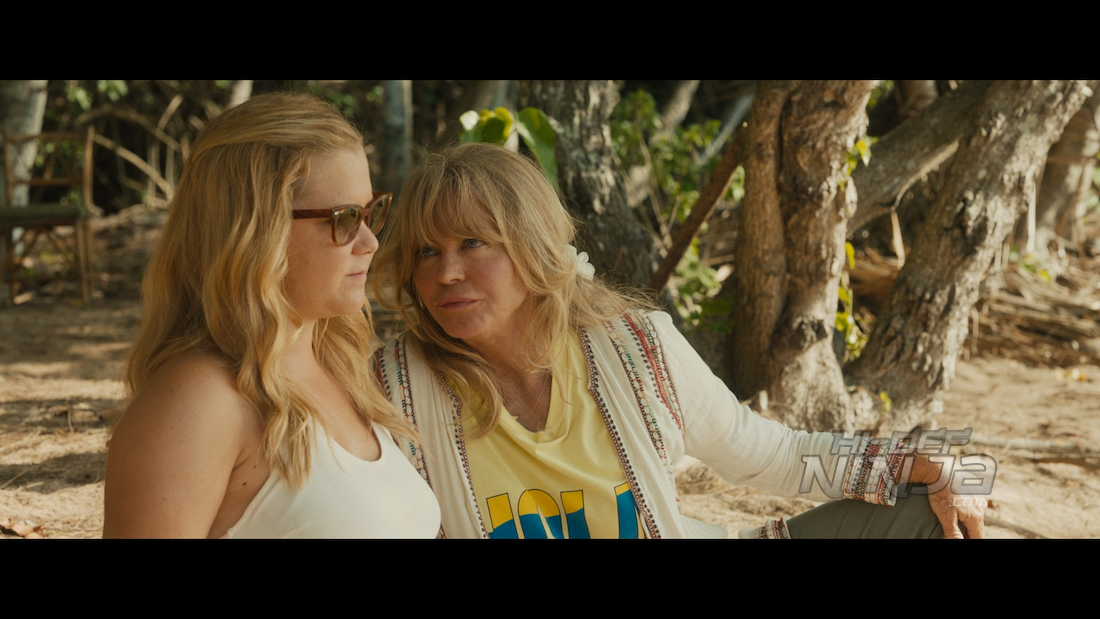 VIDEO QUALITY:
4k UHD
The transfer is a 4k 2160p HEVC presentation that doesn't exactly surpass the Blu-ray.  The coloring only slightly takes the lead on this format in the yellows and greens.  The greens especially due to the majority of the movie's setting in South America (really Hawaii) but there is darkness to the movie.  This is what makes the colors not stand out as much as they should.  This is true for both formats of the movie.  The other place where the 4k disc has the slight edge is the blacks are a bit deeper. 
 
Blu-ray
The Blu-ray transfer is a 1080p AVC presentation and, as I mentioned, is very similar to the 4k transfer.  I do also want to mention that the details are strong in both formats with a lot of the dirt and grime on the character's faces being easily seen.  
AUDIO QUALITY:
The audio on both formats is a DTS-HD Master Audio 7.1 mix that has some good moments where the surround speakers shine.  The openness of some of the scenes when they arrive on vacation and the ambient sounds in the outdoor bar work very well.  The same thing could be said for the open jungle scenes.  The dialogue is a clear and mixed well with the other elements of the track.
 
-Audio Commentary: with director Jonathan Levine
 
-Deleted Scenes
 
-Extended and Alternate Scenes
 
-Gag Reel
 
-Trailers
 
The 4k UHD disc only has the commentary included on the disc.
Disc Details
2-disc set w/1 4k UHD and 1 Blu-ray
Digital Copy
 
Running Time
136 mins
 
Edition Ratings
Rated PG-13
 
Region Coding
Region Free
 
4k UHD
Video Resolution
2160p HEVC / H.265
Aspect ratio: 2.40:1
 
Audio Mixes
English DTS-HD Master Audio 7.1
French DTS 5.1
Spanish Dolby Digital 5.1
German DTS 5.1
Italian DTS 5.1
 
Subtitles
English SDH
French
German
Italian
Spanish
Danish
Dutch
Finnish
Norwegian
Swedish
Thai
Vietnamese
 
Blu-ray
Video Resolution
1080p AVC MPEG-4
Aspect ratio: 2.40:1
 
Audio Mixes
English DTS-HD Master Audio 7.1
Spanish Dolby Digital 5.1
French Dolby Digital 5.1
 
Subtitles
English SDH
French
Spanish
Danish
Finnish
Norwegian
Swedish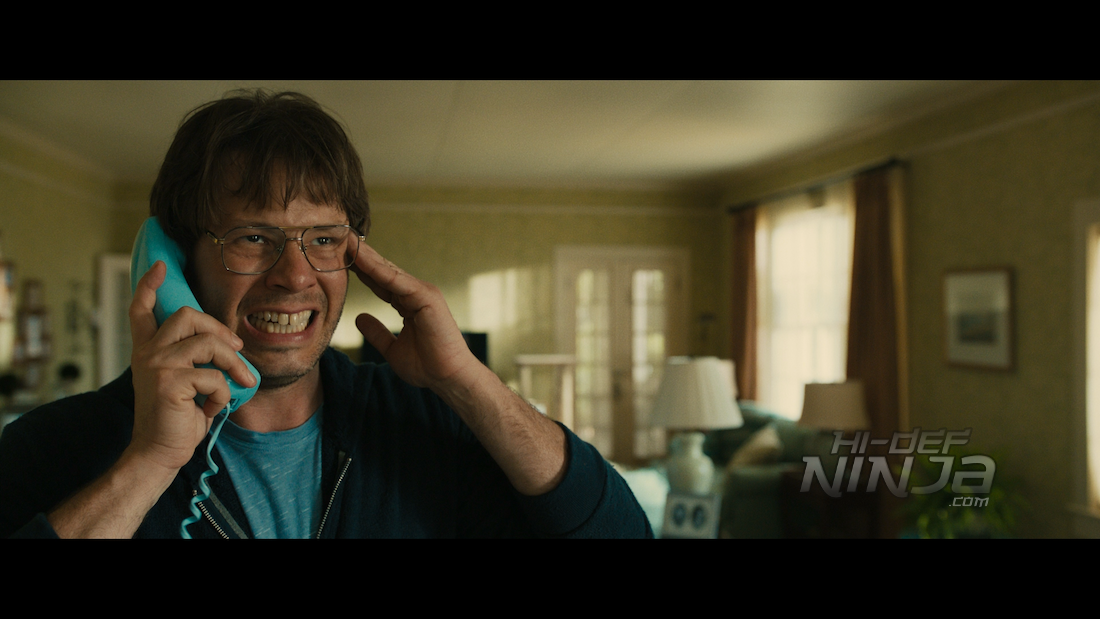 THE BOTTOM LINE:
SNATCHED is a comedy that falls under that category that is very subjective.  There were a few moments that definitely made me laugh but the comedy is dry.  Don't get me wrong, I like Schumer but this is way off from TRAINWRECK.  The 4k disc does look better than the standard Blu-ray with the differences being trivial.  The extras are ok and nothing too crazy for the type of movie this is.  If you're looking for a mindless comedy or you're a fan of Amy Schumer, this is the movie for you.