The Movie

The Video

The Audio

The Supplements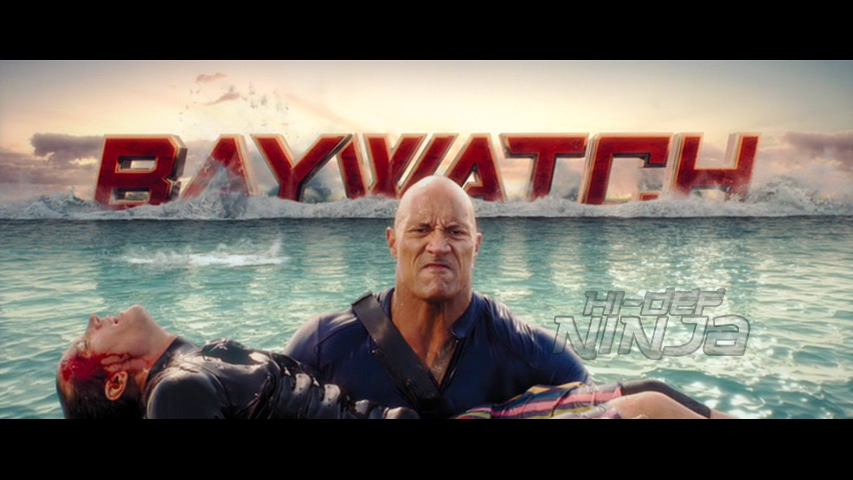 The merely entertaining BAYWATCH looks great on Blu-ray but drowns in a sea of audio problems and suspect supplements.
NOTE: Our images were captured from the DVD version.
By Matt Cummings
The nostalgia of the 1980's is everywhere, from THE GOLDBERGS to an XM/Sirius Radio station dedicated to the era. As the decadent 80's segued into a grittier 90's, television's BAYWATCH arrived to slow-motion moments of babes in bikinis and passionate rock anthems. It became an instant success, fueled by a team of sexy lifeguards that included Actors David Hasslehoff and Pamela Anderson. Paramount Studios, hoping to ride the recent wave of 80's nostalgia by rebooting the franchise, produced in 2017 a movie that fell flat on its face domestically but somehow made a profit thanks to overseas revenues. Its errors reveal themselves in a Blu-ray release that's speak to the film: good in some parts but utterly lacking in others.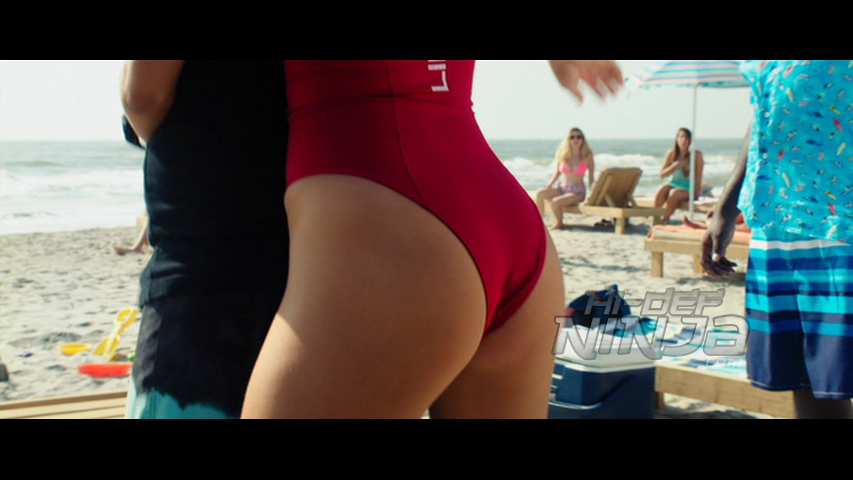 THE MOVIE
Lifeguarding is a dangerous business. Veterans Mitch Buchannon (Dwayne Johnson), C.J. Parker (Kelly Rohrbach), and Stephanie Holden (Ilfenesh Hadera) keep watch over Emerald Bay, saving lives and looking great doing it. When the team holds tryouts, they get a diversity of talent including Matt Brody (Zach Efron), a former Olympic swimmer with a bad attitude, the lock Summer Quinn (Alexandra Daddario), and the nerdy but dedicated Ronnie (Jon Bass). Brody comes with the most baggage, struggling to win contests against the hulky Mitch but convinced his "I in team" approach will win the day. Soon, the team is tested by a hotel baron who wants to capture Emerald Bay using murder and bribes to pay off the local city council. Faced with a rise in drugs and lawlessness on the beach, Team Baywatch struggles to stay together, while their captain and others conspire to stop their progress.
BAYWATCH flails in unforgiving waters for the same reason as 2017's CHiPs: it lacks a spirit in its listless script by a team of writers including Damian Shannon and Mark Swift. None of the seven penners seem to understand what exactly their version of BAYWATCH is about: it feels like a film with too many captains and not enough ship to go around. No character feels completely vetted for quality, existing to merely wear something skin tight, do something stupid, or feel completely unneeded. A great example is the techie Ronnie (John Bass) who somehow makes it past the first stage of training, only to be hearted on by the experienced lifeguard CJ, who somehow finds the nerd to be appealing. That tired Hollywood trope (I call it the Seth Rogan Phenomenon) could have been exploited here for comedic genius; instead, hot chick sleeps with nerd, who happens to be a pimp master in the bedroom. What's more likely is the perfect-specimens relationship between Efron and Daddario, but they enjoy zero chemistry throughout. It's almost painful to watch it unfold, but neither buys their part entirely and does even less to keep up the heat between Brody and Summer. Johnson employs his usual Rock/Hobbs routine here, calling Efron every boy-band moniker he can think of, but even he can't bring full life to Mitch. And that's just the beginning of the problems.
BAYWATCH is a largely uninspired cash grab, surrounded by predictable plots, an overstuffed runtime (the theatrical version is almost two hours and the extended version doesn't help), and paint-by-the-numbers execution, thanks to Director Seth Gordon. There's little creativity displayed here, which is surprising because Gordon created said GOLDBERGS and directed 2011's hilarious HORRIBLE BOSSES. Even a cameo from Hasselhoff himself feels pinched with the former NIGHT RIDER actor looking a bit like he took in too much sun. By the time Anderson arrives for her long slow-mo shot (which the cast breaks through the 4th Wall to introduce), audiences were most likely checked out by then. Chopra is as textbook a villain as you can get, and she fails spectacularly to even maintain our interest or provide any comedic moments.
There's a sense that Gordon's version of BAYWATCH can only exist if there's a raunchy element to things and not just entertainingly mockery comedy. One sequence – where the camera focuses on a penis for an extended period, is just a gag by Mitch to once again embarrass Brody – who's forced to inspect it for evidence of needle penetration – while Mitch posts the images to the Web. There's zero need for the scene to devolve that much, and is just one of a dozen violations which the creative team make in trying to bring this to the big screen. Fan service is probably achieved here, with enough cameos and slow-mos of butts and breasts to remind us older folks of the original series. But it's unlikely that those same fans will appreciate this version of BAYWATCH for its crass nature; CHiPs suffered from the same lack of judgement, and it's no wonder why neither will probably garner a sequel.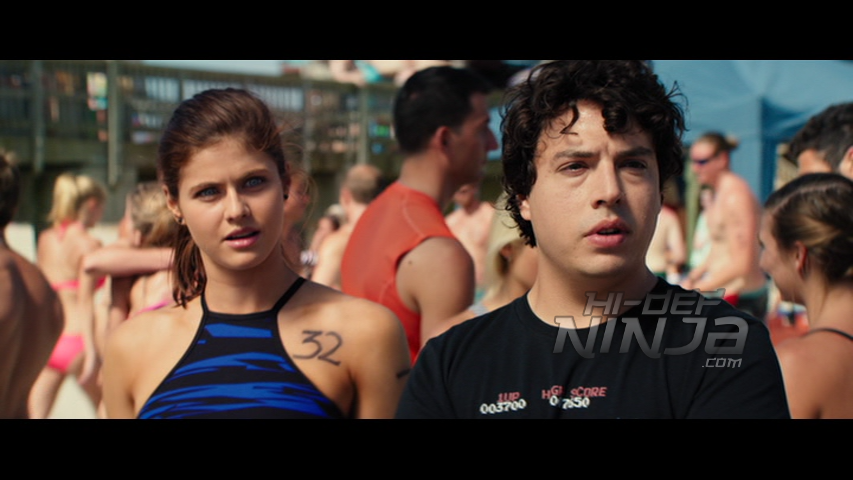 THE VIDEO
If Paramount Home Video delivers anything of value here, it's the fantastic MPEG-4 AVC transfer. For a middling comedy to get this sort of treatment just tells us how far Blu-ray has progressed since my first review of BUCKY LARSON: BORN TO BE A STAR. The movie – shot on the popular Arri Alexa XT Plus – is pretty to look at, with more than enough detail for our senses. The image sports gorgeous color, showing off the blues of Daddario's eyes, the orange of the sunsets, and the red/blue uniforms of the lifeguards. Human features like pores, Johnson's tattoos, Efron's ripped physique and the female features, arrive with stunningly beautiful results. Cars, boats, and beach vehicles look great as does the various interior scenes. With so many outdoor shots, it would be almost understandable if clouds were obscured; and while some are added in post-production, most skylines are there. Black levels are never swallowed up, and the shadows under umbrellas and pergolas find deep and long transitions to darkness. Motion is smooth and there's zero edge enhancement or banding, leading me to award this one top marks. Paramount joins an ever-growing list of studios who have finally achieved what was thought to be impossible a couple of years ago: treat every transfer with the same care and respect. The results are – dare I say – reference-quality.
THE AUDIO
And then there's Paramount's audio transfer for BAYWATCH, which is filled with misery. What begins as a bombastic beat ala THE FAST & THE FURIOUS devolves into a myriad of problems. It starts early, as we get some serious skipping and scratching around 9:37; please inform us if you too heard the error. At around 1:30:00, the Dolby Atmos actually comes off the rails, leading to voice lag and requiring us to cycle through the 5 available tracks to put it back into place. We're using a recently-upgraded backbone, but I've not heard any of these issues in the reviews I've done this year. When things are hopping, the movie's constant thumping of music and action do quite a good job. The LFE pumps with dance beats and Hip-Hop samples, while the center channel delivers crystal-clear dialogue. The surrounds should habve more going for them, but they're left behind with the captain who doesn't know that his ship is sinking. Near the end of the film, a fireworks scene should have resulted in a jaw-dropping aural experience, and yet it's definitely dialed back, almost as if Paramount did some suppression so it wouldn't blow our system. That's a nice gesture but completely unnecessary; the lack of environmentals really forces the main sound to come from the forward speakers, cheapening the experience until a blast of music erupts to remind you that the surrounds are still there. But it's the obvious errors we've discussed that are reflected in our score. We're willing to write off Paramount's problems here, so long as the issue isn't more pervasive. If it is, one should demand a replacement from the studio.
THE SUPPLEMENTS
BAYWATCH contains two versions of the film: Theatrical (1:56:27) and Extended (2:01:22). Our low score reflects the lack of a commentary track, and the supplements in general mirror that of the movie's lack of quality; but all are presented in HD:
Meet the Lifeguards (21:36): A fairly-well done feature examining the cast and the way the actors (tried to) bring their characters to life.
Continuing the Legacy (9:27): This featurette looks at the television version while addressing how to bring it into 21 Century.
Stunts & Training (9:09): Here, we learn about the movie's various stunts and how the cast prepped for looking so good in their swim attire.
Deleted & Extended Scenes (10:06): Sequences include CJ Messes with Stephanie, Coffee and Doughnuts, Where Could I Score?, Bathroom Misunderstanding, Directions to the Morgue, and Brody and Captain Thorpe.
Our evaluation copy arrived as a Blu-ray/DVD Combo with a UV/iTunes digital copy code inside. There is no inside artwork, and the slipcase is merely decent. At the time of this posting, there were several versions available, including a metal case from Target, an extra disc from Best Buy, and a 4K version.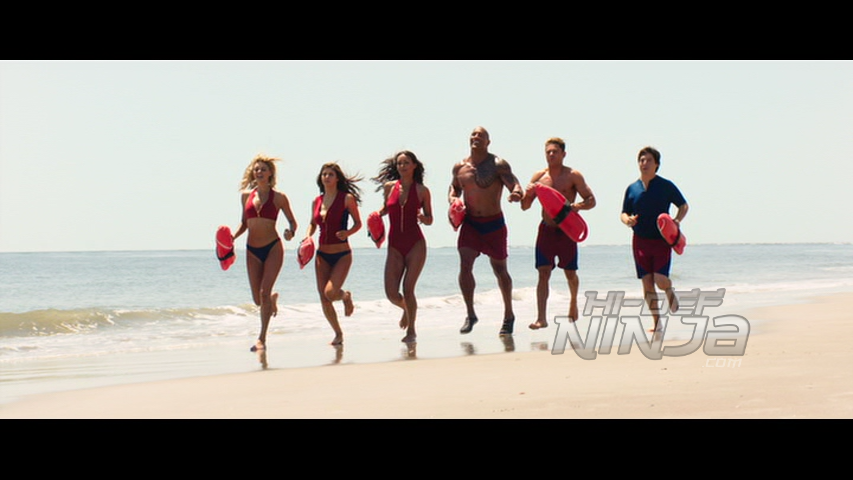 THE BOTTOM LINE
While merely enjoyable escapist entertainment, BAYWATCH fails to bring new audiences to the table. It suffers from a lack of heart, is completely devoid of chemistry by its underused leads, and never gets the true spirit behind the original series. It struggles to keep our attention, with predictable plot lines and a villain who's perhaps the worst since CHiPs. I shudder to think if this is the best we'll ever get from 80's reboots, which could really shine if creative teams step outside the box and gift these characters a greater ability to penetrate that 4th wall. Paramount's Blu-ray sports a fantastic video transfer, but the audio file was clearly botched and the supplements do nothing to raise our appreciation for this once venerable series. If you have any interest in owning it but have yet to see it, I suggest a rental first. I hope that studios who consider a reboot of a beloved television series take a breather to consider the ramifications of what can go wrong. BAYWATCH hits all of those marks unfortunately, proving that not even popular series deserve a movie, especially when the results are so bland, overly familiar, and lack any originality whatsoever.
BAYWATCH is rated R for language throughout, crude sexual content, and graphic nudity and has a runtime of 116 minutes and 121 minutes.