Today Lego unveiled images for the upcoming STAR WARS: THE LAST JEDI movie. The sets include vehicles as well as their Buildable Figures. Also unveiled today was their massive 7,541 piece Ultimate Collector Series Millennium Falcon set, their largest set ever! All products are scheduled for release tomorrow September 1, 2017 for Force Friday II however those eager for that Millennium will have to wait until October 1, 2017 to shell out that $799.99. Better get into that Lego VIP program if you intend to buy that set!
Without further ado lets take a look at the set!

75176 – Resistance Transport Pod™ (RRP: $29.99 USD, $39.99 CAD)
Escape to safety in the Resistance Transport Pod. Open the cockpit, seat Finn and Rose and launch! If our heroes run into trouble, turn the engine to aim the stud shooter or roll the wheel to fire the spring-loaded shooters! Now has anyone seen BB-8?
Launch: 9/1/2017
Age Mark:  8-14
Piece Count:  294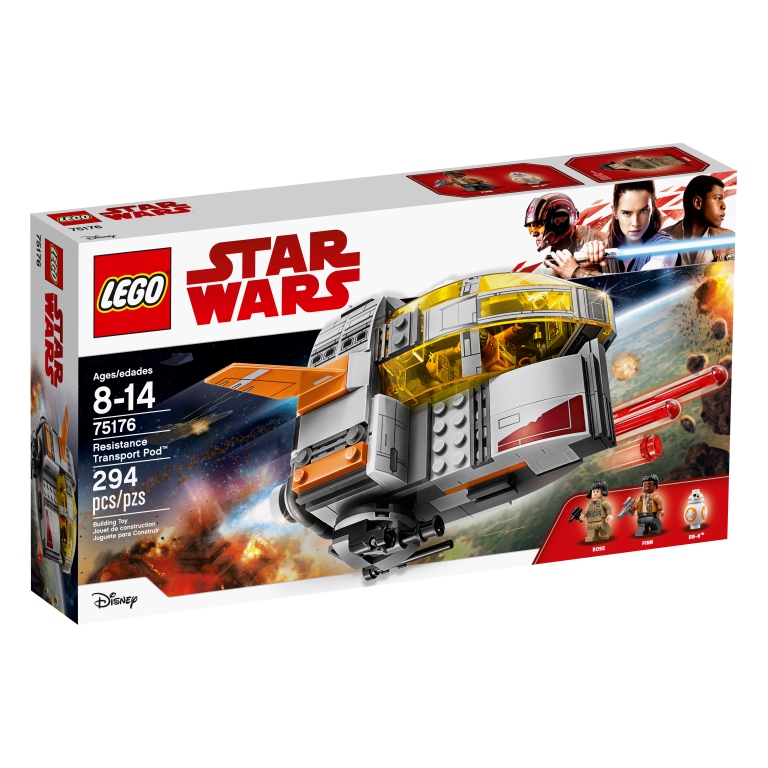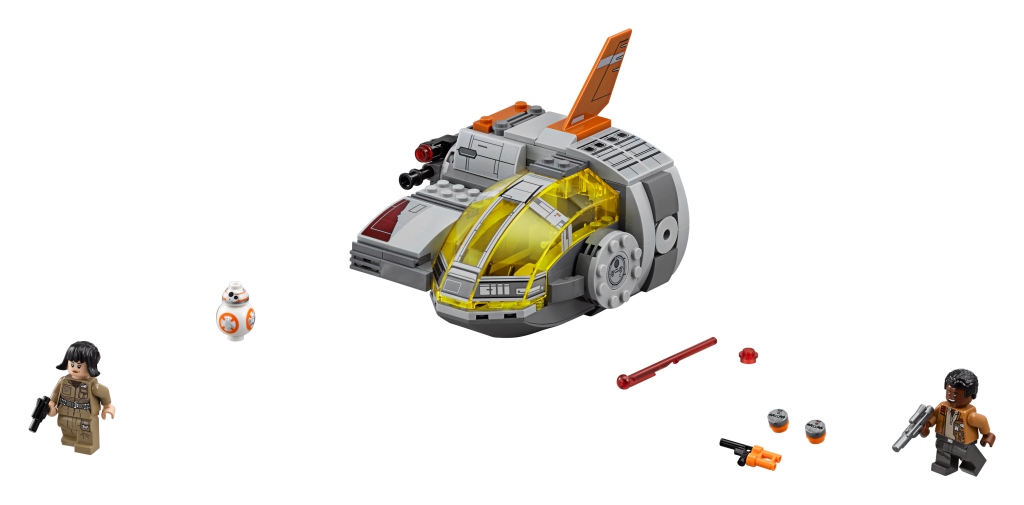 75177 – First Order Heavy Scout Walker™ (RRP: $49.99 USD, $64.99 CAD)
Go in search of Resistance fighters in the amazing First Order Heavy Scout Walker. Place General Hux in the cockpit and send orders to the Flametrooper. Give the walker a push and see the crawling legs start to move! When you spot the enemy, raise the spring-loaded shooters and get ready to fire!
Launch: 9/1/2017
Age Mark:  9-14
Piece Count:  554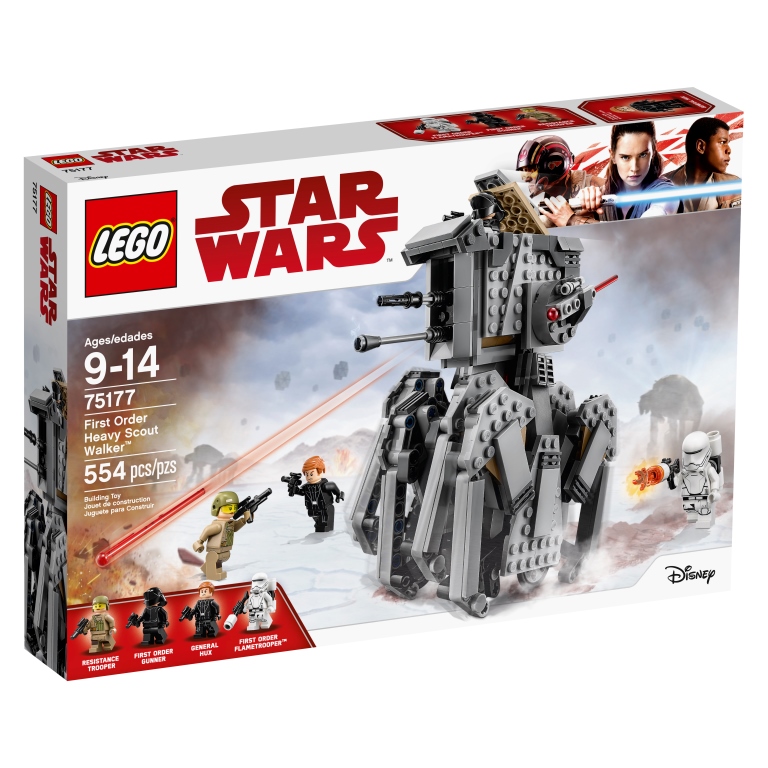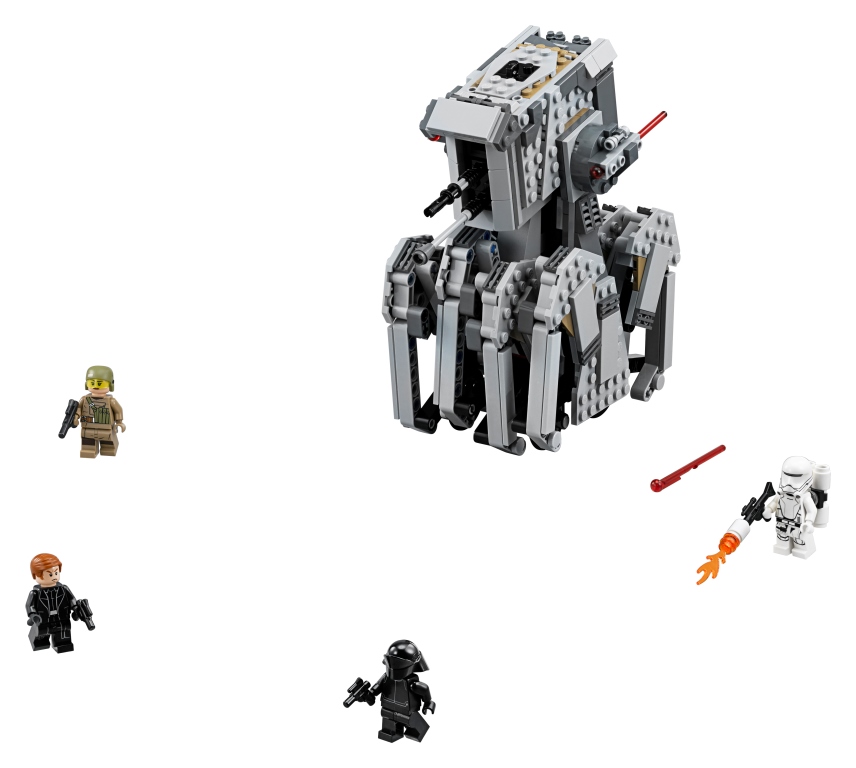 75179 – Kylo Ren's TIE Fighter™ (RRP: $79.99 USD, $99.99 CAD)
The Resistance has been spotted! Put Kylo into the cockpit of his super-fast TIE Fighter and blast off in hot pursuit. When you get close, push the triggers to fire the spring-loaded missiles and send those Resistance ships spinning out of control!
Launch: 9/1/2017
Age Mark:  8-14
Piece Count:  630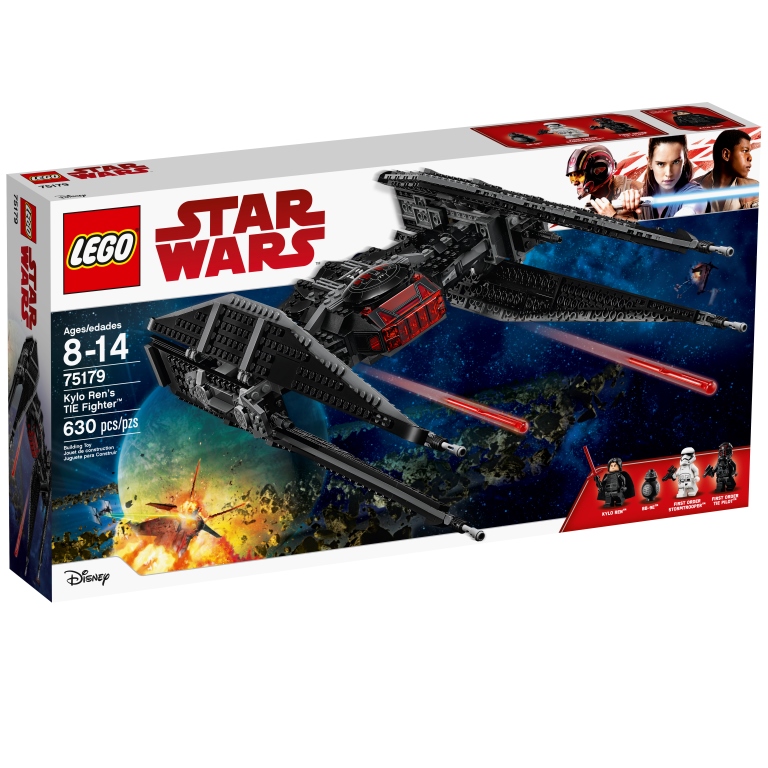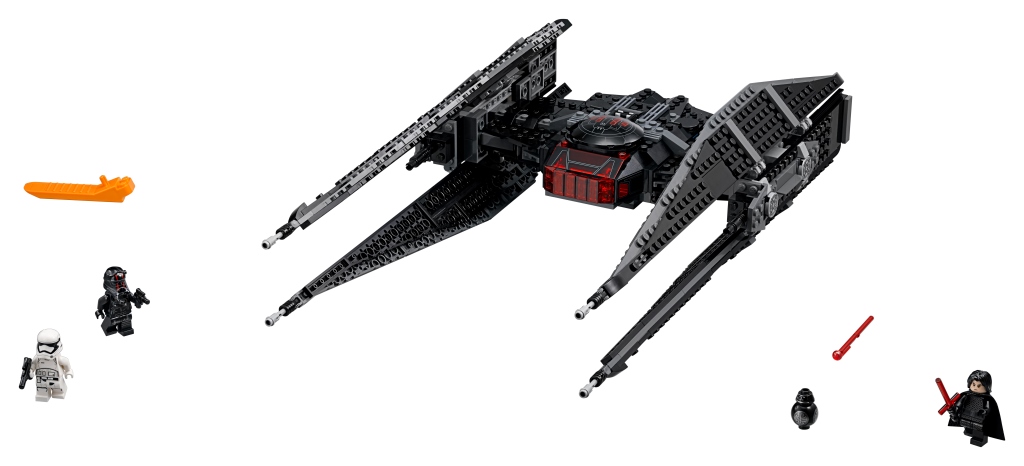 75187 – BB-8™ (RRP: $99.99 USD, $129.99 CAD)
Own your very own LEGO® BB-8! Turn the wheel to spin the head and turn another to open the hatch and see the welding torch pop out, just like it did in the movie! You can also sit BB-8 on the stand so you can show your friendly droid to all your friends when they come to visit!
Launch: 9/1/2017
Age Mark:  10-16
Piece Count:  1106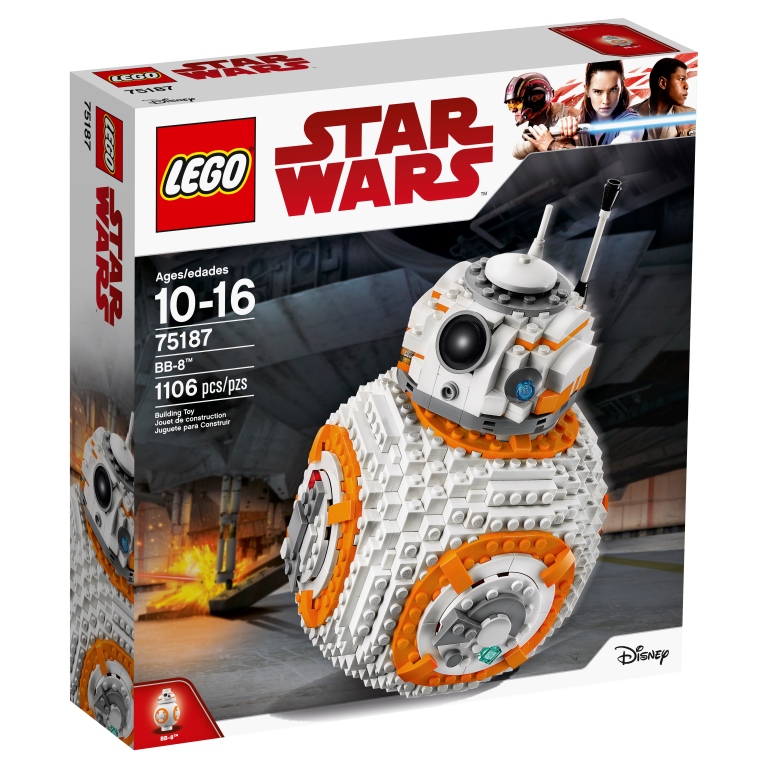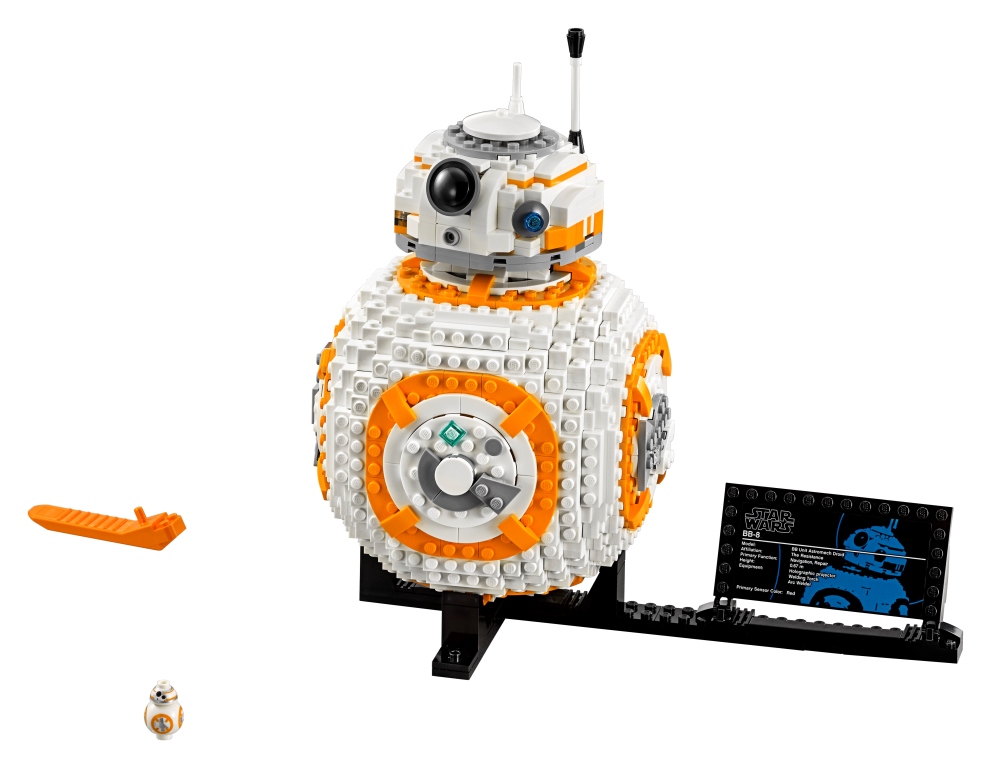 75188 – Resistance Bomber (RRP: $109.99 USD, $139.99 CAD)
Join Poe and Vice Admiral Holdo as they set out on daring raids aboard the Resistance Bomber! Jump Paige into the rear gun turrets and fend off enemy ships or fire the spring-loaded shooters for extra firepower. When you reach your target, press the trigger to release the bombs and send the enemy troops running for cover. Good luck, Captain!
Launch: 9/1/2017
Age Mark: 9-14
Piece Count: 780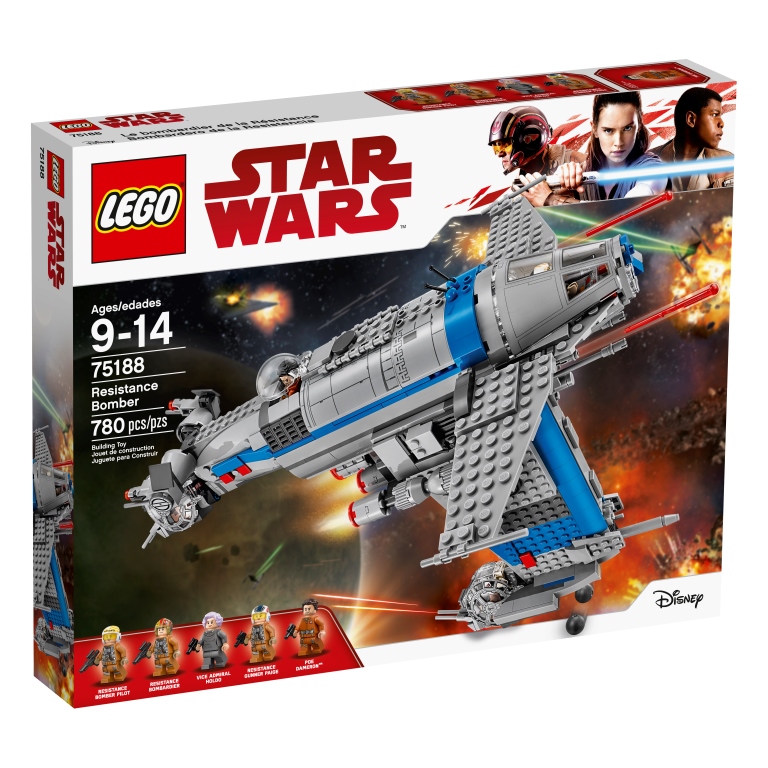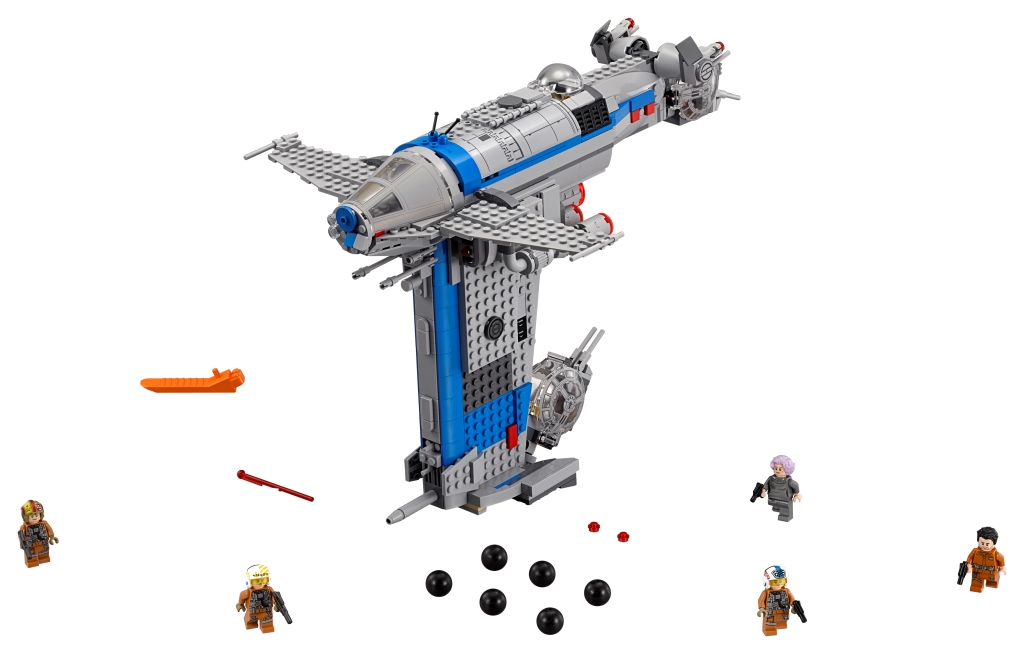 75189 – First Order Assault Walker™ (RRP: $149.99 USD, $169.99 CAD)
Grab the First Order Heavy Assault Walker and lumber into battle against Poe, Rey and the Resistance allies. Fire the head-mounted spring-loaded shooters and take aim with the rapid-fire stud shooter on top. When you run short on ammo, open the compartments and reload. In the Resistance fighters get too close, drop the mines at the back to give them a big surprise! Can the Resistance defeat this tough walker? That's for you to decide…
Launch: 9/1/2017
Age Mark: 9-14
Piece Count: 1376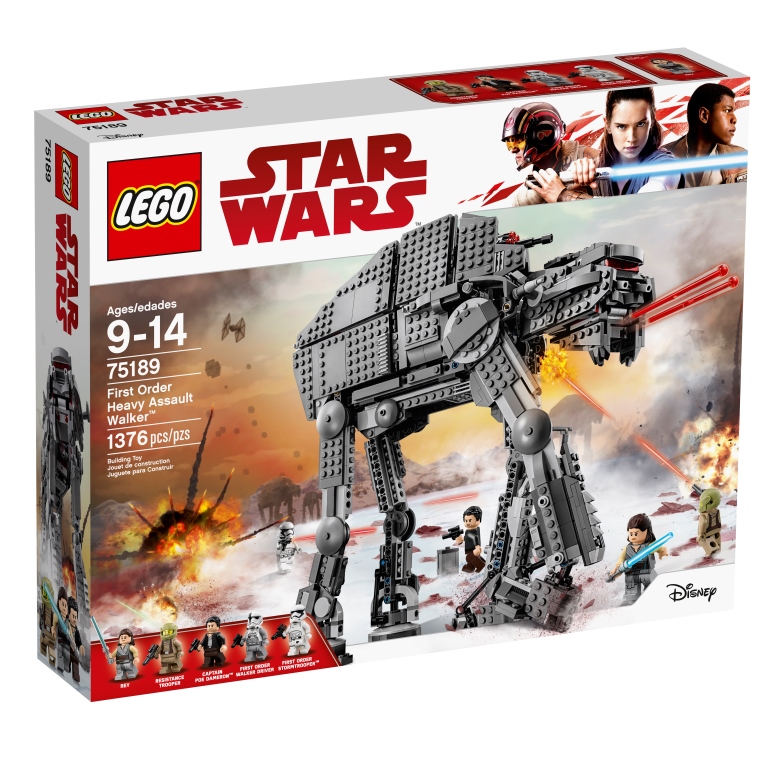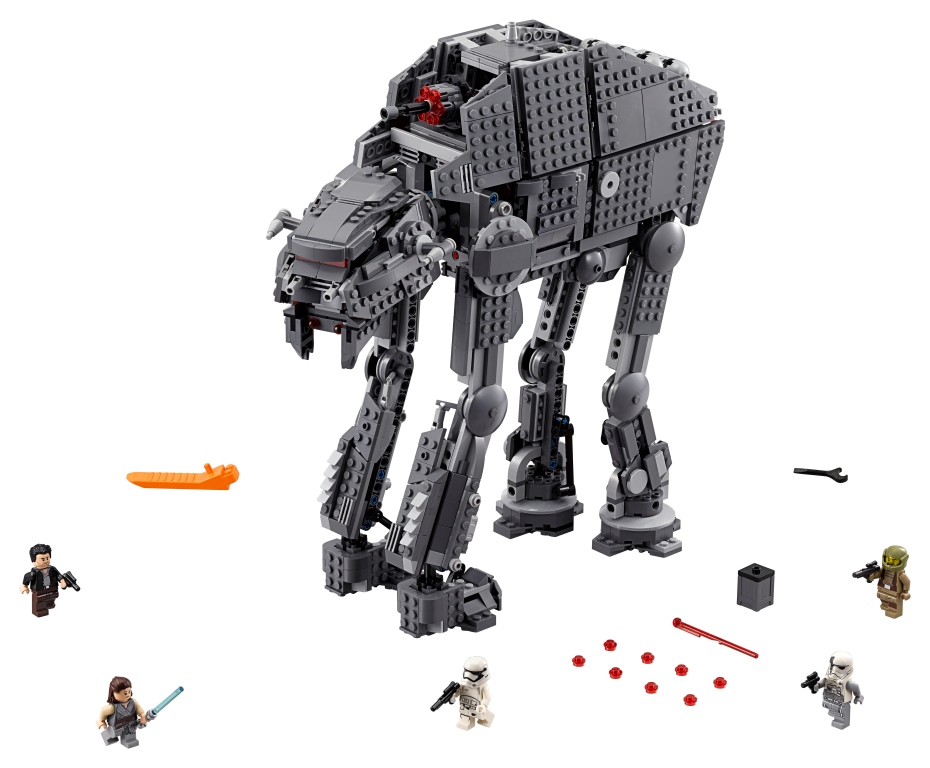 75190 – First Order Star Destroyer™ (RRP: $159.99 USD, $179.99 CAD)
Join Supreme Leader Snoke as he rules the galaxy aboard the mighty First Order Star Destroyer! Fire the stud shooters to defeat enemy ships and then open the panels to play inside. Ride the elevator to Snoke's command center and issue orders to the mini hologram. Give the fleet orders from the bridge, prepare for battle in the conference area, get the droids aboard and monitor the ship from the control room. When you're ready to move out, grab the handle on top and zoom into action at hyperspeed!
Launch: 9/1/2017
Age Mark: 9-14
Piece Count: 1416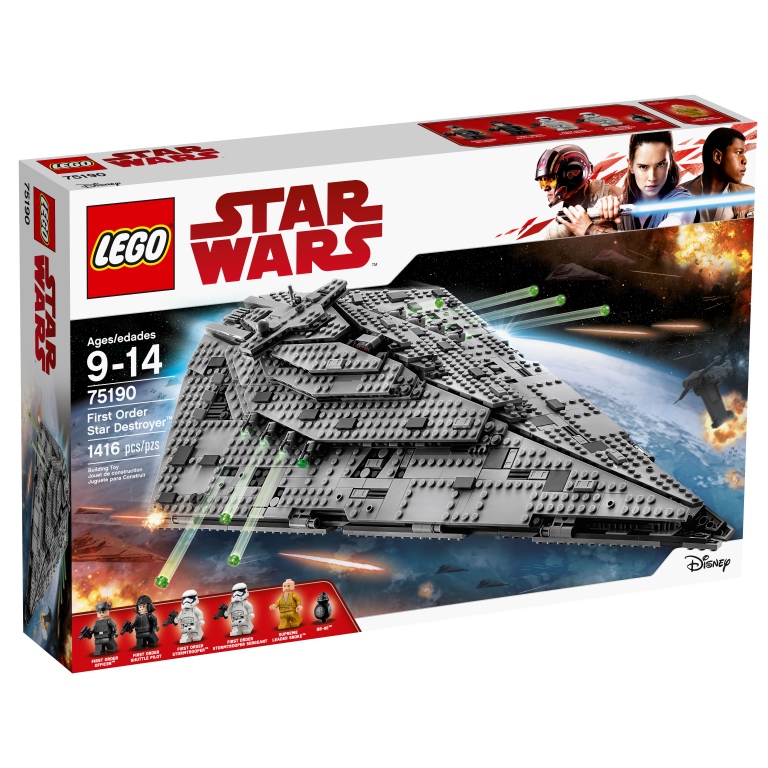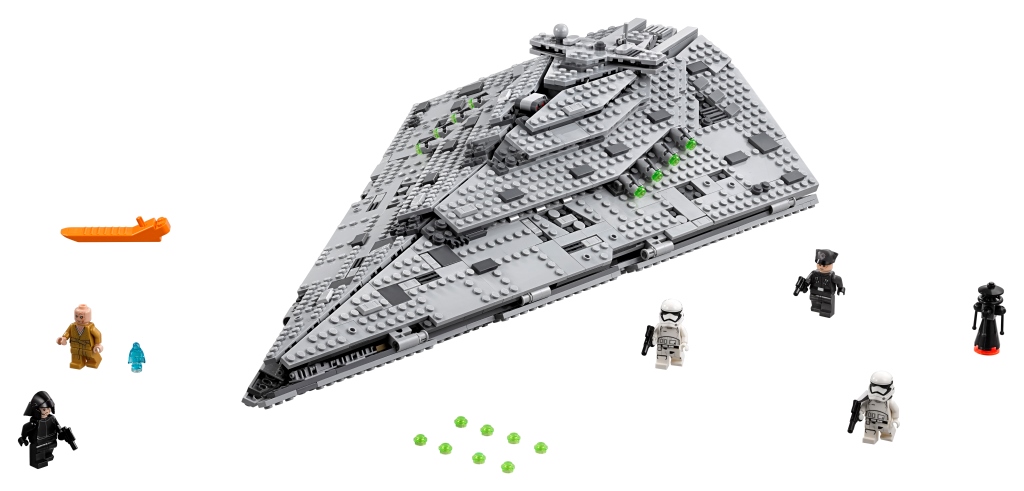 75526 – Elite TIE Fighter Pilot™ (RRP: $19.99 USD, $24.99 CAD)
Buckle up and get ready for action with the Elite TIE Fighter Pilot! Build this intimidating figure with red-striped helmet and breathing system and then put him in a battle pose. Arm his spring-loaded blaster rifle and you're ready to take on the Resistance!
Launch: 9/1/2017
Age Mark: 8-14
Piece Count: 94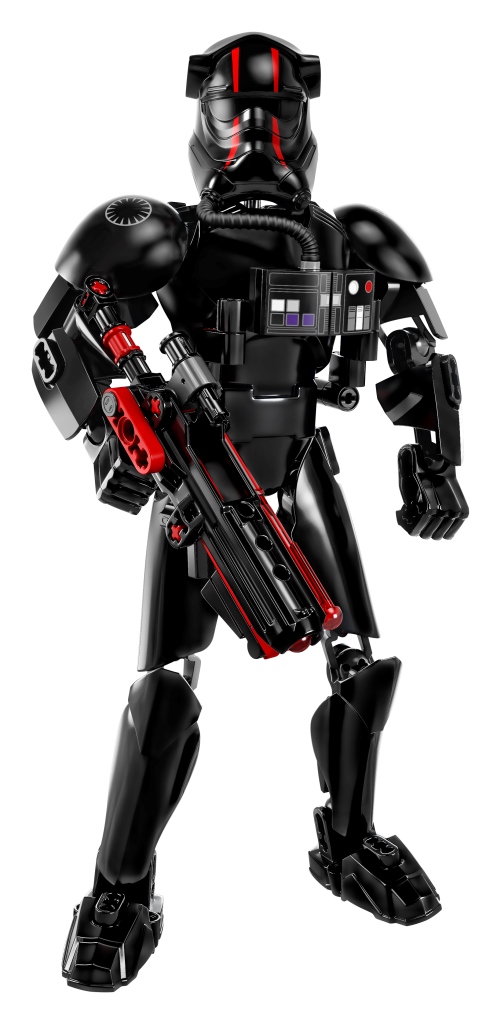 75528 – Rey (RRP: $24.99 USD, $29.99 CAD)
Awaken the power of the Force with buildable action hero Rey! Put her in a battle pose and gear her up with her blue Lightsaber and blaster pistol. If she runs into trouble, turn the wheel to take a swing at the First Order troopers!
Launch: 9/1/2017
Age Mark: 8-14
Piece Count: 85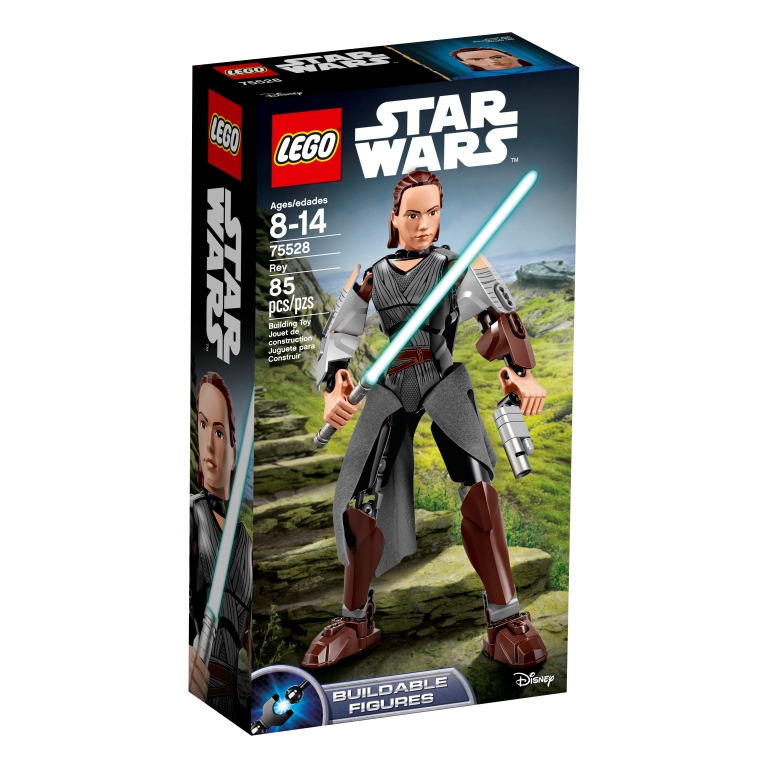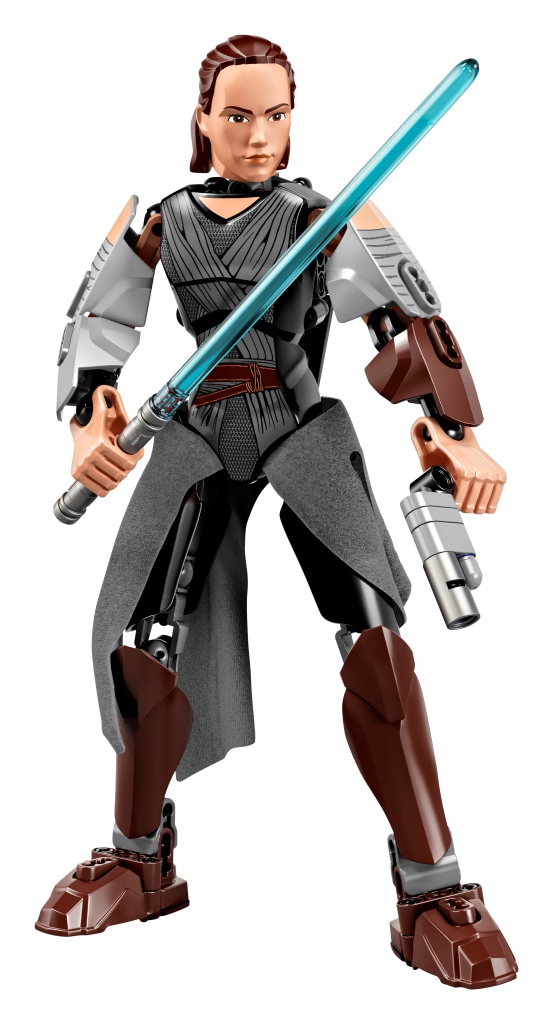 75529 – Elite Praetorian Guard (RRP: $24.99 USD, $29.99 CAD)
Protect the First Order with Supreme Leader Snoke's Elite Praetorian Guard. Reach for the awesome 2-handed bladed staff with lasers, or separate it to create 2 smaller weapons. Put this amazing guard dressed in tough red armor in a fearsome battle pose, then move the lever to swing the arms and send opponents running for cover!
Launch: 9/1/2017
Age Mark: 8-14
Piece Count: 92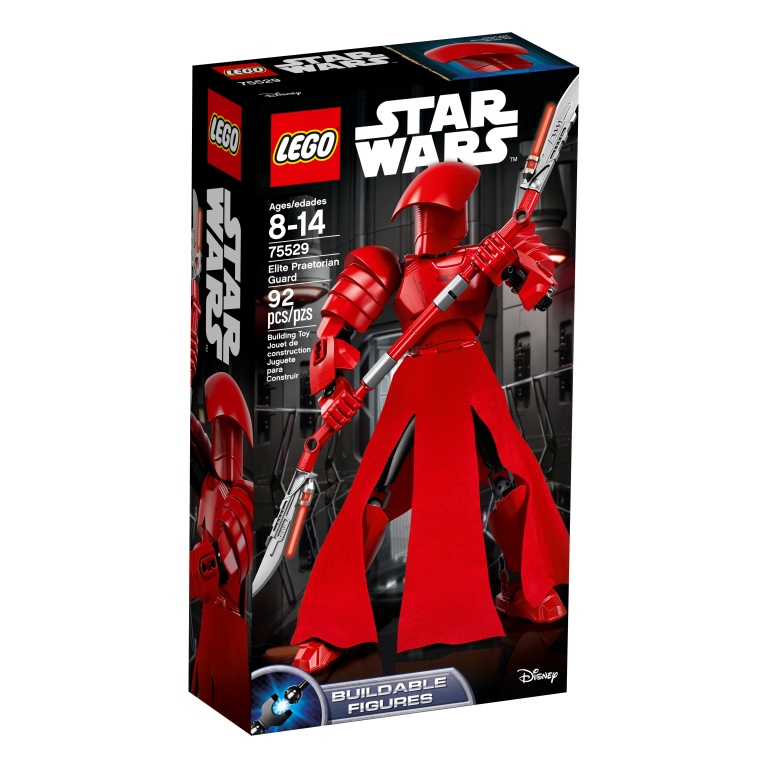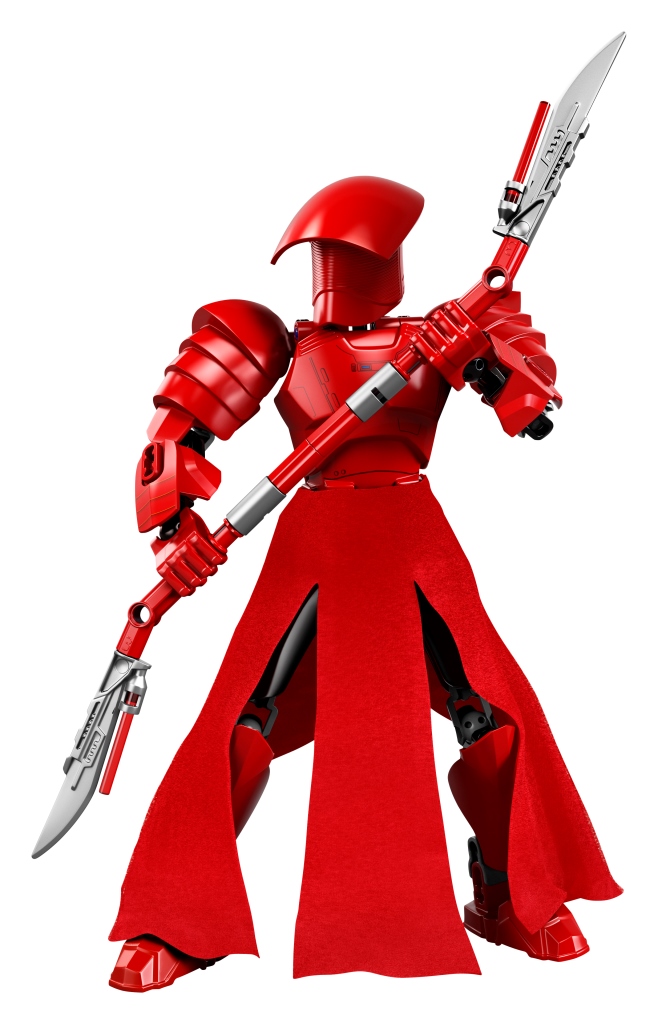 75530 – Chewbacca™ (RRP: $34.99 USD, $44.99 CAD)
Roar into battle with everyone's favorite Wookiee, Chewbacca! Strap on his ammo belt and bag, grab his spring-loaded bowcaster and put him in a cool battle pose. This is the biggest, baddest (yet still lovable) LEGO® Wookiee ever!
Launch: 9/1/2017
Age Mark: 8-14
Piece Count: 179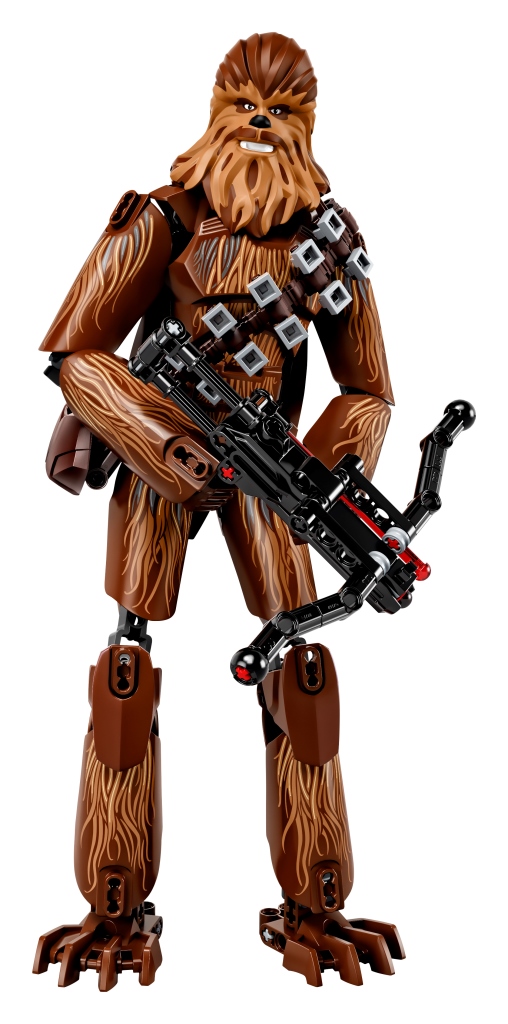 75192 Millennium Falcon™ (US $799.99 – CA $899.99)
Welcome to the largest, most detailed LEGO® Star Wars Millennium Falcon model ever created. At 7,541 pieces it is the biggest LEGO model ever sold! This amazing LEGO interpretation of Han Solo's unforgettable Corellian freighter has all the details that Star Wars fans of any age could wish for, including intricate exterior detailing, upper and lower quad laser cannons, 7 landing legs, lowering boarding ramp and a 4-minifigure cockpit with detachable canopy. Remove individual hull plates to reveal the highly detailed interior while retaining the overall exterior appearance. The interior features 3 main areas the main hold which features a seating area, Dejarik holographic game, combat remote training helmet, engineering station with turning minifigure seat and a doorway build with passageway decoration; the rear compartment features the engine room with hyperdrive and console, 2 doorways, hidden floor compartment, 2 escape pod hatches, engineering console and an access ladder to the gunnery station; while the gunnery station features a minifigure gunner's seat and detachable hull panel with fully rotating quad laser cannon. An additional quad laser cannon is also mounted on the underside.
This amazing model also features interchangeable sensor dishes and crew, so you decide whether to play out classic LEGO Star Wars adventures with Han, Leia, Chewbacca and C-3PO, or enter the world of Episode VII and VIII with older Han, Rey, Finn and BB-8, other figures include 2 buildable Porgs and a buildable Mynock! Also included an informational fact plaque.The set measures at over 8" (21cm) high, 33" (84cm) long and 22" (56cm) wide.
Launch: October 1, 2017
Age Mark: 16+
Piece Count: 7,541
Box
Set
Minifigures
Also check out some amazing videos and a behind the scenes look at the sets as well
Sound off on our forum if you intend to pick anything up this weekend. I for one would really like to get my hands on that Kylo Ren Tie Fighter. A moderate 630 piece set priced at $79.99!