The Movie

The Video

The Audio

The Supplements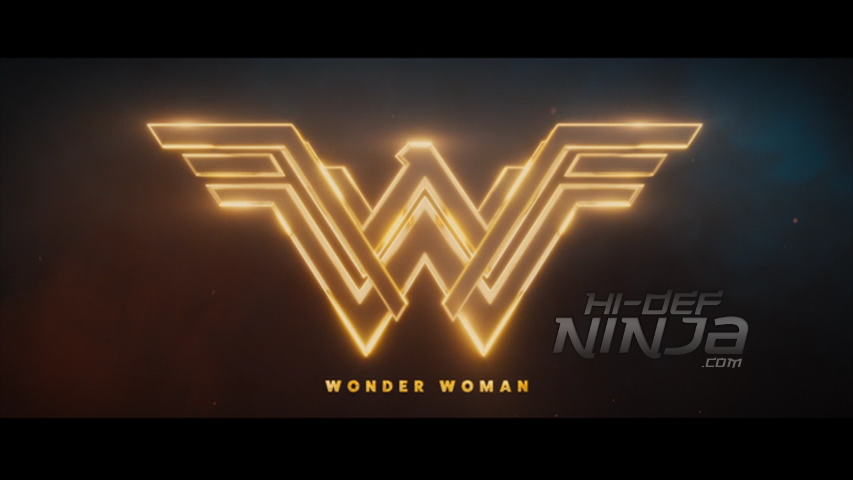 The fabulous WONDER WOMAN surprises us with its story and delivers solid video and audio.
NOTE: Our images were captured from the DVD version.
By Matt Cummings
With recent news that the DC Cinematic Universe is making two important changes – steering away from a connected storyline and reshooting large sections of JUSTICE LEAGUE – one could say that the entire endeavor represents a dumpster fire. And why wouldn't we think of this resemblance? Fueled by the disappointment of BATMAN VS SUPERMAN: DAWN OF JUSTICE and lit afire by the should-have-been-better SUICIDE SQUAD, Warner Bros has endured a wave of Internet rage that it fully deserves. Luckily, their fourth entry – this summer's WONDER WOMAN – arrived to glowing reviews that temporarily doused that fire. Gifting us with terrific acting, superb action sequences, and several appealing and frankly surprising storylines, the home release delivers great video and audio but lacking a bit in its supplements.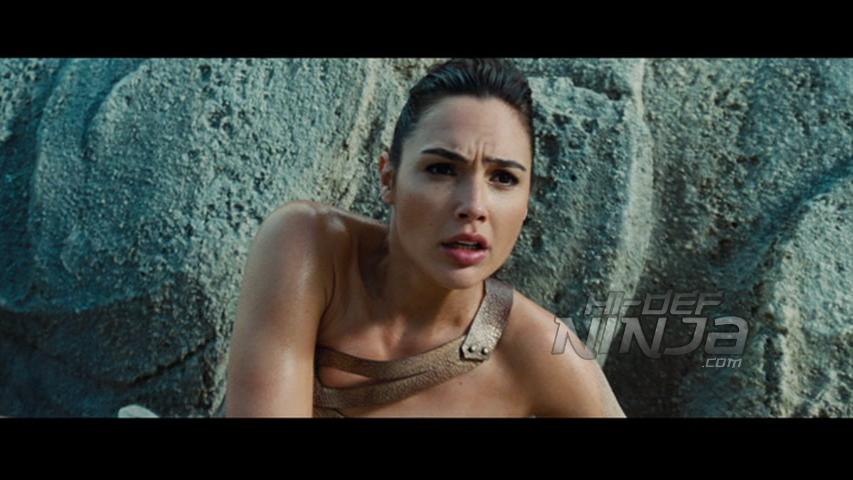 THE MOVIE
Diana of Themyscira (Gal Gadot) grows up defiant, loves her mother Queen Hippolyta (Connie Nielsen), but desires to become an Amazonian warrior. Both Hippolyta and her aunt General Antiope (Robin Wright) know that Diana's real destiny awaits her, but take very different paths to protect her from it. Years later, World War I invades Themyscira's shores, when the spy Steve Trevor (Chris Pine) crashes his plane nearby, inviting the German navy to attack him and by association the Amazonians. This is Diana's first exposure to men, and soon learns why Trevor is so desperate to report back his bosses. He's learned of a terrifying new threat that could reignite the fighting and lead to the deaths of millions. Diana realizes it's time to put her training into action and escapes the island to join Trevor on the front lines. But Diana has another reason to leave: she believes that Ares himself is behind the angry movements of man; if she can kill him, humanity will respond by ending all war. Accompanying Trevor to London, she learns that women are treated as submissives, and that Trevor's bosses don't appreciate her directness. Undeterred by their efforts to minimize her and shut down the mission, Diana and Trevor go rogue to stop German general Ludendorff (Danny Huston) and his associate Dr. Maru (Elena Anaya) from interfering with the pending armistice. Along the way, Diana will realize the horrors of war are very real indeed, that mankind may not be deserving of her efforts, and that her growing affection for Trevor may come at too high a cost.
WONDER WOMAN is the Warner Bros movie, succeeding as both an action movie and as an appealing character drama. Beyond the skimpy clothing, WONDER WOMAN is a love story, a WWI epic, and a coming-of-age tale, led by the pitch-perfect acting of Gadot and her impressive chemistry with Pine. Together, they represent opposite ends of the spectrum, Trevor the hardened soldier and Diana the naive young woman who struggles with a number of social faux pas in Europe before becoming the indispensable warrior we saw in BvS. These moments of fish-out-of-water levity appear throughout Director Patty Jenkins' picture, which expertly take precedent over the action, rather than the other way around. There's never a moment when that comedy feels out of place or ill-used, and the strong character drama that flows through this allows to enjoy those moments of mayhem, thanks to Writer Allan Heinberg who takes Diana on a journey of self-discovery in very simple terms.
WONDER WOMAN could have gotten bogged down with all of the introductions that needed to be made – from Paradise Island and its history to Diana's gear and larger purpose – but it never feels wedged in or forced. It succeeds for the same reasons that MAN OF STEEL did, and gives that film a bigger sense of purpose. WB is big into character films, so this sort of ret-conning. But WONDER WOMAN never feels like a cheap clone, delivering a truly impressive film that inspired women all over the world to stand up in the face of our current political situation.
With his performance as Trevor, Pine has now solidified himself as one of Hollywood's elite. There literally isn't a film of his that I haven't enjoyed, and his moments with Diana – especially in an early scene where the Amazonian asks him about the size of his genitals – is expertly carried out. Trevor also sees character growth, bolstered by Pine's terrific embodiment of the gentleman spy. His secretary Etta Candy (Lucy Davis) also takes Diana down the path of enlightenment, which in some ways sparks Diana into action to end WWI. And yet with all of that, WONDER WOMAN is also an anti-war movie: we get to see severed limbs, destroyed animals and countryside, and the very real reactions by children and defenseless women that need humanitarian assistance. Jenkins' troupe – sans a less satisfying Howling Commandos-ish team – deliver empathetic performances that also unwittingly expose the film's one true problem. While it's not unreasonable to assume that Ares' command over men could have existed, it is unbelievable that his absence afterwards made mankind any kinder. Had Director Zack Snyder crafted MoS and BvS as post-War havens of peaceful coexistence, the Ares storyline would have made sense: end him and the world suddenly becomes more a lot more passive for a much longer time. Instead, the aggression and dark tone of those makes WONDER WOMAN's third act as enjoyable but somewhat empty, even as one character pays the ultimate price.
There are moments when WONDER WOMAN doesn't succeed: the CGI is nowhere near that of MAN OF STEEL or the better-looking GUARDIANS OF THE GALAXY VOL. 2. There's of course a big boss battle at film's end, but after the epic Metropolis battle, this one feels small and yet not personal at all. None of this got in my way of loving WONDER WOMAN, which absolutely raises the stakes, proving that female-led superhero movies do work. This should encourage Marvel to resurrect its small-budget Black Widow movie in a hurry, and hopefully move Fox to consider establishing other female-led properties like Jean Grey and others.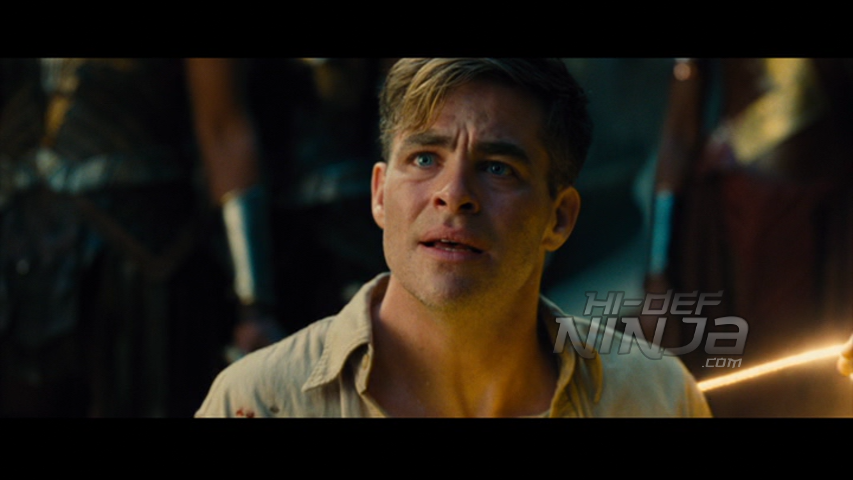 THE VIDEO
Warner Bros.' WONDER WOMAN is presented in an excellent MPEG-4/AVC transfer that is clear, filled with depth, and gorgeously rich with color. Shot on a variety of cameras including the Arri Alexa 65, beautiful grain is also apparent throughout, granting this period piece with an authenticity that resonates from London to Themyscira. Color is incredibly deep and rich, particularly in and around Themyscira, while Diana's costume reveals standout blues, golds, and reds. CGI and real sets blend effortlessly, while pebbles along the shoreline are individually detailed and clothing shows off threads and wrinkles. We see individual strands of hair and pores on faces, while WWI battle fronts tell their story with dirt, sweat, and blood. Motion was smooth on my Plasma, while shadows transition into black in both interior and exterior shots. I'm growing more aware of a 4k "bleed down" in these transfers, which would make sense considering the incredible quality of these modern sources. As always, WB excels in removing aliasing and keeping edge enhancement along the CGI lines minimized. It's been hard lately to give any of these releases poor marks, and WONDER WOMAN certainly doesn't disappoint. It's reference quality and should play well in any set up.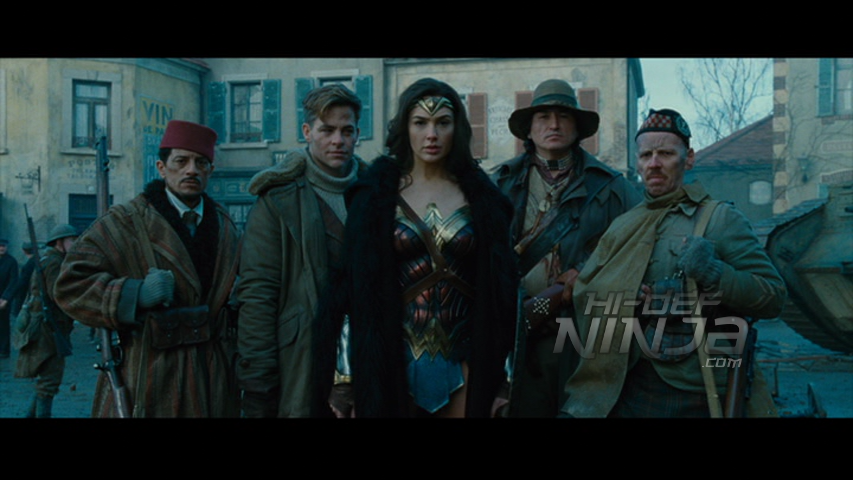 THE AUDIO
The world of WONDER WOMAN explodes with a TrueHD 7.1 codec that's as big and bold as its titular character. The TrueHD transferred nicely to my 5.1, starting with the center channel. Dialogue is merely turned up but you never find yourself playing The Remote Game, as even the quiet banter between Pine and Gadot is easy to discern. Left and right speakers reveal individual sounds and solidly move effects and the enjoyable score by Composer Rupert Gregson-Williams. The surrounds are a bit quiet, but not because of WB's lack of attention; a simple adjustment revealed more there. London (for the most part) comes alive, from the crowded city streets and boisterous meetings to tank movements and soldier chatter. Our LFE thumped quite often, delivering thunderous booms during explosions and elevating Gregson-Williams' score. It's a very adept and nimble audioscape.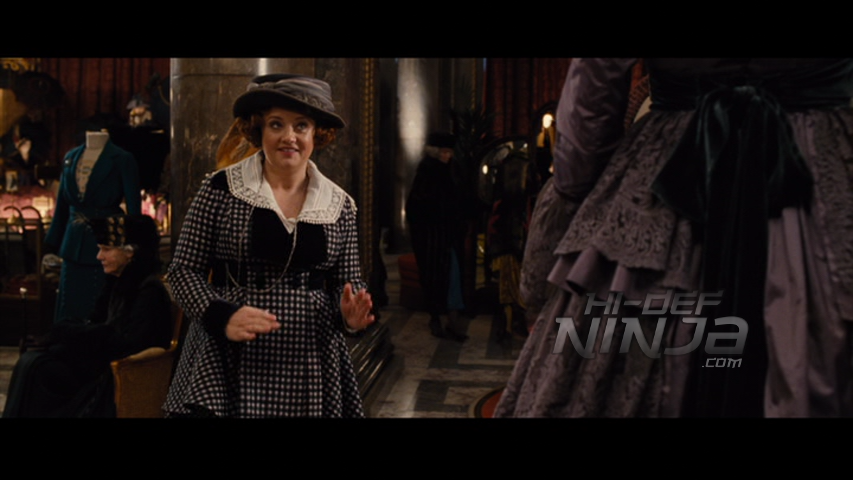 THE SUPPLEMENTS
WONDER WOMAN's supplements clock in at just under 2 hours, but fails to include a commentary track. Too bad, as I would have loved to have heard Director Patty Jenkins lay low the rumors of a troubled shoot. All supplements are presented in HD:
"Epilogue: Etta's Mission" short (2:41): The post-Steve Trevor team assemble at their favorite location to search for…well you'll have to watch it to see.
"Crafting the Wonder" Featurette (16:26): Jenkins discusses what she hopes for Diana, while Gadot and other creators discuss how Wonder Woman is a different kind of character than Batman or others. We also learn how history and folklore played a role in creating things like shields, costumes, and clothing.
"A Director's Vision" Featurettes: A series of featurettes which include Themyscira: The Hidden Island (4:56), Beach Battle (4:56), A Photograph Through Time (5:07), Diana in the Modern World (4:39), and WONDER WOMAN at War (5:03).
The Trinity" Featurette (16:05): We learn the differences between Batman, Superman, and Wonder Woman Her naivety forms the backbone for this film's success.
"The Wonder Behind the Camera" Featurette (15:34): Demonstrating that Jenkins was truly the right fit for this film, we learn how she brought along a team of talented women, while inviting young filmmakers to a day visit on set.
"Finding the WONDER WOMAN Within" Featurette (23:08): One of the most unique featurettes I've seen, a collection of women comment on what courage, wonder, wisdom, and other qualities mean to them. It's a great learning tool and goes beyond the standard behind-the-scenes montages.
Extended Scenes (approx. 9 mins): While nothing is revealed from their inclusion, scenes include Boat Conversation (3:37), Selfridges Shopping (2:07), Parliament Steps (1:13), Morning at the Train Station (1:13), and Charlie Never Sleeps (0:54).
"Warriors of WONDER WOMAN" Featurette (9:53): Rather than recruiting several 20 year old waifs to train, the crew actually chose really great athletic women to train for the film. The attention to detail really came through in the final version.
Alternate Scene: Walk to No Man's Land (1:04): Team Wonder Woman take a stroll on their way to the Front Line.
Blooper Reel (5:37): For such a serious film, the crew apparently had a great time, especially Pine and Gadot.
Trailers: JUSTICE LEAGUE
Our sweet evaluation copy arrived as a Blu-ray/DVD Combo with a Digibook with a UV/iTunes digital copy code inside. The cover is a very nice lenticular, and the color pages within are high quality. In addition to this stellar release, we were also gifted (among other things) with a 4k Best Buy steelbook and a Walmart special edition with a Diana tiara. We were not aware of any editions with extra discs – although the Walmart version offers content online – but there should be something here to appeal to literally anyone.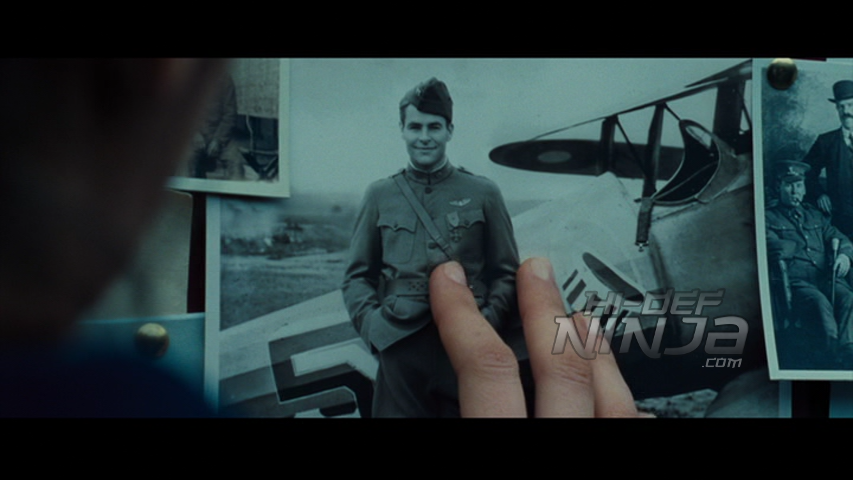 THE BOTTOM LINE
WONDER WOMAN surprises in both its heady action and anti-war humanity. Filled with great DC lore but focused on a great fish-out-of-water love story, WONDER WOMAN packs a punch with great performances and a solid score by Rupert Gregson-Williams. It gives DC's usually dark and morose universe a little boost of fun than ever appeared in BvS and SUICIDE SQUAD combined. I love saying this: DC finally has a film that puts Marvel on watch, demanding them to make a better one. The Blu-ray is technically very good, with lots of options for purchase. And I do hope you support it with a purchase, as our times could really use a Wonder Woman to save us.
WONDER WOMAN is rated PG-13 for sequences of violence and action, and some suggestive content and has a runtime of 141 minutes.