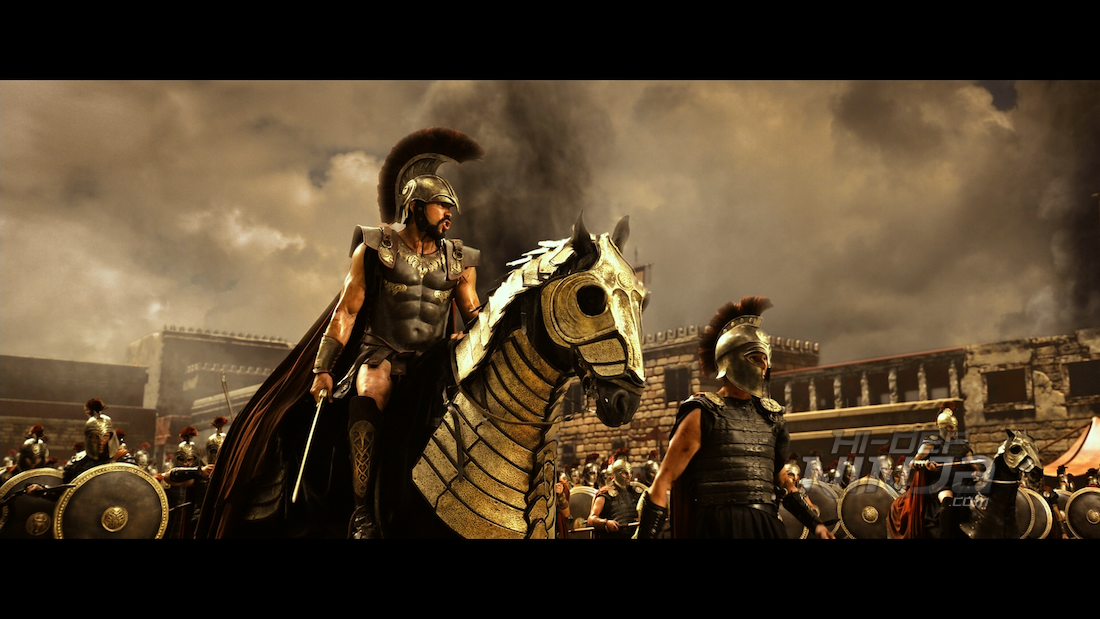 THE LEGEND OF HERCULES 4k UHD and Blu-ray Review
The Movie

The Video

The Audio

The Supplements
In ancient Greece, King Amphitryon is expanding his kingdom and sacks Argos. Mad with power and showing his ruthless side, he is making his wife, Queen Alcmene, hate him more and more. She turns to the gods for guidance and Hera, Zeus' wife, tells her that she can have a child. The child will be from Zeus so he will be a Demi-god. Alcmene's most trusted advisor, Chiron, witnesses the deal and swears to keep it to himself. The baby is born and named Alcides to the public but the queen, in secret, names her son Hercules.
Fast-forward twenty years, both Prince Alcides and his older brother Prince Iphicles are respected by their peers. Alcides is in love with Princess Hebe of Crete but their love is in secret. One day that both princes are walking together, they come across a Nemean lion, which Iphicles believes cannot be killed. As they try to drive their spears into the beast, they just seem to bounce off him and make him angrier. So Alcides wrestles and strangles the lion to death. Of coarse, Iphicles returns home with the hide of the animal made into a cloak and tells everyone that he made the kill. Not only that, he called Alcides a coward for not helping. Princess Hebe calls him out and that he is a liar. After that, the King announces that Iphicles and Hebe are to be wed and Iphicles will be sent to Egypt on a military campaign.
THE LEGEND OF HERCULES is directed by Renny Harlin who has directed movies like CLIFFHANGER and EXORCIST: THE BEGINNING. What I mean to say is that he is either hit or miss with very little in between. The plot is on the weaker side and just lacked the "umph" that a movie about the Demi-god Hercules needs. It could also be that I'm not completely convinced that Kellan Lutz could be the Demi-god he was cast to be.
Cast
Kellan Lutz – Hercules/Alcides
Gaia Weiss – Hebe
Scott Adkins – King Amphitryon
Roxanne McKee – Queen Alcmene
Liam Garrigan – Iphicles
Liam McIntyre – Sotiris
Rade Šerbedžija – Chiron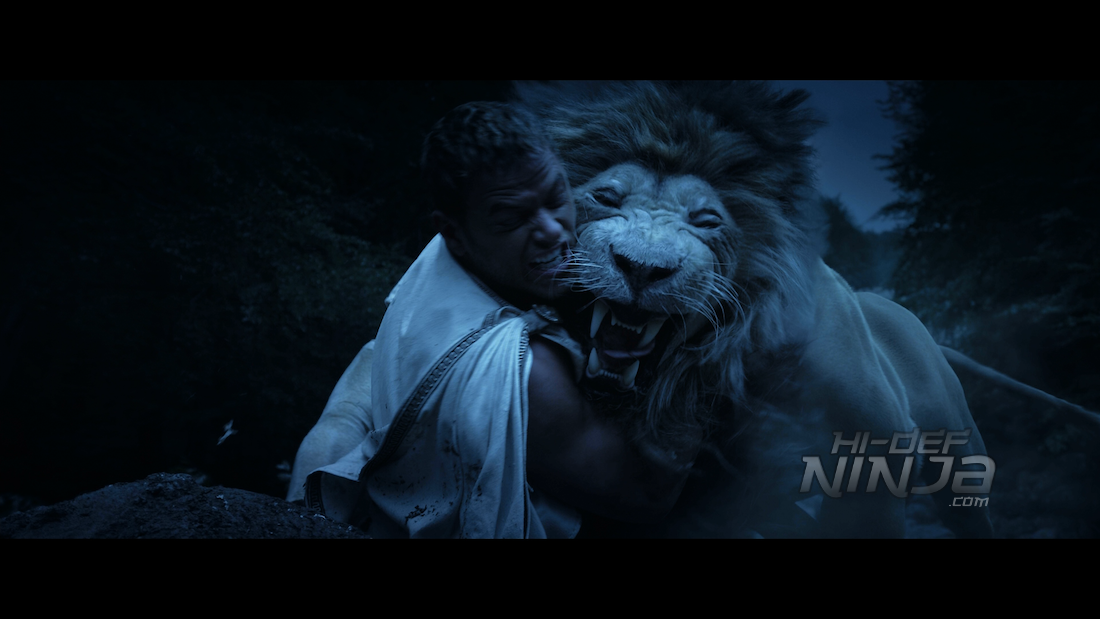 VIDEO QUALITY:
4k UHD
The video is a 2160p HEVC presentation that looks good but only to a point. The details, in pretty much every aspect of the images, are sharp and rich. There's a scene where Hercules and Hebe have little plants floating in the air looks beautiful. These are plenty of colors that pop but the greens are lush and bright. On the 4k disc, they look absolutely gorgeous. There are also some rich blacks with some small issues but nothing too serious. Where the problems lie are in the CGI effects. They look really poor on the Blu-ray and the 4k UHD makes them stand out even more. Unfortunately, this is not in a positive way. They appear cartoonish and unrefined.
Blu-ray
The video is a 1080p AVC for the standard Blu-ray and the 3D is a 1080p MVC presentation. Just note: I didn't watch the 3D version but just know that it is included with this release so I can't comment on how it looks. The Blu-ray transfer is similar to the 4k in a lot of ways between the beautiful coloring and the detailing. The skins tones are warm and natural when they aren't in a particular coloring filter in a scene. Where it is different is the contrasting is not as striking. Meaning the lines are sharp but they look better on the UHD disc.
AUDIO QUALITY:
4k UHD
The audio is a Dolby Atmos mix that defaults to a Dolby TrueHD mix. This has a lot of punch with hard hitting LFEs and making the effects loud. It happens in the action scenes with clanging swords and just heavy fighting. The dialogue and other effects are reproduced well. The overheard audio makes for a fuller sound experience. It brings in both the battle sounds but the extended ambient sound as well.
Blu-ray
The audio is a lossless DTS-HD Master Audio 7.1 mix that basically has all of the best parts from the Atmos track minus the overhead speaker use. The surround speakers are used well with a lot of ambient audio to flesh out the scenery. The dialogue and effects here are also done very well. There is also good movement in the 7.1 sound field.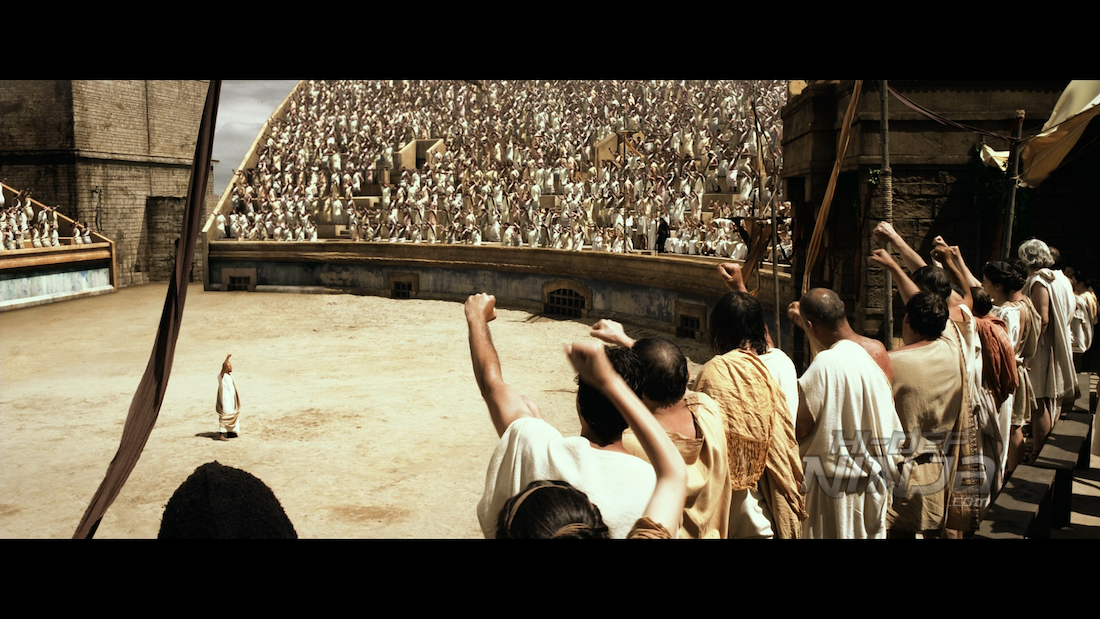 SUPPLEMENTS & PACKAGING
-Audio Commentary: with Kellan Lutz and Director Renny Harlin
-The Making of THE LEGEND OF HERCULES: This featurette is a basic making-of for the movie.
Disc Details
2-disc set w/ 1 4k UHD and 1 3D/2D Blu-ray
Digital copy
Slipcover in original release
Running Time
99 mins
Edition Ratings
Rated PG-13
Region Coding
Region A
4k UHD
Video Resolution
2160p HEVC / H.265
Aspect ratio: 2.40:1
Audio Mixes
English Dolby Atmos
English Dolby TrueHD 7.1
English Dolby Digital 2.0
Spanish Dolby Digital 5.1
French Dolby Digital 5.1
Subtitles
English SDH
Spanish
Blu-ray
Video Resolution
1080p AVC/MVC MPEG-4
Aspect ratio: 2.40:1
Audio Mixes
English DTS-HD Master Audio 7.1
Spanish Dolby Digital 5.1
English Dolby Digital 2.0
Subtitles
English SDH
Spanish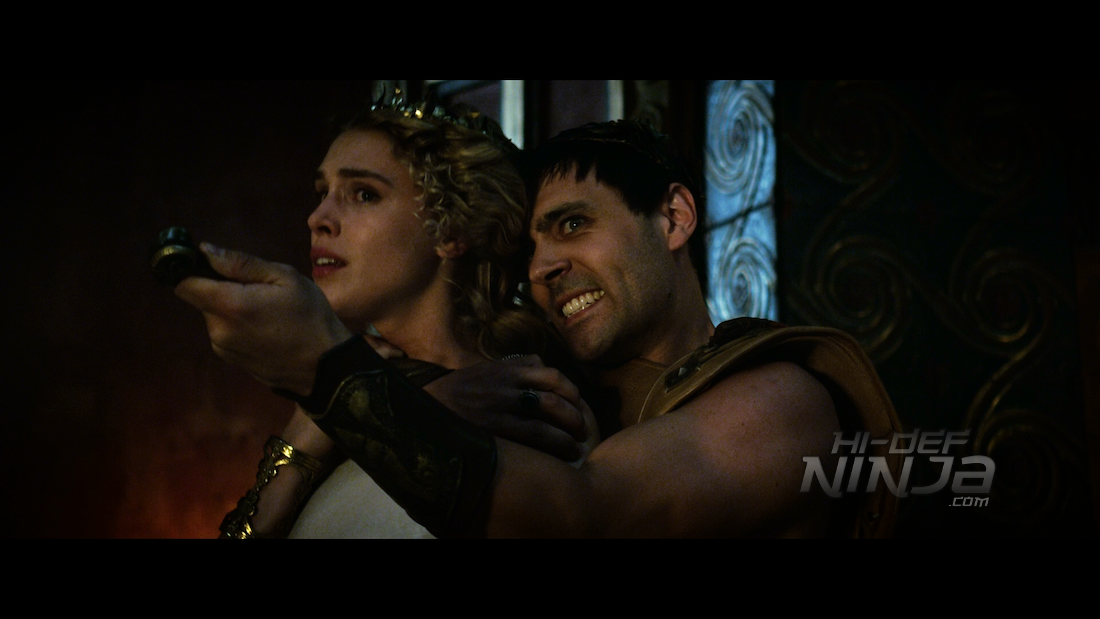 THE BOTTOM LINE:
THE LEGEND OF HERCULES is not the strongest movie about the mythological hero with some plot issues and CGI problems. The acting was also on the weaker side. The 4k UHD has a strong transfer but the audio track is great. This is the same with the Blu-ray transfer in both categories as well. The extras could be stronger with only a commentary and EPK. Overall, if you're a fan or looking to pick this up for the first time, pick this up but if you're on the fence, maybe rent it first.