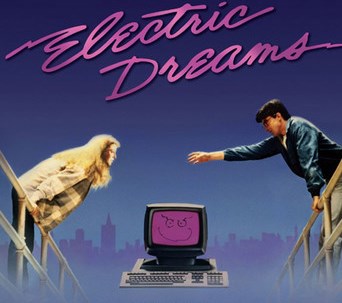 Once upon a time there lived a handsome architect named Miles (Lenny Von Dohlen). he owned a user-friendly computer named Edgar (Bud Cort). Miles was in love with the fair Madeline (Virginia Madsen), the beautiful cellist who lived upstairs. Unfortunately, so was Edgar. and Edgar would do anything to have Madeline to himself: lock Miles out of his apartment. Bounce his checks, even call the police. The instruction booklet didn't cover this one. Miles was in big trouble!
If I'm being honest, I had never even heard of this film until the PR arrived in my inbox. It's never one that popped up on my radar but when I read into it and watch the trailer (and found out the theme song was a favourite of mine), I was surprised that it hadn't for all these years! So going in with knowing very little about the film, I found Electric Dream to be an absolute delight to watch. The film is a very quirky and light hearted love story that features a very vibrant energy to it which shows in the cinematography and a superb soundtrack provided by the legendary Giorgio Moroder. the two leads, Lenny and Virginia, both give a fantastic and light hearted performance which supports the film throughout. The use of technology throughout the film was also a joy to watch as well as Mile integrates his house with Edgar's then advanced programming and technology in 1984. Considering that is quite the norm these days, it was funny to see how it was interpreted back then. Apart from one slight musical montage which I found a bit lacking, Electric Dreams was an enjoyable nostalgic romp that comes recommended.
Electric Dreams arrives on Blu-ray with a 1080/24p MPEG4-AVC codec that preserves the film's original 1.85:1 theatrical aspect ratio. the box art touts this release as a 'new restoration'. I cannot confirm if Second Sight have indeed, an existing master and completed some touch up work on it (which they do from time to time and I have asked them). However, the image on display here is more than acceptable for this film. Considering this is a product of 1984, the film might not be as slick as some other restorations (extensive or otherwise) of other films from that time and might look a tad rough round the edges from time to time but the image features a natural filmic look with a healthy amount of grain courtesy of the 35mm film stock used and colours, whilst not popping out of the screen, are nicely rendered along with skintones that don't look to hot or cold.
Electric Dreams comes with a LPCM 2.0 audio track that preserves the film's original Dolby Stereo mix. For all accounts, the audio mix is very good and gives some weight to the film's pop-orientated soundtrack and when the mix is opened up with Pro-Logic, the music blends into the rear speakers quite nicely. LFE doesn't get used very much apart from a few beats here or there but jumps into brief action to remind you that it's been on during the film. Regarding dialogue and the general sound mix (which mainly sits at the front of the soundstage, it does get a tad restrained from time to time due to limitation in the source recording but dialogue is clear throughout and there are no hiss or crackle heard.
– 'Is This A Story?' – new interview with director Steve Barron
– 'Electric Dreaming' – new Interview with writer / co-producer Rusty Lemorande
– 'Miles And Madeline' – new interviews with stars Lenny von Dohlen and Virginia Madsen
– First pressing matte Slipcase with spot gloss treatment

So Electric Dream was quite a nice little surprise in all honesty. It's not one I would of personally picked up based on face value but giving it the 93 minutes, it was well deserved! The Blu-ray release from Second Sight is great and goes the extra mile with packaging and supplemental features. The AV quality isn't exactly top tier but is perfect enough for anyone who wants to give this little slice of 80's fun a go. Recommended!