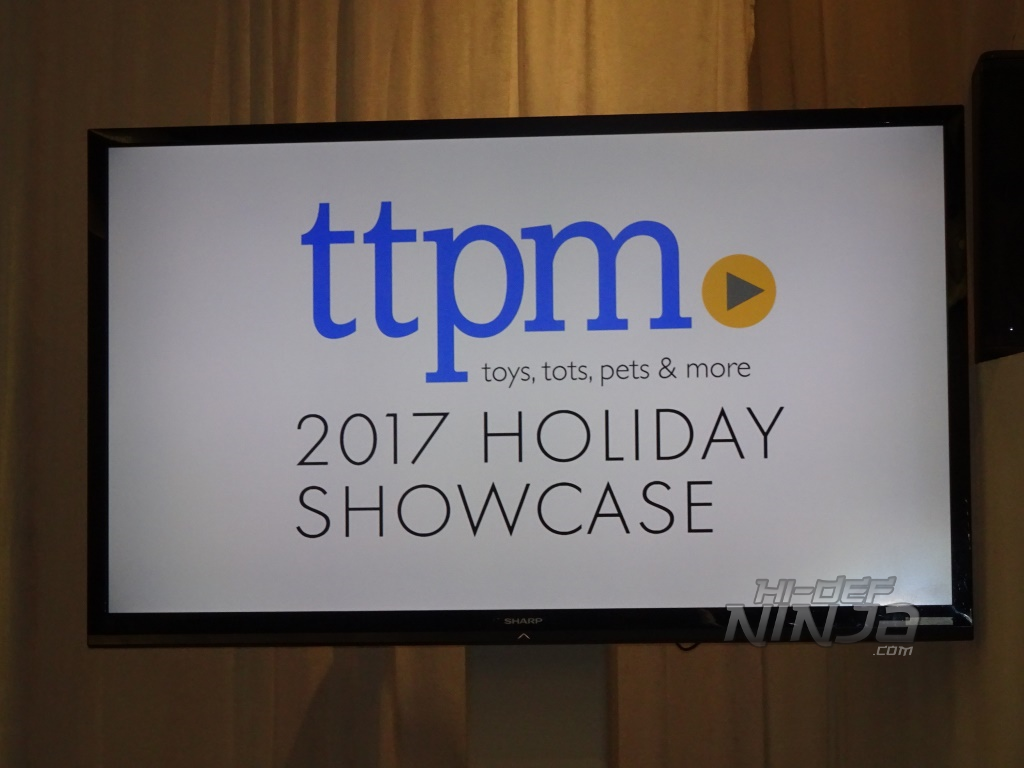 Toys, Tots, Pets, & More (ttpm) held their Holiday 2017 show today in New York revealing their picks for this holiday seasons hottest picks. For those not familiar with them ttpm is a site where purchasers can research the best toys for the best prices. It is the only site that combines reviews (written and video) with live pricing comparisons, one-click purchasing, and product availability of major retailers. With their app shoppers can also make informed decisions when making purchases at the store or online, saving both time and money. For more info please visit their site: http://ttpm.com
As usual the show started off with an introduction this time by ttpm CEO Jim Silver going over trends in the industry. Also joining him on stage were Content Director Christopher Byrne, EVP/GM, Pet Content Director, Pet Toys Expert Andy Krinner, and Senior Editor Laurie Leahey to unveil ttpm's picks for this holiday season's hottest toys. Jim mentioned a few interesting facts about trends in purchases including that they are seeing an uptick in sales, over the last few years, when a movie releases onto Blu-Ray than when it hits the theaters. Also of note is that the consumer is willing to pay a higher price point for a better quality more tech product as well as something we ninjas already know – packaging of the product makes an impression.
Below I will focus on their hot picks I feel are more relevant to Hi-Def Ninja but for a full list of the Holiday 2017 most wanted toys please follow the link to the ttpm site: https://ttpm.com/mostwanted/
The hottest picks were broken down into a few categories:
Innovative Basic Play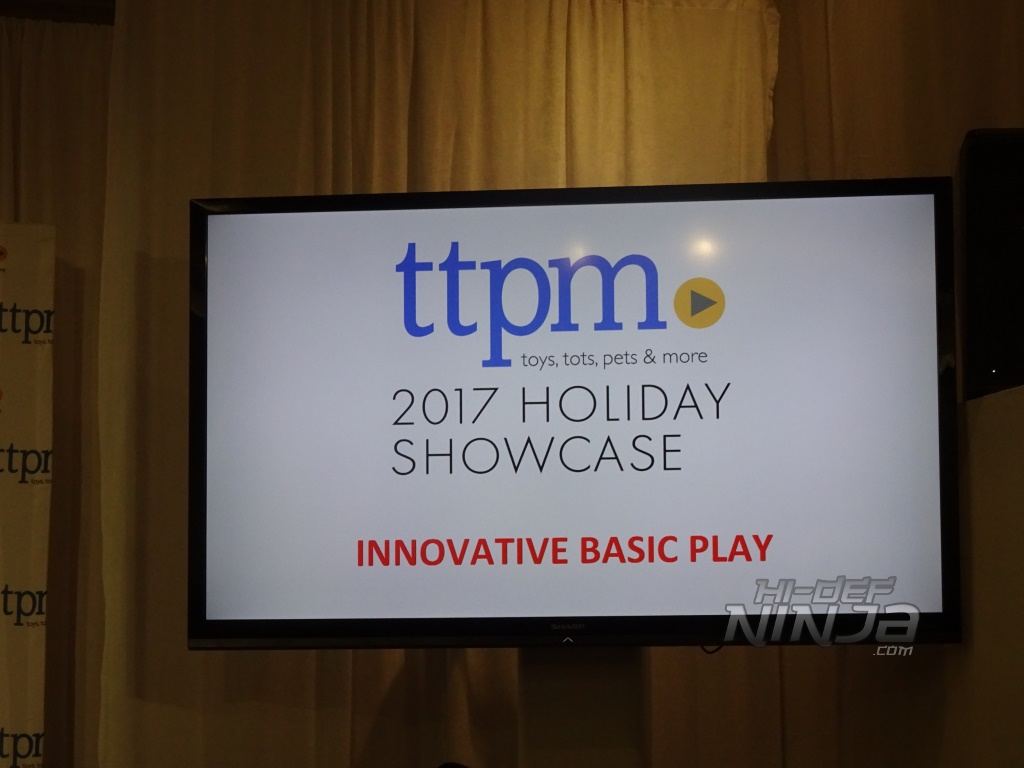 Hasbro – Nerf Nitro Motofury Rapid Rally
This blaster combines Nerf fun with car play! Using their foam cars with innovative blasters, these toys take toy car play to a new level.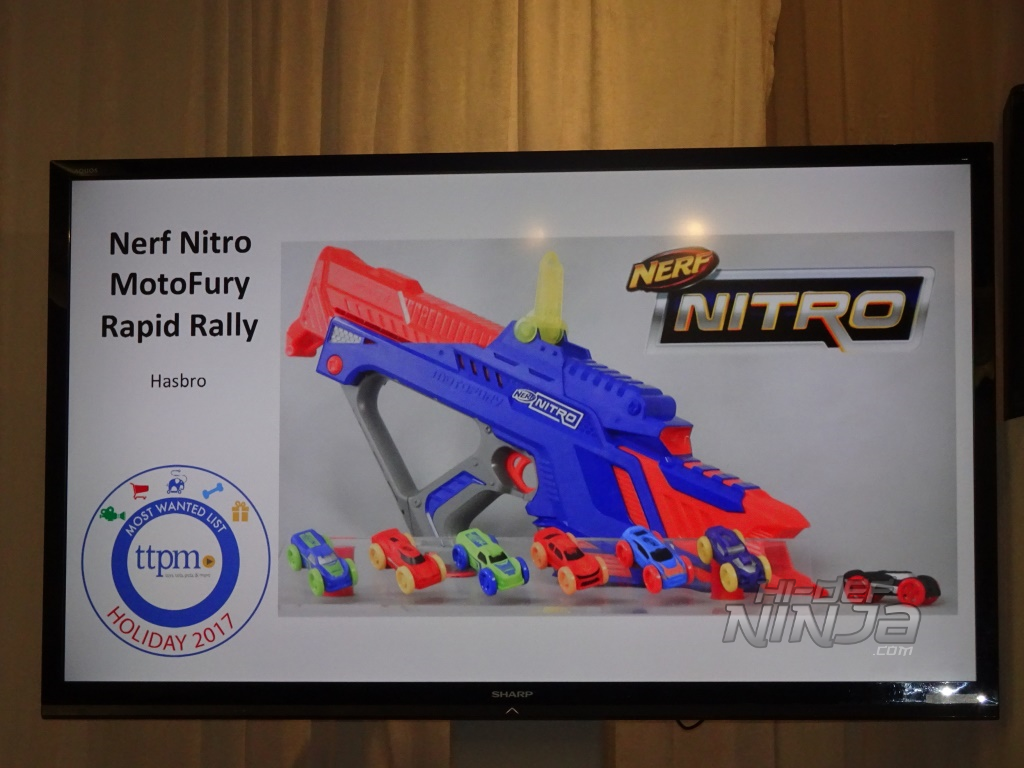 Star Wars (YES! Star Wars got its own section)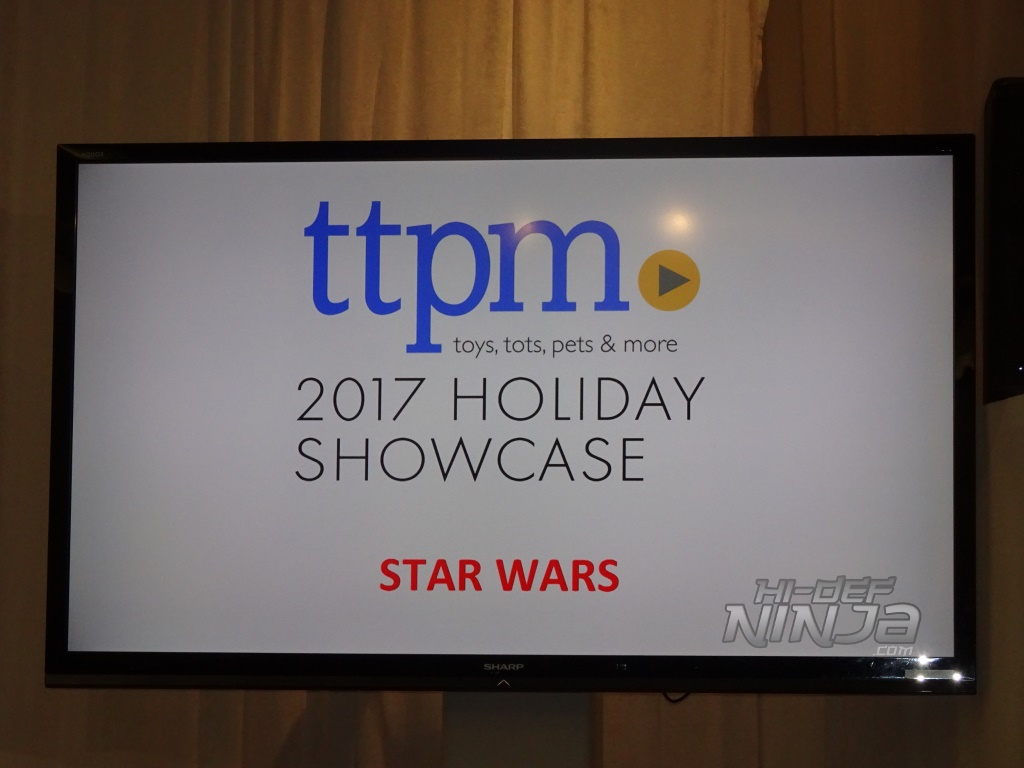 Hasbro – Star Wars The Black Series Rey (Jedi Training) Force FX Lightsaber
The Black Series version of their lightsaber line are of the highest quality and feature real F/X lights and sounds. The newest edition in the line is Rey's Jedi Training Lightsaber.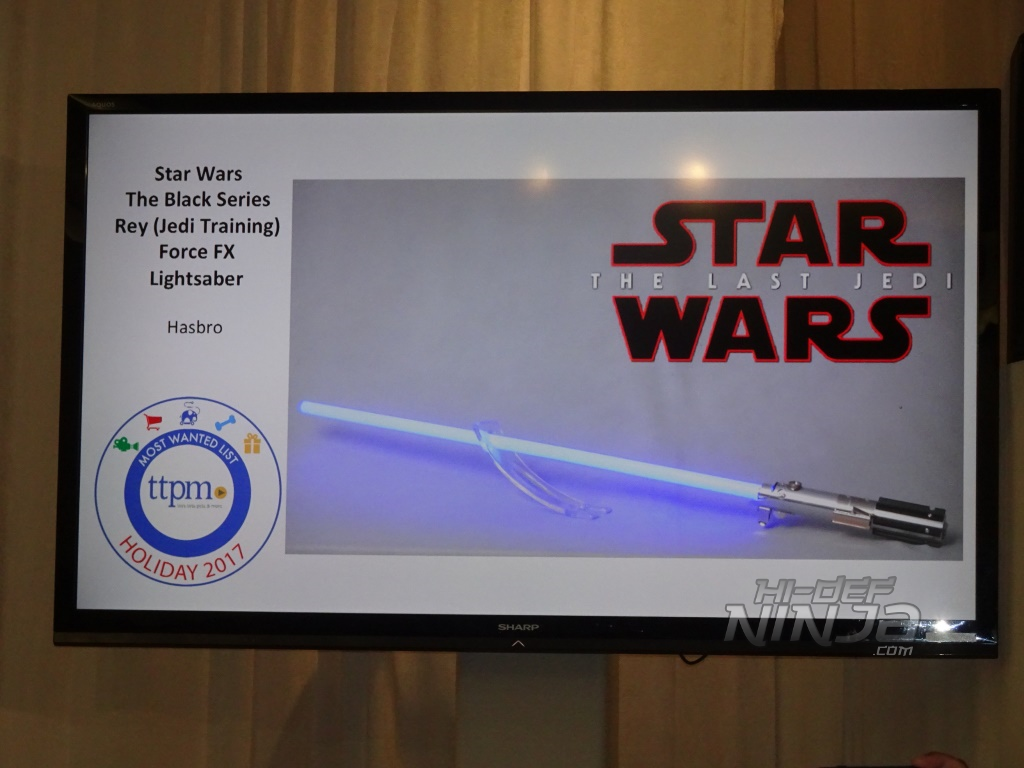 LittleBits Inc. – Star Wars Droid Inventor Kit
Not quite your Sphero R2D2. This company lets you build your own customized droid and then program and play! Including proximity sensors and DC and Servo motors this is the ultimate STEM toy for a growing or grown Star Wars fan all at an affordable price.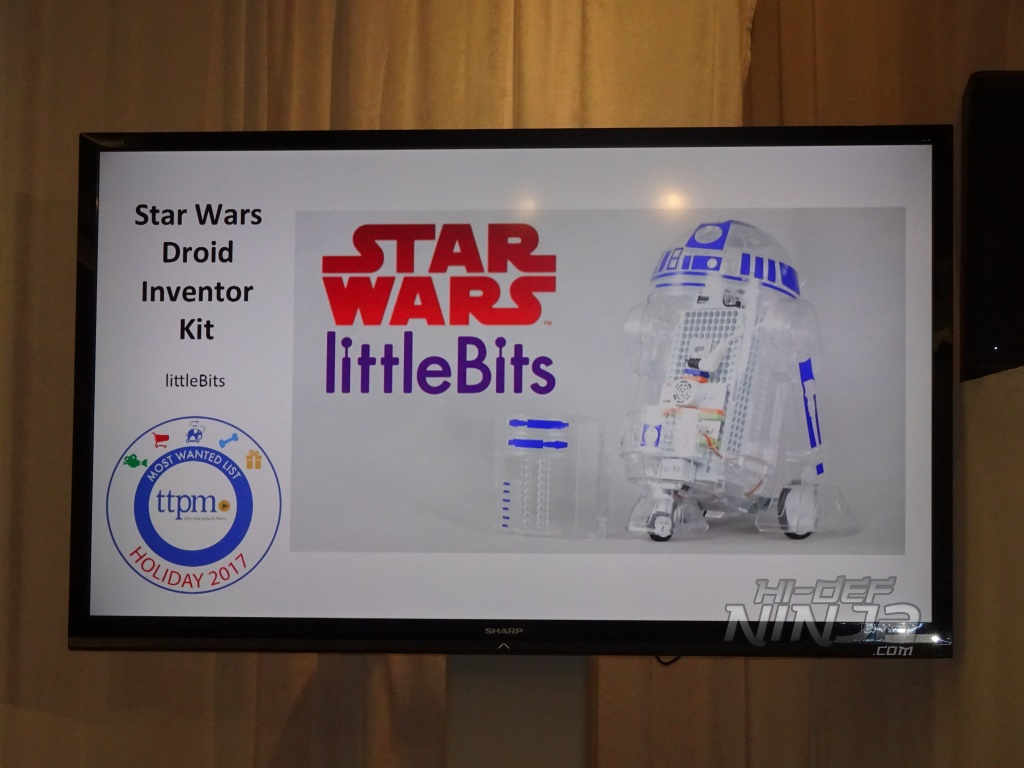 Spin Master – Star Wars Hero Droid BB-8 Full Interactive Droid
Shown off at Toy Fair for the first time in 2016 this BB-8 is the largest of the bunch in the toy market and features a follow you mode as well as a remote control.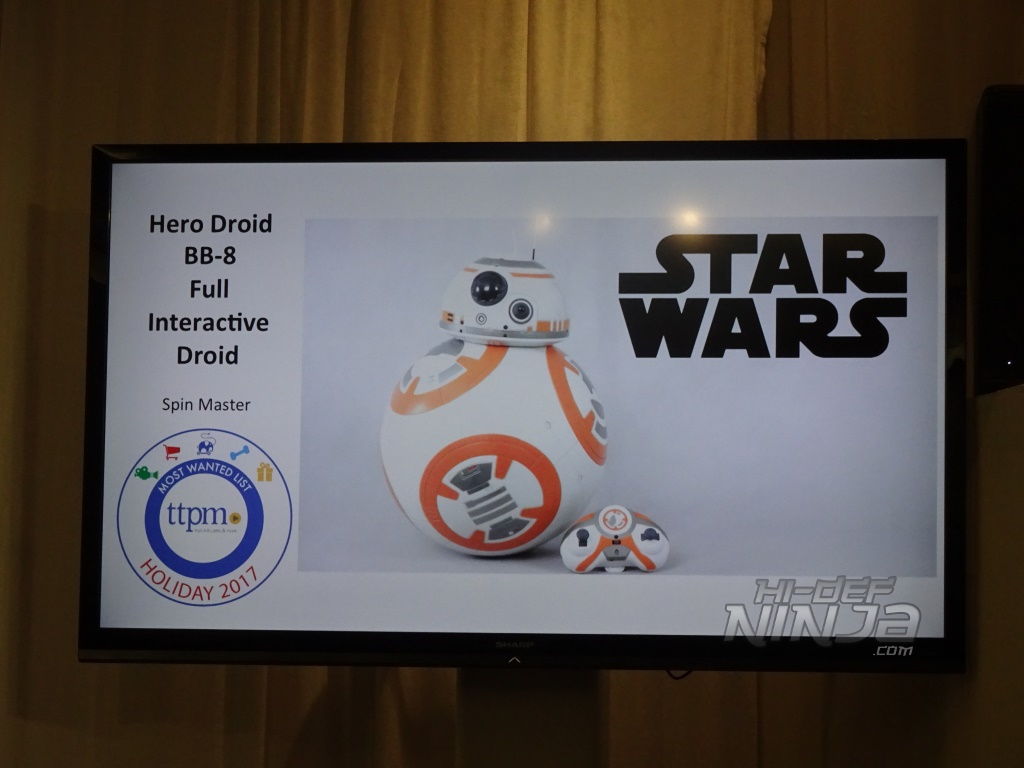 High Tech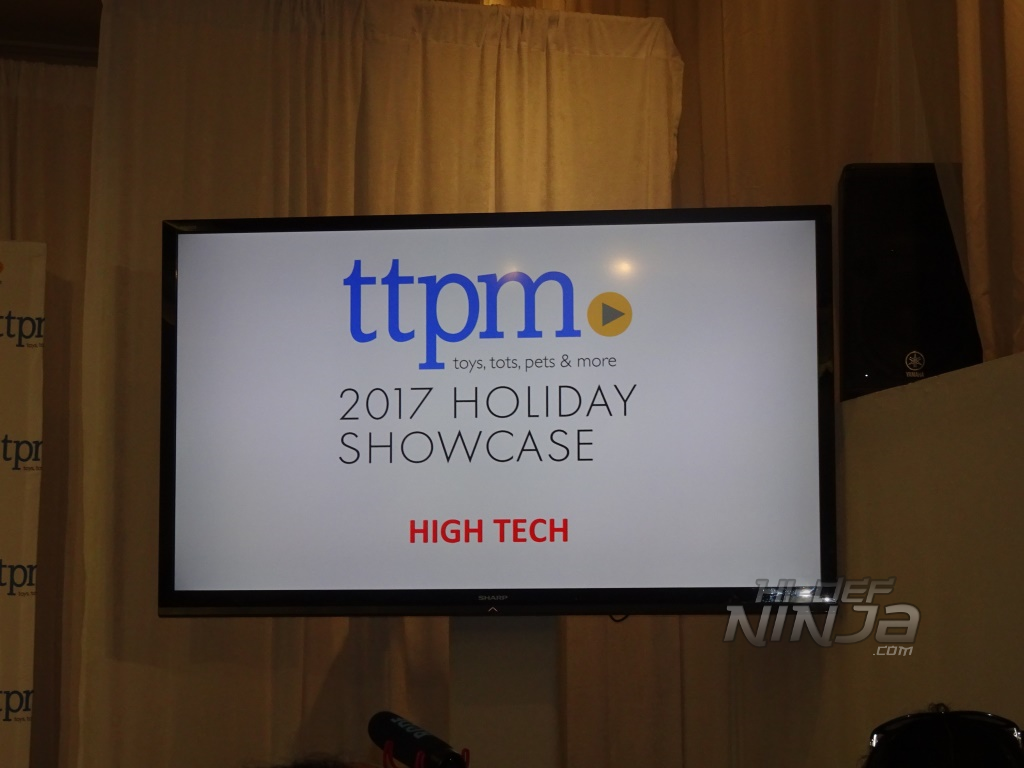 Hasbro – DropMix
Just shown of at HasCon this product just hit shelves. By Harmonix creators of Rock Band. The game uses cards that are placed on top of a game board that is connected to a mobile device via an app. Each card can have a part of a song such as drums, guitar, or vocals. By combining cards onto the game board the game will mix each component of the song and create a unique sound. Innovative technology brings the music—and the fun to solo or party play.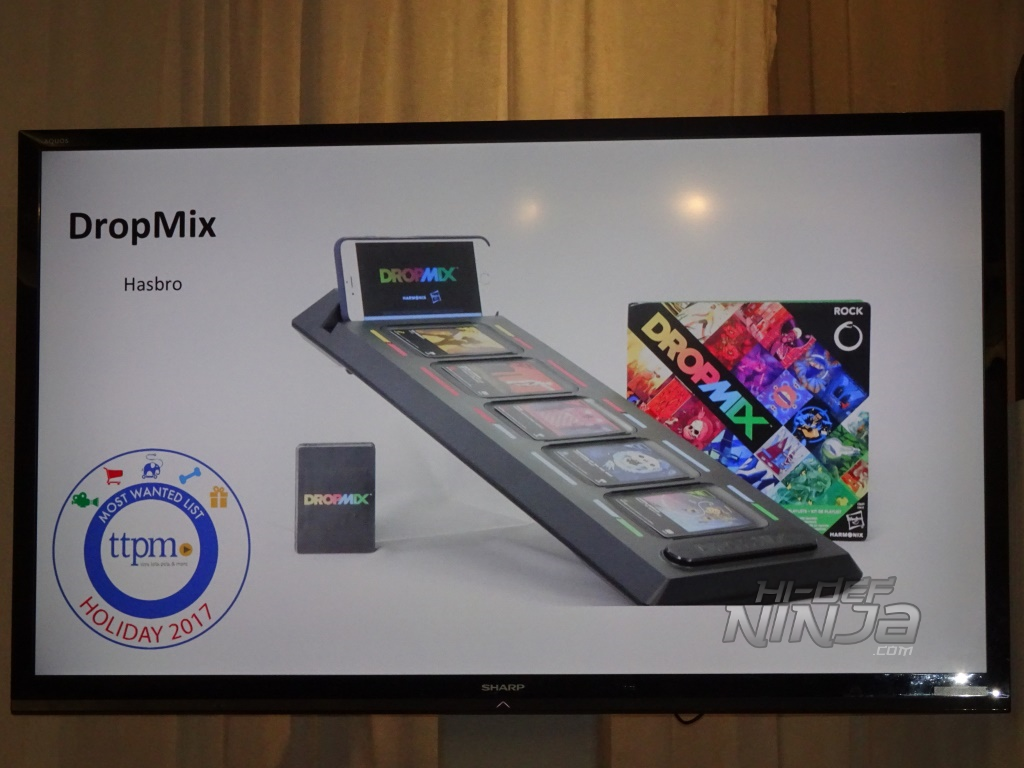 Nintendo – Nintendo Switch
This console lets you go mobile to TV in the blink of an eye. The system features some of the hottest games from Nintendo with some great graphics. With interactive two-person gaming, new games and adaptations of classic it is easy to see why ttpm chose this as a must-have item.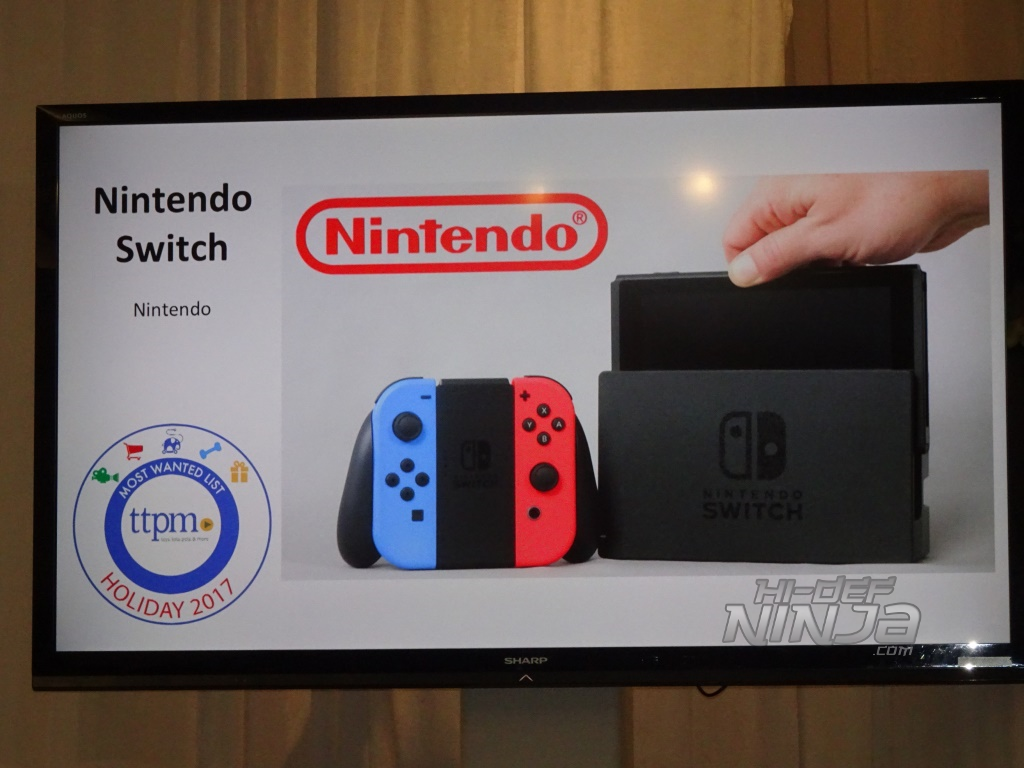 LEGO – LEGO Boost
Designed for kids 7-12, Lego Boost allows children to build, program and play (similar to the Mindstorms line) with this amazing robotics kit. It introduces coding and more in a dynamic, elegantly designed environment.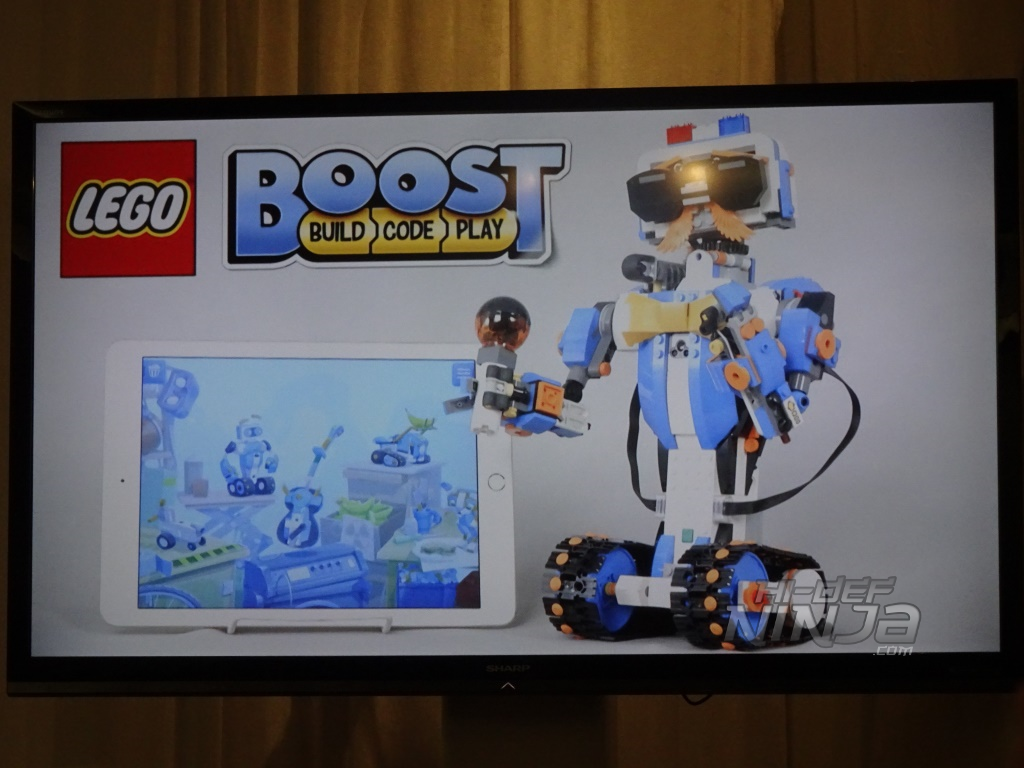 A showing of all the ttpm picks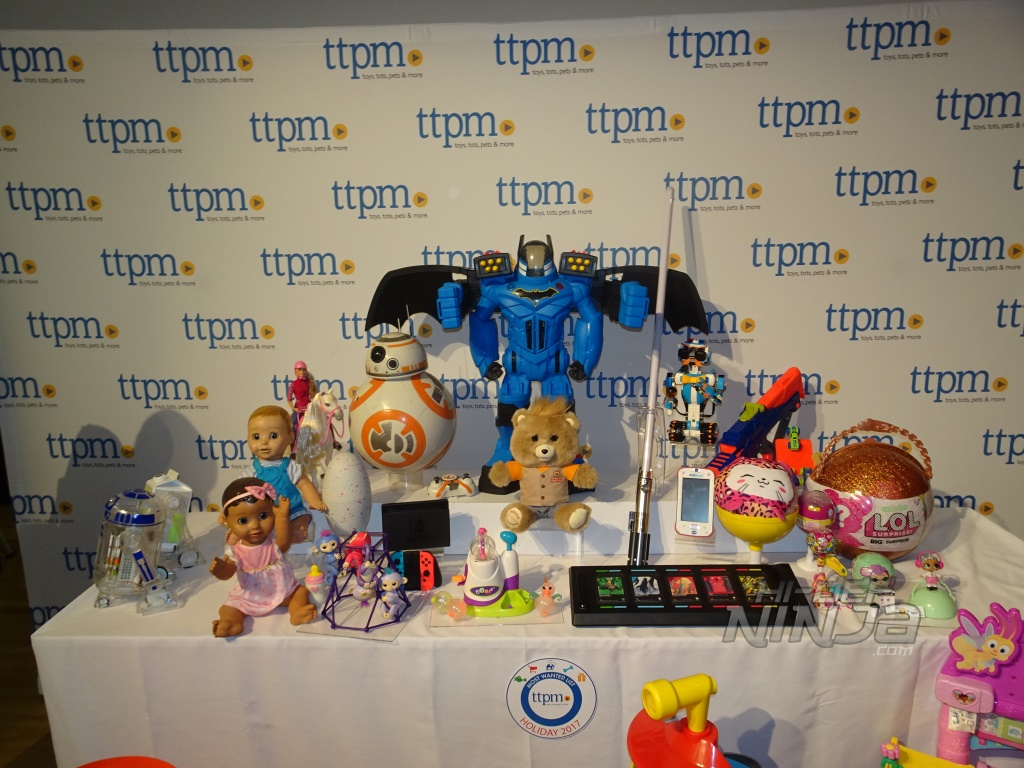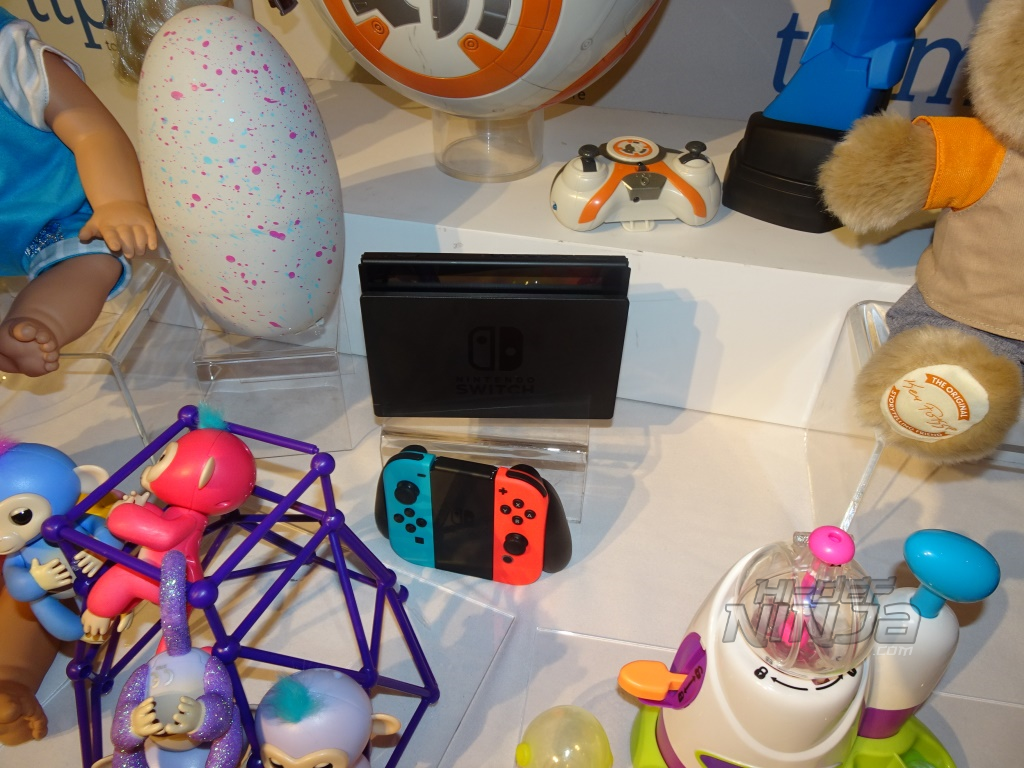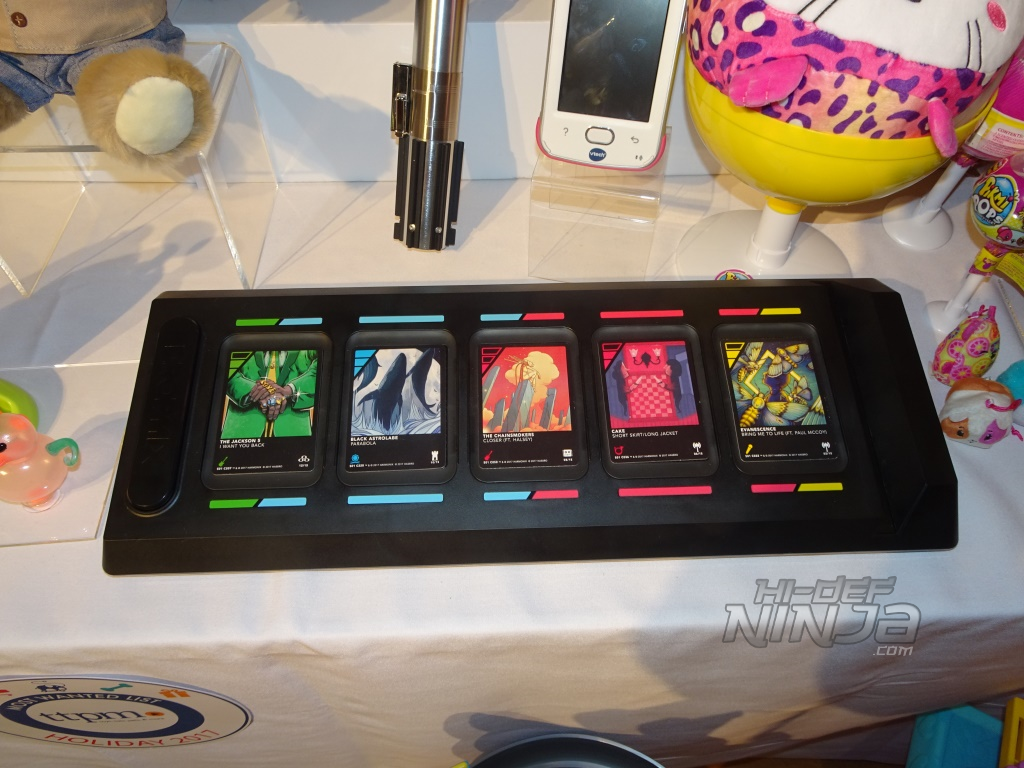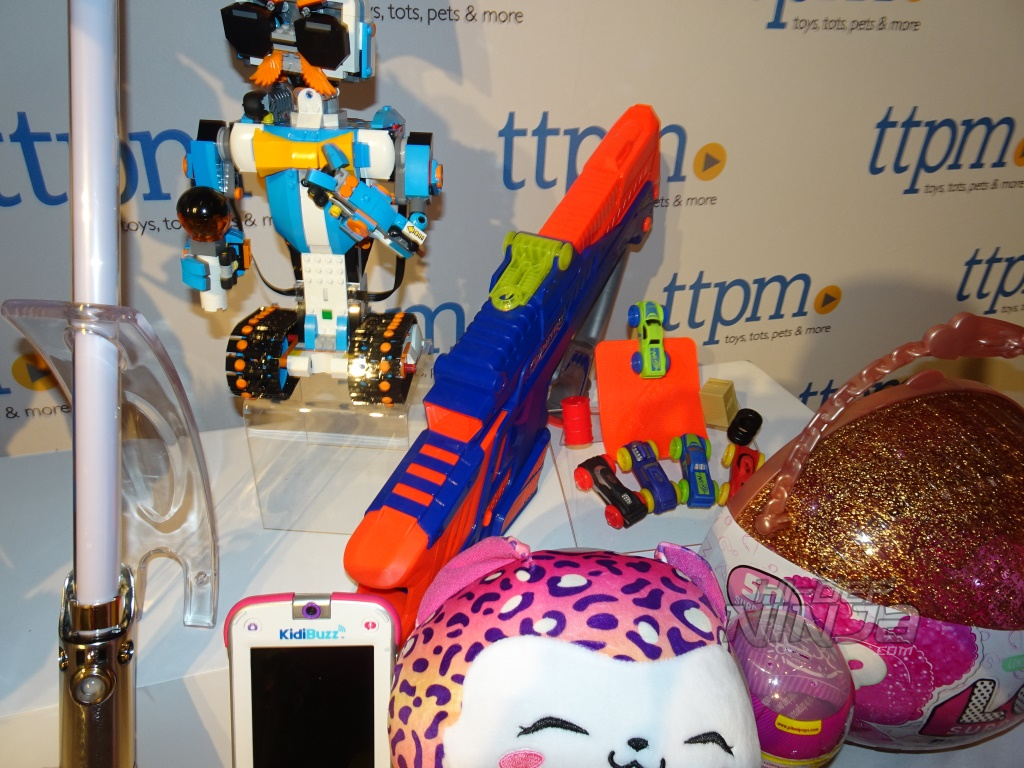 That's about all I will cover from the hot picks for the holiday season but again feel free to pop over to the ttpm site to see the full list.
So what else did Hi-Def Ninja cover while we were there? Some of our favorite companies including Hasbro, Lego, Mattel, Disney, Jakks Pacific, Universal, Nickelodeon, and more. The show is held in a smaller studio so companies do have limited products on display, but in any case let's move forward!
Hasbro
Coming off HasCon recently there was not much new to see however it is always good to see the Hasbro people and products. Also as mentioned above three Hasbro items made the list for hottest items this season.
Nerf Dog Tennis Ball Blaster
What would a showcase that features pets be without some pet items. From Nerf Dog is a tennis ball blaster that as you guessed it lets you shoot a tennis ball for endless hours of enjoyment for your pet!
Lego
Lego also made the ttpm hot toys list with their LEGO Boost figure, but the big reveal was a new 4,000+ piece Joker Manor set to be released on Black Friday.
Lego was also kind enough to send over some extra photos and information about this set.
The Joker™ Manor is packed with iconic details from the movie and cool functions, including a rollercoaster track and train with 3 cars (each with a minifigure seat) encircling the whole building, a huge buildable The Joker head with trapdoor and slide, punching boxing gloves, a rocking 'The Joker' sign, rotating 'big eye' tower with lever-operated iris to 'look' up and down, and 2 wheel-operated punching boxing gloves. It features a grand entrance flanked by 2 buildable bombs with translucent spark-style elements.
The interior includes a cinema room with a romantic DVD element, kitchen with buildable microwave plus lobster and lemon-slice decorated tile elements, living room with a buildable grand piano, fireplace and bust, swimming pool room, and a music studio with guitar element and buildable mixing desk and loudspeakers.
Build this magnificent manor and then recreate your favorite scenes from the movie with 10 included minifigures – The Joker™, Batman™, Barbara Gordon, Harley Quinn™, Nightwing™, Alfred Pennyworth™ Classic Batsuit, Disco Batman™, Disco The Joker™, Disco Batgirl™ and Disco Robin™.
The set releases on Black Friday exclusively at Lego stores and will retail for $269.99
Mattel
Mattel was on hand with the release of some of the Justice League figures. Some of the figures contain voice action that say phrases and can interact with one another when in proximity to one another. Also showcased were two of ttpm's hot pick items the Hot Wheels Super Ultimate Garage and the Imaginext DC Super Friends Batbot Xtreme.
Disney
Disney was showing off a range of products from many of their licenses including the LittleBits Inc. Star Wars Droid Inventor Kit, Hasbro Star Wars figures and play sets, Elite Series Star Wars figures, a THOR: RAGNORAK Lego set, and the extremely cool Lenovo Jedi Training AR kit
Universal
Universal was on hand with some branded products from Trolls, Spirit, DreamWorks Voltron, Despicable Me 3, and Fast & Furious series. The two items of note were the Voltron Legendary Defender Ultimate Voltron 14" Electronic figure and the Voltron Action Figure Assortment and the insanely cool Anki Overdrive: Fast & Furious Edition featuring high-tech robotic Supercars including Dom's Ice Charger and Hobbs' MXT. The set features a app to control the vehicles and allows you to build up to eight battlefields in seconds with durable magnetic track pieces which are also compatible with all accessories from the Anki Overdrive universe.
Cartoon Network
Showcasing products from Ben 10, Steven Universe, and Rick and Morty, Cartoon Network has the market on cool. Eagle eyed fans will notice the Cryptozoic Games, Funko Pop! Vinyl Figures and McFarlane construction sets.
Spinmaster
As mentioned above the premier item from Spinmaster was the remote controlled BB-8 which I've covered at Toy Fair and previous ttpm showcases.
From their Meccano line were two products. First up is the Meccano M.A.X, the most advanced Meccano robot to date. Drawing on advanced robotics technology, M.A.X. combines Artificial Intelligence (AI) learning and customizable programming to create a one-of-a-kind personal companion. Infrared (IR) navigation and customizable apps bring M.A.X. to life with almost limitless potential for personalization and interactivity. The Meccano MeccaSpider features app control and venom attack. MeccaSpider also has an interactive personality and built-in games to keep the whole family entertained.
Also shown off were their Air Hogs Micro Race Drone, this indoor drone is equipped with flight assist technologies such as beginner and advanced mode, height lock, automatic take-off, and auto-land or go with the Air Hogs DR1 FPV Race Drone, this First Person Viewing drone features auto-takeoff/ landing, barometric pressure height lock and beginner/advanced modes make flying effortless for any level of pilot.
FAO Schwarz
The old toy store was back with lots of exclusive novelty train sets, drones, bears, and even nutcrackers. Special shout out to their super cool giveaway at the show – a musical nutcracker
Playmobil
PLaymobil had their Ghostbusters products on display as well as their How to Train Your Dragon Toothless. Some really nice sets for the kids.
Jakks Pacific
Also for the kids are the Justice League and Star Wars Big Figs. These larger-than-life figures include seven points of articulation and highly-detailed features perfect for kids.
Skyrocket Toys
A tech entertainment company that had both VRSE experience toys and drones, including the earlier released SPIDERMAN: HOMECOMING drone. Reveled for this show was their RECOIL first person shooter AR game. RECOIL turns any outdoor space into a digitally enhanced, multiplayer battlefield. RECOIL is defining a new category of AR competitive game play outside. You can choose from a variety of FPS-inspired multiplayer modes, including Team Deathmatch and Search & Destroy. The starter set comes with a Wi-Fi Game Hub with a 500 foot range, 2 RK-45 Spitfire blasters with Phone Mounts, 2 Damage Sensors, and 8 AR Tags. Check more out about this immersive Laser Tag meets FPS game at https://www.theworldisnowgame.com
HEXBUG