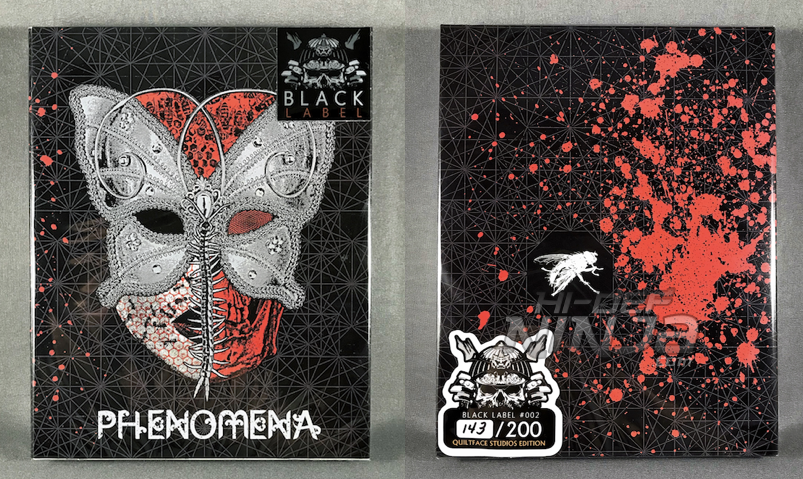 Hi-Def Ninja, along with Synapse Films, released the Black Label Edition #002 of the PHENOMENA SteelBook. This is one of Dario Argento's best movies and also one of Jennifer Connelly's earliest films. There are two versions that collectors and fans can choose from featuring artwork by The Dark Inker and Quiltface Studios. Either way that you choose, they both include the Blu-ray, DVD, and the CD of the soundtrack. The edition is limited to 200 units. They are hand numbered with the official Black Label stickers on the outside. I have taken some in-hand photos of the Quiltface version with the striking reds and deep blacks in the artwork.
The limited edition challenge coins are awarded at random. They are deeply black with bright accents that really stand out. The edition also has metallic ink in both the screen-printed art cards (I'll get to them in a bit) as well as the slipcase.
The title on the slip case cover as well as the spine is embossed and the fly on the back is debossed. There is also beautiful spot glossing all over the case. When you take the SteelBook out of the slipcase, the words "Evil is Alive and Killing" are hidden under the items. It is a cool little extra that I wasn't expecting at all.
There is a black HDN envelope with three art cards inside. The Black Label logo on the front looks very cool in a larger size and the back has the blue HDN logo. Each card has some unique art that represents the film and the edition well. The reds are bright and the details on it are very nice.
The SteelBook itself has a glossy finish with all black for the background. Jennifer Connelly is featured in an angelic pose on the cover with the title and bright, purple electricity coming from the hands on the front. Everything pops. The back cover has another look of Connelly with a handful of her friends. The spine has the Synapse Films logo and the title with a small image at the top.
The inside has a grouping of flies on the left side and insane but meaningful art on the opposite side.
Overall, this is an awesome edition with great artwork, extras, and a unique flare that can be expected if you know the movie well enough. It fits well with the Black Label #001 (TENEBRAE) and just wait until the SUSPERIA edition from HDN arrives…
There is only few copies of PHENOMENA left and they'll be at this year's MondoCon with the Hi-Def Ninja crew.