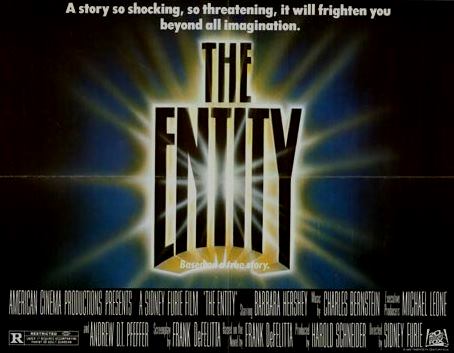 Something is after Carla Moran. It wants her soul. It wants her body. There's no stopping it. And there's nowhere to run. The Entity has come for Carla (Barbara Hershey). She doesn't know what it is or why it has chosen her, but she is the victim. It torments her in her bedroom. It attacks her in her friend's home. It even seizes control of her car while she's behind the wheel and almost kills her. But The Entity won't kill Carla. Because it has other things in mind for her….
The Entity was one of those late night horror flicks that I caught on Bravo in my early teens and one that I had seen a few times in my young adulthood as a 'well good horror' film and liked the VHS / DVD cover because it featured boobage. Now that I've matured in my old age of 35, I was keen to give this film another go with a refreshed set of eyes so I jumped at the chance when HDN offered me a copy to review it.
What I viewed now compared to what I viewed then was a totally different beast. The film really got under the skin with its subject matter and the whole sexual assault angle was much more frightening than its jump scares that were peppered throughout the film. Even the first half of the film which goes into goes into detail about Carla's incestrious relationship with her father during her shrink visits were unsettling to hear. At one point watching the film, even I was convinced that the events she were going through were in her head before it goes into slightly Hollywood territory for its third and final act.
Eureka presents The Entity on Blu-ray with an MPEG4-AVC 1080/24p encode which preserves the film's original 2.35:1 theatrical aspect ratio. The picture quality itself is leaps and bounds above the DVD versions previously released. Even though it's not demo material, the transfer here is strong throughout and doesn't suffer from any distracting defects or anomalies like compression issues or banding, DNR or edge enhancement and retains a filmic quality throughout. The film was originally shot on 35mm using Panavision anamorphic lenses which can cause a slight softness to the finer detail itself but benefits from the wider scope of the frame which was used to great effect by the DoP to create a sense of unease by using different camera angles. Colours don't exactly pop but are nicely refined here as well.

Eureka only supplies a single audio option for this release and that being an English DTS-MA 5.1 audio mix. The film was originally mixed in Dolby Stereo for 35mm and Dolby six track for the 70mm release so the mix is presumably derived from the 70mm audio mix that was prepared. The mix is mostly front and centre throughout. Dialogue is placed solely in the centre channel. It can sound a bit restrained in some places but not too distracting. The rears do get a bit of action with the odd direction effect making an appearance but it's used mainly to open up Charles Bernstein's superb score. The LFE also comes to life as well during the attack sequences thanks to some harsher music being deployed.

Original theatrical Trailer

Eureka's Blu-ray debut of The Entity is welcomed on British shores but sadly fails to deliver on any bonus features (the Australian Blu-ray recently released managed to conjure up some stuff) so you might want to think twice about forking out full price for it but the AV quality is pretty good for one of the more intelligent horror films to come out of the 80's.