The Movie

The Video

The Audio

The Supplements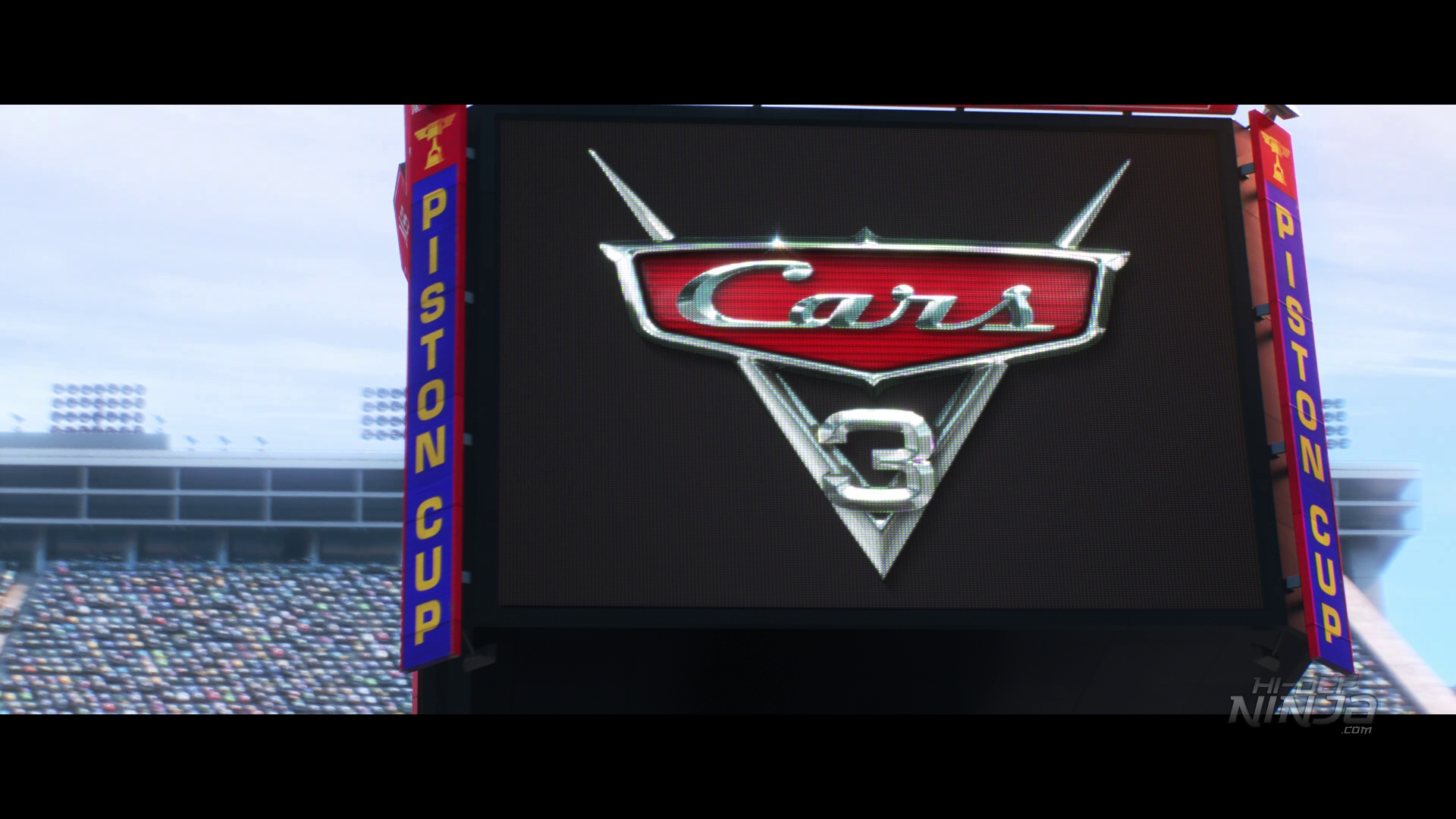 The unconventional but disappointing CARS 3 sports one of the best 4k/Blu-ray experiences of the year.
NOTE: Our images were captured from the Blu-ray version.
By Matt Cummings
Do brand recognition and quality usually go in hand? Not in the case of the CARS franchise: arguably their top merchandise money-maker is nowhere near the top of Disney/Pixar's critical list (think UP, THE INCREDIBLES, and WALL-E). The series finale does nothing to change our opinion, as CARS 3 feels as tired as Lighting McQueen looks against the competition. The home release is something very different, filled with an amazing animation, thunderous audio, and deep supplements.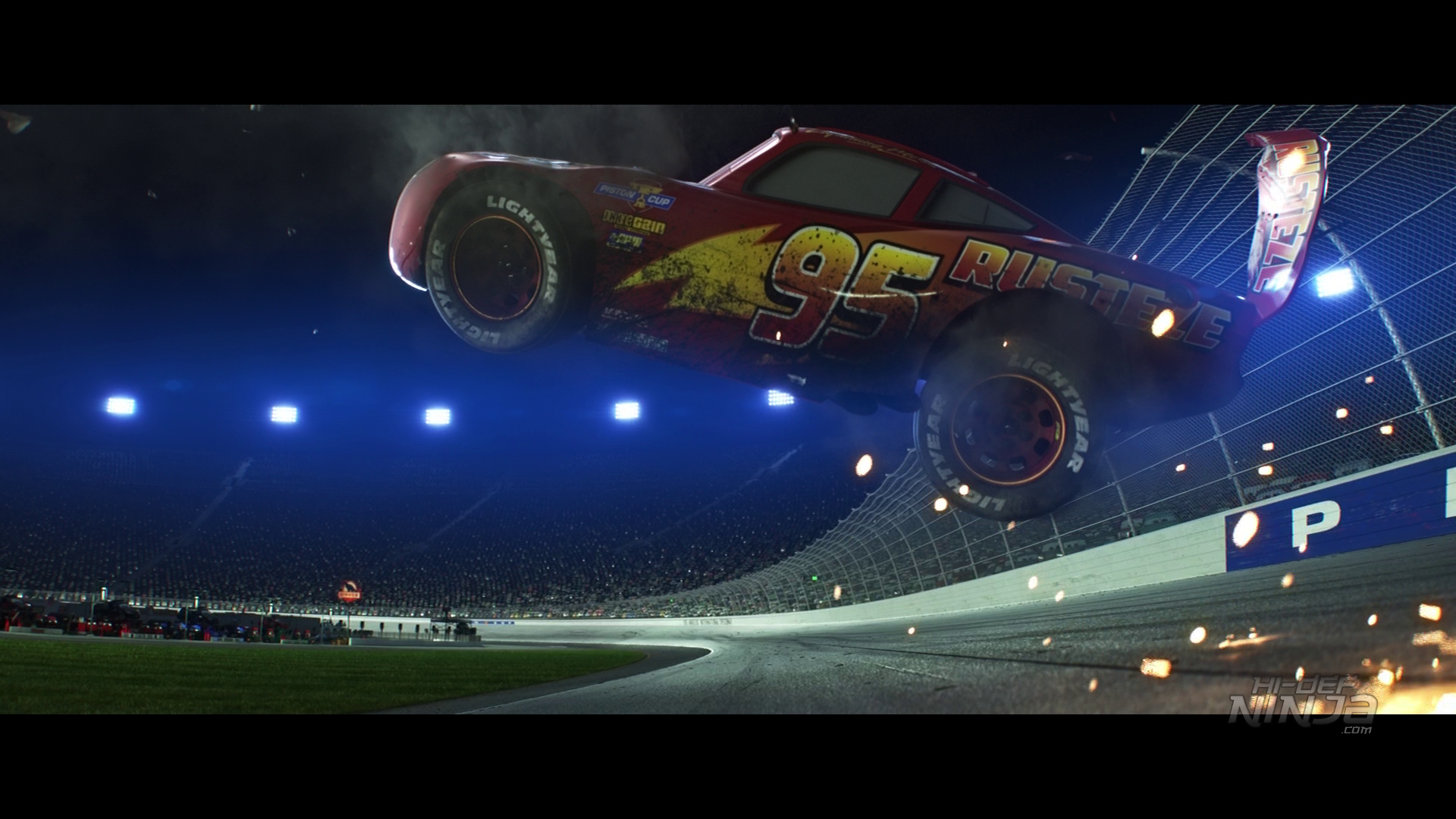 THE MOVIE
Lightning McQueen (Owen Wilson) continues to tear up the racing circuit, until the arrival of the new driver Jackson Storm (Armie Hammer) knocks McQueen off his top spot. Soon, the winning Storm is at the top, with McQueen barely finishing in the top 5. When he pushes himself too hard, McQueen crashes and is forced to re-imagine himself with a new team owner (Nathan Fillion), who brings #95 to a high-tech training facility. There, McQueen is paired Cruz Ramirez (Cristela Alonzo), a training car who uses mental hangups as positives to winning. But other forces are at play, centered around McQueen's inability to go faster. As he and Cruz attempt to change that, the two realize that Storm might be too tough to beat, and face a critical moment when one must hand off the wheel to other in order to keep the arrogant upstart from dominating week after week.
While I appreciate the creative direction that the team took here, the final result is flat and frankly disjointed. Still, it's great to see the inevitable replacement storyline here at work, because it doesn't end the way we think Director Brian Fee thinks. He's here to remind us that all of us get replaced, and the moment that it happens is bittersweet. Unfortunately, it's also not really well thought-out. For the first 1:30 of the movie, we're led down the road that McQueen will find a way to win. When he does/doesn't, that moment isn't given enough time to play out. For a film that spends so much time making the Cars world so much like our own, the 'ah-ha!' moment for McQueen is far too fast. That's because Fee frankly spends more time "Cars-ifying" this world than focusing on the actual plot and characters, bogging us down in suspension bridges that look like gaskets and environments made for cars. From the commentary, it's clear that the creative team spent a lot of time dropping all sorts of interesting Easter Eggs. Unfortunately, all of that comes at the cost of the story, which continues throughout the film, and it ultimately affects every character and their resolutions.
What made the original CARS so good was the interaction of the characters. McQueen's now-odd relationship with Sally (Bonnie Hunt) and the one-dimensional storyline of Storm do nothing to help us better appreciate the moment of transition that Team Fee has in store for us. Hunt and McQueen had great moments of clarity together, but Hunt is relegated to just a few scenes. There's also a menagerie of characters that get so little screen time – but seem to figure into this world – that you'll need a spreadsheet to keep track of them. If one thing is consistently great throughout this franchise has been its stellar animation. There's incredible seaside and desert imagery, little pieces of asphalt on the road, and the motion of the races themselves is harrowing. With this chapter of CARS headed to the garage, it's too bad things had to end as flat and familiar as they do. And yet, it's clear this chapter of CARS will reveal a cheaper one, as Wilson is already replaced in the supplements by voice actor Keith Ferguson. It's ironic to see this change happening internally, but for CARS 3 it's just part of the plan. And for the most part, this plan doesn't work as effectively as it could.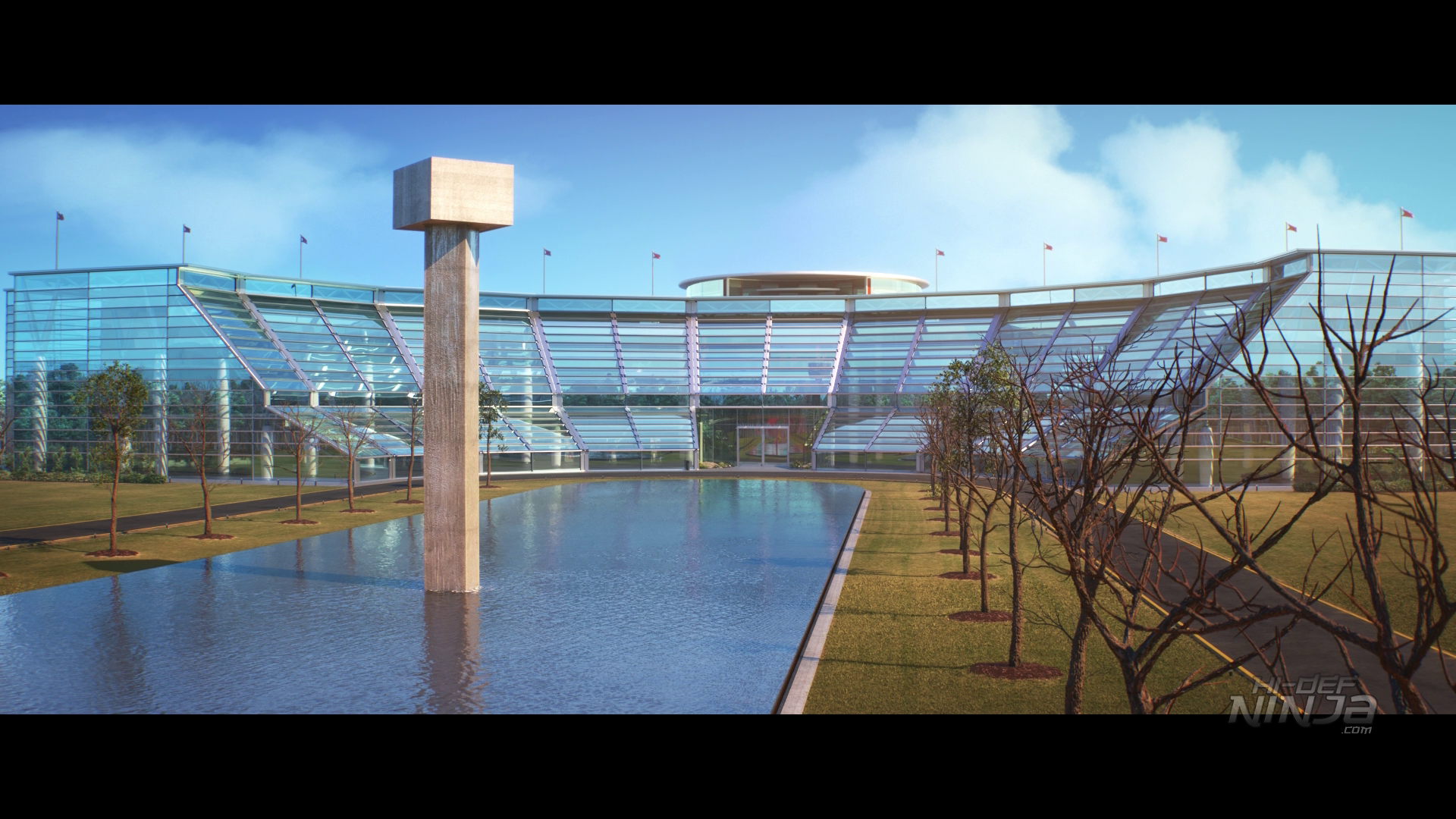 THE VIDEO
Disney/Pixar's production of CARS 3 is arguably the best video transfer of the year. The 4k (HEVC H.265) and Blu-ray (MPEG-4/AVC) transfers are fantastic, filled with incredible depth and gorgeously appointed with rich color. Vehicles of every imaginable color race past us, with flat grays playing well with metallic and glossy ones. Yellows and reds pop, earth tones are supple, and blacks show off tons of depth through shadows. The beach scenes are lifelike, displaying "expenseive water" – as Fee mentions in the commentary – and it's all worth it. Chipping paint on older cars balance with the TRON-like sleekness of Storm's BMW-inspired ride, while mud, lighting, tire tracks and even clouds are rendered with perfect results. Blacks and shadows – check out the sequence near 55:00 – blend effortlessly. This sort of animation transfers very well to the digital space, even if there's very little manufactured grain inserted.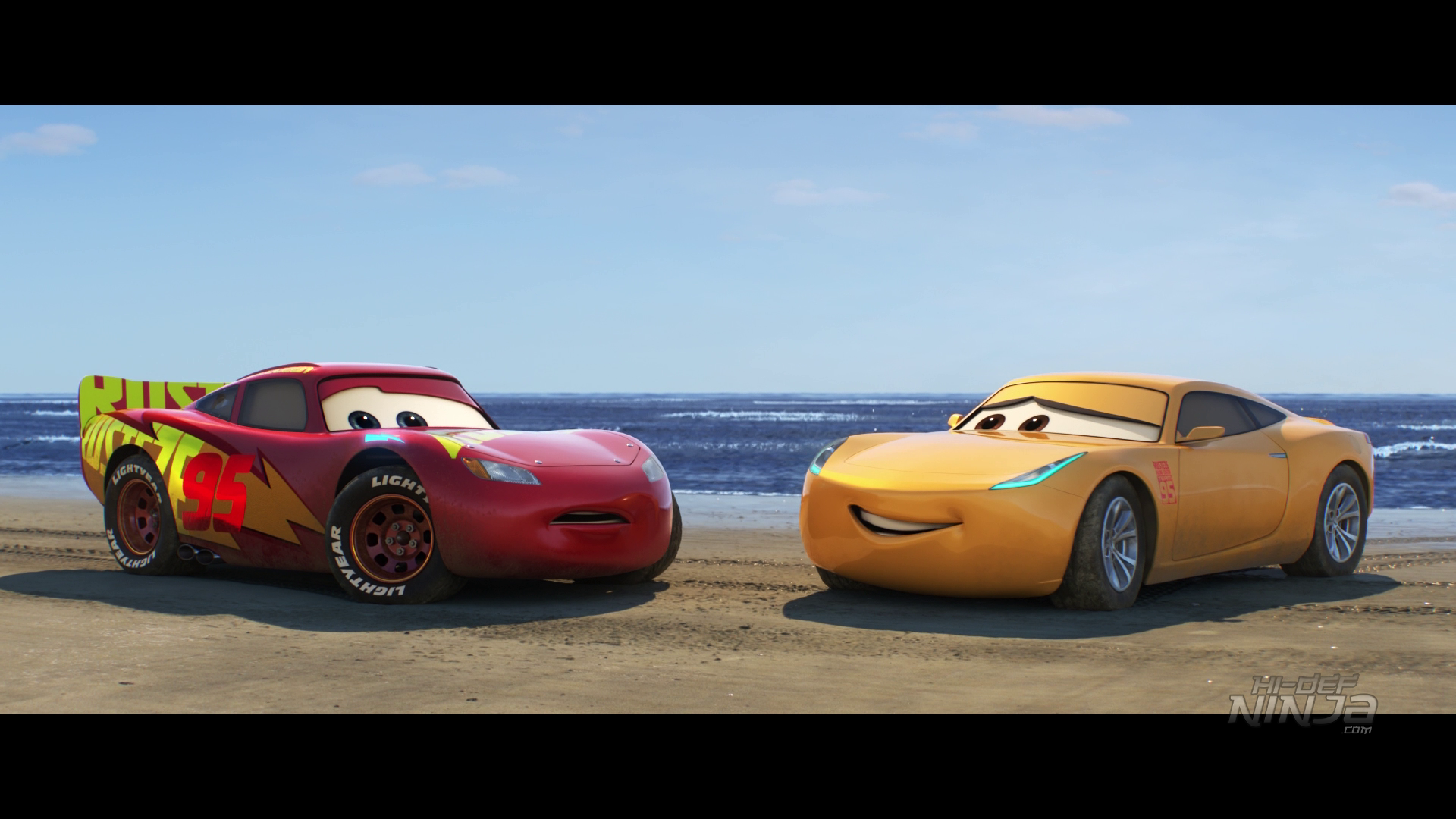 THE AUDIO
Disney/Pixar continues to impress with its audio release for CARS 3, both in its 4k and Blu-ray releases. There's no Atmos here, instead offering a DTS-HD Master Audio 7.1 and 5.1 lossless soundtracks. The results are big, bold, intense, and dynamic. From the roar of engines to the well-publicized crash near film's beginning, the track treats every sequence like a chance to show itself off. Racing sounds move left to right with perfect precision, with tons of additional sounds like crowd noise erupting from the surrounds. The score by Composer Randy Edelman echoes throughout all 4 speakers, while the dialogue in the center channel is always clear and easy to hear. 100:37 Speaking of the surrounds, you also get small environmental noises as well, from the beachside training session and during McQueen's trip to meet Smokey. Their movies might miss the mark on occasion, but Disney always seems to deliver in its audio. The results here are top shelf.
THE SUPPLEMENTS
CARS 3 contains an extensive array of extras across two Blu-ray discs. The feature is housed on the first disc, which also contains several featurettes. Everything here is presented in HD.  Starting with Disc One:
Lou (6:43): A wonderful short film about a grade school bully that's actually better than most of the feature.
Miss Fritter's Racing Skoool (2:48): A commercial about old cars hoping to get their automotive mojo back.
Ready for the Race (5:40): Hendrick Motorsports sets the stage for real-life driver William Byron as he shares his passion for racing with a younger Disney television star.
Cruz Ramirez: The Yellow Car That Could (7:46): Several of the film's crew take a look at look at creating the franchise's newest character.
Audio Commentary by Director Brian Fee, Producer Kevin Reher, Co-Producer Andrea Warren, and Creative Director Jay Ward: The commentary is a mix of team sit-down and pre-recorded thoughts, and that decision makes everything more slick than the conversational style that commentaries are supposed to encourage.
And then it's on to Disc Two, which begins with a five-part feature called Behind the Scenes.
Generations: The Story of Cars 3 (11:20): Director Fee leads a discussion on the challenges of making a sequel and the way a new challenge is fabricated to send McQueen off.  If you stick around long enough, you'll get an interesting discussion on how the ending of the film changed and how we all go through the feeling of obsolescence.
Let's. Get. Crazy. (7:41): 

Lea DeLaria (Miss Fritter) and the creative team take us through t

he Thunder Hollow race sequence and its characters.
Cars to Die(cast) For (5:21): Of course, CARS 3 s about product placement, and this featurette takes us through the dizzying amount of die-casts which were created for the movie.
Legendary (11:22): We learn how the filmmakers used the origins of NASCAR to lend a greater sense of reality to the story.
World's Fastest Billboard (5:30): One of the great elements of this franchise, we learn about the various very cool graphics used to bring this car-based world to life.
Fly Throughs: A stunning three-part series that takes us though some of the film's key locations.  environments. We get Thomasville (1:10), Florida International Speedway (0:37), and Rust-Eze Racing Center (0:56).  These are truly excellent.
My First Car: Another three-part section where the cast and crew discuss their first cars.  We get A Green Car on the Red Carpet with Kerry Washington (1:53), Old Blue (1:21), and Still in the Family (2:16).  Again, this is some of the best content on this second disc.
Deleted Scenes (26:17 total): With an introduction by Director Brian Fee, we learn how the plot changed throughout the film.  These unfinished sequences include The Boogie Woogie, Lug Nuts, Jars of Dirt, The Bolt, and More Than New Paint.
Trailers: Crash — North America Teaser (0:56), Icon – North America Trailer (2:33), Theatrical Payoff – Japan Trailer (2:02), All New – International Teaser (0:31), and Rivalry – Global Trailer (2:10).
Promos: A two-part sequence, we get Cars D'oeuvres (4:27), which shows off each selected moments of each character set behind a black background and Car Reveals, a trio of brief commercialized close-ups of Lightning McQueen (0:39), Cruz Ramirez (0:41), and Jackson Storm (0:39).
Our evaluation copy arrived as a 4k/Blu-ray Combo pack, which also contains a digital copy of the film. There's no interior artwork, and the new-style slipcase is distinctly meh. At the time of this posting, several versions were available including a Best Buy steelbook.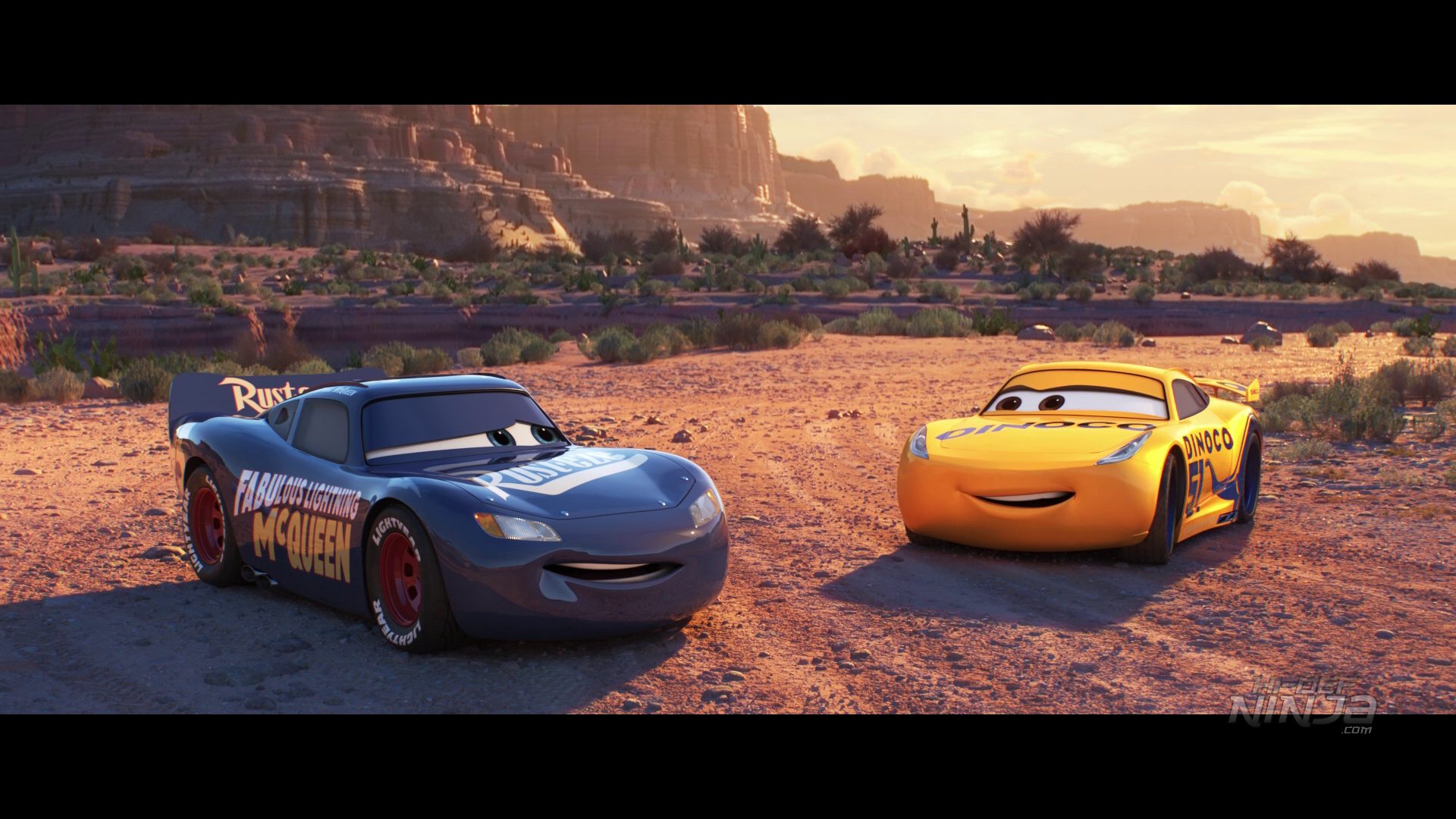 THE BOTTOM LINE
CARS 3 tries very hard to conclude this chapter but misses executing the personal story of retirement and moving on. There's so many winks and nods here about NASCAR that the core story – in fact the most important scene of the film – is unnecessarily truncated. Based on the poor reception this and the previous film received, it's likely this franchise is headed down a similar road as McQueen's. Luckily the home release is a perfect encapsulation of doubling-down regardless of box office receipts: it's perhaps the best release of the year, sporting a deep set of supplements and delivering gorgeous visuals and thunderous audio. Based on our uncertain political times, it's great to see another movie about women stepping up and men seeing their potential to do so. It's just too bad that the results here come off as so flat.
CARS 3 is rated G and has a runtime of 102 minutes.