On December 5th, Paramount Pictures will be releasing the rest of the TRANSFORMERS movies on 4K UHD. The latest, THE LAST KNIGHT, is already out in the format and the covers will all match up for collectors. Here is the info and the ordering links for the movies: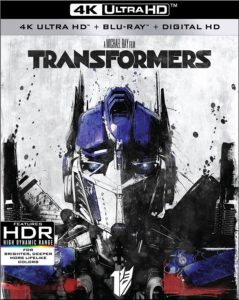 TRANSFORMERS
3-DISC 4K UHD / BLU-RAY COMBO PACK W/DIGITAL COPY
Street date: December 5, 2017
Order your copy from Amazon
Synopsis: Just in time for holiday gift-giving, Paramount will be releasing all of the blockbuster Transformers films on 4K UHD. Filled with eye-popping action and stunning visuals, these films deliver the kind of entertainment experience that absolutely engulfs you. Watching them on 4K UHD quite literally transforms home viewing into something more immersive and more visceral than ever before.
Audio & Subtitles:
4K UHD
English Dolby Atmos, English 5.1 Discrete Dolby Digital, English 2.0 Discrete Dolby Digital, French 5.1 Dolby Digital, Spanish 5.1 Dolby Digital, Portuguese 5.1 Dolby Digital & English Audio Description
English, English SDH, French, Spanish & Portuguese Subtitles
Blu-ray (Disc 1)
English 5.1 Dolby TrueHD, French 5.1 Dolby Digital & Spanish 5.1 Dolby Digital
English, English SDH†, French, Spanish & Portuguese Subtitles
Blu-ray (Disc 2)
English Dolby Digital
English, French, Spanish & Portuguese Subtitles
Special Features:
4K
Commentary by Director Michael Bay
Blu-ray (Disc 1)
Commentary by Director Michael Bay
Transformers H.U.D. (Heads Up Display)
Blu-ray (Disc 2)
Our World
The Story Sparks
Human Allies
I Fight Giant Robots
Battleground
Their World
Rise of the Robots
Autobots Roll Out
Decepticons Strike
Inside the AllSpark
Transformers Tech Inspector
More Than Meets The Eye
From Script to Sand: The Skorponok Desert Attack
Concepts
Easter Eggs
_________________________________________________________________________________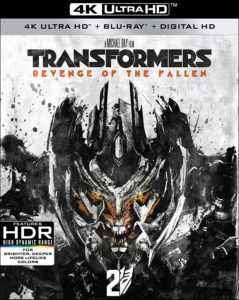 TRANSFORMERS: REVENGE OF THE FALLEN
3-DISC 4K UHD / BLU-RAY COMBO PACK W/DIGITAL COPY
Street date: December 5, 2017
Audio & Subtitles:
4K UHD
English Dolby Atmos, English 5.1 Discrete Dolby Digital, English 2.0 Discrete Dolby Digital, French 5.1 Dolby Digital, Spanish 5.1 Dolby Digital, Portuguese 5.1 Dolby Digital & English Audio Description
English, English SDH, French, Spanish & Portuguese Subtitles
Blu-ray (Disc 1)
English 5.1 DTS-HD Master Audio, French 5.1 Dolby Digital & Spanish 5.1 Dolby Digital
English, English SDH†, French, Spanish & Portuguese Subtitles
Blu-ray (Disc 2)
English Dolby Digital
English, French, Spanish & Portuguese Subtitles
Special Features:
4K UHD
Commentary by Michael Bay, Roberto Orci & Alex Kurtzman
Blu-ray (Disc 1)
Commentary by Michael Bay, Roberto Orci & Alex Kurtzman
Blu-ray (Disc 2)
The Human Factor: Exacting Revenge of the Fallen
A Day with Bay: Tokyo
25 Years of Transformers
NEST: Transformer Data Hub
Deconstructing Visual Bayhem with commentary by pre-vis supervisor Steve Yamamoto (multi-angle)
Deleted/Alternate Scenes
Easter Eggs
The AllSpark Experiment
Giant Effing Movie
Linkin Park – New Divide
The Matrix of Marketing
_________________________________________________________________________________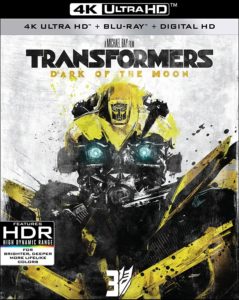 TRANSFORMERS: DARK OF THE MOON
3-DISC 4K UHD / BLU-RAY COMBO PACK W/DIGITAL COPY
Street date: December 5, 2017
Audio & Subtitles:
4K UHD
English Dolby Atmos, English 5.1 Discrete Dolby Digital, English 2.0 Discrete Dolby Digital, French 5.1 Dolby Digital, Spanish 5.1 Dolby Digital, Portuguese 5.1 Dolby Digital & English Audio Description
English, English SDH, French, Spanish & Portuguese Subtitles
Blu-ray (Disc 1)
English 7.1 Dolby TrueHD, English 5.1 Discrete Dolby Digital, English 2.0 Discrete Dolby Digital, French 5.1 Dolby Digital, Spanish 5.1 Dolby Digital, Portuguese 5.1 Dolby Digital & English Audio Description
English, English SDH†, French, Spanish & Portuguese Subtitles
Blu-ray (Disc 2)
English Dolby Digital
English, French, Spanish & Portuguese Subtitles
Special Features (only on Blu-ray Disc 2):
Above and Beyond: Exploring Dark of the Moon
Uncharted Territory: NASA's Future Then and Now
Deconstructing Chicago: Multi-Angle Sequences
The Art of Cybertron
The Dark of the Moon Archive
The Matrix of Marketing
_________________________________________________________________________________
TRANSFORMERS: AGE OF EXTINCTION
3-DISC 4K UHD / BLU-RAY COMBO PACK W/DIGITAL COPY
Street date: December 5, 2017
Audio & Subtitles:
4K UHD
English Dolby Atmos, English 5.1 Discrete Dolby Digital, English 2.0 Discrete Dolby Digital, French 5.1 Dolby Digital, Spanish 5.1 Dolby Digital, Portuguese 5.1 Dolby Digital & English Audio Description
English, English SDH, French, Spanish & Portuguese Subtitles
Blu-ray (Disc 1)
English Dolby Atmos, English 5.1 Discrete Dolby Digital, English 2.0 Discrete Dolby Digital, French 5.1 Dolby Digital, Spanish 5.1 Dolby Digital, Portuguese 5.1 Dolby Digital & English Audio Description
English, English SDH†, French, Spanish & Portuguese Subtitles
Blu-ray (Disc 2)
English Dolby Digital
English, French, Spanish & Portuguese Subtitles
Special Features (only on Blu-ray Disc 2):
Bay on Action
Evolution within Extinction The Making of TRANSFORMERS: AGE OF EXTINCTION
Just Another Giant Effin' Movie
A Spark of Design
T.J. Miller: Farm Hippie