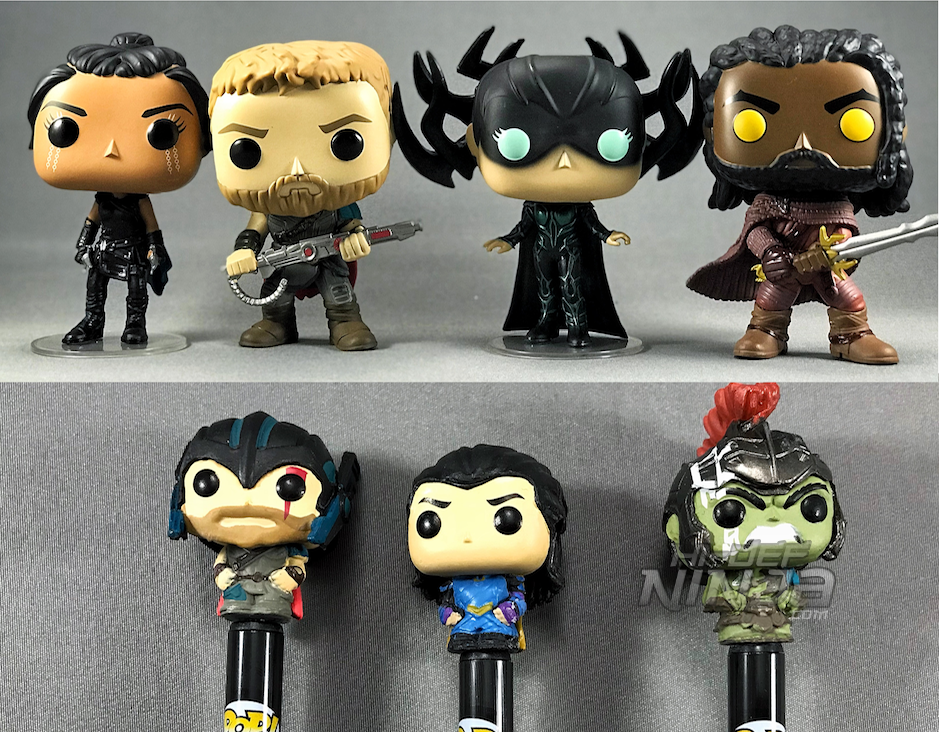 A Funko THOR: RAGNAROK Collectibles review provided by Entertainment Earth
Marvel's THOR: RAGNAROK POP! Pens

Thor Ragnarok Thor Gladiator Suit Pop! Vinyl Figure #240

Thor Ragnarok Hela Masked Pop! Vinyl Figure #243

Thor Ragnarok Heimdall Pop! Vinyl Figure #245

Thor Ragnarok Valkyrie Scavenger Suit Pop! Vinyl Figure #244
Entertainment Earth has sent over some new items to be reviewed from Marvel's THOR: RAGNAROK.  There is a set of the POP! Pens that haven't been released yet and POP! Figures that are available on Entertainment Earth's site now. 
Marvel's THOR: RAGNAROK POP! Pens:
Funko has been making these POP! Pens for quite some time and the first experience that I had with them was a Chewbacca from a Smuggler's Bounty Box.  With the display case, you get 16 pens and that breaks down 8 Gladiator Hulks, 4 Gladiator Thors, and 4 Lokis.   They are miniaturized versions of the full sized POP! Figures minus the stabby weapons or shields.  The headsculpts are pretty tight but with the bodies being so small, its harder for details and painting to be as good.  These have both the POP! and THOR: RAGNAROK logos against the black on the pen.  But hey, these are writing utensils and to have your favorite character staring at you while taking notes or filling out a order form for a new collectible, they're really nice.  
Marvel's THOR: RAGNAROK POP! Figures
The POP! Figures include Thor, Hela, Heimdall, and Valkyrie.  
Thor Ragnarok Thor Gladiator Suit Pop! Vinyl Figure #240
The Lord of Thunder or Sparkles is in his gladiator gear minus his helmet.  He has the Sakaar rifle ready to mow down whoever stands in his way of getting back to Asgard.  The headsculpt has his short haircut with the odd, choppy zigzags in his hair that were put there by his "barber".  This figure has a lot of layers with parts attached to his armor.  The right side has the single-shouldered cape with the turquoise Sakaar armor on his left side.  He is also sporting his cool intricacies of his armor, his gauntlets, and knee covers.  He looks cool and would be great on display.    
Thor Ragnarok Hela Masked Pop! Vinyl Figure #243
The Goddess of Death is in her fighting gear.  She has on her large headdress that Funko tackled very well by using layers of "sharp" shapes to build it up to make it look like the costume in the film.  The paint is a matte black with her glowing eyes to have the look of when she uses her powers.  Her green/black costume is to look like the mesh material with the different cuts and designs from her shoulders to her feet.  The paint is glossy with the green having a metallic shimmer.  By keeping the slender look, they made sure to ship her out with the clear, disc stand.  It always makes sense to include these even if the figure can stand on its own. She is very cool for her debut figure.  
Thor Ragnarok Heimdall Pop! Vinyl Figure #245
The keeper of the Bifröst (not so much anymore) has a much different look than his previous Asgardian armored look.  Starting from the top, his dreads as well as his beard are a matte finish and he has his signature glowing eyes.  He's in an action pose with his sword ready for a fight.  He is wearing a cloak and outfit that are a few shades of burgundy so it looks like the materials are different.  Nice little touches like the clasp for his cloak and samurai-like gauntlets give the figure some character.  The hilt of the sword as well as the blade has some cool details as well.  This figure, like the previous version, perfectly fits the character.  
Thor Ragnarok Valkyrie Scavenger Suit Pop! Vinyl Figure #244
Scrapper 142 used to be a protector of Asgard and this is her in the darker outfit from Sakaar.  She has the matte finished hair and they made her with the face paint designs. Her outfit is very similar to Thor's with the cape on the left side and it being the turquoise.   The rest is all black with the intricacies and small, silver accents on her breastplate as well as the gauntlets.  There are also small color accents in her boots that are a nice touch.  She has both silver daggers ready and, like most of the characters in this line, is ready for a fight.  
Funko has a very strong showing for this awesome Marvel movie and a variety of ways to show your geekdom.  My favorite pen has to be the Hulk and I completely see why there is no Hela with her pointy headdress.  The four POP! Figures, as well as the others in this property, look very cool and keep up with the quality that Funko is known to do. I'm also glad that they made Valkyrie with the face paint.  
The THOR: RAGNAROK POP! Pens Display Case is $47.99 USD per case of 16.  All of the RAGNAROK POP! Figures are $10.99 USD each.  These prices do not include taxes or the shipping charges and the more in-stock items you buy, you can qualify for free shipping.