After he is fired from the Anti-Villain League for failing to take down the latest bad guy that threatens humanity, Gru finds himself in the midst of a major identity crisis. But when a mysterious stranger shows up to inform Gru that he has a long-lost twin brother -a brother who desperately wishes to follow in his twin's despicable footsteps – one former super-villain will rediscover just how good it feels to be bad.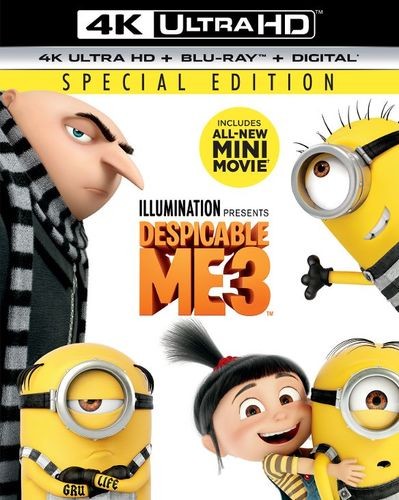 Buy yours from Amazon Today
AUDIO QUALITY: DESPICABLE ME 3 releases on to Ultra HD Blu-ray with a more than adequate DTS-X Track that rocks your front and center channels and immerses you in the franchise that Illumination has built so well. Whether you are listening through a soundbar, 5.1 set up or boasting 7.1 or more you'll easily find no issues worth complaining over on the superb audio track.
VIDEO QUALITY: A beautiful release to show off HDR to friends and family alike. While animated movies look wonderful in 1080p Blu-ray I could notice a discernible difference in the Ultra HD 4k release that really had my LG pop with vivid colors.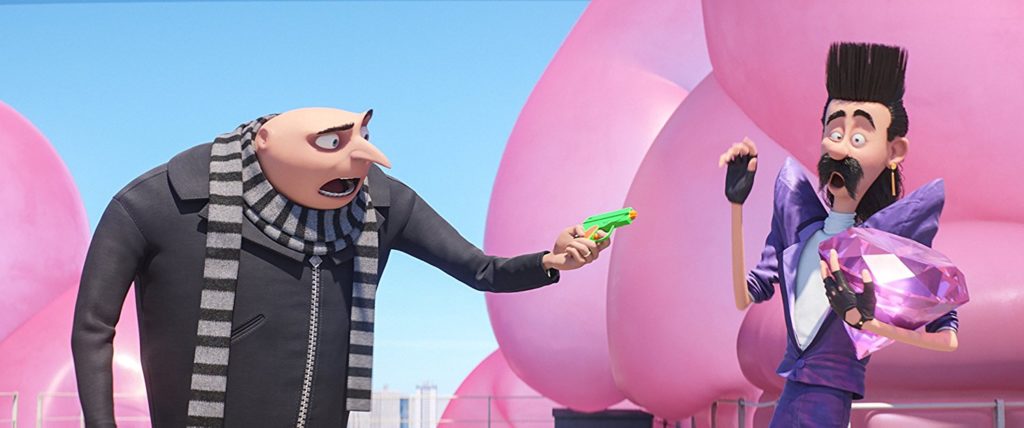 DESPICABLE ME 3 has released onto both Blu-ray and Ultra HD Blu-ray and if you go into Best Buy, you can choose which is best for you as there's three beautiful SteelBook releases for all 3 films released as well.
SPECS:
Format: 4K w HDR, NTSC, Subtitled, Widescreen
Language/Audio: DTS-X Track, and also for headphones, DTS HD Hi Res Audio,
English (Dolby Digital 2.0 Stereo), French (DTS 5.1)
Subtitles: French, Spanish
Subtitles for the Hearing Impaired: English
Region: Region A/1 (Read more about DVD/Blu-ray formats.)
Aspect Ratio: 2.40:1
Number of discs: 2
SPECIAL FEATURES:
Digital Copy of Despicable Me 3 (Subject to expiration. Go to NBCUCodes.com for details.)
Features High Dynamic Range (HDR) for Brighter, Deeper, More Lifelike Color
Mini-Movie
Deleted Scene with Intro by Dana Gaier
Minion Moments
Character Profiles
The Making of Despicable Me 3
Developing Dru
The AVL Files
Freedonia Visitors Guide
Despicable Me TV
"Doowit" Sing-Along
"Yellow Light" Music Video
Minion Mug Shots
Wanted Posters
Mini-Movie: The Secret Life of Kyle