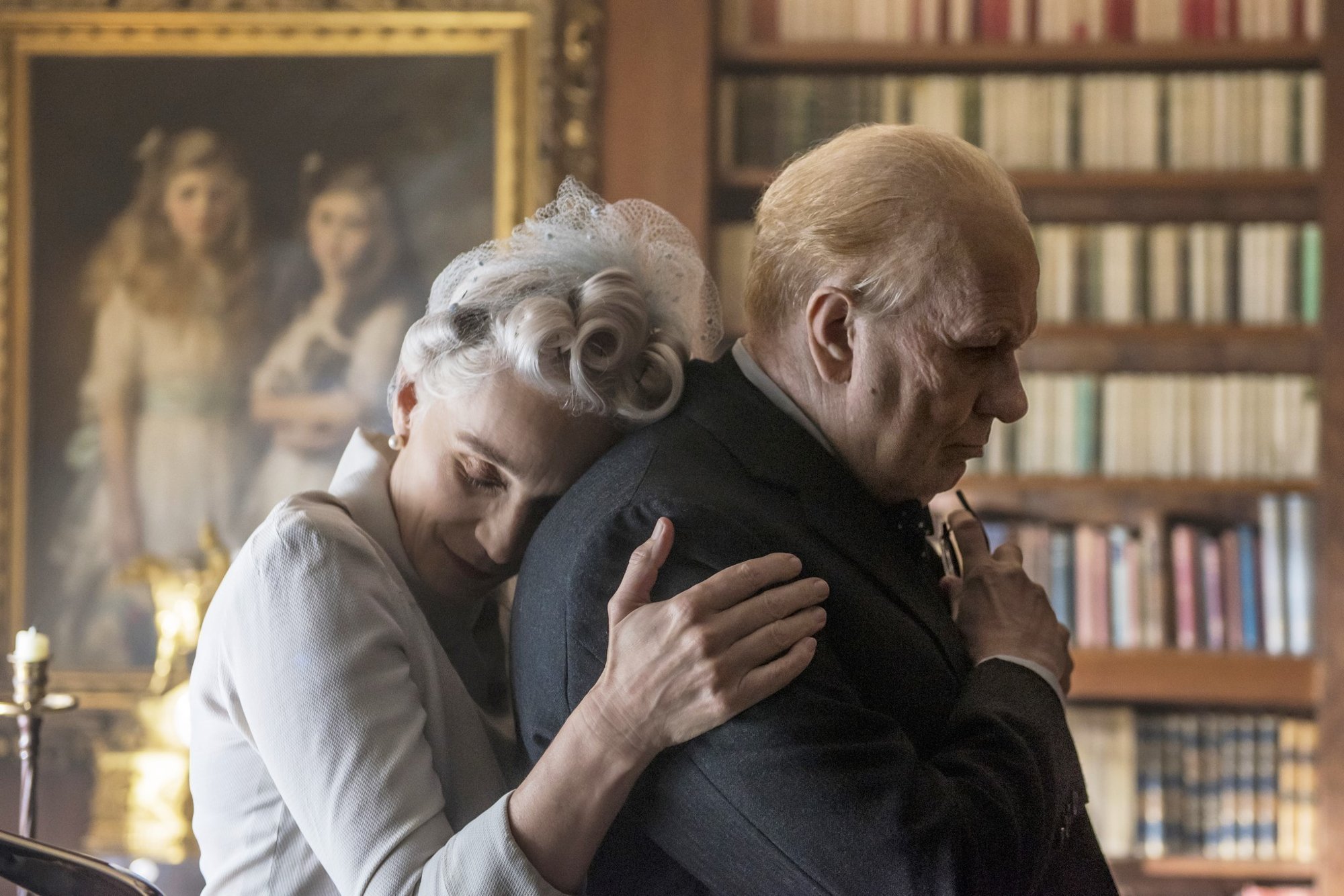 Gary Oldman shines in the Oscar-worthy WWII drama DARKEST HOUR.
By Matt Cummings
If the slate of 2017 films has left you wanting for more, get in line.  In fact, only one from the past 11 months (BLADE RUNNER 2049) deserves any serious consideration.  But fear not: DARKEST HOUR arrives ready to wow us with an Oscar-worthy performance by Actor Gary Oldman and a story that fits in quite well with the lesser DUNKIRK.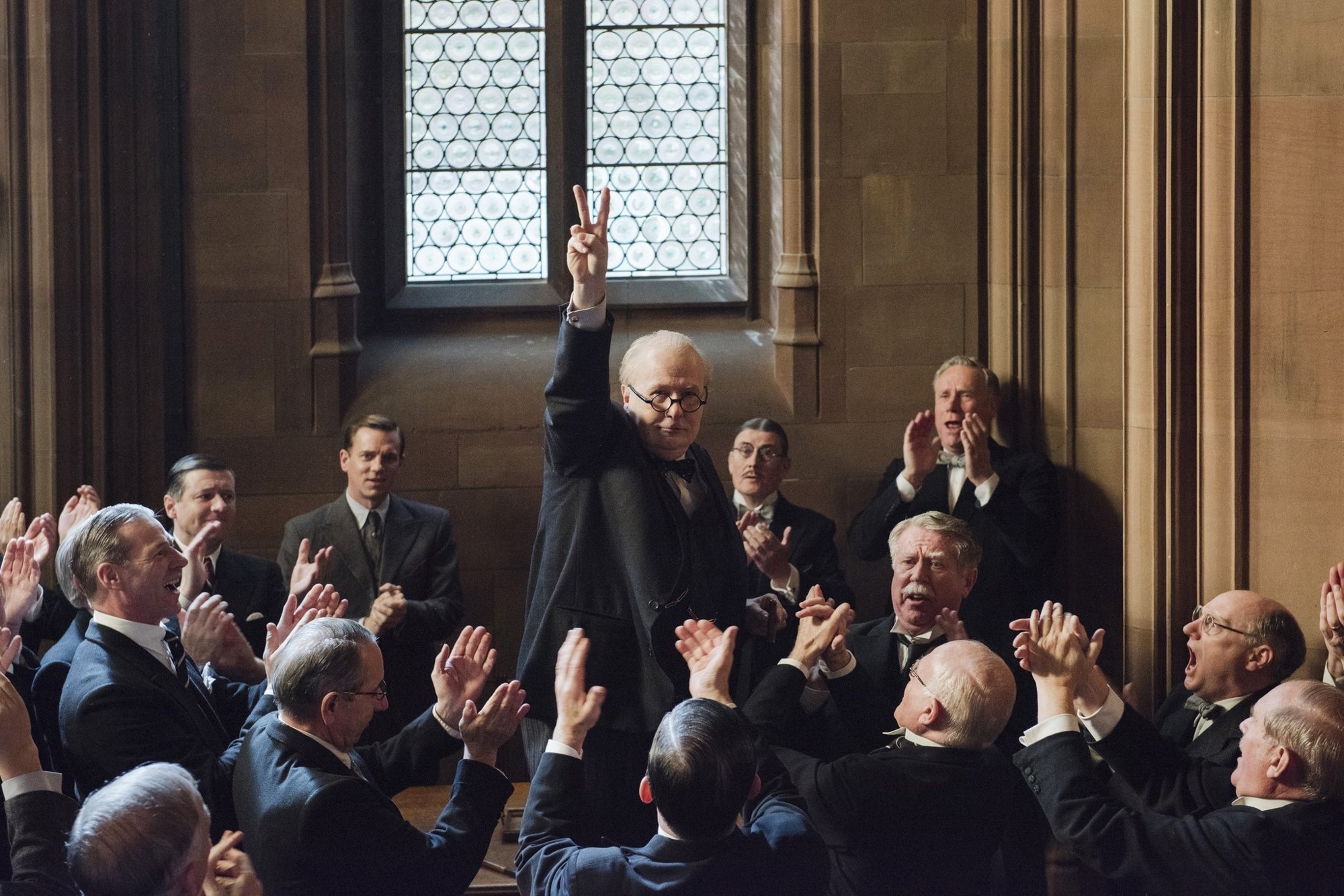 THE MOVIE
As Adolf Hitler continues his blitzkrieg attacks on Belgium, France, and Poland, the people and leadership of Great Britain struggle with the idea that war on their shores is both inevitable and highly undesirable.  The peace-at-any-cost Prime Minister Chamberlin has resigned, leading Parliament to select a new PM.  There is only one name both parties can agree on: Winston Churchill (Gary Oldman), whose defeat at Gallipoli during WWI continues to haunt him.  But the portly leader has other issues: his love for drink and food has made him intolerable to King George VI (Ben Mendelsohn), while others in Parliament shame him for his flip-flopping of parties years ago.  Saddled with a new receptionist (Lily James), Churchill must balance the politics of his divided cabinet, who desire to see him removed, just as the chance for a negotiated peace is offered.  The result will see Churchill face incredible challenges, including the rescue of his entire army at Dunkirk.
DARKEST HOUR is perhaps the finest – and funniest – story about WWII that I've seen since SAVING PRIVATE RYAN.  It accomplishes its story by placing Churchill on a red-hot seat, and then allowing Oldman to deliver his best performance since TINKER, TAILOR, SOLDIER, SPY.  He moves with the grace of one of the world's best actors, immersing himself in the role.  Fat-guy prosthetic aside, you cannot tell that Oldman – either in tone or stature – is Churchill.  Oldman imbues the British leader with impossible choices, each of which he seems less and less able to bear.  Early on, his wife (Kristin Scott Thomas) is the only safety net Churchill has until James' Elizabeth Layton begins to push back on his rather gruff personality.
But Churchill isn't a bully: he's a fighter, and as the film ends with his iconic "fight them in the streets!" speech, we realize just how he became a true spokesman for his people.  Mendelsohn enjoys excellent chemistry with Oldman, as King George struggles with whether to desert his people for Canada.  A moment in a brightly-lit bedroom near film's end sees Churchill and the king for the first time  on the same side: politics are pushed to the side in favor of ultimate survival.  Director Joe Wright and Cinematographer Bruno Delbonnel craft a gorgeous-looking picture, with deep browns and reds punctuated by realistic-looking dirty and dingy hallways, rainy streets, and a haze of cigar smoke inside Britain's subway.  Costumes by Jacqueline Durran are also spectacular.
DARKEST HOUR is also very funny.  Writer Anthony McCarten gifts the movie with a clear sense of purpose, with Churchill and his enemies lobbing personality attacks on each other, while Churchill and wife Clementine mesh perfectly to keep Winston's focus on the war effort.  But even by film's end, we can see Clementine looking as disheveled and worried as all of England must have felt.  In doing so, it lends a sense of urgency to the matter, all of which comes off as very effective and entertaining fare.  HOUR also works really well alongside the disappointing DUNKIRK: you could create a super edit or merely cut several scenes of the civilian boat scenes into this one.  Those are really the best parts of DUNKIRK anyways.
THE BOTTOM LINE
A sure-fire Oscar contender for 2017, DARKEST HOUR should easily see nominations across a wide array of subjects. Oldman turns in his finest performance, while Joe Wright more than makes up for 2015's disastrous PAN.  For a time in our history that's been so thoroughly exposed, it's nice to see there are still stories that resonate the desperation of the early years of WWII.  Let's hope the MPAS recognizes the same and gifts Oldman and his film with well-deserved honors.
DARKEST HOUR is rated PG-13 for some thematic material and has runtime of 125 minutes.