Canadian distributor Raven Banner has announced a new Limited Edition Blu-ray package for TODD & THE BOOK OF PURE EVIL: THE END OF THE END – THE ANIMATED FEATURE FILM. The edition consists of a Blu-ray, DVD, CD soundtrack, and special booklet all within cool Mini Book of Pure Evil packaging.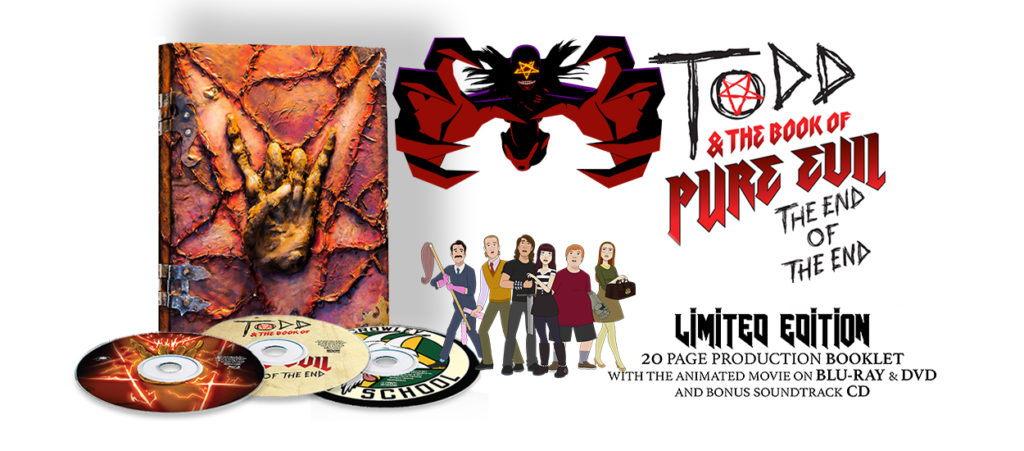 Released on December 12th and limited to only 3000 units, this amazing Limited Edition can be purchased from the Raven Banner shop.
PRESS RELEASE:
Continuing where the critically acclaimed cult TV series left off, Todd & The Book of Pure Evil: The End of The End returns to Crowley Heights to find Todd, Jenny and Curtis grieving the loss of their dear friend Hannah, whose death may or may not have been caused by Todd's banishing of the Book. The three must reunite to fight evil when the Book of Pure Evil returns to Crowley High, bringing with it some familiar faces (Guidance Counselor Atticus Murphy Jr., Jimmy the Janitor, and The Metal Dudes) as well as some new foes, such as the Sweater Vest Beast and an Acidic Acne-Faced Teen. But these enemies are merely warm-ups to the final battle with their greatest nemesis yet: The New Pure Evil One, whose intimate knowledge of our heroes may ultimately lead to their destruction! Todd & The Book of Pure Evil: The End of The End is loaded with the same juvenile jokes, gore gags, and satanic sing-alongs that made the original TV series a world-wide hit.
Featuring the original award-winning cast providing their voices – Alex House, Maggie Castle, Bill Turnbull, Melanie Leishman, Chris Leavins and Jason Mewes, among others. The animated flick is directed by Craig David Wallace (co-creator and showrunner of the live action series) and Richard Duhaney, with a script by Wallace and co-creator Charles Picco, and original music by Shawn Pierce.
Limited Edition includes:
3 disc Blu-Ray/DVD/CD combo of the feature film (All region)
A 'Mini Book of Pure Evil' 20 page colour limited edition "making of" booklet
English Commentary
Never before seen artwork
Exclusive special features
Bonus CD Soundtrack
Dolby Digital 5.1
Closed captioning
Wide screen 2.35.1