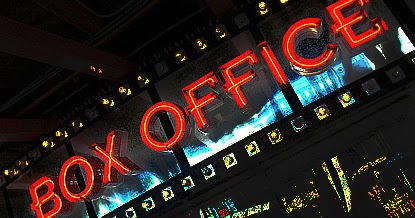 2017 was a bloodbath of doomed franchise upstarts, Oscar duds, and truly awful films.
Story by Matt Cummings
The 2017 box office was a special kind of awful, filled with the least impressive collection of films we've seen in years. Luckily, audiences responded by mostly staying away, leading to a box office that might eek out an improvement over 2016, but only because December's STAR WARS: THE LAST JEDI. Its last-minute heroics might save what could have been a disastrous box office.
Just how bad was 2017 from a box office perspective? According to our friends at BoxOfficeMojo.com, the numbers tell us a host of data, some of which we'll cover below.  Please note our posting date, which doesn't include one final weekend:
1. Total for 2017: $10.7378 billion, down %5.62 from 2016
2. Total includes a per-ticket increase of 28 cents.
3. After an increase in the number of movies released in 2016 (733), only 716 were produced in 2017.
4. The top 10 movies of 2017 accounted for roughly $3.513b of the total market, whereas 2016's total equaled $3.787b.
5. Eight of the 12 calendar months saw declines (sometimes as high as 48.8% in August), with 5 months revealing double-digit losses.
These numbers shouldn't be surprising: 2017 was a bloodbath of doomed franchise upstarts, Oscar duds, and truly awful films. We'll save you from a month-to-month shelling, but it's clear that audiences actually listened to their wallets, staying home in droves, even when MoviePass offered them a chance to see movies for a drastically reduced price. That says a lot, when you consider this: remove December's savior THE LAST JEDI and the yearly loss doubles. This is the pressure that 2017 movies were constantly under, some rising to the top (BEAUTY AND THE BEAST, WONDER WOMAN, and GUARDIANS OF THE GALAXY VOL. 2), with many upstarts (THE MUMMY, THE EMOJI MOVIE, BAYWATCH, CHIPS, VALERAN) sinking almost immediately upon their releases.  In short, audiences in 2017 refused to see bad films, either ones that were poorly reviewed (PIRATES 5, TRANSFORMERS 5, ALIEN 5) or just sounded like a bad idea.
Even good films (ATOMIC BLONDE, JOHN WICK 2, BLADE RUNNER 2049, THE FOREIGNER, MURDER ON THE ORIENT EXPRESS) struggled to get anyone to see them. In a year that divided us politically and socially, 2017 also defied common logic at the box office.  Only one of the Oscar contenders – the disappointing DUNKIRK at $188m – also fared poorly compared to the Spring hype it received.  Its number might equal the next 9 successful independent films combined, which also tells you the state of the independent market.
In trying to craft my yearly 10 Worst Movies list, I actually find 20, which includes 7-10 films I refused to see (EMOJI, THE GREAT WALL, POWER RANGERS).  Call them Honorable Mentions, but I'm not sure I could have made a list that deep in recent years, so in that way 2017 can boast one truly unique success.  Many of these films bled heavy losses and most likely will never see a sequel.  Even though it doesn't appear on my Worst List, THE MUMMY certainly torpedoed any chances for that franchise.
There isn't much hope for a January turnaround, although PROUD MARY, PADDINGTON 2, and an untitled CLOVERFIELD movie might surprise. We'll have to wait until February's BLACK PANTHER to give us our first $100m guaranteed opening. By the way, for a movie like BP to arrive so early in the year is a telling sign: Hollywood might actually be listening to crowd complaints of too many blockbusters clustered in the Summer. Releasing BP so early is a sign that the overall health of the industry might improve. But for now, bury the 2017 movie season deep into your mind, hoping that it never escapes.