THE MOUNTAIN BETWEEN US starring Idris Elba and Kate Winslet tells the story of two airplane passengers who hire a private plane to still make their destination after a missed flight that ultimately crashes over the Rockies and the two go on an epic voyage for survival. Two strangers who must overcome great odds if they plan to make it out alive and the toll it takes on one both mentally and physically. Having not read the book I found the film extremely enjoyable and very well made.
The Ultra HD Blu-ray 4K version comes to us with HDR for high dynamic range of colors in which the landscape of the film proves to really showcase this. Beautiful outlaying shots of the mountains and wooded snow covered landscapes make for a visual treat upon the eyes. I love the nature shots, and the fullness of the fires and smoke that could look both amazing and warm all at the same time.
The Audio track boasts a 5.1 DTS HD Master Audio track. While the audio track in itself is nothing to complain about, I would have preferred a 7.1 which I think at the least during the plane crash and some potential immersive scenes could have utilized the extra 2 channels well. However, given the film's nature, I can understand why 5.1 does "get the job done" with a somewhat even split of dialogue driven film versus scenes that could have greater benefited.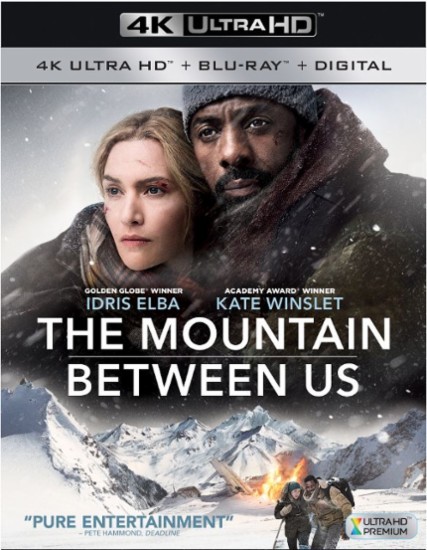 Purchase THE MOUNTAIN BETWEEN US on Ultra HD Blu-ray Today.
Also available at Best Buy
Special Features:
Director's Commentary by Hany Abu-Assad
Love and Survival: Creating Chemistry (1080p)
The Wilds: Survival Stunts (1080p)
Mountain Between Them: Shooting in Isolation (1080p)
Deleted Scenes (1080p)
Gallery (1080p)
Theatrical Trailer
Packaging & Other:
Slipcover o-sleeve, Digital HD, Blu-ray Disc, Ultra HD Blu-ray 4K Disc
The Movie

Video Quality

Audio Quality