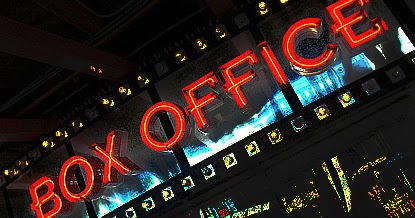 Read on to learn what Big Movie Questions will dominate 2018.Story by Matt Cummings
As we reported previously, 2017 wasn't exactly a great year for the North America box office, which experienced a decline (as of this post date) of 2.7%.  Any list of memorable films one might create would be arguably short.  However, 2018 is already looking up with several appealing titles right out of the gate, bolstered by an early box office that's already stronger than at this point in 2017.
With that in mind, let's take a look at some big movie questions for 2018 – these will most likely occupy our attention for most of the year, as each resolution will have a profound effect on both our attendance and Hollywood's bottom line.
How will Hollywood react to the harassment scandal?
It was unlikely that a series of stories that could grip Hollywood and the country so completely, but beginning in late Summer 2017, Harvey Weinstein's treatment of women throughout his career began to be released, unleashing a wave of high profile firings across the entertainment medium, as women joined the #MeToo movement and America wrestled with the effects.  Hollywood is still reeling from the scandals, as even slow-and-steady PBS has had to shuffle its lineup due to Charlie Rose's firing.  What is clear is that the scandal isn't over, and it's only expected to heat up as we enter the awards season.  At the time of this posting, protests were scheduled at The Golden Globes, dampening what could be a very good evening for women like Greta Gerwig's LADY BIRD.  It's also clear that the way Hollywood does its business – that is, the deal making and production elements – are going to undergo tremendous changes.  How that will affect the bottom line – hopefully opening the doors to more balanced creative teams of minorities – will resonate all the way to the Oscars.  A final item of note: only one female has won the Oscar for Best Director (Kathryn Bigelow, THE HURT LOCKER)…ever.  I think that's likely to change as early as this year.
What will the studios do to get viewers back in seats? Will MoviePass have any effect?  
With 2017 coming in far lower than anyone anticipated (early reports proclaimed a huge uptick), 2018 has a good chance of being great early on and continuing through May.  The biggest question is whether anyone will care.  Granted 2017's slate wasn't exactly awesome, with Hollywood still licking its wounds from one of the worst summers in 20 years; but it appears that Hollywood has learned its lesson by spreading out its fare.  The result is several appealing titles in both January (PADDINGTON 2, PROUD MARY, DEN OF THIEVES) and February (BLACK PANTHER and another Cloverfield movie), each of which could eclipse every January release since 2009 (remember PAUL BLART: MALL COP….ugh).
But that might not be enough, as both network and pay television continues to offer a great alternative to idiots using their cell phones in darkened rooms.  Even with Tuesday discount programs continuing to keeping popcorn and soda machines happy, another factor will most likely boost early numbers: MoviePass.  With the ability to see a movie everyday for one low monthly price, MP can easily boast that it saved the box office from even lower 2017 numbers.  Since we've yet to see all the Oscar films reach nationwide release (12 STRONG among them) and with STAR WARS: THE LAST JEDI continuing to rule, audiences with MP are much more likely to make multiple trips to the cineplex throughout the Winter months.
Will SOLO: A STAR WARS STORY not be a total disaster?
Now that it's in post-production, and we know that most of it was reshot, we have to ask: can SOLO escape the stink that former directors Phil Lord and Chris Miller tainted it?  Ron Howard was a solid choice to take over, but will he bring his unique design aesthetic (like the highly-underrated RUSH) or will he settle for something safer?  Sure, he's known for a lot of great movies (APOLLO 13, The DA VINCI CODE), but he wasn't exactly a name I would have ever associated with STAR WARS.  I've also made my disappointment over LAST JEDI known quite a lot on this site, so what exactly does Producer Kathleen Kennedy have in mind, and can we expect SOLO to not be a disaster?  JUSTICE LEAGUE was actually not awful, although its meager $226m box office might suggest otherwise.  SOLO is till pushing for a May 25th release, so we won't have to wait for too long to find out, and perhaps that could be a potential problem in and of itself – read on to learn why.
Will Infinity War be everything we could ever hope for?  
Let's be clear: INFINITY WAR is already the most anticipated movie of 2018.  It brings together 10 years of Marvel movies into one orgasmic smorgasbord of comic book mayhem.  And it also represents the potential beginning of the end for several Marvel heroes, as the contracts of Chris Evans, Robert Downey Jr, and Chris Hemsworth end with 2019's final installment.  Thus the real question remains: can INFINITY WAR be anything other than a disappointment, particularly if fans warm up to Thanos or his minions?  Audience expectations are certainly high, and Producer/President Kevin Feige is a master tactician, so it's clear that audiences will line up throughout May and June to see the results, particularly if it's good.  But with SOLO: A STAR WARS STORY appearing in the same month, should the latter reschedule to December to give the former the expanse it probably deserves?  It's likely that both would benefit greatly from the change, but it's unlikely to happen.  Either way, look for INFINITY WAR to being home a potential haul of $1 billion DOMESTICALLY, and beating THE FORCE AWAKENS for opening weekend receipts.
Can female-led action movies hold their own against male-led ones?
ATOMIC BLONDE was one of the under-appreciated gems of 2017: violent, cool, and sexy with plenty of incredible stunts and a first-rate cast. It's getting a lot of love in the home market, which is exactly how predecessor JOHN WICK got its 2017 sequel. Enter new rivals PROUD MARY (January) and RED SPARROW (March); each looks terrific and is generating lots of buzz. Still, it's perplexing and even a little worrisome to see WICK and BLONDE struggle initially to gain audience approval. Each far-surpassed our expectations, with both appearing on our top 10 list last year. SPARROW and MARY face similar uphill battles, perhaps due to audiences not exactly buying female-led action movies. Whatever: if you have a problem with these you need to get over yourself and just enjoy the ride. Perhaps the most interesting question revolves around when Marvel will finally produce a Black Widow movie; based on the successes (or failures) of MARY and SPARROW, we could find out the answer this year.
How will Disney's acquisition of Fox affect the Marvel slate?
It's likely that no other question has been so hotly contested around the digital watercooler as this one, mainly because Marvel's Feige is usually ready to rearrange titles based on current acquisitions (see the removal of INHUMANS, etc).  The potential steps he could immediately take will change the entire landscape of Phase 4.  Here's why.
With Phase 3 wrapping up with INFINITY WAR, it's probable that he will use this as a chance to throw in some exciting last-minute reshoots, such as an X-Men and/or Deadpool post-credits button. He now has access to (perhaps?) all of the Marvel characters (Namor is still a question), so wouldn't it be cool to see mutants arrive on the scene, just as Thanos completes his Infinity Gauntlet?  He can now also include cosmic figures like Nova, Galactus, and even The Fantastic Four.  What is clear is that Feige is known for big entrances, so don't put it past him to come up with something truly special for May's goliath.
Can anyone beat Disney in 2018? Anyone??
2017 saw Disney occupy spots 1 & 2 for top-grossing movie (JEDI and BEAUTY AND THE BEAST respectively), as well as #4 (THOR: RAGNAROK) and #7 (GUARDIANS VOL. 2), but 2018 promises to see them absolutely dominate, possibly taking 7 (INFINITY WAR, BLACK PANTHER, SOLO: A STAR WARS STORY, ANT-MAN AND THE WASP, INCREDIBLES 2, WRINKLE IN TIME, MULAN LIVE ACTION, and MARY POPPINS). There is a real possibility that we'll be talking total domination from Mouse House, should the latter of these surprise. Studios like Paramount (MISSION: IMPOSSIBLE 6), WB (AQUAMAN) and Sony (PROUD MARY, EQUALIZER 2) can only hope to keep close. Paramount is in particular trouble, settling for an embarrassing #23 (TRANSFORMERS: THE LAST KNIGHT) in 2017.  M:I 6 could be their best offering, which begs to ask whether we'll see the studio become folded into another company before year's end. 
There are a ton of other questions we could ask, such as "Which under-the-radar film will be the biggest winner of 2018?" and "Which highly-publicized film will be the biggest loser?"  But we'd like to hear from you: what are your biggest movie-related questions of 2018?  Join in the discussion and we'll be sure to re-visit this a couple of times throughout the year.