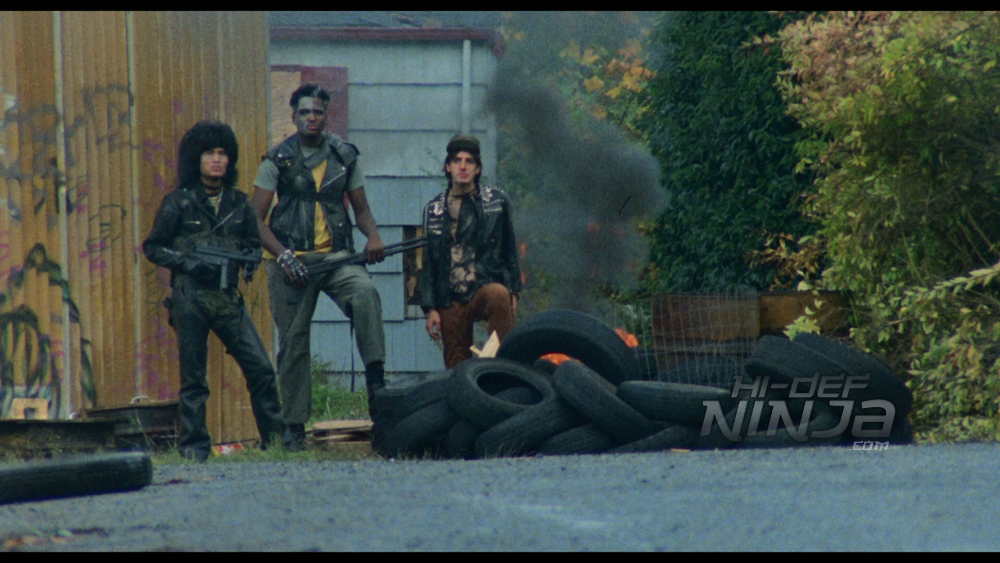 [wp-review id="85005″]
In the early 90's, gang war and school violence is at an all time high.  Closing in on the millennium, there are now "free fire zones" where the gangs have taken up and kept the authors out.  In Seattle, Kennedy High is right in the middle of one of these zones so the Department of Education Defense or DED are going to try something out.  They are going to put some military robots in as teachers.  Dr. Bob Forrest is heading up the project and some of the gangs aren't having this.
CLASS OF 1999 is directed by Mark L. Lester and he is best known for COMMANDO and FIRESTARTER.  This is a movie with more of a cult following like so many of the entries in the Vestron Video collection.  This one is a bit more obscure to me due to it being unrated and full of violence.  I will say after watching it, I love how weird this movie is and the exaggerated characters.  I mean come on, Stacy Keach with the white mullet?  Malcom McDowell and Pam Grier?  These things alone should draw you in.
Cast
Bradley Gregg – Cody Culp
Traci Lind – Christie Langford
John P. Ryan – Mr. Hardin
Pam Grier – Miss Connors
Patrick Kilpatrick – Mr. Bryles
Stacy Keach – Dr. Robert "Bob" Forest
Malcolm McDowell – Dr. Miles Langford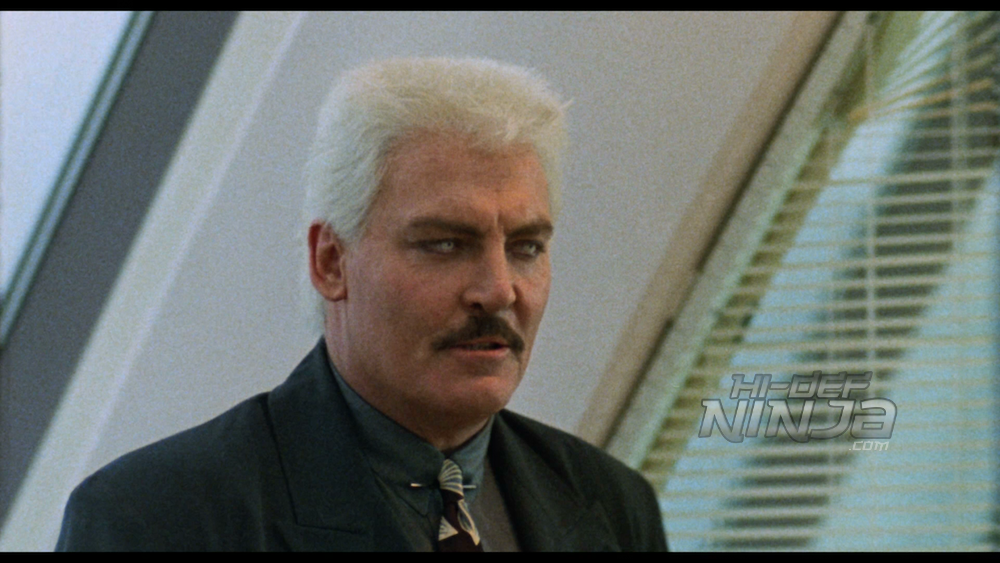 VIDEO QUALITY:
The video is a 1080p AVC presentation that looks like it has come from some rough source material.  The movie is a bit darker in some scenes where some of the images get murky but things can turn around from scene to scene.  The brighter scenes look excellent with that cool '80s shine from the bright graffiti to the loud clothing materials.  In those darker parts I mentioned, the video gets a little thick and some crushing.
AUDIO QUALITY:
The audio is a DTS-HD Master Audio 2.0 mix that is the stereo mix from the original release.  There are a mix of effects with explosions and plenty of gunfire in the zone.  The voices are clear and layer well with a lot of the chaos happening.  The LFEs are strong and there is some movement within the two speakers.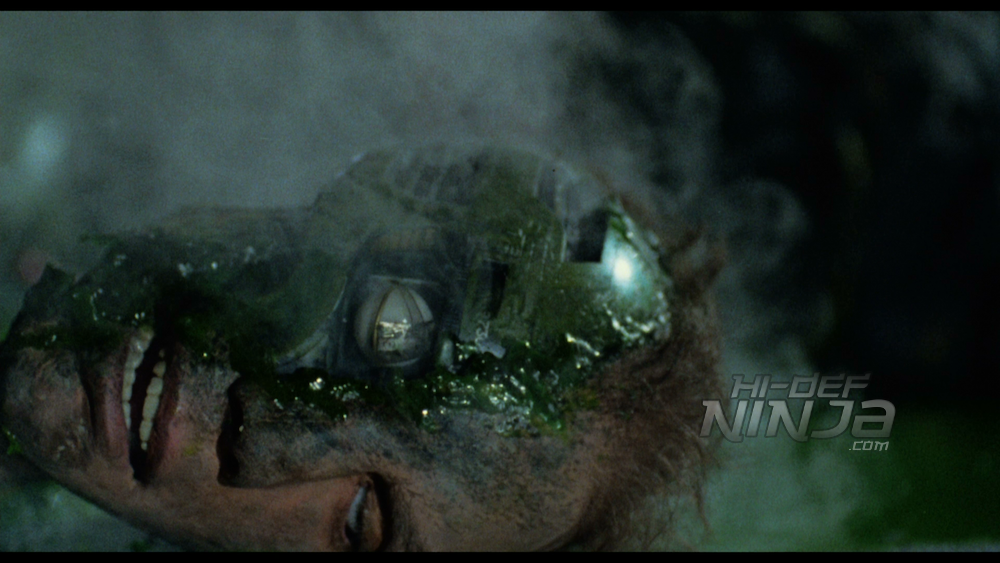 SUPPLEMENTS & PACKAGING
-Audio Commentary by Producer/Director Mark L. Lester
-School Safety: This is a set of interviews with the director/producer Mark L. Lester and Co-Producer Eugene Mazzola.
-New Rules: This is a 20-minute interview screenwriter C. Courtney Joyner.
-Cyber Teachers from Hell: This is an interview with the FX team of Eric Allard and Rick Stratton.
-Future of Discipline: This is also an interview with the director of photography Mark Irwin.
-Theatrical Trailer
-TV Spots
-Still Gallery
-Video Promo
Disc Details
1 Blu-ray Disc
Running Time
99 mins
Edition Ratings
Not Rated
Region Coding
Region A
Video Resolution
1080p AVC MPEG-4
Aspect ratio: 1.85:1
Audio Mixes
English DTS-HD Master Audio 2.0
Subtitles
English SDH
Spanish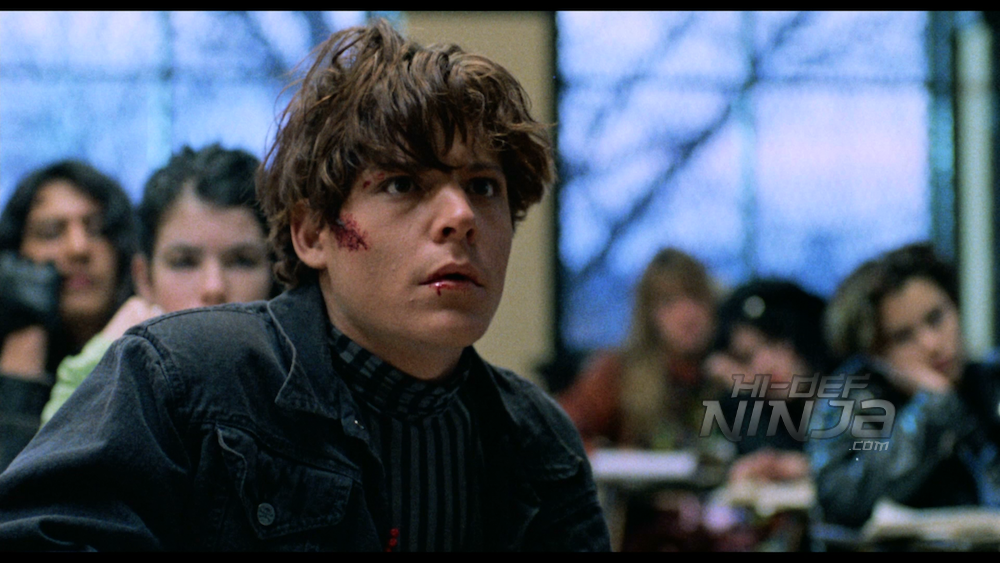 THE BOTTOM LINE:
CLASS OF 1999 perfectly sums up the 80's genre with the action, effects, and punk outfits.  Some of the practical effects like Pam Grier's open chest showing her robotic innards as she attacks the students who are rebelling against the faculty looks really good for 1990.  The video is a mixed bag but when it looks good, it really looks excellent.  The audio is adequate and gets the job done.  The extras are packed with interviews and talk about almost all of the different elements for the movie.  Collectors of the Vestron Video releases and fans of the movie will really love this edition.  Check it out if you get a chance.