The Movie

Video Quality

Audio Quality

Supplements
Rob Reiner delivers another well developed film and a great depiction of Lyndon B Johnson. This will likely be a film that goes under many people's radars and I can strongly recommend it for a watch, and a purchase for the right price or if the genre is something you usually purchase. As of time of this writing at release it's currently only $12.63 on Amazon which I feel is fair price for this title at release. It's a film that I'm glad I watched, but can't see myself revisiting it many times as the years go on. Perhaps Once every 5 or so years, but the price point likely falls in line with that. Either way again you all should see this film once if you have interest on what happened before and after the JFK assassination with a deep dive into LBJ's role. However it's not a film simply about LBJ in regards to his entire career but one with glimpses and jumps around a timeline of before JFK's assassination and him becoming and being Vice President to ultimately becoming President. ie. not a straight up biopic. OBVIOUSLY as it only barely touches and hints at LBJ's Vietnam War involvement and only after the film takes place does it mention those failures. However for what it does show, it's worth a watch to see the character that was Lyndon B Johnson.
"After Lyndon B. Johnson (Woody Harrelson) loses the 1960 Democratic presidential nomination to John F. Kennedy (Jeffrey Donovan), he agrees to be his young rival's running mate. Once they win the election, despite his extensive experience and shrewd instincts, Johnson finds himself sidelined in the role of vice president. But, that all changes on Nov. 22, 1963, when Kennedy is assassinated and Johnson is suddenly thrust into the presidency. As the nation mourns, Johnson must contend with adversaries as he seeks to honor JFK's legacy by championing the historic Civil Rights Act of 1964."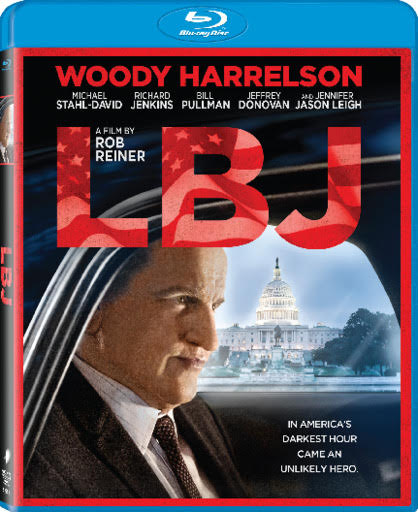 VIDEO QUALITY: The Blu-ray features 1080p in 1:85:1 anamorphic widescreen presentation and displays beautifully for all intended purposes. Grain is used when needed and the hint of sepia at times lends to the creative vision of the film.
AUDIO QUALITY: The audio track comes in a 5.1 DTS HD Master track that handles the film quite well. A dialogue heavy film for the most part the film radiates well from the fronts in a front heavy track. Your center channel and fronts will handle the bulk of the load with the sub and rears coming in play most memorably during JFK Dallas scenes.
SUPPLEMENTS: Surprisingly I had to do a double take and check once more on the menu screen, but the packaging is correct in that there is no Special Features on this disc. Sad to hear/see because I felt a commentary track or some interviews of the process especially the make up that was required by the Actors like Woody and Jennifer Jason Leigh would have been interesting to hear.
Actors: Woody Harrelson, Jennifer Jason Leigh, Richard Jenkins, Bill Pullman, Jeffrey Donovan
Directors: Rob Reiner
Format: AC-3, Dolby, Subtitled, Widescreen
Language: English
Subtitles: French, Spanish
Subtitles for the Hearing Impaired: English
Region: Region A/1 (Read more about DVD/Blu-ray formats.)
Aspect Ratio: 1.85:1
Number of discs: 1
Rated: R
Studio: Sony Pictures Home Entertainment
Release Date: February 6, 2018
Run Time: 97 minutes