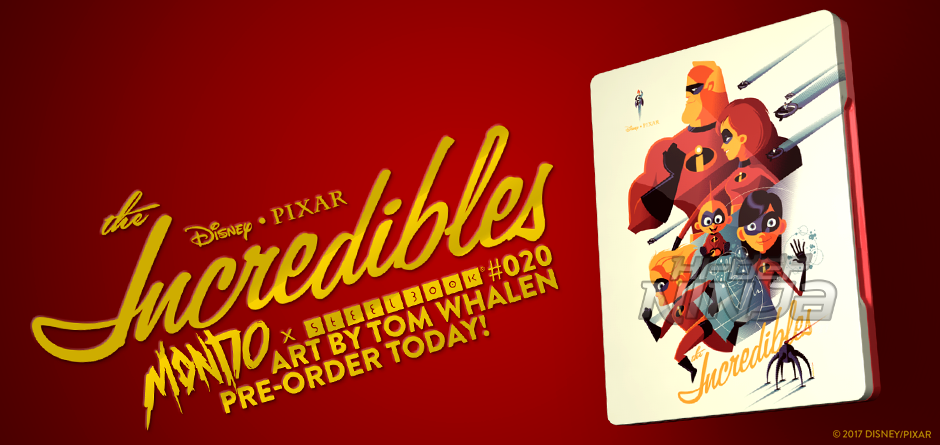 Hi everyone, and welcome to another exclusive SteelBook unboxing article with huge thanks to our friends over at Zavvi!
This time around, I am pleased to be able to show you the latest release in the Mondo x SteelBook Blu-ray line, the Disney Pixar classic, THE INCREDIBLES.
This is number 20 in the Mondo X line, where the SteelBook features original Mondo artwork by the respective artist. For this release, the SteelBook features original worldwide exclusive artwork by Tom Whalen, which is encompassed over the SteelBook, interior artwork and disc art. This was announced along with number 21 in the Mondo X line back in MondoCon 2017. (of which Hi-def Ninja were there in person!)
So, on to this release. As you can see in the pictures as with all other Mondo X releases, the SteelBook features a clear translucent plastic sleeve which allows protection for the SteelBook as well as showing off the fantastic artwork featured on it. The sleeve technically acts as a SteelBook J-card, so has all of technical specs on the rear as well as the film synopsis.
The Steelbook is given a matte finish, with a spot gloss treatment to the main artwork on the front and on the Incredibles symbol to the rear.
This is a one disc Blu-ray release, again which features original artwork on the disc.
Overall this is an excellent release, and it's nice to see a UK retailer picking more of the Mondo X line up (aside from this, Labyrinth, Reservoir Dogs and We Are X, all other releases have been outside of the UK) and I hope we get to see more Mondo X releases from the UK.
Unfortunately this release is now out of stock from Zavvi, so if you're after a copy, the secondary marketplace is your only hope at the moment.
A fine release from Zavvi and Mondo X, I hope there's more to come!