The Movie

The Video

The Audio

The Supplements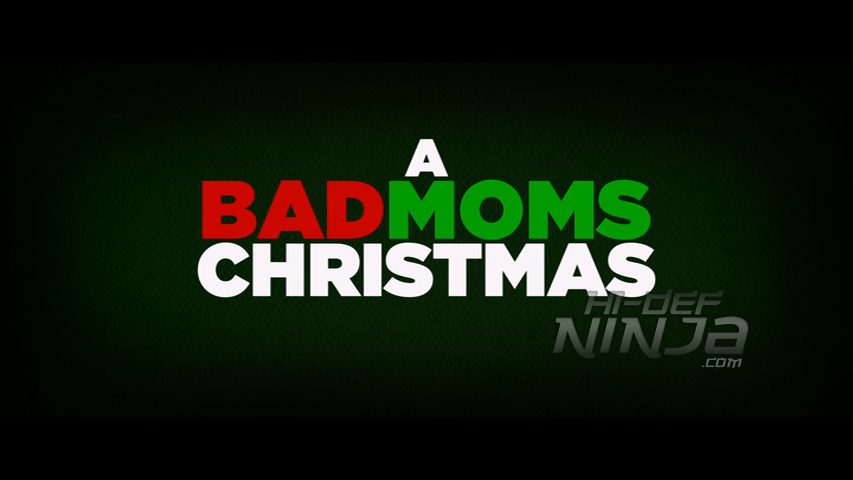 While it looks and sounds good, A BAD MOMS CHRISTMAS isn't worth your time.
NOTE: Our images were captured from the DVD version.
By Matt Cummings
In 2016, Universal released BAD MOMS to nearly no fanfare; luckily, audiences embraced it as a middle finger to the demands of the overworked and underappreciated soccer mom. There's so little of that original fun in A BAD MOMS CHRISTMAS, a film that's really a shell of the original and only barely entertaining as a gross, over-the-top comedy. The home release suffers from poor supplements but looks and sounds quite good. Still, you'd be hard pressed to add this to any wish list.
THE MOVIE
It's Christmastime, and the bad moms – Amy (Mill Kunis), Kiki (Kristen Bell), and Carla (Kathryn Hahn) – are tired of the shopping and demands society places upon them to create the perfect Christmas each year. But new pressures will tug at their independence, as each is visited by their moms would rather not spend it with their mothers. Amy's mother Ruth (Christine Baranski) is nothing but a demanding and insulting parent who arrives with high expectations for her daughter, while Kiki's mother Sandy (Cheryl Hines) and Carla's mom Isis (Susan Sarandon) have their own baggage ready to drop off in front of their daughters' lives. As the girls struggle to seek the kinds of Christmas they want for their families, they will clash with their mothers' own preconceptions, leading to strife and of course comedy.
It's hard to conceive, but A BAD MOMS CHRISTMAS is only funny for selected moments, struggling to either make us laugh or to keep our attention. I was very happy with BAD MOMS but not a single person I knew was demanding a sequel. At least the pieces placed before us seemed like perhaps we could once again happily journey into this world: performances are fine and the direction by the returning Scott Moore and Jon Lucas is solid, but CHRISTMAS fails utterly to connect the tissue behind the comedy into a cohesive narrative that doesn't feel like bad dramedy. That problem plagues CHRISTMAS for the first 45 minutes, until the arrival of Carla's new squeeze, the stripper Ty Swindel (the hilarious Justin Hartley). Any time those two appeared on screen the mood picked up perceptibly, only to descend back into the depths of mediocrity the moment they stepped away. The real problem is that the film is not only badly predictable, but it also strips the moms of their individuality and fierceness, something that made the original so refreshing. Here were women who were rejecting convention, establishing new social norms and fighting age-old demands. By the end of CHRISTMAS, they've lost their backbones, settling into groveling to their moms for forgiveness after each has a needed exchange with their elder. I wasn't expecting literary genius from Moore and Lucas – who also wrote the script – but I did expect the world which they created to reward the moms for standing their ground. Instead, we learn very little about each parent's motives, except that they came from bad homes and have attached unrealistic expectations upon their daughters.  The daughters do their best with what feels like a mostly ad-libbed script, with Sarandon feeling totally out of place, and Baranski re-acting her role as Leonard's cold psychiatrist mother from THE BIG BANG THEORY.  They do add a needed layer of depth to the story, as the sequel definitely needed something better than BAD MOMS squared.  A BAD MOMS CHRISTMAS could have been just as funny as the original and yet its effort to be something deeper this time comes off tired and ultimately unfunny.  There's something weird in assuming that crude party and sex jokes can exist alongside a serious drama about mothers and daughters.  It feels like CHRISTMAS tries to serve a lot of masters and fails utterly at them.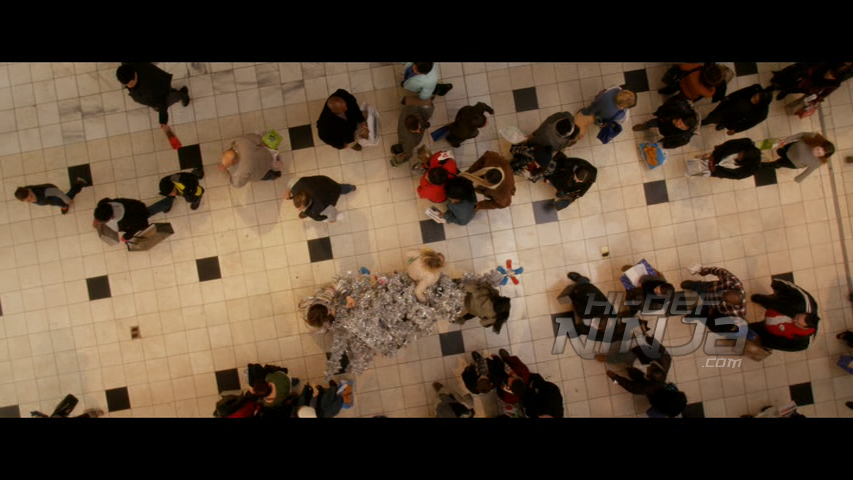 THE AUDIO
Universal Studios presents A BAD MOMS CHRISTMAS in a winning MPEG4-AVC transfer. We're not looking for cinematic mastery from comedies like these, but it is important that we get a winning image as 4K will treat the even smallest issues like a baby treats a diaper. Luckily, the image is crisp while retaining at least a bit of filmic grain. Clothing is highly detailed and colorful, with individual threads readily seen. Skin color and pores look great, while strands of hair and other features are sufficiently lifelike. Sets and outdoor locations are fine, displaying good detail with very nice coloring. This aspect really works with the holiday theme of the movie, treating us to gorgeous reds, shiny silvers, and striking blues. Black levels are pinpoint and gradually descend to shadows instead of overtaking the image. As always, we get no visual noise at all, whether it be banding, aliasing, or artifacting. Visually speaking, Universal has presented us with a nice visual gift to unwrap for our holiday home theater.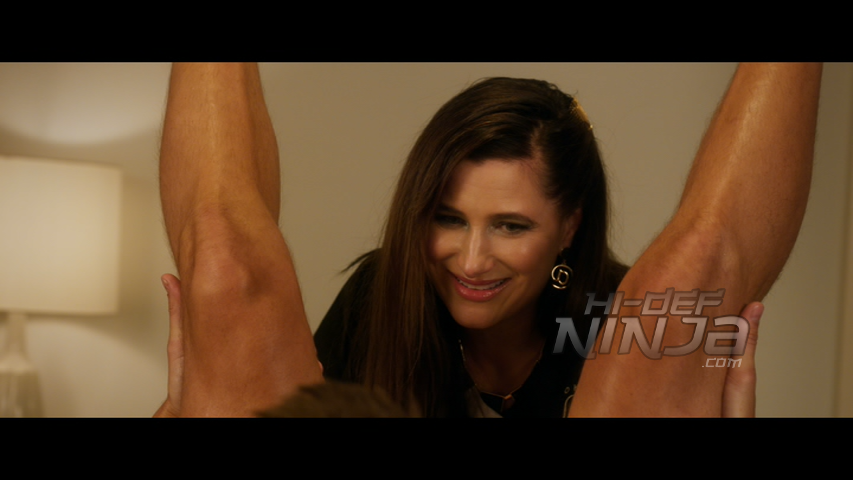 THE AUDIO
A BAD MOMS CHRISTMAS offers a nice DTS-HD Master Audio 5.1 lossless soundtrack, courtesy of Universal Studios. Of course, we're not too concerned about whether the thud of physical comedy emanates from the speakers perfectly, but the overall experience is as intense as needed, quiet when it wants to be, and loudly bombastic with music when the comedy gets going. The center channel features a dialed-up dialogue track (you can still hear some of the sound and music underneath), while the front channels aggressively display several aspects of the soundfield. There's not a lot here that needs punching, but it's clear that Universal wants to use the Christmas theme to its full effect; therefore, we get a lot of sleigh bells, fun Christmas-themed music, and the crashing and smashing of bad moms in the mall stealing Christmas trees.  The surrounds perform well enough, wrapping us in some outdoor sounds, but it's nowhere near immersive. We also enjoy some fairly loud booming from the LFE, again as the rock-inspired soundtrack belts out the hits. You won't have any trouble hearing the dialogue here, so sleeve your remote into the nearest holiday stocking.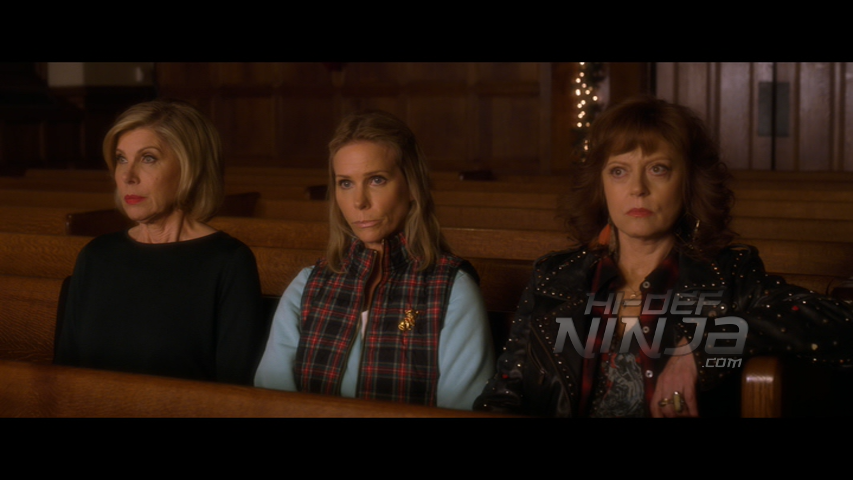 THE SUPPLEMENTS
Sadly, Universal totally misses the mark when it comes to the supplements (or lack thereof) for A BAD MOMS CHRISTMAS. The mere smattering of features include the following, with all displayed in HD:
Gag Reel (6:36)
Additional Scenes (3:52)
Crew Music Video (2:25)
Trailers: Red Band Theatrical Trailer #1 (2:04) and #2 (2:34)
Our evaluation copy arrived as a Blu-ray/DVD Combo and a Digital HD copy. The slipcase is fine, with sufficient colors displayed. There's no interior artwork inside the eco-blue case. At the time of this posting, Target offered a $5 giftcard hidden inside the case, as if they were begging us to purchase it.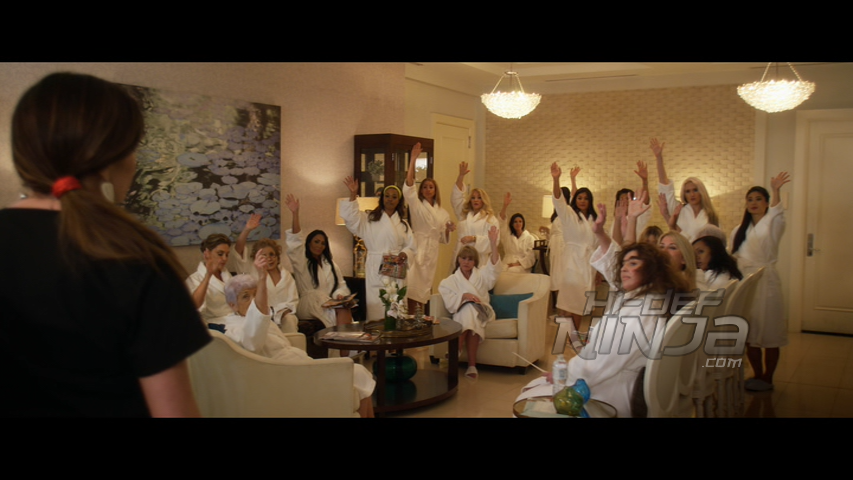 THE BOTTOM LINE
A BAD MOMS CHRISTMAS is a decently-acted but ultimately empty enterprise.  Save those Justin Hartley moments, the film is a bore, plucked of its strengths while its capable troupe gives their all to a script that's bah-humbug.  Technical merits are fine as well, but it's a tough sell for a recommendation.  Your best bet is to rent it and determine whether it belongs in your library. I think you'll find the opposite is the case, as supplements are also very weak.