Hell or Highwater
The Movie

Video Quality

Audio Quality

Supplements
The hidden gem of 2016, and while getting the praise it much deserved still will fall under the radar of most casual film goers. That being said anytime we can shine more light on to this amazing film it's always a pleasure to do so! Ben Foster is one of the most underrated actors of the last ten years, and starring across from him is Chris Pine who turns in one of his better performances. And of course we can't forget the always impeccable Jeff Bridges.
Toby is a divorced father who's trying to make a better life for his son. His brother Tanner is an ex-convict with a short temper and a loose trigger finger. Together, they plan a series of heists against the bank that's about to foreclose on their family ranch. Standing in their way is Marcus, a Texas Ranger who's only weeks away from retirement. As the siblings plot their final robbery, they must also prepare for a showdown with a crafty lawman who's not ready to ride off into the sunset.
Beautiful expertly chosen set locations and a wonderful score sprinkle the precise amount of salt on this tense edgy cocktail of a modern western and a bank robbery flick. An absolute must-see thrill ride worth viewing on physical format in blu-ray or Ultra HD Blu-ray with the heart pounding DTS HD Master audio track.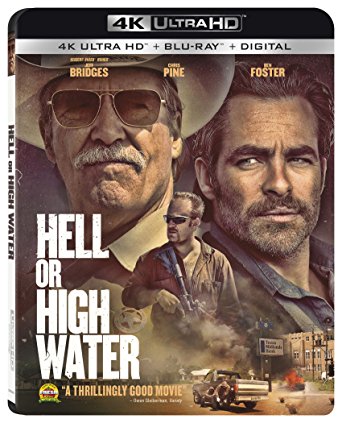 Purchase Hell or High Water on Ultra HD Blu-ray Today
Audio Quality: To jump straight in and recognize the elephant in the room is that on the back of the case and slipcover they both say that this film has a Dolby Atmos track in which it does not. However it still has the stellar DTS HD Master audio track that is superb. I guess the jury is out to see if we will get that Atmos track in the future or not. Never the less for this release still a wonderful audio track accompanied.
Video Quality: Where this release really shines and basically the only spot it brings something new to the table is that of Dolby Vision through its Ultra HD Blu-ray disc and it sure makes the Texas scenery pop. This west Texas scenery isn't the most glamorous but even still the colors are just all that much more eye popping.
Supplements:
The Supplements are that of the same from the 1080p Blu-ray release and given the film's recent release this wasn't unexpected.
Enemies Forever: The Characters of Hell or High Water (1080p; 13:36)
Red Carpet Premiere (1080p; 1:53)
Filmmaker Q & A (1080p; 29:51)
Visualizing the Heart of America (1080p; 9:28)
Damaged Heroes: The Performance of Hell or High Water (1080p; 12:24)
Hell or High Water is a definite buy for your collection in some form or another. The film landed on most all film connoisseurs top 10 lists for 2016 and for good reason. If you love the film, or don't already own it then this release is one to get if not being patient to see if we'll ever get that Atmos track.

https://www.youtube.com/watch?v=igD-fXiHRRY