I was also able to make my way over to Dark Horse. I've been covering their products for a few years now and I really enjoy the properties they work with as well as the people that work for them.
Dark Horse was again kind enough to welcome Hi-Def Ninja into their booth and show us some of their products on display. This year I was again able to talk all things Dark Horse with Chris Gaslin, Senior Product Development Manager.
Starting out with THE WITCHER line, there were again new figures being displayed including a a new Ciri playing Gwent bust to go with the Geralt playing Gwent bust announced last year, a new Geralt figure relaxing in a bath after a hard days work, and in the non-figure line a flask with metal shot glass set and a puzzle.
In the GAME OF THRONES line lots of new products were revealed including Season 7 Map Markers. For those that need a memory jog, these were the markers use by Daenerys when planning her attacks. For other collectibles, Dark Horse showcased a new set of Dragonstone Gate Dragon Bookends, a large puzzle featuring the map Cersi uses in King's Landing, and a small scale Dragonstone throne.
Dark Souls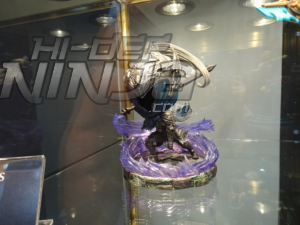 Thanks again to the amazing people at Dark Horse for taking a few minutes to show Hi-Def Ninja around their booth and showing us their newest products.