Daddy's Home 2
The Movie

Video Quality

Audio Quality

Supplements
"Stepfather Brad (Will Ferrell) and biological dad Dusty (Mark Wahlberg) have set aside their differences, and are content to work together to care for their children. However, their family get-together at Christmas is complicated by the arrival of Brad's fusty dad (John Lithgow) and Dusty's hell-raising pop (Mel Gibson). John Cena and Linda Cardellini co-star in this sequel to the 2015 sleeper-hit comedy Daddy's Home. Directed by Sean Anders."
Slammed into the Star Wars packed December was Daddy's Home 2 at the box office. At first glance many wondered why this Comedy had that date, but we all love a good comedy around the holidays and in this sequel the backdrop is that of Christmas time. Daddy's Home 2 follows up in the relationship between Brad and Dusty while introducing us to their fathers. The Father's as mentioned above played by both John Lithgow and Mel Gibson add another element of comedy to the mix and it was nice seeing Mel back in an acting role where not the villain across from Stallone. Mark and Mel have great on screen chemistry and if you were a fan of the first film then you'll find moments in this film that I'm sure you'll enjoy. However overall it seems to not be the sleeper hit that was the first outing.
The blended family has plenty of laugh out loud moments thanks largely in part to Will Ferrell's Brad character that can help push the film along, but not enough to make it a comedy classic. Tho perhaps an inclusion for December holiday annual viewing.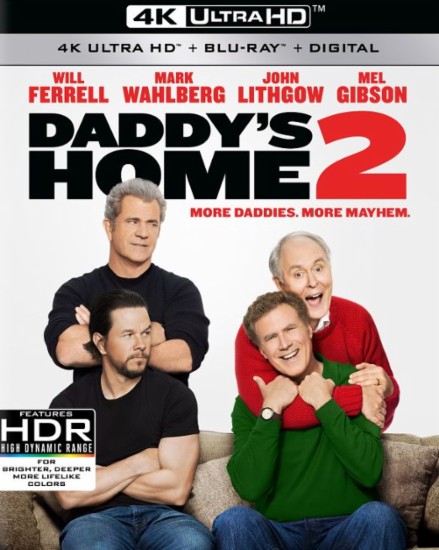 Audio Quality: Dolby Atmos audio track stands supreme. The film has a wide array of settings and thus the audio track performs beautifully capturing the different ambiances. Front heavy track my front towers and center dealt with most of the load except in the immersive instances.
Video Quality: The video quality looks exceptional with HDR (High Dynamic Range) being able to showcase a greater spectrum of colors deep and dark, and lighter as well. The snow scene (tubing) highlights the lighter end very well while the detail of the cabin shows up with great clarity.
Supplements:
One of the best supplements that come with Daddy's Home 2 is that of a digital copy of Daddy's Home. (the first movie) So that is a definite nice bonus. The rest of the extras are listed below.
Deleted/Extended/Alternate Scenes (1080p, 11:17 total runtime)
Gag Reel (1080p, 3:40)
Making a Sequel (1080p, 4:50)
Look Who's Back (1080p, 7:16)
Co-Dads: Will & Mark (1080p, 6:36)
The New Dads in Town: Mel & John (1080p, 7:37)
Captain Sully (1080p, 2:17)
Daddy's Home 2 looks great in Ultra HD Blu-ray and has exceptional audio quality for the film at hand. The release brings value in that of the first film also included so if you are looking for a new release comedy it might be worth your while to check this one out.

https://www.youtube.com/watch?v=huaGQdrkrK0