Movie

Video

Audio

The Supplements
It's not often I am surprised by the quality of a film these days, so it means something when I am caught off guard by how much I enjoy certain features. Darkest Hour is a great example, as the film is a rousing success for a variety of reasons. Not only does it get over the hill of difficulty I have in finding interest in measured biopics about historical white men portrayed by actors doing a decent impression, it also made me excited. This Winston Churchill biopic keeps a tight focus on one particular time in the Prime Minister's life and it all serves as a buildup to one of his early triumphs, let alone establishing why the man became one of the most important British figures of all time. While deemed "Oscar bait" by many, I enjoyed the relevance of a film like this and am happy to see the awards recognition it's received thus far. Now, Darkest Hour is available on Blu-ray with a few extras to go with it.
Movie: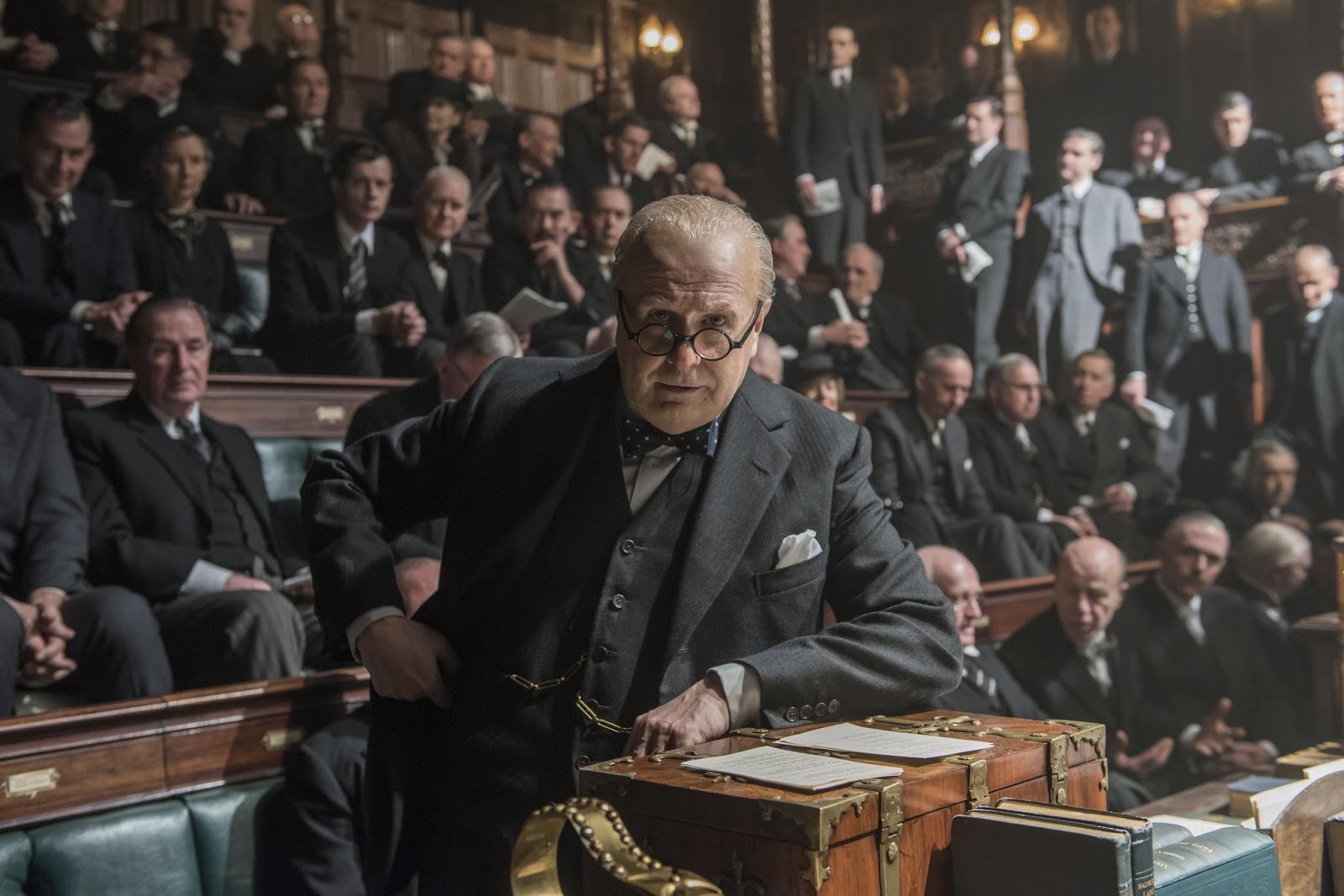 Gary Oldman has taken on the role of Churchill in a move that would almost seem obvious, were Oldman to have more of a resemblance to the man. Thanks to some elaborate make-up effects, the film pulls off the tricky task of bringing Churchill to life without completely removing Oldman. Fortunately, this performance is a complete success. Within minutes, I was no longer concerned with viewing Oldman's take as stunt casting. It became what it is, a compelling piece of work that captures the essence required for the sake of this story.
Darkest Hour revolves around the actions taken by Churchill during the early days of WWII and his recent induction as the British Prime Minister. Specifically, the film deals with the moves he needed to make to gain respect from the Parliament and the decisions he made to help the soldiers stranded on the beaches of Dunkirk. The events of this film may not be a precise depiction of what happened, but similar to Steve Jobs, this movie is more about examining the state of mind of the leading players involved at this time. It allows for more dynamic drama by relating to an audience why Churchill's actions and general presence was controversial for many.
Describing the film already seems like it's doing a disservice to those who are not ready to geek out on history lessons and fancy costume dramas. Director Joe Wright recognizes this and thanks to a sharp script by Anthony McCarten, Darkest Hour is more than just a stoic piece of work that has characters occasionally yelling at each other. This film is very entertaining. It has many funny moments and is never short of visual splendor.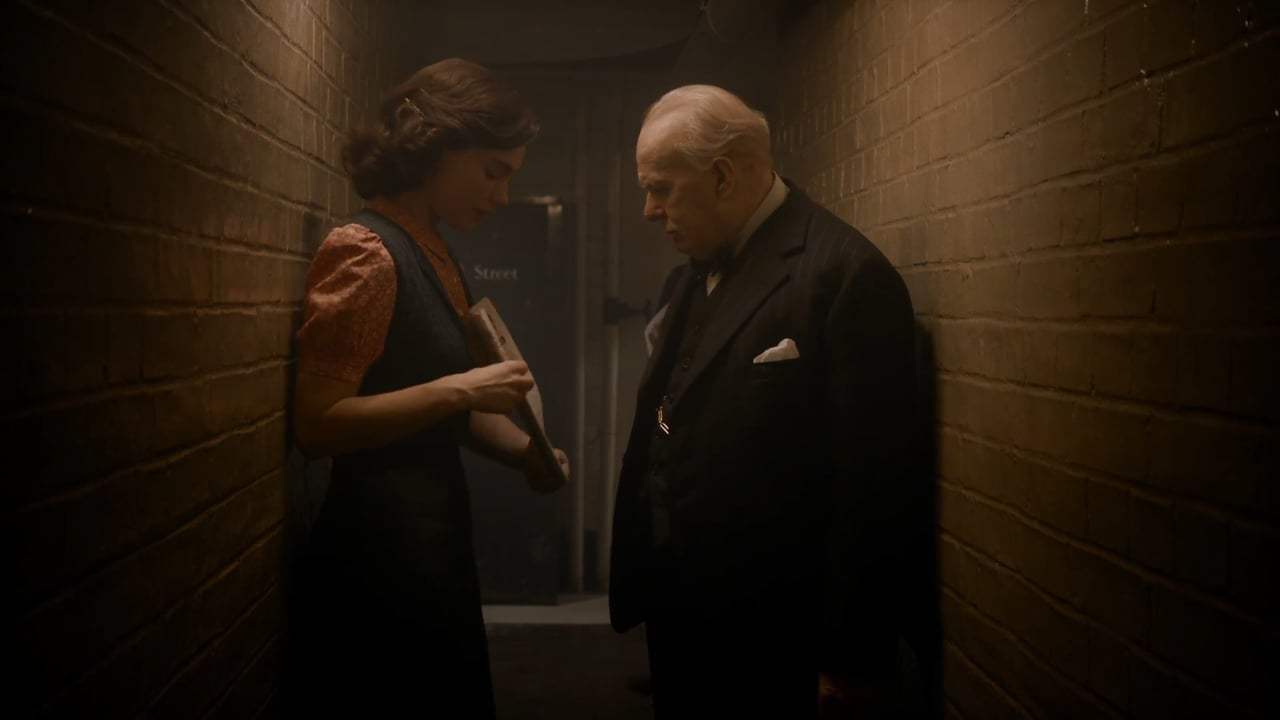 I've been a fan of Wrights thanks to the way he tends to over-direct. His ambition has sometimes exceeded his grasp on the material, but his best films (Atonement, Hanna) and most interesting efforts (Anna Karenina) have had more than enough going on to project his take of cinema out to an audience. Darkest Hour succeeds from a visual standpoint thanks to superb cinematography by Bruno Delbonnel. An intense amount of atmosphere finds meeting rooms, tunnels, and courts awash with smoke and natural light. Scenes that move beyond England do their best to convey the stakes Churchill is dealing with. All of this is enhanced by another fine score from Wright's regular composer Dario Marianelli.
Speaking back to the entertainment value, there is a particular joy that comes from seeing Oldman's Churchill project so much of his personality on those around him. He's a strong-willed man with convictions he does not give up on, but he also has a great sense of humor. The film does not become a comedy of errors, but there are more than a few awkward exchanges thanks to Churchill's interactions with supporting players such as Ben Mendelsohn as King George VI or Lily James as Elizabeth, Churchill's latest secretary.
The only other character that has a say over Churchill is his wife, Clementine (Kristin Scott Thomas). It's the sort of stock role you get in these biopics when it comes to hearing what a wife has to say in the midst of a movie about men discussing all the essential drama. It's the film's one weakness, as Thomas brings all she has to offer, but Darkest Hour has little for her to do beyond cheering up her husband or expressing some mild apprehension on his insistence to accept nothing but victory.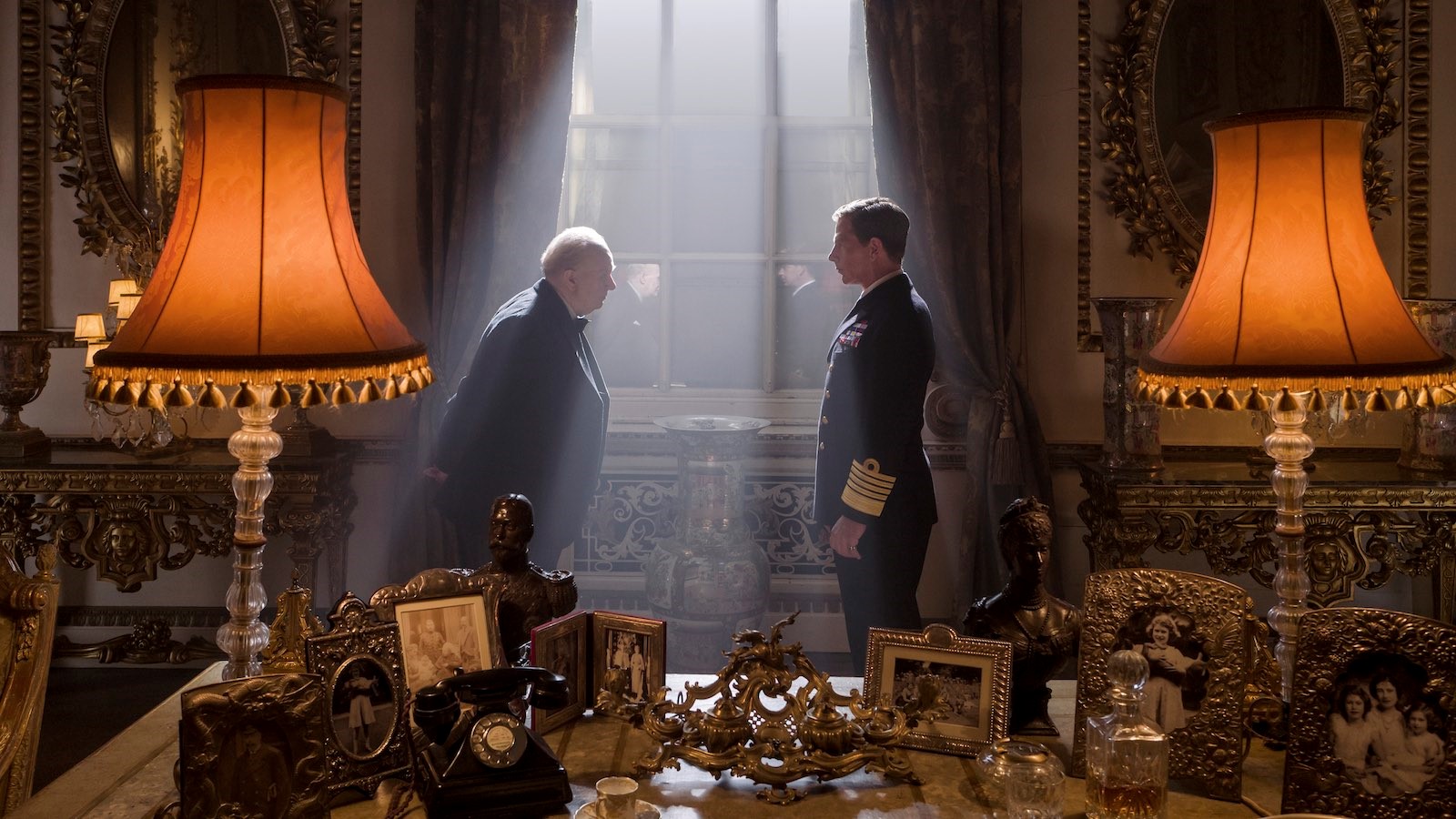 More interesting work comes from the conversations, arguments, and power plays sparked by Churchill's opponents. Stephen Dillane does a great job as Lord Halifax, a man outright opposing Churchill's thoughts on how to handle the war. Ronald Pickup is also quite good as former Prime Minister Neville Chamberlain, who has similar qualms with Churchill. Were this coming from In The Loop and Veep creator Armando Iannucci, you could see these scenes handled with a satirical touch (and keep a look out for that in his upcoming film The Death of Stalin). However, for Darkest Hour, disagreements are treated with genuine seriousness, and it's because the film feels so assured in its construction that the eventual results feel that much more powerful.
It's the challenge of making a film about a historical event where you know the outcome. This is especially the case in a year that's already given us multiple Dunkirk-based stories (Their Finest and Dunkirk). Given that it's the 75th anniversary of the successful Dunkirk evacuation, I can see why we are getting multiple films about a significant moment in British history.
With that in mind, there is still a sense of accomplishment that comes with being wrapped up in a story that not only tackles this specific point in history but addresses the problem using thoughts (and some well-placed famous Churchill quotes) that still apply today. This may be a very British film, but there's no real subtlety in watching scenes encouraging that a stand be taken against tyrannical leaders with too much power. There may have been more intelligence on the opposing side, compared to what people are up against today, but the message remains clear.
Darkest Hour left me with an empowering feeling about sensible, but strong actions ultimately winning out the day. It also left me more than satisfied with the joy that came from seeing what could have been a stuffy period drama. Shouting matches are balanced by humorous scenes such as a phone call between Churchill and FDR. This is the sort of film that is not so much taking risks as it is holding on to all the little natural elements that should make this story worthwhile. It is one thing to see the facts presented in front of you, but it's another to see them delivered by multiple characters who all have speech impediments. Darkest Hour finds a way to sort through all the history and never, never, never gives up on winning its audience.
Video: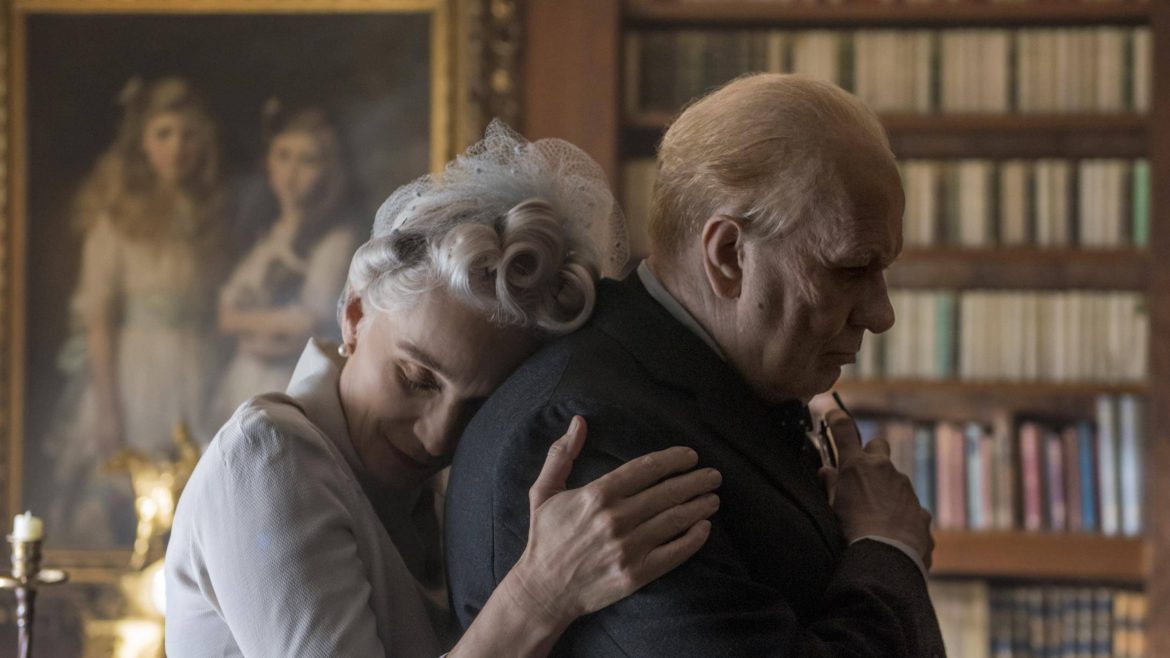 Darkest Hour arrives on Blu-ray with a solid AVC-encoded transfer that does plenty of good for an intimate drama with moments of grandness. Shot to maximize a level of smoky atmosphere, with plenty of natural lighting, the level of detail and clarity is terrific. You get a real sense of the areas Churchill lived in and debated within. Black levels are experienced by way of plenty of shadows and darkly lit scenes and these are crucial to how the film chooses to present. Good thing it's a complete success and really adds to the drama. A great difference something like this can make a great transfer. Also impressive, the detail level when it comes to facial textures. Especially with the makeup involved, you get a great deal of effort shining through, without feeling obvious. Terrific transfer all-around.
Audio: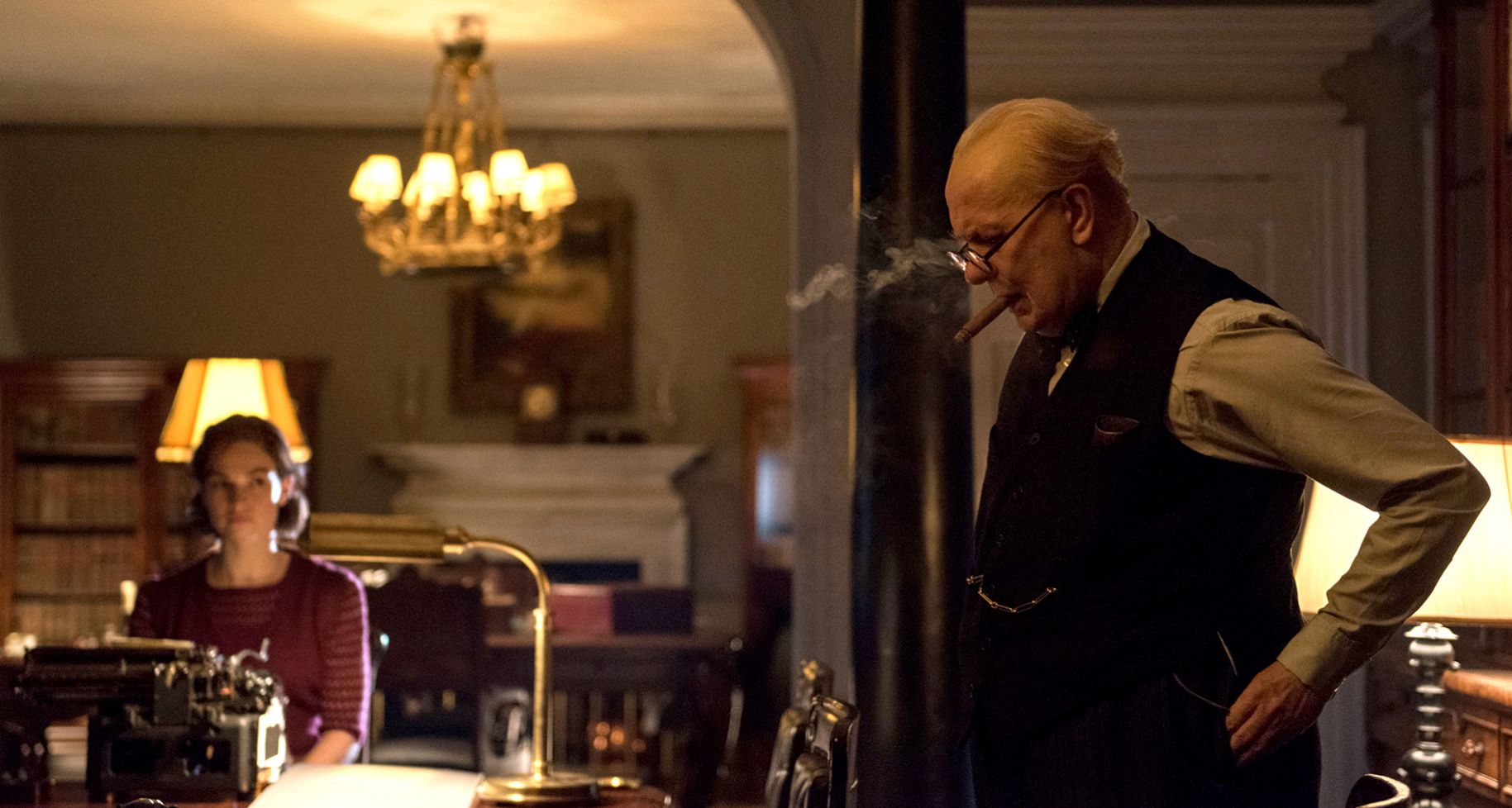 Darkest Hour received a Dolby Atmos track and it's pretty wonderful. The extra channels allow for some great resonance when it comes to the scenes in the Parliamentary chamber, in addition to the grander moments depicting the war in some form. Smaller moments come to life as well thanks to a combination of solid dialogue understanding, score, and ambient noise. It's a great mix overall thanks to how all these little details and bigger one continually factor in and feel balanced.
Supplements: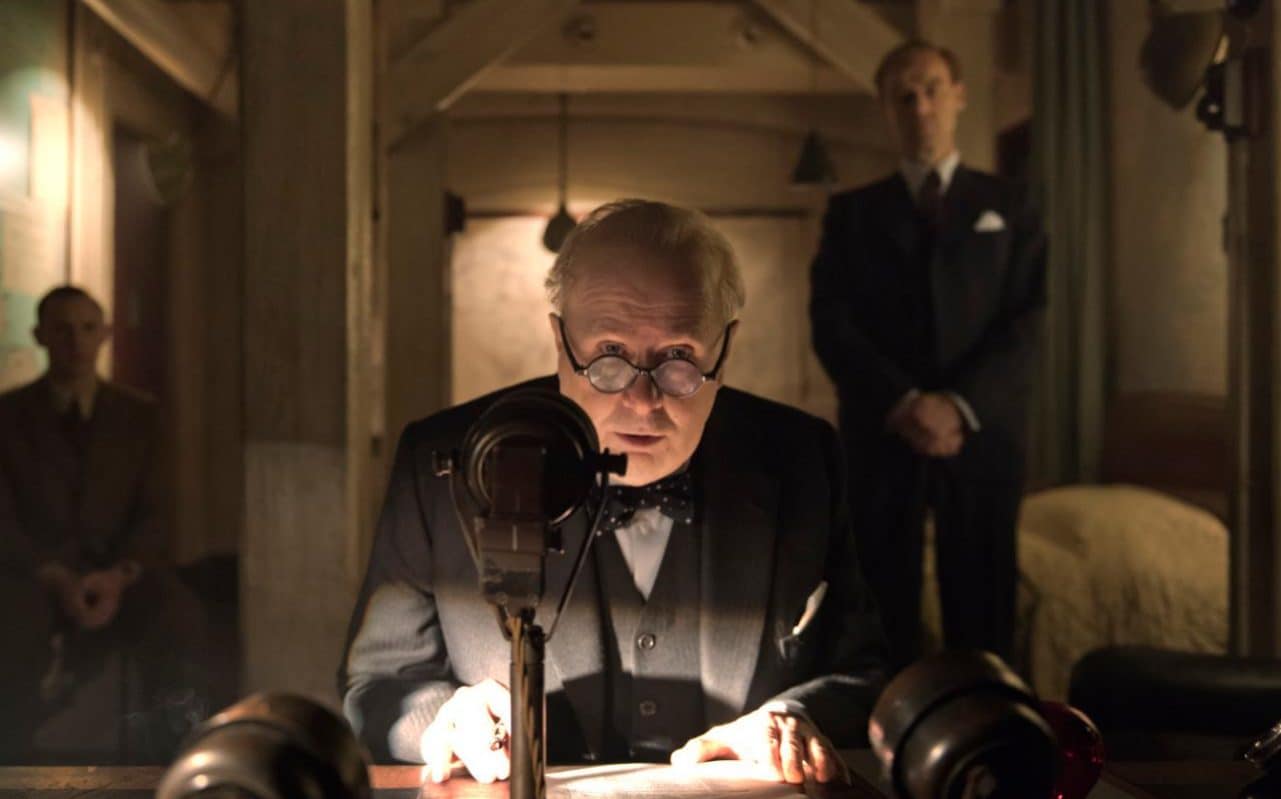 If there's one major disappointment it's the lack of a feature providing a larger focus on the makeup work utilized for this film. It's a rich story about pulling a man out of retirement for one of the key aspects of the film and that's nowhere to be seen here. There are a couple other featurettes, however, but pretty standard stuff.
Features Include:
Audio Commentary with Director Joe Wright – A decent track that feels like a companion piece to the film more than a trivia-filled listen. A good listen for fans of the film.
Into Darkest Hour – A standard EPK.
Gary Oldman: Becoming Churchill – Not as comprehensive as one would hope.
Previews
DVD Copy of the Film
Digital HD Copy of the Film
The Bottom Line:
Darkest Hour is far better than standard, stuffy biopics about historic figures. It's the kind that fits for what I want from films of its kind. A towering lead performance goes hand in hand with the relationships had with other government members, friends, and even royalty. It's expertly crafted, which comes through well for this Blu-ray release, sporting a terrific video transfer, and a wonderful Atmos audio track. The features are a bit lackluster, but there's plenty to support when it comes to the quality of presentation.