A mother personally challenges the local authorities to solve her daughter's murder when they fail to catch the culprit.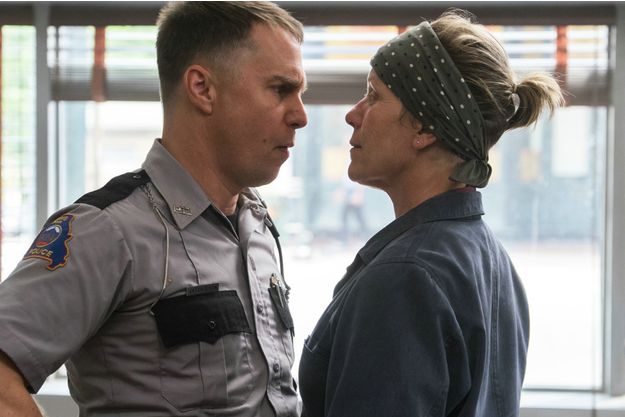 Three Billboards Outside Ebbing Missouri already having swept up the Golden Globes wins proves once more that its a fascinating film that ranks highly with critics compared to it's peers in 2017. A film that doesn't nail down an exact genre, or at least could be quasi debated in that it's packed with dramatic scenes, but coupled with dark humor at times, as well as social commentary. Never the less the film stuns audiences with a trio (practically ensemble) cast of characters that bring their A game and sell their roles like no other.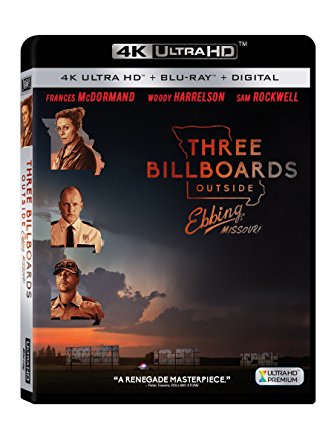 Purchase Three Billboards Outside Ebbing Missouri Today
Video Quality: This film has practically every visual element of a film can get. The only thing it was missing was outer space, ha. You get long panned shots of scenery, dark night scenes, indoors, outdoors, a spectrum of colors and fire/explosions from one particular scene. All of which lend a helping hand to allowing the HDR – High Dynamic Range of color gamuts to shine through or precisely darken your set for perfect tone and balance. A wonderful 4k release.
Audio Quality: On both the Blu-ray and the Ultra HD Blu-ray they have a DTS HD Master Audio 5.1 track. Shame there is no atmos but the DTS HD Master audio track does deliver. Likewise to the different scenes already mentioned there is lots of dialogue sprinkled in between and thus that works fine. However the action scenes could have benefited a bit more with the Atmos.
Supplements:
Deleted Scenes:
Willoughby Meets News Crews
Mildred Versus the Town
Dixon Interrogates Denise
Dixon Drunk at Bar
Dixon and Momma
Crucify 'Em: The Making of Three Billboards: Interviews and BTS footage
Six Shooter: Short from the Director
Gallery
Theatrical Trailers
THE BOTTOM LINE:
Three Billboards Outside Ebbing Missouri is not a film to be missed out on. If purchasing the movie is something you are deciding then this is a fine loaded edition worth owning. Never the less, do yourself a favor and see this movie in some shape or form sooner rather than later as its sure to clean up at the Oscars.