Downsizing is a 2017 American science fiction comedy-drama film directed by Alexander Payne, written by Payne and Jim Taylor and starring Matt Damon, Christoph Waltz, Hong Chau, and Kristen Wiig. It tells the story of a couple who decide to undertake a newly-invented procedure to shrink their bodies so they can start a new life in an experimental community.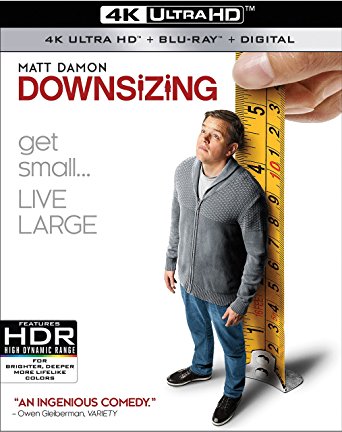 Purchase DOWNSIZING on Ultra HD Blu-ray HERE Today
DOWNSIZING stars Matt Damon and Kristen Wiig in what seems to be some completely new, fresh, and unique concept for a film. (As one critic exclaimed) However long ago there was smash hit cult kids favorite that I had the pleasure of growing up with by the name of HONEY I SHRUNK THE KIDS. The two films obviously have some similarities despite its many differences. One is rated G while the other is rated R, and even tho their is some similarities that feel like happened eons ago now I cant help but seem to think that one isn't slightly inspired by the other to take that concept and then shake it up into a adult themed comedy of sorts. And the best part of all, is it totally worked!
I'm sure that the type of comedy in this film likely isn't for everyone, and perhaps the plot and concept as well. However for this film go'er aficionado here it was right down my alley. The wife and I had many laugh out loud moments, and one scene in particular seems to be one we have been laughingly quoting here days after. It's a comically charming little old film and I think it'll hold its weight in time for those select individuals who find the humor in it funny. For those that don't well you only need to point to reviews seen on other sites to see the bulk of criticism the film is getting.
Bottom line is that while this film isn't for everyone, for those that it is I think you'll find it a mixed roller coaster comedy drama worth exploring.
VIDEO QUALITY:
DOWNSIZING on Ultra HD Blu-ray 4k looks very sharp and vivid and benefits greatly from all the different scenery as they travel around the world (to some extent) thus providing great landscape scenes. From the intricate small detail in Leisureland to the likes of his hometown in Omaha, Nebraska while the film may not immediately jump out at you as being able to benefit widely from Ultra HD and High Dynamic Range which is the irony right in a film not about high range but small scale. Ha. Contrary to that perhaps that is why it looks amazing as we get to use the full spectrum to pick up all those fine details in a full bodied visual treat.
AUDIO QUALITY:
DOWNSIZING comes to Ultra HD Blu-ray and Blu-ray both with an exceptional 7.1 DTS HD Master Audio Track. For a comedy that y
quite a few changing landscapes with some nice scores in between among the dialogue this audio track more than fits the bill. In my 7.1 set up the front standing towers and center channel handled the bulk of the load as likely to be expected but I did feel a bit immersed with the utilization of my bookshelf and rears in particular scenes. Overall for this type of film as already stated the audio track more than exceeds my expectations.
SUPPLEMENTS:
Working with Alexander
The Cast
A Visual Journey
A Matter of Perspective
That Smile
A Global Concern